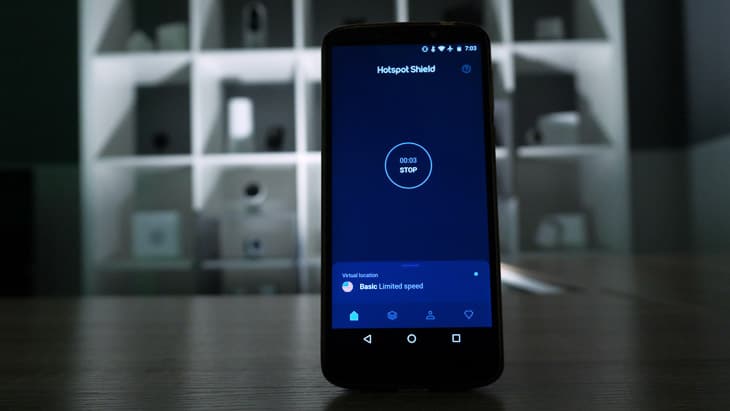 According to their website, Hotspot Shield VPN has more than 650 million users, making it one of the most popular and widely-used servers in the business. That's mostly thanks to the free version they offer, which, of course, isn't as generous as the premium class.
Pango (formerly AnchorFree), a California-based company, owns and operates Hotspot Shield. It launched the VPN service in 2008 for macOS and Windows operating systems, then added iOS and Android support in 2011 and 2012, respectively. HSS also has a Google Chrome extension, as well as an easy-to-setup router guide.
Hotspot Shield earned generally positive reviews from those related to the VPN industry. Most of them praised the impressive speed rates that the VPN is famous for. The unique Hydra protocol also received good feedback, with the company claiming it can optimize your connection based on your requirements.
Therefore, we took a look for ourselves to see how Hotspot Shield would perform in our tests. The below evaluation falls under our VPN rating criteria.
---
Content Overview
---
| | |
| --- | --- |
| FEATURE | AVAILABILITY |
| Money-back guarantee | 45 days |
| Allowed simultaneous connections | Five devices |
| Supported streaming services | US Netflix, Amazon Prime Video, Hulu,BBC iPlayer, and more. |
| No-logs policy | Yes |
| Encryption | Military-grade AES 256-bit |
| Protocols | Catapult Hydra |
| Special features | Kill switch, proprietary Hydra technology, |
| Customer support | 24/7 customer support with a live chat feature |
| Server locations | 3,000+ servers across 80+ locations |
| P2P support | Yes |
| Server switches | Unlimited |
| Data traffic | Unlimited |
| Compatible devices | iOS, Android, Windows, Mac, in addition to a Google Chrome extension |
| Legal Jurisdiction | USA (inside Five-Eyes domain) |
| Free trial | 7 days |
---
Hotspot Shield Pros and Cons
Hotspot Shield VPN is a product of Pango, a Silicon Valley company that offers tools for online protection. According to the website, the VPN offers a wide network of 3,000+ servers, spreading across more than 80 countries. It is one of the broadest grids in the industry, one that can help you access restricted websites.
Speaking of which, Hotspot Shield's premium version functions well with streaming platforms. It can unblock US Netflix, Hulu, and BBC iPlayer. Torrent users will also be able to download or upload on peer-to-peer networks. Moreover, HSS VPN's unique Catapult Hydra protocol delivers fast speed rates to ensure you avoid buffering issues.
As for security and privacy, Hotspot Shield uses military-grade AES encryption with 256-bit keys and keeps no connection or activity logs. It also has a kill switch that disconnects you from the Internet in case the VPN connection drops. Furthermore, the long-term 45-day refund policy and the 24/7 customer support service make HSS more appealing.
However, the lack of a Smart DNS proxy, pricy subscription plans, and a US headquarters might put some users off. Nonetheless, we think Hotspot Shield a decent VPN service for streaming and torrenting with fast speeds and a broad server network. And of course, we're talking about the premium version, not the free one.
Pros
Military-grade encryption.
No-logs policy.
Fast servers.
Wide server network.
Works with Netflix and other similar services.
Torrent and P2P support.
45-day money-back guarantee.
Round-the-clock customer service (with live chat).
Kill switch.
Five simultaneous device connections.
Seven -day free trial.
Cons
No Smart DNS.
Expensive subscription plans.
Support only available for Premium users.
US headquarters.
---
Interface and Design
Before testing Hotspot Shield's VPN apps, we took a look at its website first. The design is simple and straightforward, and the homepage features an overview of the VPN's features. There's an emphasis on Hotspot Shield's speed as it was named the fastest VPN in 2019 by Ookla.
You'll also find additional information on how HSS can unblock streaming platforms and keep you safe online. Moreover, we noticed several quotes from industry experts and media publications. However, there was nothing about the company's server network or no-logs policy throughout the homepage. Most VPNs usually advertise these features. Nonetheless, there is a shortcut at the bottom of the page about server locations.
Meanwhile, shortcuts about pricing, VPN apps, and customer support are at the top. You can also open the live chat feature by clicking the blue arrow at the bottom right. Overall, we thought the website was well-designed, but the homepage did not feature much information.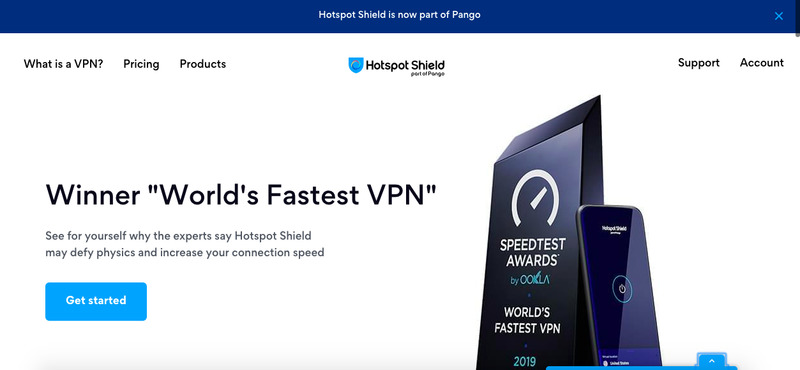 Desktop Client
We started with the Hotspot Shield Windows client. Design and functionality are far from difficult meaning anyone can navigate the app, even without prior VPN knowledge. As soon as you log in, the app will automatically connect you to the fastest server available depending on your location. You can choose a different server by clicking the country on display.
The hamburger icon on the top left of the screen opens settings, where you'll be able to enable features like kill switch and IP leak protection. That's all she wrote basically. The app performed well but could use some features in settings.
Mobile App
Then, we tried the Hotspot Shield mobile app, which is available on both Google Play and the App Store. We installed the iOS application and took it for a spin. The homepage isn't very different from the desktop client in terms of design or functionality. It even offers a few features like App Auto Protection.
As for server connection, you can select the location you want by clicking on the country displayed on the home screen. The Android app features more options, however, including malware scanner and battery life extension. Both apps have a 7-day free trial for the premium version, which is only available for mobile applications.
Browser Extension
Finally, we tried Hotspot Shield's Google Chrome extension, which was similar to the desktop and mobile apps. In terms of connectivity, it is the same as the above. HSS will auto-connect you to the fastest server unless you select a manual location from the server list.
You can also activate a number of features in settings, like an ad-blocker and malware blocker. Unfortunately, the list does not include a kill switch.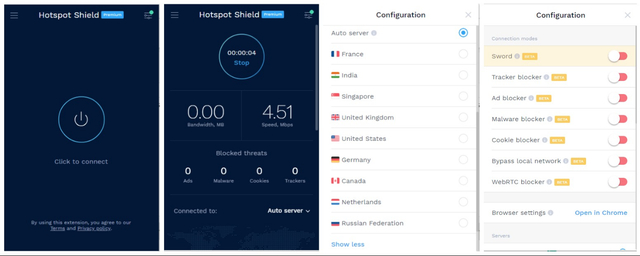 Trustpilot has an average score of 4.3/5 on Trustpilot, with several users praising its speed and efficiency in unblocking websites. It did earn some negative reviews as of late with some users complaining that their lifetime subscription was terminated, in addition to other minor issues.
"Great VPN! Works as advertised. Had no problems using it. Great just great!"

Matt, Hotspot Shield user on Trustpilot
On Google Play, Hotspot Shield has a much better score of 4.1 stars, while the iOS app has an excellent 4.5 rating.
App Compatibility
Hotspot Shield VPN covers all the major operating systems, offering apps for Android, iOS, macOS, and Windows, in addition to a Google Chrome extension. Other providers have compatible apps with Linux and Kindle Fire, but HSS sticks to the most popular ones.
Furthermore, the company allows you to connect up to devices simultaneously using just one account. This has become a standard among premium VPNs as other brands offer up to ten connections.
---
Hotspot Shield Server Network
We were quite impressed with Hotspot Shield's coverage. According to the website, the company operates more than 3,200 servers in over 80 countries around the world. It covers every continent except Antarctica and has a presence in almost all the regions. Here is hotspot Shield's full map coverage:

Europe
Albania
Andorra
Armenia
Austria
Azerbaijan
Belarus
Belgium
Bosnia and Herzegovina
Bulgaria
Croatia
Czech Republic
Denmark
Estonia
Finland
France
Georgia
Germany
Greece
Hungary
Iceland
Ireland
Isle of Man
Italy
Jersey
Latvia
Lichtenstein
Lithuania
Luxembourg
Macedonia
Malta
Moldova
Monaco
Montenegro
Netherlands
Norway
Poland
Portugal
Romania
Russia
Serbia
Slovakia
Slovenia
Spain
Sweden
Switzerland
Turkey
Ukraine
United Kingdom
Asia Pacific
Australia
Bangladesh
Bhutan
Brunei
Cambodia
China
India
Hong Kong
Indonesia
Japan
Kazakhstan
Kyrgyzstan
Laos
Macau
Malaysia
Mongolia
Myanmar
Nepal
New Zealand
Pakistan
Phillippines
Singapore
South Korea
Sri Lanka
Taiwan
Thailand
Uzbekistan
Vietnam
Americas
United States
Argentina
Bahamas
Belize
Brazil
Canada
Chile
Colombia
Costa Rica
Ecuador
Guatemala
Mexico
Panama
Peru
Uruguay
Venezuela
MENA Region
Algeria
Cyprus
Egypt
Israel
Kenya
South Africa
United Arab Emirates
---
Hotspot Shield Speed Trials
If you browse reviews on Trustpilot, Google Play, and the App Store, you'll see that users place great importance on speed. If a VPN offers slow servers, customers will most likely cancel their subscriptions and opt for a different service.
In this regard, Hotspot Shield VPN makes some big claims, saying it offers the fastest speed rates in the business. A lot of VPNs mention similar characteristics, but few can back it up with awards. HSS was named the fastest VPN in 2019 by Ookla. But we weren't going to take their word for it.
Therefore, we decided to test its speeds by connecting to several servers.

First, we tested out Internet speed without a VPN connection to see how much HSS would affect it. As you may know, VPN privacy and security features like encryption and traffic rerouting reduce connection speeds.

Then, we connected to a Hotspot Shield server that is near our actual location. As expected, the speed rates did drop. But much to our surprise, speed levels remained high. In fact, they barely decreased.

For the final test, we connected to a server that is far from our geographic location. And the further the distance, the greater the speed drop. Nonetheless, speed levels remained more than acceptable.
Is Hotspot Shield the Fastest VPN?
Hotspot Shield servers deliver impressive speed rates, one of the best we've ever tested. And while our connection was barely affected when we used a close server, other brands had better results when we connected to distant servers. That doesn't take away the fact that Hotspot Shield offers excellent speeds and we definitely recommend it from this regard.
---
Hotspot Shield Streaming and Torrenting Performance
Speed is important to users because most of them use VPNs for streaming. Hulu, BBC iPlayer, and other similar platforms are geo-blocked outside their respective countries. Due to copyright issues, streaming services are not allowed to air their content anywhere. They can only show it in countries where they acquired broadcasting rights.
For example, if you try HBO Now from outside the US, the following geo-error message will pop up on your screen:
"HBO Now is only available in the US and certain US territories."

But sometimes, connecting to a US VPN server isn't enough as the majority of streaming services block VPN IP addresses. That leaves you with few options to choose from as only premium VPNs can still unblock American Netflix, Hulu, and HBO Now.
We tested Hotspot Shield with Netflix, Hulu, and BBC iPlayer, and it was able to access them without any trouble. However, it should be noted that we had to use a premium subscription as the free version could not unblock all these services.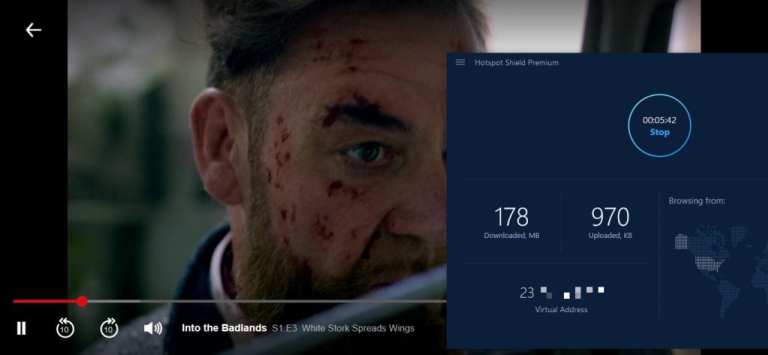 No Smart DNS Proxy
VPNs are excellent tools for bypassing geo-blocks and maintaining online privacy. But not many users are concerned with that last part as they only want a VPN to unblock restricted streaming platforms. That is why a lot of VPNs offer Smart DNS proxy servers. These tools only reroute the URLs that expose your location, without changing your IP address or encrypting your traffic.
With a Smart DNS proxy, your connection speed won't be affected, which is why so many users prefer it. Hotspot Shield does not offer a Smart DNS feature, an area they can improve in the future.
P2P Support
Hotspot Shield allows its users to share files via peer-to-peer networks. While certain VPNs prefer not to get involved with potential legal action due to copyright issues, HSS servers will let you download songs, movies, and series. Furthermore, the company will prevent copyright trolls lurking online from monitoring your activities or locating you.
And the special Catapult Hydra protocol ensures fast P2P file-sharing.
---
Hotspot Shield Privacy and Security
Speed and unblocking capabilities may be essential VPN features, but if a VPN cannot protect your online privacy, then it is not a successful service. A virtual private network's main job is to conceal any data that might reveal your identity, location, or browsing activities. Therefore, it must provide features of the first order.
We examined what Hotspot Shield had to offer in this department and here's what we found:
Company Headquarters
A lot of privacy-concerned users place great importance on the VPN service's base of operations. You see, in some countries, companies receive letters and requests from government agencies to hand in user information, usually as part of an investigation. Furthermore, these nations form an alliance, allowing them to share such data with each other.
It started with the US and the UK after the Second World War, but other countries later joined, including Canada, Australia, and France. They are known as Five, Nine, and 14-Eyes alliances, and their main focus is to monitor the Internet. Therefore, some prefer to stay on the safe side and register to a VPN outside those borders.
Five-Eyes: US, UK, Australia, Canada, and New Zealand.
Nine-Eyes: Five Eyes countries plus Denmark, France, Netherlands, and Norway.
14-Eyes: Nine Eyes members plus Belgium, Germany, Italy, Spain, and Sweden.
"…This also means that we do not have any data to share with law enforcement and government agencies who make requests for information about what you were doing through a VPN connection."

Pango
As I mentioned earlier, Hotspot Shield is based in California, US, a country that co-started the Five-Eyes alliance. So don't be surprised if the VPN gives away your data. Not that it matters, though, because the company keeps no logs of your activities or connection.
No-logs Policy
Strangely enough, you won't find much information about Hotspot Shield's privacy on the website. Instead, all privacy policies are on Pango's site. And let's just say we weren't too impressed when we read them. Since the mother company offers several services, there is a specific policy for VPN usage.
Hotspot Shield claims not to collect data about your browsing history, IP address, and web destinations. However, that is not entirely true as you'll come across the following admissions as well:
We log what domain names that users visit (but not full URLs).
We may collect your approximate location by calculating an imprecise latitude and longitude based on your IP address to provide you with better service.
As part of registering for an account, we may collect information such as your name, username, email address, and password.
While all VPN providers will keep records of minimal information, such as email addresses or bandwidth consumption, few collect the above data. The company says that none of the logs can be used to trace your identity, location, or web activity. Nonetheless, it seems a bit too much.
Here's a snippet of Pango's VPN privacy policy:

Furthermore, Pango has contradicting privacy policies. On one page, the company says the ad-supported free versions of its products may collect, share, and sell user data, excluding Hotspot Shield. But on the VPN privacy page, Pango includes HSS in its products list without mentioning anything about sharing or selling sensitive information.
These confusing policies made it difficult for us to understand whether Hotspot Shield's free version will share your info with third parties or not. Still, the fact that Pango mentions anything about data sales in its privacy policies is alarming.
---
Hotspot Shield Free Version
The free, ad-supported version of Hotspot Shield also does not collect any identifiable data, according to the website. However, when we connected to an HSS server, the app asked for permission to log data.
"Free versions of our VPN products are supported by personalized ads, but these ads are not personalized based on any of your VPN browsing activity, nor do we share any such activity with our advertising partners."

Pango
Top-level Encryption
Hotspot Shield uses the military-grade Advanced Encryption Standard with 256-bit keys, better known as AES-256. It is the same encryption that government agencies like the NSA use to protect classified information. It is so far impossible to break AES-256 as you would have to go through trillions of possible combinations.
In other words, HSS will protect your IP address, online activities, and every other data from ISPs, the authorities, and hackers.
Kill Switch and DNS Leak Tests
Despite all the privacy and security features that VPNs offer, data leaks are always a possibility if the VPN connection drops. That is why premium brands provide a kill switch that terminates your Internet connection if the VPN malfunctions. As a result, your traffic won't leak to your ISP's servers.
You can enable Hotspot Shield's kill switch in settings using any app, and we advise you to so whenever you go online for extra security and privacy.
Moreover, we conducted an IP and DNS leak test to see of Hotspot Shield was giving away any of our data while using it. We connected to a US server, then used an IP info tool to see if the IP address on display is actually American.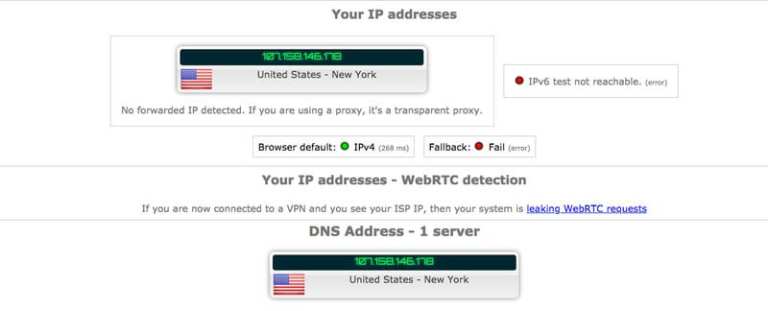 We also tested the VPN for any WebRTC leaks using our own tool. But as you can see from the below results, no leaks were detected.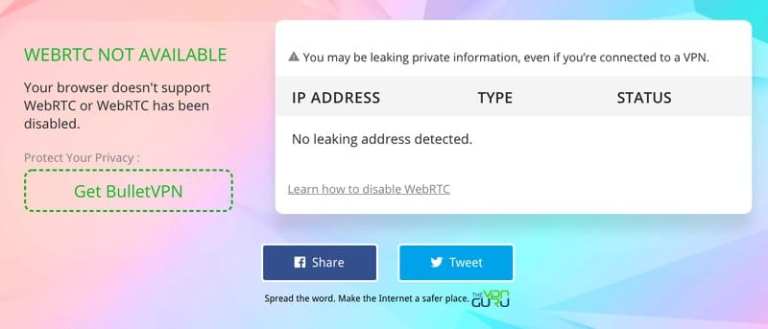 Independent Auditing
Several premium VPN providers hire independent auditing firms to verify the validity of their no-logs policy. They also share the findings so that users can see if their VPN truly delivers what it promises.
Hotspot Shield does not invite auditors per se. Instead, the company says that its patented Catapult Hydra protocol is evaluated by over 60% of cybersecurity experts who use its software development kit to provide VPN services.
Controversies
In 2017, the Center for Democracy & Technology (CDT) accused Hotspot Shield and its parent company, which was then AnchorFree, of spying on its users. The CDT submitted a 14-page complaint to the Federal Trade Commission (FTC) saying that the VPN provider is redirecting user traffic to partner websites, including advertising companies.
Furthermore, security researcher Paulos Yibelo discovered a bug in Hotspot Shield's privacy service that resulted in data leaks. Such information included the user's country and the name of the Wi-Fi network.
"By disclosing information such as Wi-Fi name, an attacker can easily narrow down or pinpoint where the victim is located."

Paulos Yibelo, Security Researcher
That may be the reason why the company rebranded from AnchorFree to Pango.
---
Hotspot Shield Customer Support
We took a look at the reviews on Trustpilot, the App Store, and Google Play, not just for Hotspot Shield, but also for other VPNs. Most users talk about customer support, which makes it a crucial feature for any VPN. People want a responsive and knowledgeable support service that can help them in case they have questions.
Hotspot Shield has a very informative support page, with plenty of guides and articles on the most frequently asked questions. And if you still can't find an answer to your problem, you can send an email or contact customer service via live chat, which is available 24/7. We tried the latter method and were quite impressed with the response time.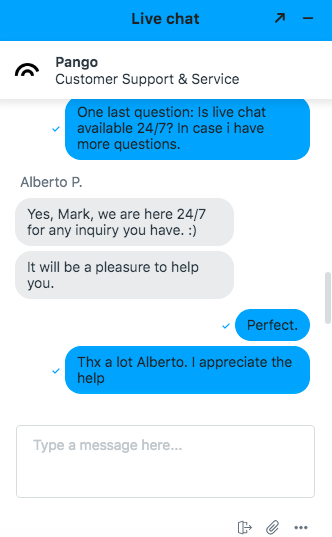 ---
Is Hotspot Shield Expensive?
Pricing can be a deal-breaker if subscription fees are too expensive. No matter what premium features the VPN offers, users will opt for an affordable option that fits their budget. With that being said, we thought Hotspot Shield's subscription plans were a bit expensive.
One-month plan: $12.99 a month.
One-year plan: $95.88 per year, equalling $7.99/month (save 38%).

The annual package offers the best value, allowing you to save 38% in total. However, it is nowhere near the discounts that other VPNs provide, some reaching 80%. Furthermore, we weren't impressed with the lack of subscription options. Other brands we tested allow you to choose between three or four packages.
In other words, there are several other VPNs that offer better services for that price.
You'll benefit from a 45-day money-back guarantee no matter which plan you choose. That's two-weeks more than what other industry leaders usually offer.
Payment Methods
You can purchase your monthly or yearly plan via credit card or PayPal. Hotspot Shield supports MasterCard, Visa, American Express, Discover, and other services. However, you can't pay using cryptocurrencies like Bitcoin, Ethereum, Ripple, and Litecoin.

Free Trial
Hotspot Shield has a free version that you can use for as long as you like but offers limited benefits. For example, it gives you access to just one server. However, you can try HSS VPN's premium service for a week free of charge, thanks to the 7-day free trial. The company will require your credit information, but you can cancel at any time.
---
Wrapping up the Hotspot Shield Review
Hotspot Shield is a reputable VPN service with hundreds of millions of users worldwide. It offers a free and a paid version, but you'll benefit much more from the latter, especially in terms of servers and speed. The VPN can unblock streaming platforms, supports P2P activities, and has excellent speed rates.
However, expensive subscription plans, the absence of a Smart DNS, a contradicting no-logs policy, and a US headquarters might put some people off. Hotspot Shield is a decent VPN service, but there are better, less-expensive alternatives you can consider.
Do you think Hotspot Shield is worth it? Tell us what you think below.