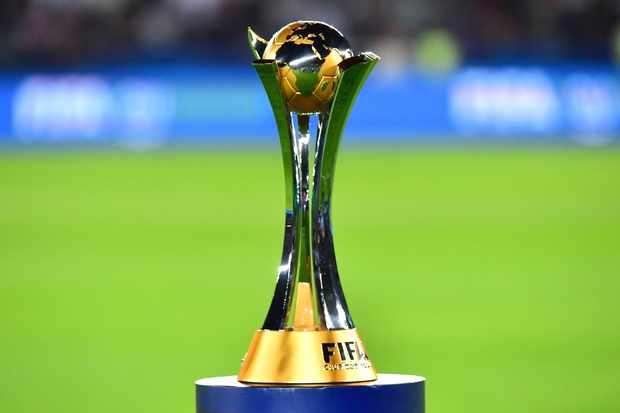 Club World Cup Broadcasters
Avoid Geo-blocks with a VPN
Premium VPN features
Avoid free VPNs
Watch Club World Cup with Unlocator
2020 CWC teams
Well, it may not be as glamorous as its international counterpart, but the FIFA Club World Cup is still a prestigious trophy. It features the champions of each continent, and each side will fight to claim the bragging rights of "best in the world."
The seven-team tournament will include the winners of the OFC, AFC, CAF, CONCACAF, CONMEBOL, and of course, UEFA. And the host nation's league champion takes up the final place in the competition.
The event is taking place on December 12th, 2023, in Saudi Arabia, and we're very excited to witness soccer greatness once more this year.
Fans from all over the world will tune in to see who will lift the 2023 trophy. And although there are several broadcasters, streaming the event has its share of restrictions. Luckily, we have a fix for that. Here's how you can watch the 2023 FIFA Club World Cup live anywhere.
---
Table of Content
---
Who Will Broadcast the 2023 Club World Cup?
Football (soccer) is the most popular sport in the world, with billions of followers and viewers. That is why FIFA has no trouble finding sponsors or broadcasters for any of its tournaments.
And the 2023 Club World Cup is not a different matter. A host of channels will air the event, including:
A lot of channels on the list are yet to be confirmed as the official broadcasters of the Club World Cup. We'll make sure to update the list once everything is in place.
Fans who wish to stream the tournament live online from outside those areas will run into a cul-de-sac. That's because OTT platforms are subject to online restrictions known as geographic blocking. Copyright issues and licensing agreements prevent them from airing content globally.
---
How to Avoid Restrictions With a VPN
Geo-blocks ensure that there are no violations of broadcasting rights across all borders. Each channel is only allowed to air the 2023 Club World Cup inside its coverage area.
But what if you live somewhere outside the above countries and regions? Or what if you want to stream the tournament on your favorite channel, but you're traveling overseas?
You either succumb to the bitter reality of online restrictions or take control of your online experience with a VPN. This tool allows you to switch geographic locations over the Internet, tricking websites into thinking that you are in a different place.
Once you connect to one of its private servers, your VPN will change your online location. And it will do so by rechanneling your Internet traffic through the server that you selected.
Then, it will mask your IP address and give you a new one that matches the server's location.
In other words, if you connect to a US server, you'll get an American IP address. Furthermore, your traffic will go through the VPN server instead of the one your ISP uses.
As a result, you'll appear to be a United States resident, which gives you access to restricted websites from that region, including Fox Sports Go.
Moreover, virtual private networks are excellent cybersecurity tools. They encrypt all the data that travels from your device to the Internet, preventing prying eyes from tracking your activities.
VPNs also don't collect or share sensitive information about how you spend your time online.
VPN Installation – Five Easy Steps
"At the click of a button" is now a widely-used expression that you hear or see almost everywhere. It indicates how easy and fast it has become to get things. Today, you can order food, shop for clothes, buy books or movies, and do much more with just one touch on your device.
And you'll be glad to know that installing a VPN is also part of that list. These tools have ready-made apps for the majority of operating systems and platforms. Follow these five steps, and you'll be watching the Club World Cup in no time:
Choose a reputable VPN service that is famous for its security, privacy, and unblocking prowess.
After you sign up, go to App Store or Google Play, and you'll find the VPN app ready for download. All you have to do is click "install," and the process will initiate.
Then, open your VPN app and connect to a server from any of the above countries or regions. It all depends on which channel you prefer.
For example, if you want to stream the 2023 Club World Cup on Fox Sports, choose a server from the US. For SBS, select an Australian server.
Now launch the streaming service of your choice and see which club will be crowned world champion.
---
Features of a Premium VPN
If you're unfamiliar with the VPN world and therefore cannot distinguish the good ones, here are a couple of things you should look out for when you're searching for an elite VPN service:
AES-256 Encryption
As I mentioned earlier, virtual private networks prevent third parties from monitoring your online activities by encrypting your traffic. However, the top brands use the strongest protocol in the industry: The Advanced Encryption Standard with 256-bit keys.
It is the same encryption that is used by the American government to protect classified information. Therefore, you don't have to worry about security or privacy breaches when you use public WiFi. Your banking information, passwords, messages, and emails are all safe and sound.
Zero-logs Policy
A lot of VPNs claim that they do not store sensitive information about your online activity or connection. However, not many brands deliver on that promise. While all providers collect some form of data when you use them, top VPNs will keep it to a minimum.
They record certain info to improve your overall experience, like troubleshooting and fixing performance issues. But this data does not reveal your online location or identity to third parties. In other words, no one can trace anything back to you.
And to silence any doubts you might have, elite providers invite independent auditors to confirm that they are true to their word. They also publish the results of the report so that the public can see no foul play is committed behind the scenes.
Strategic Network Coverage
Club football teams have players from different countries, ethnicities, religions, and races. That is why the sport has such a global outreach. You can find footballers from every continent playing for one side. And your VPN service should offer similar traits.
A premium provider must have servers in key locations that cover every habitable continent on the planet. It must have an extensive network. That includes the most-known countries like the US, Canada, the UK, Spain, Denmark, Germany, France, India, South Africa, and Australia.
But other less likely places should also be represented, like Brazil, Mexico, Colombia, Algeria, Egypt, Saudi Arabia, Iceland, Albania, Cambodia, Nepal Hong Kong, and Singapore.
As a result, you'll be able to access even more geo-restricted content.
Fast Speed Rates
What's the point of having a presence in multiple countries and continents if the VPN servers are slow and overused? A crucial aspect that your next provider must have is high levels of speed. The military-grade AES-256 encryption consumes a bit of your Internet connection.
However, elite VPNs guarantee that you won't even notice the speed drop by providing fast and well-maintained servers. And that is something they just have to do because a lot of people use these services to unblock streaming platforms. They include BBC Sport, Sky Go, Fox Sports Go, Netflix, Hulu, Amazon Prime Video, and BBC iPlayer.
Fast speed rates allow you to watch the 2023 Club World Cup, as well as other events and programs, without any buffering issues.
Round-the-clock Customer Support
You might encounter some difficulties whenever you use a certain product. And virtual private networks are no different, especially if you're a rookie. But just like Liverpool Football Club's anthem says, you'll never walk alone.
VPNs have instruction manuals, setup guides, and a FAQ section to help with any problems you might face. And they are also all about interaction, thanks to the 24/7 live chat feature, as well as email and ticket support.
---
Paid VPN vs. Free VPN
Well, you've seen some of the features you'll enjoy when you subscribe to paid VPN brands. But what about free providers? Don't they at least offer some of these services?
The first thing you need to know is that virtual private networks are not non-profit organizations. They need to make money to afford and maintain their server network, as well as continue their daily operations. So don't get too excited when you see the word free.
While you won't reach for your wallet when you subscribe to chargeless VPNs, the cost will come at the expense of your online security and privacy. Despite saying otherwise, they will collect sensitive information like browsing history and activity.
Then, they will sell it to third parties like databases or advertising companies, who need such data to deliver customized ads. And that is how free VPNs stay in business, by invading your privacy — a very unVPN thing to do.
But even in other areas, these services lack quality. They don't offer broad coverage, which means that their servers are overused and slow. And the IP addresses that they provide are often blacklisted by streaming services. Therefore, you won't be able to avoid geo-blocks.
To put it simply, free VPNs are just one big mess.
---
Top VPN Recommendations for Newbies
A lot of people don't know much about VPNs. And despite my explanation and features guide, most of you won't have time for research. Therefore, if you're one of them, check out my list of suggestions.
ExpressVPN
ExpressVPN isn't just a VPN with elite status; it is the number one provider in the industry. That is why I put it on top of my list. Once you subscribe to it, you'll find all the must-have features that a premium service should provide.
I'll start with ExpressVPN's vast network, which features more than 3,000 servers. They spread across 160 different locations in 94 countries, covering every continent except Antarctica. So in terms of channel access, this provider allows you to watch the 2023 Club World Cup using the streaming platform of your choice.
Another feature worthy of mentioning is that these servers offer fast and stable speeds, even the ones that are far from your actual location. As a result, you won't encounter network lag or buffering issues when you're streaming live matches.
"ExpressVPN's performance is great. Consistently good speeds."

PCWorld
Even top military-grade encryption like AES-256 won't slow down your Internet connection. You'll only reap the benefits of this protocol as no hacker or ISP will be able to track your online movements.
The reason why this encryption is so powerful is because it offers 115,​792,​089,​237,​316,​195,​423,​570,​985,​008,​687,​907,​853,​269,​984,​665,​640,​560,​000,​000,​000,​000,​000,​000,​000,​000 possible combinations. So good luck getting past that.
ExpressVPN also has the most rigorous privacy policy in the business. It doesn't collect or share any significant user information, including IP addresses, DNS queries, browsing history, or traffic destination. And for full transparency, they invite independent auditors to verify there is no breach in this policy.
In 2016, Turkish authorities seized an ExpressVPN server as part of the investigation into the assassination of Russian Ambassador to Turkey, Andrei Karlov. However, the server contained no logs that could be used to track suspects (read the ExpressVPN statement about the issue).
Pros
24/7 customer support (with live chat feature).
AES 256-bit encryption.
Strict zero-logs policy.
3,000+ servers in 94 countries.
Fast speed rates.
Netflix and streaming compatibility.
Smart DNS proxy: MediaStreamer.
Apps for all major operating systems.
Torrent and P2P file-sharing support.
Five simultaneous device connections per account.
30-day refund policy.
---
BulletVPN
From the best VPN on the market to the best alternative, BulletVPN is a competent second choice.
It doesn't differ a lot from ExpressVPN, especially when it comes to privacy and security. Both use AES 256-bit encryption and implement a strict no-logging policy.
BulletVPN also has a kill switch that cuts off your Internet connection in case of a malfunction. That way, your traffic won't get redirected to your ISP's servers.
And if you activate BulletShield with it, the VPN won't give you Internet access unless you're connected to BulletVPN.
The significant difference between both brands is in the network coverage domain. Nonetheless, the company has 150+ servers across 50+ countries, giving you access to your favorite content no matter where you are.
These servers are located in key areas across every continent (including the US, Canada, Brazil, Algeria, South Africa, Saudi Arabia, the UK, Germany, Spain, Greece, Finland, Australia, New Zealand, Japan, and Singapore).
Moreover, BulletVPN offers more than decent speeds to accommodate any online activity. I'm talking about streaming, torrenting, and gaming without any buffering issues.
Here's what else is in store when you subscribe:
Pros
30-day money-back guarantee.
24/7 customer support service with a live chat feature.
Military-grade encryption.
No-logs policy.
Kill switch with BulletShield.
Compatible with iOS, Android, Windows, and Mac.
Free Smart DNS proxy.
Netflix and torrenting support.
Fast speed rates.
Unlimited bandwidth.
---
Watch Club World Cup the Smart DNS Proxy Way
There's more than one way to shoot a penalty. You can go for sheer power, focus on accuracy, or even try a cheeky Panenka. At the end of the day, the most important thing is to put the ball in the back of the net.
With that in mind, there is another method you could use to bypass online restrictions and stream the 2023 Club World Cup. A Smart DNS proxy can help you unblock streaming channels by redirecting the URLs that reveal your location.
However, it doesn't work with every service. These tools cannot change your IP address, so if the streaming platform takes a look at it, you won't be able to gain access. Furthermore, you can forget about encryption because Smart DNS proxies don't provide it.
Now, some users prefer this program as it does not affect their Internet speed. But those who worry about their online privacy avoid it. Nonetheless, a Smart DNS proxy that supports all the above channels is a reliable alternative if your only concern is to watch the FIFA Club World Cup.
Unlocator
A Smart DNS proxy that can unblock BBC iPlayer, Fox Sports Go, Sky Go, beIN Sports, SBS, and Sportsnet is Unlocator. It is one of the best brands thanks to its extensive list of supported channels. In addition to the ones that I just stated, this service can also access ESPN+, NHL.TV, MLB.TV, NFL Game Pass, NBA League Pass, NBC Sports Live, and DAZN.
And it doesn't just include sports channels. You can catch the latest movies and series on Hulu, Amazon Prime Video, HBO Go, Showtime, AMC, The CW, BBC iPlayer, and more.
Visit Unlocator and sign up for an account. Enjoy a free service during the first seven days (no credit card required).
Read or watch the setup guides and videos, which you can easily find on the website.
Unlocator is compatible with iOS, Android, Windows, macOS, PS4, Xbox, Smart TVs, and routers.
Stream the 2023 Club World Cup no matter where you are on any device.
---
The 2023 FIFA World Cup – FAQ
Do you want to know more about the 2023 edition of the FIFA Club Workout? Make sure to give the following section a thorough read:
When Will the 2023 Club World Cup Take Place?
The tournament will be played from 12 to 22 December 2023
Where Will the Tournament Be Held?
The 2023 FIFA Club World Cup is being held this year in Saudi Arabia.
What Teams Have Advanced So Far?
At the time of writing, the following teams are participating in the 2023 FIFA Club World Cup:
Urawa Red Diamonds (Winners of the 2022 AFC Champions League)
León (Winners of the 2023 CONCACAF Champions League)
Auckland City (Winners of the 2023 OFC Champions League)
Al-Ittihad (Host and winners of the 2022–23 Saudi Professional League)
Can I Watch the 2023 FIFA Club World Cup for Free?
BBC iPlayer will be broadcasting the event for free. If you wish to access it outside of the UK, you need to connect to a UK VPN server.
Can I Watch the Tournament on Kodi?
With BBC iPlayer's official Add-on, you can stream the entire competition using the Kodi platform.
---
Stream FIFA Club World Cup Live Online – Parting Words
Whenever you want to stream anything outside of your country, you'll come up against multiple online restrictions if you are outside the designated coverage zone.
The broadcasters have rights to showcase the event inside their respective regions. Therefore, they will be geo-blocked from abroad.
But you can avoid all that and watch the tournament from anywhere with a VPN or a Smart DNS proxy. Just remember to sign up for trustworthy, elite services.
Will the revamped FIFA Club World Cup tournament be a hit or a miss? Share your thoughts in the comment section below.