How to Install a VPN on Android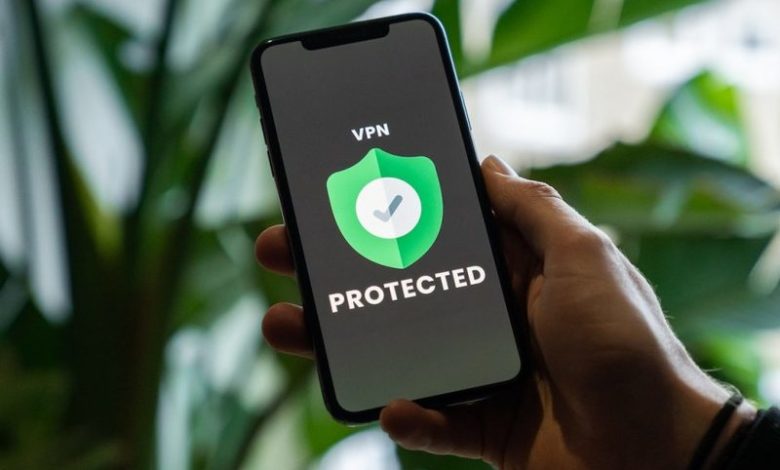 Using a VPN on your Android phone or tablet is always a safe and wise move. These tools encrypt your personal data, hide your location, and give you wider Internet access. As a result, your ISP and other third parties cannot monitor your online activities or steal your info. Moreover, you'll trick geo-restricted streaming services into thinking you're inside their broadcasting region.
Not all VPNs are the same, so only premium providers offer reliable protection, unblocking, and speed. BulletVPN is one of those, which is why we'll use it as an example.
The easiest way to get a VPN on your Android device is by (A) downloading the dedicated application from the Google Play Store. But you can also (B) manually set one up if you can't or don't want to install the app.
VPN on Android – Quick Installation
Time needed: 2 minutes
It will only take a couple of minutes to install a VPN app on Android. The below guide explains how in brief. Scroll a bit further down for the full details.
Go to the Google Play Store.

Enter the VPN provider's name in the search bar. We recommend premium services like ExpressVPN or BulletVPN.

Install the VPN on your device.

Select the app and tap the "Install" button. Depending on your internet connection, it would take a minute or so for the installation process to finish.

Launch the app.

Hit "Open," enter your VPN credentials, and sign in.

Connect to a VPN server.

Select your target VPN destination and tap the "Connect" button.

Enjoy online privacy and freedom.

Once the VPN button turns green, you'll be able to browse anonymously and access geo-restricted content.
Best VPN for Android
Our evaluation process is something of a science. We put VPN services through a series of tests, which are cornerstones to rate each provider. Criteria include security and privacy, unblocking capabilities, speed, pricing, server network, refund policy, customer support, and usability.
We do all the work so that you don't have to, especially with the abundance of VPN providers today. Our experts only recommend the best of the bunch and discourage the use of free VPNs. Although they are popular among users because they cost nothing, free VPNs are actually quite dangerous. They make money by collecting and selling your sensitive data to advertisers or, worse, threat actors.
And besides, our tests have shown that they are completely unreliable—data caps, limited servers, poor speeds, inconsistent access to geo-restricted content; you name it.
Therefore, we advise our readers to get premium VPNs. Yes, they might cost money, but they are totally worth it, and you will use them whenever you go online, which, let's face it, is pretty much all the time.
ExpressVPN is our top recommendation. It offers 3,000+ servers across 160 locations, fast speed rates, streaming access, torrent support, a zero-logs policy, and military-grade encryption. Customers can also get a full refund through the 30-day money-back guarantee within the first month.
Here are the best VPNs for Android that we fancied the most.


30-Day Money-back Guarantee
Unlimited Bandwidth
Apps For All Your Devices
24/7 Live Support
Visit ExpressVPN
Method A: Install the App
The easiest and quickest way to install a VPN on your Android device is by downloading it from Google Play Store. Every premium provider offers dedicated mobile apps, meaning the automatic and instant setup process.
Search for the name of the VPN provider in the Play Store, then tap "Install" to download. We used BulletVPN as an example

Once installation is complete, tap "Open"

Enter your account credentials, then hit "Sign In"

Tap "Connect" to connect to the default server on display or on the server location to switch VPN servers

You can also select your preferred server location by tapping the burger menu icon in the top left corner -> "Locations"

After choosing the server and clicking "Connect", the app will require permission to add a VPN configuration. Tap "Ok" to allow it

When the configuration is complete, connection to the server will begin

When the light turns green, you're in the clear.

Method B: Manual Setup
If your VPN doesn't have an Android-dedicated mobile application (although all premium providers do), you can set one up manually. However, we don't recommend this method because you'll have to sacrifice certain privacy and security features. That includes kill switch, leak protection, and secure VPN protocols like OpenVPN.
Still, if you wish to go down that road, here's the best way to do it. We'll use BulletVPN as an example to create an L2TP/IPSec connection, the safest option outside OpenVPN.
Step 1: Find Your Username and Password
Before you start configuring a VPN connection on your Android device, you must determine the username and password. The first is the email address you used to create your BulletVPN account. As for the password, you'll find it in the client area in the top-left green box next to "VPN Pass." Click Show to view it.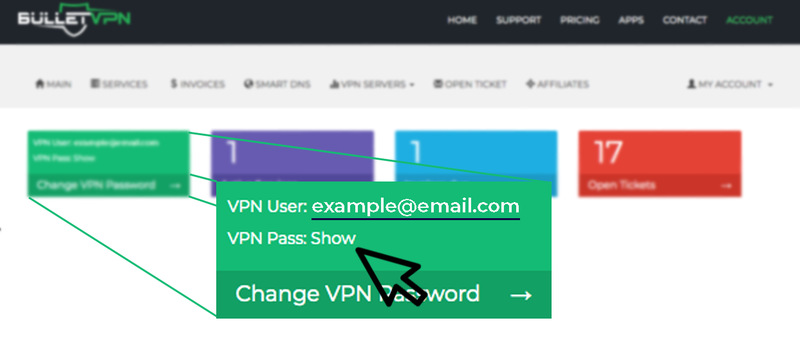 Step 2: Get the VPN Server Address
Next, go to the Servers List to choose your preferred server location. You'll find the VPN server address under Server Name.

Step 3: Start Android Configuration
Now that you have your username, password, and VPN server address, you can set up a VPN connection on your Android device.
Go to "Settings"

Tap "More"

Choose "VPN"

Tap on the "+" sign in the top right corner

Submit the following info:
– Insert Name: BulletVPN
– Type: Select L2TP/IPSec PSK from the drop-down menu
– Server Address: Copy the VPN server address you found above
– IPSec pre-shared key: bulletvpn

Select "BulletVPN"

Insert the following info:
– User Name: Your account email address
– Password: Copy the VPN password you found above
– Select "Save account information" and tap on "Connect"

Your VPN connection is now live.

To disconnect, tap BulletVPN -> DISCONNECT

Install VPN for Android – FAQ
If you're looking for more information, here's what our readers asked us the most.
Do I need a VPN on my Android?
Premium VPNs allow you to anonymously browse the internet and access geo-restricted and censored content. They also protect your sensitive data and online activities whenever you go online, which is extremely important if you're using public WiFi.
What is the best free VPN for Android?
Free VPNs are dangerous because they make money by collecting and selling your data. They don't have zero-logs policies or reliable encryption and can't give you access to blocked content. Therefore, we don't recommend free VPN services.
Which VPN is best for Android?
We highly recommend ExpressVPN and BulletVPN. They offer strong encryption, a no-logging policy, and a 30-day money-back guarantee. The other VPNs on the above list are also excellent alternatives.
How to install VPN on Mac?
All premium VPNs have dedicated apps for Android devices. To install a VPN app on your phone or tablet, you must:
Subscribe to a VPN
Go to google Play Store and install the app
Log in, connect to any server, and enjoy all VPN benefits
Can I use my VPN on other devices?
Yes. Premium VPNs allow a minimum of 5 simultaneous connections per account. That means you can protect up to 5 devices with a single subscription. Alternatively, set up a VPN on your router and protect any device connected to your WiFi.
VPN for Android Setup – Final Words
Getting a VPN on your Android device significantly increases your online security and privacy while giving you access to geo-restricted and censored content. However, please note that only top VPN providers offer premium features, so make sure you subscribe to one of those instead of free services.
The safest and easiest way is to install the ready-made Android app. But if you can't or don't to, you can set up a VPN connection manually.