When you are getting your website hosted upon a dedicated server, you are making sure of the fact that no resources are being shared with any other websites. Under the dedicated server hosting solutions, you will be at the forefront of controlling the RAM and bandwidth.
It is probably the best web hosting solution for your website if it gets substantial traffic on a usual basis. Dedicated server hosting is recommended for high-revenue generating eCommerce stores or business-critical websites.
If you have started a new business and are in a dilemma of whether you should go with dedicated server hosting or not, this article will elaborate on its features to help you decide better.
6 Features of Dedicated Server Hosting
Before you head out and avail the services of the best-dedicated server hosting provider, you should have in-depth knowledge of how it will benefit you. Therefore, here are the six crucial features of dedicated server hosting for you to gain clarity on its efficacies:
1. Ideal Server Management
Most small & medium enterprises prefer dedicated server hosting because of its reliability. Upon choosing it as your web hosting plan, you will get a fully managed server maintained and monitored by a specialized IT team. They ensure your website gets a high-end online presence and performance.
Unlike the VPS or shared hosting plans, dedicated servers do not have any limits on resource usability. You can upgrade or downgrade the resources, depending on your website needs. Apart from that, you also get impeccable hosting support to stand out in the crowd of competitors.
With dedicated server hosting, you will outsource the management aspects to a professional team. Thus, you will save your internal efforts and time to invest them towards other important business aspects, such as OS updates, server monitoring, patching and app installation.
2. Top-Notch Security
Security is one of the most integral features of dedicated hosting. Critical business websites can expect unparalleled security with their dedicated server plans. With such a hosting solution, you can add anti-malware or firewall programs for added security.
Dedicated servers also enable complete administrative access for installing various applications without restrictions. You get security patching and prevention measures to stop any unauthorized access attempts.
The data integrity is also managed well with dedicated server hosting. RAID software is integrated within the hosting servers to ensure consistent uptime and prevent data loss due to potential drive failure scenarios. You can opt to avail of backup storage services along with your dedicated hosting plan for ensuring the safety of your data in all circumstances.
As dedicated servers are constantly monitored, all security threats trying to breach the system will be detected immediately to impose prevention tactics.
The hosting provider works towards implementing enterprise-level technology. It is to protect the dedicated servers. The interconnect hardware which powers the server is under the management of the service provider. Thus, you will have a high uptime of up to 99.9 percent.
The service provider will be monitoring the servers at all times. The protection for the server will be implemented through storage connectivity, network and redundant power.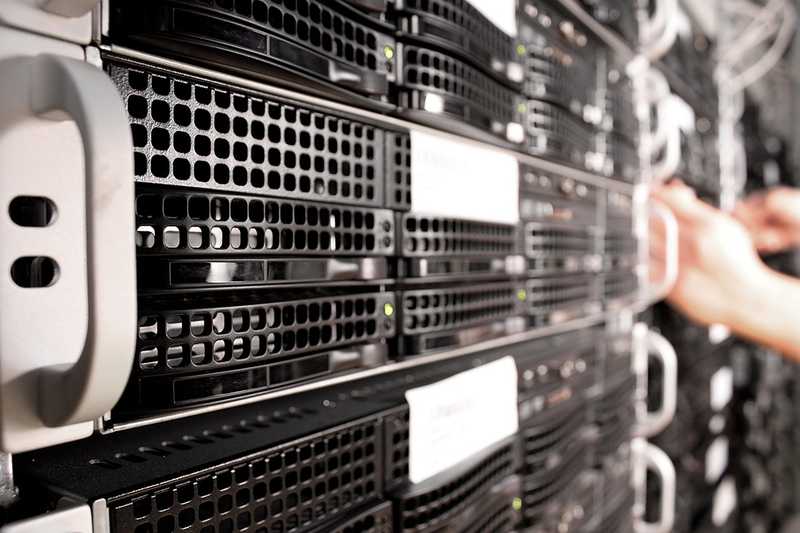 3. High-End Flexibility
The dedicated servers have high-end operational flexibility compared to the other hosting plans. As there is no sharing of resources, there is unlimited flexibility for you to avail all of the resources, depending on your requirements. There is no need to seek the help of the service provider for running and installing applications on your website.
The latency factor would not cause any more troubles regarding deteriorating the website performance. There are no such critical issues that will affect the user experience, as you have the flexibility to tweak the resources to ensure your website has high-end performance.
4. Choices on Operating Systems
With the dedicated server hosting solutions, the users have the feasibility of installing the operating systems which suit their specific business operations. All web apps built for your business might need specific OS integration, among Windows or Linux.
In such cases, dedicated servers allow you to run the specific OS that the business demands without any limitations or restrictions.
5. Choices on Hardware
As dedicated server hosting is expensive compared to other plans, it becomes important to look for hosting providers with various hardware options. You do get the chance to choose your specific set of hardware as well.
The setup you choose should meet the capacity and performance needs of the business. The users can choose the number of cores, RAM size, SSD capacity, CPU model, RAID, bandwidth, RAM type, CPU speed, etc.
Some hosting providers also have different use case servers under the dedicated hosting plans for you to opt for. For instance, you can use an ultra-high memory dedicated server for Deep Learning concepts and an ultra-fast CPU dedicated server for crunching huge amounts of data.
6. Interactive and Easy-to-Use Control Panel
Dedicating hosting also enables you to use the feature-rich control panels for running or managing your web apps and servers centrally. Most reputed hosting solution providers offer cPanel, WHM and Plesk as their control panels with dedicated hosting plans. These flexible control hubs permit easy control of all functions and operations.
There are automation features that help the users manage certain critical tasks over the website conveniently and quickly. With a limitless control panel with dedicated hosting, the users can set up spam filters, create web apps, manage databases, create & manage email accounts, manage files and handle domains.
Conclusion
This clearly understands how dedicated server hosting is better than all other solutions available with the providers. Business websites that experience high traffic or deal with heavy transactions daily will need dedicated hosting plans to perform consistently.
With this, you can expect operational scalability, flexibility and administrative control. It helps businesses scale and be productive. You get to stay in touch with modern-day updates on improved features of dedicated hosting solutions. Keep yourself updated with more knowledge on dedicated server hosting.