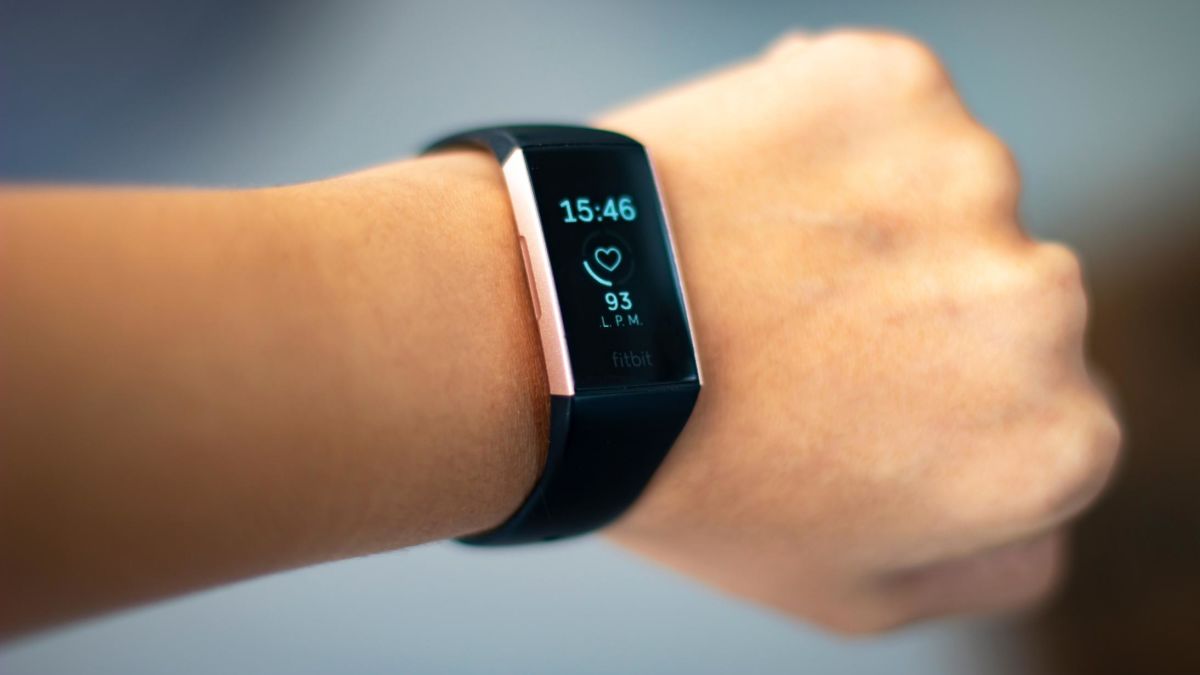 Fitbit users worried after Google acquisition
Deal to help Google compete with Apple
Bigger revenue slice of the smartwatch pie
How Google intends to use Fitbit
It's no secret that Google and privacy simply don't mix, much like forks and power outlets. The tech titan is all about data collection, no matter how sensitive or private it is. And that's not even the scariest part. For a company that made over $100 billion in ad revenue in 2018, be sure that your information will serve as a supply for targeted advertisements.
Therefore, when Google announced it had acquired Fitbit in a $2.1 billion deal, a lot of users were concerned. And why wouldn't they? Google has been logging a ton of their data, including location, search history, and online activities. It also delivers customized ads based on their age, gender, career, hobbies, and more.
And Fitbit can provide a lot of valuable information. Its wearable technology tracks the health data of 28 million users, including heart rates, steps walked, and quality of sleep. And this is not Google's first rodeo in this department. In January 2019, it bought smartwatch technology from Fossil for $40 million to develop and promote its Wear OS.
So why acquire an entire smartwatch company? Because Google wants a piece of the smartwatch pie.
---
Users Express Privacy Concerns over Deal
Google announced the Fitbit acquisition in a blog post on November 1, 2019. Senior Vice President of Devices & Services Rick Osterloh said that Fitbit is a true pioneer in the wearable technology business. The company created a lot of premium products, which helped it earn over 28 million users.
That is why Google decided to acquire it, as it would greatly benefit from its expertise. Osterloh stated that his company wants to create products that "help people enhance their knowledge, success, health, and happiness." He added that Fitbit shares that goal, with a focus on "wellness and helping people live healthier, more active lives."
But to do that, privacy and security are paramount, the Senior VP claims.
"We will never sell personal information to anyone. Fitbit health and wellness data will not be used for Google ads. And we will give Fitbit users the choice to review, move, or delete their data."

Rick Osterloh, Senior Vice President of Devices & Services
Even Fitbit highlighted the importance of privacy, stating that "strong privacy and security guidelines have been part of Fitbit's DNA since day one, and this will not change."
But despite all the assurances, a lot of users remained skeptical.
What Fitbit Users Said
Fitbit wearers took to social media to voice their complaints about the deal. Brian Pagan tweeted: "Hey there! Anybody here know a privacy-friendly alternative to Fitbit? Now that Google bought them, I'd like to switch to something else."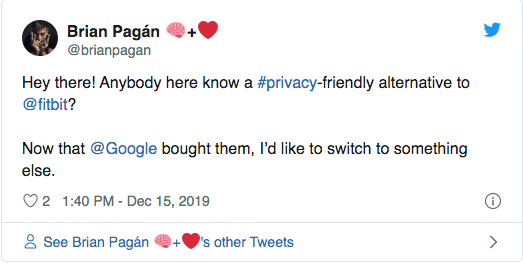 Another user tweeted that he tossed his Fitbit into the trash, while Tanya Janca said: "I intend to sell my Fitbit and delete my account."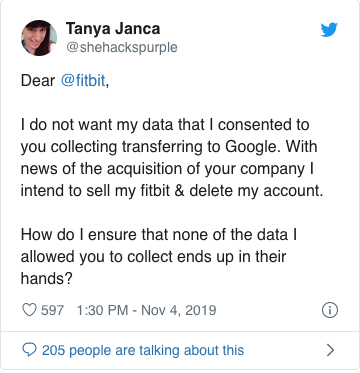 Mike Carpenter, who wore Fitbit all the time except in the shower, left his smartwatch on his desk ever since he heard the acquisition news. He told CNBC that what worries him the most is what Google can do with his data when their AI advances in 10 or 20 years.
"Health insurance companies would love to get their hands on that data and their purposes wouldn't be advertising so is that what they are going to do with it? They didn't spend the money to not utilize it in some way."

Mike Carpenter, Fitbit User
Some users referenced Google's 2014 acquisition of Nest Labs as an example of data collection and privacy intrusion. The company used to make smart home thermostats. But after the take-over, Google tied Nest's technology, branding, and device accounts to its digital assistant and smart speakers. That led several homebuilders to ditch Nest.
---
Profit and Apple Competition
When we discuss smart devices, phones, tablets, and TVs receive most of the attention, while smartwatches tend to go off-grid. That's a bit surprising considering that the Apple Watch is one of the fastest-growing divisions at the company.
In 2018, it outsold every other smartwatch in the industry, earning half of the global sales. But despite its dominance, Apple Watch's market share decreased from 67% in 2017 to 51% in 2018. And where Apple lost, Fitbit and Samsung gained. Nevertheless, both companies are still way off the number one spot.
"Apple Watch is losing market share to Samsung and Fitbit, whose rival smartwatch portfolios and retail presence have improved significantly in the past year."

Neil Mawston, Executive Director at Strategy Analytics
Strategy Analytics revealed Apple shipped 22.5 million watches across 2018, while Fitbit sold 5.5 million units, followed by Samsung with 5.3 million units. So as you can see, there's a lot of money in wearable technology, and Google wants a share of that chunk.
According to Research and Markets, the wearable devices market is expected to reach $62.82 billion by 2025. That is due in part to the growing consumer preference for connected devices and the increasing population of IoT and related devices.
Now, that's a lot of money that Google would love to get a piece of. And with Fitbit, it can certainly claim a bigger market share in the next few years and finally make a dent in the smartwatch industry.
---
How Google Can Use Fitbit
Despite having a range of watches that run on its Wear OS, including Michael Kors and Fossil, Google has barely dipped its toes in the smartwatch market. And in terms of market share, it has some serious catching-up to do if it wants to compete with Apple Watch.
That is why the acquisition of Fitbit made perfect sense. Instead of taking years to develop a product that could be a hit or miss, Google went out and bought a leading fitness tracker to do so instead. Bob Bajoras, President and Co-founder of Art+Logic, says Google now has the resources to launch an advanced health monitoring system. However, the design aesthetic is still lacking.
Bajoras predicts that the tech giant can use its vast resources to help Fitbit further compete in the wearable technology category. Otherwise, it can fold Fitbit's technology into the Google universe by rebranding it as an Android device.
Now, Google denies that it plans to sell user data to third parties like ad agencies. But Fitbit reported losses last year, and the tech giant is not a charity. Still, that doesn't necessarily mean that Google intends to share client info with the highest bidder.
Google will most probably integrate Fitbit with its lineup of devices and products. That includes Pixel smartphones, Google Home, and Nest Hub. As a result, your smartwatch will transmit data to your phone, which is synchronized to your smart thermostat and speaker.
That means all Google devices will have access to your health data, contacts, your favorite shows and music, and a lot more. The company says it won't share your data with external parties, but nothing prevents it from transferring it between its divisions.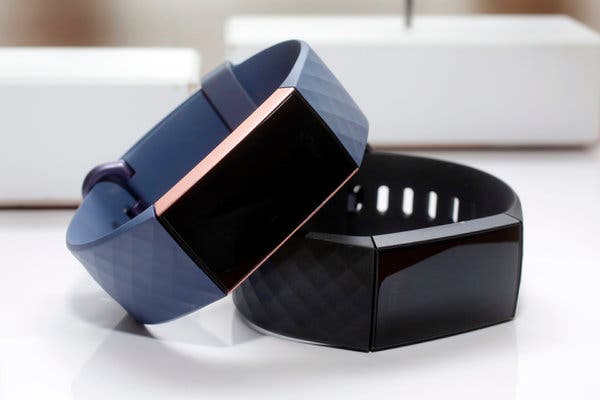 ---
Is There a Chance for Privacy With Fitbit?
Given Google's track record, I wouldn't bet on too much privacy when using Fitbit. Yes, both companies have assured customers that their data will remain safe, but privacy policies can change at any time. For example, Google's Home Mini recorded entire conversations and transmitted them back to company servers. And let's not forget about the Nest Labs incident.
The tech giant collects data for a living to improve its line of services and products. And I don't see why Fitbit will be any different. If you have any privacy concerns, I advise you to delete your data. You can do that from the Fitbit website, but the company will permanently erase it after one week.
Alternatively, you can use the following wearable fitness devices:
Apple Watch Series 3
Garmin Vivofit 4
Samsung Fit2 Pro
Huawei Band 3 Pro
Jawbone UP4
Nokia Steel HR
TomTom Spark 3
Fitbit Security
Privacy isn't the only concern when it comes to Fitbit. The company faced a security breach in late 2015 when cybercriminals hacked dozens of accounts using leaked emails and passwords. It should be noted, though, that hackers got their hands on such data from third-party websites, and not by breaching Fitbit systems.
A company spokesperson revealed that Fitbit emails or servers were never attacked, adding that "it would be inaccurate to state or imply otherwise." once it discovered the breach, Fitbit immediately reset the passwords of the affected users, urging them to create new ones.
"Our investigation found that the accounts were accessed by an unauthorized party using previously stolen or compromised credentials from other third-party sites unrelated to Fitbit."

Fitbit Spokesperson
Hackers managed to change account details and attempted to defraud the company by ordering replacement items under the user's warranty.
Strava Gives Away Sensitive Military Info
Strava is a social fitness network that allows users to record their exercise and share it with others. You can use the app on several devices, including smartphones and fitness trackers like Fitbit. It displays valuable exercise data like popular running routes in major cities.
In 2018, Strava shared sensitive information about the location and staffing of military bases around the world. Thanks to the exercise and running routes of soldiers on active service, users were able to spot the location of bases and outposts.
Strava showed the data in a visualization map, displaying all the activity tracked by users of its app. The bases that were revealed included places in conflict zones like Afghanistan and Syria, which could endanger a lot of personnel stationed there. Other locations that were on display featured Homey Airport, Nevada, better known as Area 51, and RAF Mount Pleasant in the Falkland Islands.
And you can easily spot these places as they light up on the map, along with the routes that soldiers take to train and exercise.