Who still hasn't heard of Netflix? The company was founded in 1997, but it never really came to life until 2007 when it introduced streaming media. And the rest, as they say, is history. Today, Netflix reportedly has 148.8 million subscribers worldwide, with more than 60 million users in the US alone. However, if you think that it is simply a streaming service, you're sadly mistaken. The company also produces original content called "Netflix Originals," and serves as a distributor for both film and TV series. But unfortunately, this content isn't available everywhere.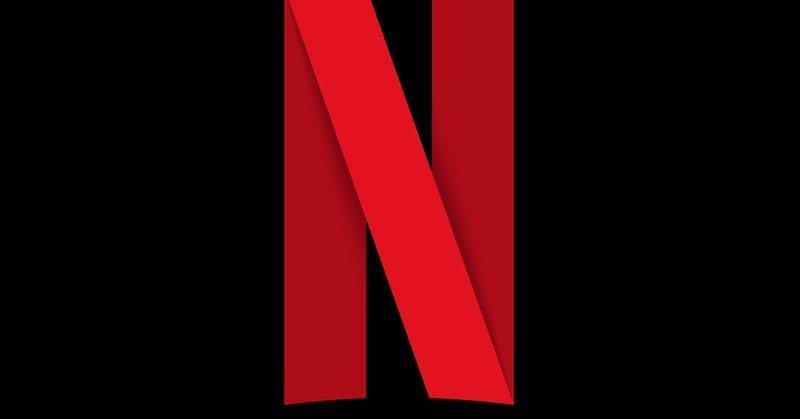 Do You Still Need a VPN to Access Netflix?
As you may know, Netflix's online library differs from region to region, which means that not all subscribers have access to the same shows. Finding a VPN that actually still works with Netflix can be a daunting task. That's why we only included the best VPN service providers for Netflix in 2023 in this guide.
VPN comes into play when you want to choose which library version you want to access. I will do a walkthrough of which VPNs still allow you to stream the best Netflix libraries. As said, the libraries differ vastly from region to region, and you might not be getting the most out of your Netflix subscription.
Index
What is a VPN?
A VPN is short for virtual private network, a tool that can spoof your online location. It allows you to connect to foreign servers all over the world, then reroutes your traffic through that network. Also, it gives you a new IP address from the region that you selected to make it appear as if you were physically there. This will give you access to geo-blocked material and help you avoid Internet censorship.
But that's not even half of it. VPNs also encrypt your online activity so that no one can see what you are up to while browsing the web, not even your internet service provider. So if you value your online security, you should definitely get one.
Furthermore, these tools protect you from malware and cyber hazards whenever you go online, and especially if you constantly connect to public WiFi networks. Hackers can swiftly and easily steal your data when you use such networks, unless you have a VPN.
How to Install a VPN – the Steps
Who would have thought that this simple software can be so useful? And if you think about all the invasions of privacy that took place behind your back each time you went online, you'll never take VPNs for granted ever again. As a result, installing one on your device is simply a must. Here's how you can get American Netflix while outside the USA for instance:
Select a reputable VPN service with a vast server network and sign up to it. Check out our list of suggestions below.
You can download and install the app from the provider's website or your device's app store.
Good VPNs are compatible with almost any platform so you shouldn't find any difficulty setting them up on your device.
Sign in and connect to a foreign server. For example, if you want to access Netflix's US library, you have to connect to an American server.
Unlock any Netflix version you'd like from anywhere and stream your favorite shows.
Criteria of Best VPNs for Netflix
Unlike most US streaming services, Netflix is available pretty much everywhere. The only problem is that its online libraries differ depending on your location. This means that if you live in the UK, you won't have access to the same content as those who live in the US.
How can Netflix do that? Through your IP address. This numerical label reveals your global location to the internet. As a result, when Netflix sees that you are in the UK, it will give you access to UK-restricted programs.
Therefore, if you want to stream a show that isn't available in your region, you need a VPN.
When you're choosing which VPN service you'd like to use, keep in mind that not all of them offer the same level of features. Free providers like Hola VPN and CrossVPN, for example, are very untrustworthy and I recommend that you stay away from them. But even certain paid brands aren't that good, especially when it comes to accessing Netflix.
Therefore, in order to successfully unblock Netflix from anywhere, your VPN must have:
A large server network.
Fast and reliable servers located in the area you want to connect to.
Top-of-the-line security and privacy features, including strong encryption and a no-log policy.
Netflix compatibility (ability to unblock Netflix and several other streaming channels).
High compatibility with every major platform, device, or operating system.
User-friendly and easy-to-download apps.
Good customer support.
Best VPNs for Netflix – Features
Now that you know what to look for, you can check out this list of the best VPNs for Netflix:
ExpressVPN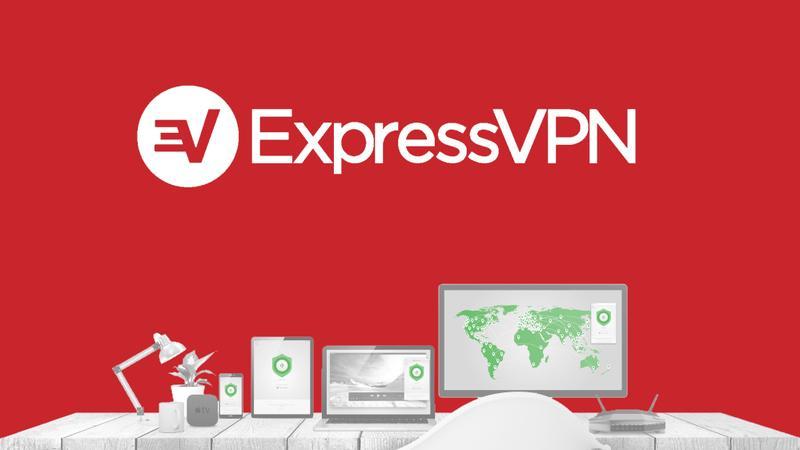 So as you can see from our table, ExpressVPN is the pick of the bunch. Honestly, you won't find a better service for unblocking Netflix as it ticks every box that I mentioned earlier. Just check out some of its features and you be the judge:
160 server locations: The company has more than 3,000 servers in 160 different locations, including 94 countries. This allows you to access any Netflix library no matter where you are.
Incredible speed levels: When you use this service, you can forget about buffering or lag issues. ExpressVPN has one of the fastest servers in the business, which makes it ideal for streaming. And it doesn't just unblock Netflix, but also other popular channels like BBC iPlayer and Amazon Prime Video.
AES 256-bit encryption: A military-grade encryption protocol that allows you to surf the internet anonymously. It protects you from government surveillance and ISP monitoring.
No-logging policy: The company implements a strict no-log policy: "We never keep traffic logs, and we also don't keep any logs that might enable someone to match an IP and timestamp back to a user."
Torrenting and P2P allowance: ExpressVPN allows full P2P file-sharing and torrenting activity. Also, it protects you from legal action from copyright owners.
Full Netflix compatibility: It can get you access to any library you'd like, even the US version of Netflix.
High compatibility: You can install it on Windows, Mac, Android, Linux, and iOS.
BulletVPN
BulletVPN takes second place on our list. The company has one of the best speed levels in the industry, thus the name 'BulletVPN.' It says on the website: "We make sure our servers are not overloaded and use premium grade carrier lines to provide the highest speeds possible."
But speed isn't its only strong point. The company also provides some strong security and privacy features like AES 256-bit encryption, a kill switch, five VPN protocols, and a no-log policy.
However, it has a relatively smaller network of 115+ servers in 51 countries compared to other providers. But they are all located in major cities, which you can still unblock Netflix and other major streaming channels. Also, it allows six simultaneous connections per account.
Pros:
Pros
30-day money-back guarantee.
Unlimited server connections.
Support for six devices at the same time.
Free DNS Proxy.
Compatible with Netflix.
Very fast.
NordVPN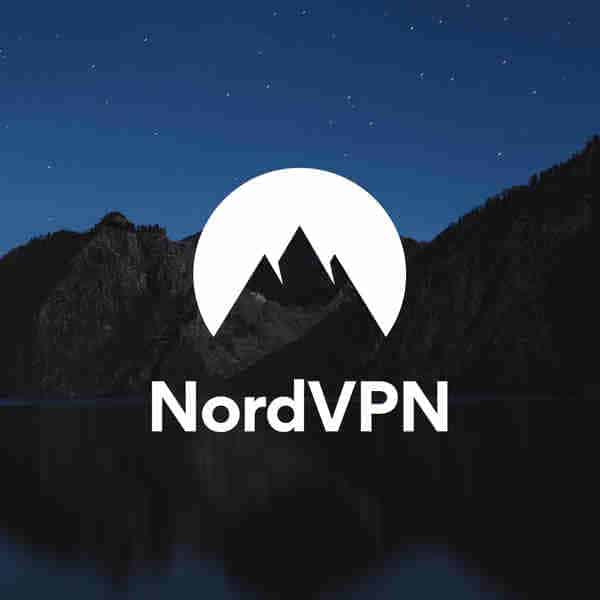 NordVPN is also in our book thanks to a list of outstanding features. It has over 5,000 servers in 59 countries, which means that it can grant you access to any Netflix library.
As for security and privacy, the company offers the same features as its peers, in addition to one unique option: Onion over VPN. This provides double protection as your Internet traffic goes through their servers, then goes through the Onion network. Also, NordVPN is based in Panama, where there are no data retention laws.
Pros:
Pros
Double VPN feature.
Torrenting allowance.
Compatible with Netflix.
Live chat feature.
Easy to use and user-friendly interface.
Six simultaneous devices.
Cons:
Cons
No refunds for Bitcoin payments.
No Phone Support.
However, the company does not provide phone support, and its server speeds can sometimes be inconsistent.
Can I Use a Free VPN to Watch Netflix?
Simply put? No, you can't, and for a number of reasons too. First of all, free VPNs like Hola VPN, Betternet VPN, and CrossVPN are untrustworthy and unreliable. They store your internet traffic and search history and sell it to third parties like advertisers. Furthermore, they don't offer basic security features like encryption or DNS leak protection. And when it comes to streaming, they have slow and overused servers, so expect nothing but video buffering issues.
But if that's not enough for you, then maybe the VPN ban that Netflix applies will convince you not to use free VPNs.
Netflix VPN Ban
If you're an advanced VPN user, then you might have noticed that Netflix has clamped down on allowing VPNs to bypass their geo-blocks. The channel caved in to pressure from copyright holders and distributors who control what is shown where.
You see, these guys sell streaming right for movies and series separately in different countries, which means a lot of money. However, if you watch a show that is not available in your country using a VPN, distributors and copyright holders don't get paid for that view.
And since Netflix is investing more and more money into producing its own content, this move is actually beneficial for it. Why? Because they won't lose any money from piracy.
Therefore, the US streaming service decided to ban the majority of VPNs, with only a few still compatible with it.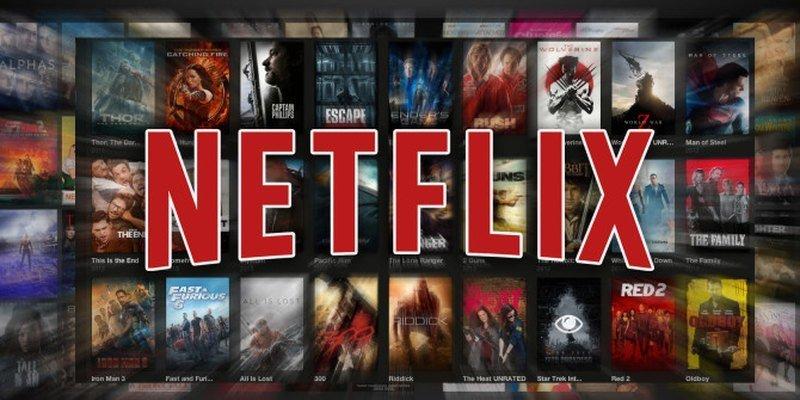 Where is Netflix Available?
Netflix expanded internationally in 2010, launching its streaming services in Canada, then Latin America and the Caribbean in 2011. Today, Netflix members can watch TV shows and movies in over 190 countries. According to their website, the service is still unavailable in China, 'though the company continues to explore options for providing the service.' It's also inaccessible in Crimea, North Korea, and Syria 'due to US government restrictions on American companies.'
How to Subscribe to Netflix
Because Netflix is available almost everywhere, the subscription process is pretty much the same anywhere. All you have to do is:
Visit Netflix and click on the 'Try 30 Days Free' button (you'll still need to provide a payment method).
Then, tap 'See the Plans' to view which package you'd like to choose: Basic ($8.99), Standard $12.99), Premium ($15.99).
Select a plan then hit 'continue.'
Create an account by entering your email and password, then click 'continue.'
Select your payment method: Credit or Debit card (Visa, Mastercard, Amex or Discover), PayPal, or Netflix gift card.
Enter your payment details
Hit 'Start Membership' to wrap up and start streaming.
For extra security, I advise you to use any of the VPNs above when you're subscribing to Netflix. That way, no outsider can see your payment details.
If you subscribe to Netflix in the US, you can still access your account almost anywhere (except the countries listed above). However, the American version won't be available. Allow me to explain.
You decide to take a vacation and travel to Scotland. While you're there, you want to keep track of your favorite series, but suddenly it's not there anymore. Instead, you'll see this: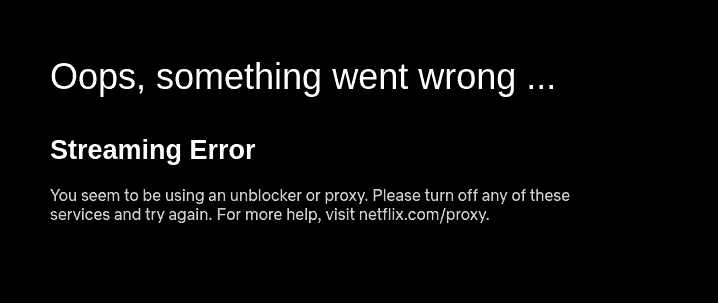 "Oops, something went wrong… Streaming Error: You seem to be using an unblocker or proxy. Please turn off any of these services and try again. For more help, visit netflix.com/proxy."
That's because you're viewing Netflix UK. In order to unblock Netflix USA, you have to get a VPN and connect to an American server. But not just any virtual private network, but the best VPNs for Netflix.
Netflix's Surge to Popularity
Netflix has seen a meteoric rise in popularity over the past decade. It still registers a record number of subscribers each year, in addition to a rise in revenue. Earlier this year, The Washington Post wrote a piece about how the streaming service is dominating TV.
The newspaper gave the example of a drama series called 'You.' It stars Penn Badgley of "Gossip Girl" as a psychotic stalker who becomes obsessed with a woman who visits his bookstore. The show aired on Lifetime but was ignored by most viewers. However, after Netflix acquired the rights for the series and launched it the day after Christmas, social media exploded as viewers raved over 'You.'
In fact, Ashley Thomas of Los Angeles recommended the series to her friends after she saw it on Lifetime. But her comrades ignored her pleas. "They shrugged it off because it was on Lifetime," she explained.
But after the drama appeared on Netflix, Thomas's friends started asking her if she had seen "this great new Netflix show called You." This really annoyed Thomas and forced her to clarify things over Twitter:
"I would really appreciate it if people stopped thinking that You is a new show now that it's repackaged as a Netflix Original. You didn't discover it. It was on Lifetime for 10 weeks," she wrote. "Stop telling me to watch a show I already watched weeks ago."
But if you still don't believe just how big Netflix has become, check out this Google Trends map for "YOU Netflix" vs. "YOU Lifetime."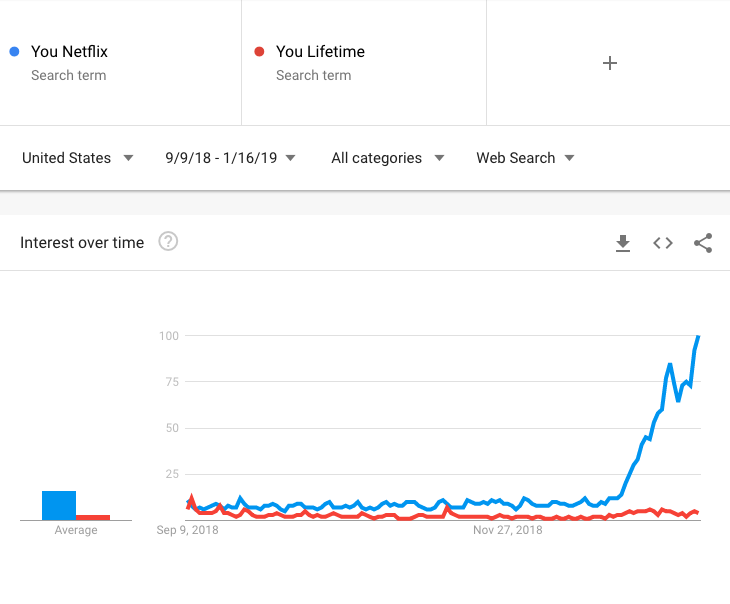 Furthermore, 'Netflix Originals' such as House of Cards and Orange Is the New Black contributed to even more success for the streaming channel. Both series received critical acclaim and international praise, putting Netflix on the map of creating quality content.
Tougher Times Ahead?
Despite adding a record 9.6 million new subscribers in the first quarter of 2019, Netflix could take a hit as Apple and Disney prepare to launch their own streaming services later this year. Both companies will feature a lineup of exclusive content that they hope will rival Netflix.
However, despite the announcement, the company still made some record numbers.
"Netflix has such a huge head start and it's a beloved brand in streaming," Jill Rosengard Hill, an executive vice president at Magid, a research-based media firm, told CNN Business. "Think about how 'Netflix and Chill' is such a part of vernacular today. Consumers associate Netflix with streaming."
Netflix told shareholders that it does not "anticipate that these new entrants will materially affect our growth" because moving from "linear to on-demand entertainment is so massive" and "because of the differing nature of our content offerings."

"Great competition makes you better," Netflix CEO Reed Hastings said on the earnings call. "We're thrilled to have Disney and Apple in. They're awesome companies. Just to be in the same league as them is very exciting for us."
Disney's streaming service, Disney+, is planning to introduce some amazing and exclusive programs when it launches on November 12. The content will include several Marvel Studio shows, an original "Star Wars" series called "The Mandalorian," Disney classics like "The Lion King" and "Aladdin," in addition to Pixar films and documentaries from National Geographic. Oh! And did I mention The Simpsons?
Furthermore, subscribing to the channel will only cost $6.99, which is a bargain compared to other channels.
Best VPNs for Netflix Originals
Netflix started producing its own content back in 2012 when it premiered its first exclusive series Lilyhammer. The show was co-produced with Norwegian broadcasting company NRK. Since then, there have been plenty of 'Netflix Original' programs, including:
Narcos
Bodyguard
13 Reasons Why
Ozark
Bad Blood
Designated Survivor
House of Cards
Lucifer
Marvel's The Punisher
Black Mirror
The Haunting of Hill House
Bird Box
Stranger Things
Orange is the New Black
Extremely Wicked, Shockingly Evil and Vile
Netflix Compatible Devices
You can watch Netflix on a host of devices and platforms, including:
Apple TV
Fire TV
Roku
Chromecast
Samsung Smart TV
PS3 – PS4
Xbox One – Xbox 360
Nintendo Wii
Nintendo 3DS
Android smartphones
iOS smartphones
Windows smartphones
PC
Mac

Best VPNs for Netflix – Final Thoughts
When it comes to streaming services, it is safe to say that no one can match Netflix. Maybe it's because it had a big head start, as Jill Rosengard Hill suggested. Nonetheless, the company is still raking up record subscribers each year, as well as adding some amazing content.
However, you can't ignore the competition it's receiving from rivals like HBO, AMC, Hulu, who have all produced some critically acclaimed series. Add Apple's and Disney's streaming services, which will launch later this year, and you can arguably say that Netflix won't be as dominant as before.
One thing's for sure though, is that streaming services could dethrone conventional broadcasters and take over the TV world. Therefore, if you're a TV buff who enjoys watching shows online, then Netflix is, without doubt, your number one pick. And with the best VPNs like ExpressVPN within your grasp, you can watch your favorite programs from anywhere in the world.
Best VPN for Netflix
VPN Applications - 94%
Speed - 90%
Compatibility - 85%
Customer Support - 88%
Refund Period - 90%
Out of all the VPNs we have tested, ExpressVPN worked best with Netflix. You can use this particular VPN provider to access the American, as well as the Canadian and British, Netflix versions.