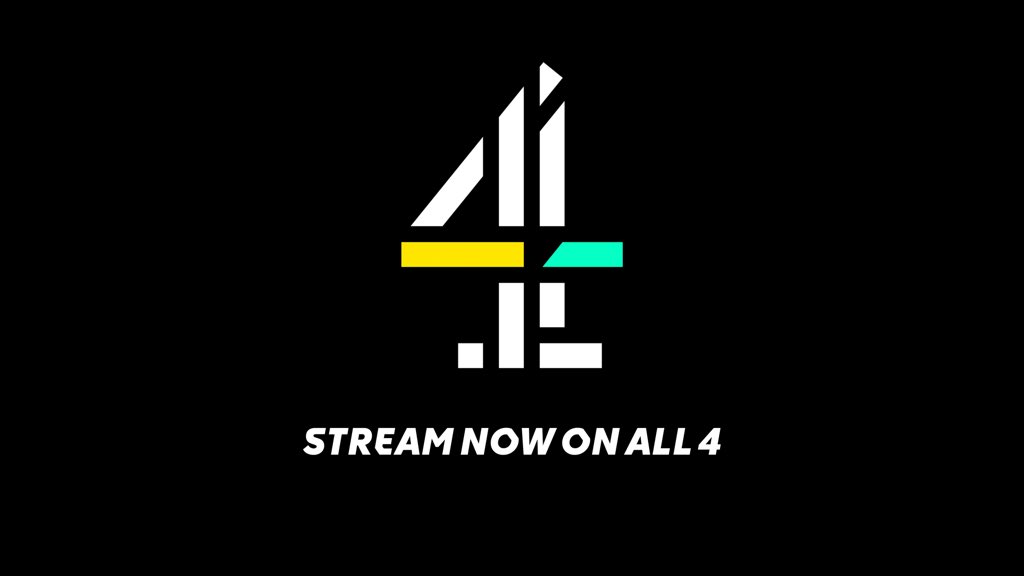 Channel 4 offers an exciting lineup of British and international shows, including series, films, reality TV, news, and more.
Viewers can watch all that content online through the All 4 website and streaming app completely free upon registration. Or, they can subscribe to All 4+ for an ad-free experience. It costs £3.99 per month.
However, All 4 and All 4+ are only available in the UK and the Republic of Ireland. So you can't binge your favorite programs once outside the region.
But no need to worry; a premium VPN will help you bypass geo-restrictions and unblock All 4 from anywhere. You can't use any provider, though, which is why we prepared a list of the best VPNs for Channel 4 and All 4.
All the Steps for Unlimited All 4 Access
Time needed: 3 minutes
Don't let geo-blocks get in your way. Stream All 4 outside the UK in a matter of minutes.
Subscribe to a premium VPN.

Simply visit the VPN website, choose your preferred plan, create an account, and select a payment method. We highly recommend ExpressVPN.

Install the VPN app.

You'll find dedicated apps for all popular platforms, like Android, iOS, PC, and Mac. You can also set it up on your router to watch on your Smart TV and game console.

Sign in and connect.

Open the app, log in, and connect to a server location from the UK or Ireland. However, the UK library has more content.

Visit All 4's website or app.

All of All4's location error messages have disappeared.

Stream from anywhere.

Get reliable All 4 access from outside the UK.
All You Need to Know About All 4
Explore everything about All 4, how to unblock it, and which VPN to use in our easy, quick-read guide.
The Requirements
Here's what you need to get started:
A premium VPN.
An All 4 account or All 4+ subscription.
A compatible device.
All 4 Content for Just One Region
British viewers know all about All 4, the British streaming platform from TV network Channel 4. It is home to a wide selection of programs, including series, originals, films, and news.
What's even more interesting is that you can watch all that content completely free after you register. But you will encounter a few ads here or there.
Don't have time for ads? No problem! All 4+ offers an uninterrupted streaming experience for £3.99 per month.
You'll get the same full lineup of shows with a 14-day free trial, and you can cancel your subscription any time you want.
However, both All 4 and All 4+ are unavailable outside the UK and Ireland due to broadcasting agreements.
So, if you're a constant traveler or an expatriate living abroad, you'll no longer have access to either service. This is how Channel 4 explains the whole situation:
Rights agreements mean that our All 4 service is only available in the UK and the Republic of Ireland. Even if you are a citizen of the UK or ROI you cannot access the service from abroad.

Channel 4
But does that mean you have to miss your favorite shows? No, not with the help of a VPN.
Watch All 4 Outside the UK with a VPN
Streaming your favorite Channel 4 programs from abroad is easy. You just have to connect to a VPN server from the UK.
As a result, the VPN will reroute your traffic through an encrypted tunnel, hide your actual IP address, and then give you a new one from the same server location you selected, i.e., the UK.
And with your new IP address, you'll appear as if you were inside the country, giving you access to All 4 and every other UK-based online service.
So you won't just watch Channel 4, but also Now TV, BBC iPlayer, Sky Go, ITV Hub, Virgin TV, and BT Sport.
Meanwhile, if you attempt to visit All 4 without a VPN connection, you'll encounter the same geo-error messages we did.
"All 4 is only available in the UK. You can find more details on our FAQs."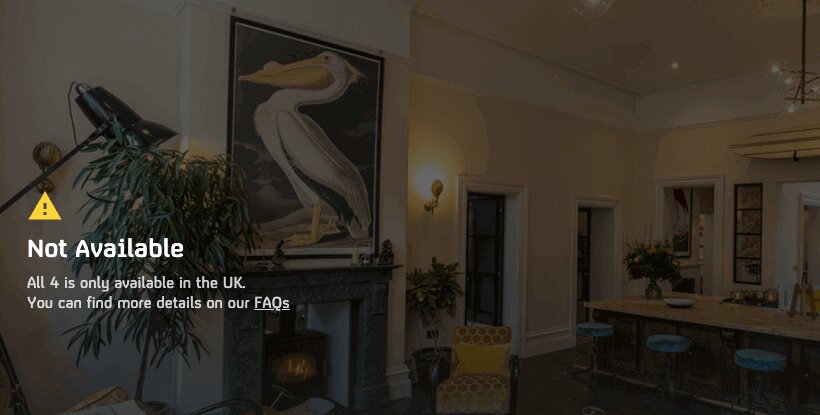 "Error. This programme is not available in your current location."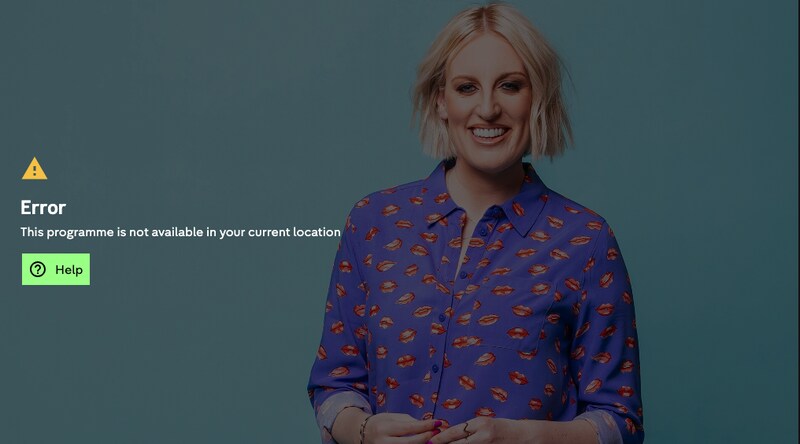 Although the streaming service is also available in Ireland, some titles may be missing due to rights issues, as per the Channel 4 website. More reasons to use a VPN.
Additional VPN Benefits
Premium VPN services don't come for free, but you'll find the price tag quite justifiable. In fact, you can use them whenever you go online. Just take a look at some of the advantages:
Best VPN for Channel 4
Sometimes, the problem isn't just with geo-blocks. Streaming services also deploy VPN detection technology, allowing them to detect and block most VPN IP addresses.
Consequently, you still won't be able to stream Channel 4 from abroad if you get the wrong VPN.
Now, based on our tests, free VPNs almost never get the job done. Their limited servers, usually three, means they are easier to detect. Furthermore, even if you somehow get access, the speed levels are far from ideal, and there are caps on data usage.
With that being said, the only free VPN that passed our rigorous evaluation was Qamo VPN. We connected to the London server and streamed All 4 shows without buffering or VPN detection. Furthermore, there are over 10 server locations to choose from, which is great for a free VPN. If you don't mind ads, Qamo is our top choice for watching All 4 (Channel 4) outside the UK.
Therefore, the best course of action is to get a top-rated VPN. ExpressVPN came in first when we tried to watch All 4 from abroad. BulletVPN's bullet-speed servers and perfect unblocking record were also very impressive.


30-Day Money-back Guarantee
Unlimited Bandwidth
Apps For All Your Devices
24/7 Live Support
Visit ExpressVPN
All 4 Device-Support
You can access and watch All 4 and All 4+ on the following devices:
Mobile
Channel 4's apps are only available for download in the UK and Ireland. If you're abroad, you must:
Connect to a server location in the UK
Change your Apple ID region or Play Store country to the UK
Visit the app store and download the app
Register/subscribe, sign in, and start binging
Desktop
You don't have to change much if you're watching Channel 4 on your PC or Mac. Just:
Select a UK VPN server
Go to https://www.channel4.com/
Sign up, subscribe, or sign in if you already have an account
Watch All 4 outside the UK
Smart TV
Unlike All 4, VPNs don't have dedicated apps for Smart TVs, which means you have to:
Install a VPN on your router if you're abroad
Connect to a server from the UK
Download All 4 or All 4+ on a compatible device
Watch your favorite program on your Smart TV
Gaming Console
Channel 4 has apps for PS4 and Xbox One. VPNs don't. Therefore you must:
Set up a VPN connection on your router, then connect to a UK server.
Switch to the UK PlayStation and Xbox regions
Download the All 4 app
Sign in and get started.
Other
All 4 also has apps for Roku, Amazon Fire TV, Chromecast, and more. Simply follow the same steps featured in the Smart TV or gaming console tabs to get the app.
Channel 4 FAQ
For more information about Channel 4, All 4, or All 4+, here are the most frequent questions our readers ask.
Where is All 4 available?
All 4 and All 4+ are only available inside the UK and Ireland (although some titles might be missing in Ireland) due to content rights agreements.
Yes. All 4 is an ad-supported, free streaming service. All you need to do is register to watch your favorite programs.
How do I register for All 4?
Follow these simple steps to create your All 4 account:
Go to https://www.channel4.com/
Enter your email and password
Fill in your name, date of birth, gender, and address (use SW1W 0N if you don't have one)
You'll receive a confirmation email to complete your registration.
What do I get with All 4+?
All 4+ allows viewers to watch shows without ads. It offers a 14-day free trial and costs £3.99/month after that.
What can I watch on All 4 and All 4+?
You'll find a wide selection of programs from Channel 4, E4, More4, and Walter Presents on both streaming services, including:
The Simpler Life
Married at First Sight

Gogglebox

It's a Sin
Derry Girls
Frasier
Cheers

The IT Crowd

Channel 4 News

Adult Swim
Access All 4 Outside the UK with a VPN – Final Words
You'll find plenty of binge-worthy and entertaining shows on All 4, and for free as well. However, you have to be inside the UK or Ireland to access the streaming service and its ad-free partner, All 4+. Otherwise, all you'll see is a geo-error message saying you're in the wrong location.
To avoid all this trouble, simply subscribe to a premium VPN service like ExpressVPN or BulletVPN. You'll get guaranteed, quick streaming support of All 4 and all your other favorite platforms.
And if you're dissatisfied with the service, get a full refund with the 30-day money-back guarantee.