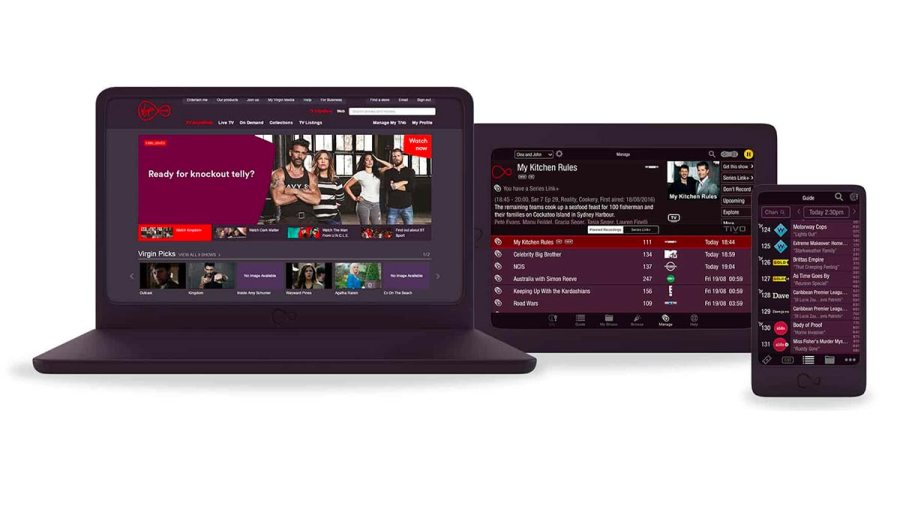 To people who spend most of their time on Virgin Radio, you probably want to shift your focus to TV Go now. Virgin TV Go lets you stream TV from over 40 channels from the United Kingdom. Sadly, however, it's only available in the UK.
For ex-pats and travelers in the US, Canada, Australia, and elsewhere overseas, we'll present to you the best option to access its streaming content wherever you may be. so, without further ado, here's how you can watch Virgin TV Go outside the UK.
Virgin TV Goes Nowhere Outside the UK
Virgin Television has more than 3.4 million subscribers, most of them come from cable subscriptions. However, regardless of the huge popularity, Virgin Television's streaming platform only operates within UK borders.
That's what we call geo-blocking, where services and websites restrict user access to certain areas, mainly for copyright reasons.
These channels examine your IP address to determine your location. If you reside outside their coverage area, an error would appear to inform you of their unavailability.
For example, if you've already tried to access Virgin TV Go abroad, then you've probably encountered this geo-error message:
Streaming Not Permitted. Out of home streaming is not permitted from Virgin TV box. Contact Customer Service for further information. Error Code: E=8 V=-1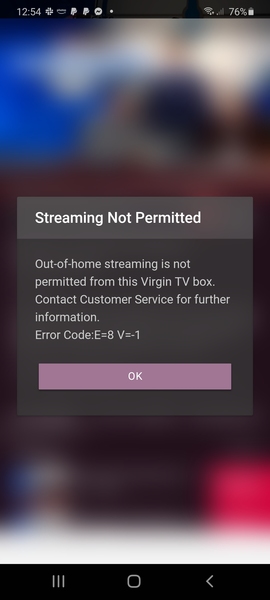 Your IP address dictates what you get to access over the internet. It's been an issue for a long time now, and we're here to fix that. It's so simple. A simple alteration in your IP should do the job. But the question is: How can you do that? The answer lies in the following section.
Virgin TV Goes Global – Enter VPN
Geo-blocking will ban you from streaming the best channels in the UK such as the BBC, ITV, and Sky Go. But there's a solution to this whole problem: enter Virtual Private Networks.
A VPN is a cybersecurity tool that enhances your online security and privacy while browsing the web. It uses military-grade encryption to safeguard the data sent and received by rerouting it through a private tunnel.
During the process, the VPN hides your IP address and replaces it with one in a country of your choosing. That, of course, is based on the server you connect to.
With a VPN, you'll be able to connect to a UK server. Thus, you spoof your online location and trick Virgin TV Go into thinking that you're currently residing within the United Kingdom. Once that is done, you'll have full access to what the service has to offer.
A very simple task with a huge outcome. So, just follow the steps below, unblock Virgin TV Go, and watch its live or on-demand shows wherever you are:
Sign up with a VPN provider, ExpressVPN is highly recommended.
Download and install the VPN application on a compatible device such as Android, iOS, PC, or Mac.
Sign in with your VPN account and connect to a UK server.
Launch the Virgin TV website or Virgin TV Go app.
Finally, a whole new library of shows, movies, and live broadcasting is in your hands.
I really advise using ExpressVPN for the process to go smoothly. You have nothing to lose if you don't like it, you can get your money back within a 30-day range. Unblocking UK TV is not hard with this VPN. However, if you're not convinced, you can do the same with these best VPN services in the UK.


30-Day Money-back Guarantee
Unlimited Bandwidth
Apps For All Your Devices
24/7 Live Support
Visit ExpressVPN
Another Unblocking Method
Regardless of how credible the VPN you're using is, speed drops are bound to happen due to the presence of encryption. The speed loss happens as your traffic is taking a longer route to reach its destination.
Now, to prevent that, there's Smart DNS as an alternative. This technology is created only to bypass regional restrictions, i.e, no added security present.
Smart DNS does not change your IP address, nor does it encrypt your data. It simply reroutes the URLs responsible for showcasing your location.
Once setup, you can watch any channel wherever you are if the provider supports it. Finally, with no change in your IP address, you can navigate between unblocked channels and local ones simultaneously without losing access to either of them.
All the providers in the table above offer a free Smart DNS feature with every subscription. However, we'll be taking Unlocator as an example here. Here's what you need to do:
Subscribe to Unlocator. You'll get a 7-day free trial.
Follow the instructions on their website based on the platform you're using.
Restart your device and start streaming.
We selected Unlocator as an example since it's the only VPN that has a separate subscription for Smart DNS. For those who don't care about their online security, they can simply opt for that, benefiting from a 7-day free trial, along with a 30-day refund policy in the process.
Devices Compatible with Virgin TV Go
Virgin TV go doesn't only offer a wide range of content, it is also compatible with a plethora of devices. So, all you have to do is sit back, turn on one of the following devices, and start streaming:
PC
Mac
Android
iPhone
iPad
Amazon Fire Stick
List of Channels Available on Virgin TV Go
Virgin TV Go allows up to four simultaneous streams according to the subscription you've chosen. However, regardless of how many devices can stream at the same time, we have to note that any customer can navigate between more than 100 live TV channels on the go from their devices. To give you a quick look, here are Virgin TV Go's most notable channels:
BBC One
ITV
BBC Two
Sky One
alibi
SYFY
CBS Reality
History Channel
Paramount Network
E!
TLC
CBS
Sky Sports
How to Watch Virgin TV Go Overseas – Final Thoughts
A VPN has tons of other features that you can benefit from when you're browsing the web. From complete safety and security with encrypted traffic to anonymous browsing. A good VPN does it all. So, if you're looking to take your online experience further, you should definitely get a VPN.