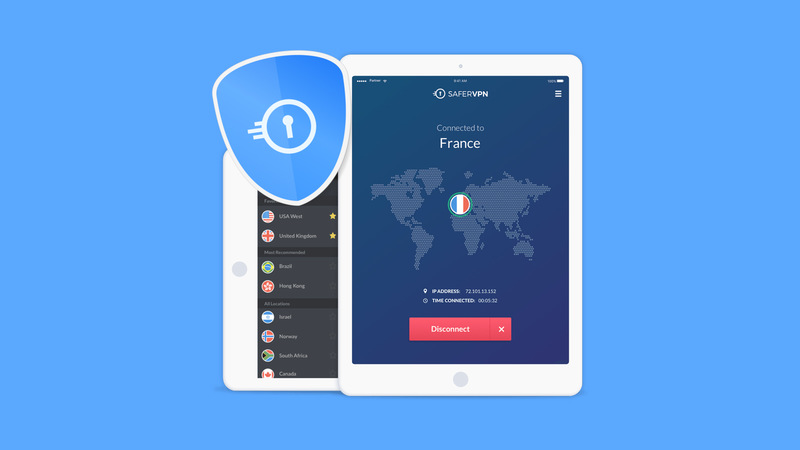 SaferVPN has been on my list of VPNs-to-Review for quite some time now. I've conducted several tests, and from what I've seen, this VPN can deliver in some departments. Whether it's security, unblocking, or overall performance, SaferVPN has it. However, this Israel-based VPN did fail at some point during the evaluation. We combined all the pros and cons of SaferVPN and came up with the following review:
The Application
SaferVPN has my favorite VPN mobile app. It's not the most feature-rich, but it strikes the perfect balance between ease of use and functionality in my opinion.
Something about the smoothness of its menus, the way the tabs just glide perfectly under your finger when you swipe, the easy to look at colors, and the way the menus are organized truly stood out for me.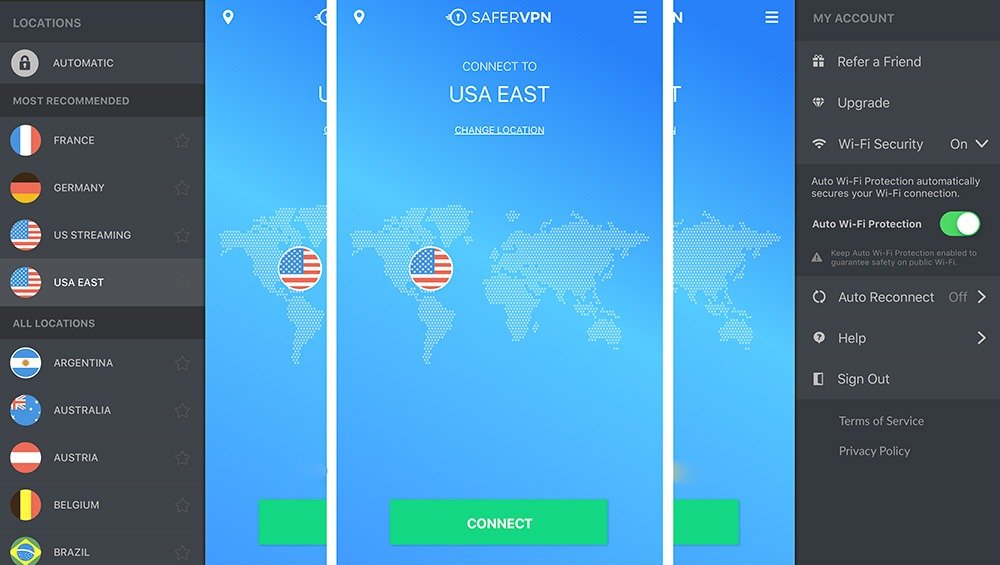 There are three tabs. The main tab sits at the center, flanked by the locations tab on the left and the menu tab on the right. Each of the bordering tabs can be revealed by swiping from either side; they enter the screen but stop from covering it entirely, leaving a small margin of the main tab always visible.
That margin and the use of shadows on its edges give the impression of depth, and the fact that it is always visible gives the user a sense of direction and maintains its centrality to the service. These design cues are nothing new, but that takes nothing away from the app and I still find it very commendable nevertheless.
Now let's see if it runs as well as it is designed. Starting with…
Features
Servers and Locations
"We have over 1300 servers in 50 different countries — some equipped especially for private streaming."
SaferVPN does not limit the number of server switches, promises anonymous browsing, streaming, downloads at the fastest speeds, and offers access to 1300+ VPN servers – "which we manage 100% in-house" – in 50 countries.
Americas: USA, Canada, Mexico, Brazil, Colombia, Costa Rica, and Chile
Europe: United Kingdom, Spain, Netherlands, Switzerland, Belgium, Ireland, France, Denmark, Hungary, Albania, Finland, Sweden, Poland, Portugal, Italy, Austria, Germany, Romania, Norway, Bulgaria, Croatia, Czech Republic, Estonia, Greece, Iceland, Latvia, Luxembourg, Moldova, Serbia, Slovakia, Slovenia, and Ukraine
Asia: India, Singapore, Japan, Malaysia, South Korea, and Taiwan
Africa: South Africa, and Nigeria
Middle East: Israel and UAE
Oceania: Australia and New Zealand
SaferVPN also lists streaming optimized servers in the United Kingdom and the United States.
As we said in many previous reviews, 30+ servers is an adequate amount for the majority of users. The big miss here is "the Middle East" as only involved two countries, whereas other providers offer more.
Platforms & Simultaneous Connections
SaferVPN offers apps for Mac and Windows machines, Android and iOS powered devices, as well as Chrome and Firefox browser extensions.
A SaferVPN subscription is valid for 5 devices., but routers are also supported. Having router support is a great addition to any VPN service, as it extends the VPN's protection to every connected device, be it on a home or office wireless network. This means VPN features for Xbox, PS4, and Nintendo Wii consoles, Apple TV, Roku, and more.
SaferVPN has manual installation guides for an impressive number of routers. Check the list to see if your router is supported: DD-WRT, Tomato, Asus, FreeBox, Mikrotik, FRITZ!Box, Anonabox, Draytek, Tenda, Padavan, Totolink, Arris, Sabai, NetDuma, TRENDnet, ASUS WRT-MERLIN, GL.iNet, Belkin, Huawei, and D-Link.
The company also offers out-of-the-box solutions: preconfigured Netgear Nighthawk, SaferVPN Asus, and Linksys routers. You must buy a SaferVPN subscription separately to enjoy VPN functionality, however.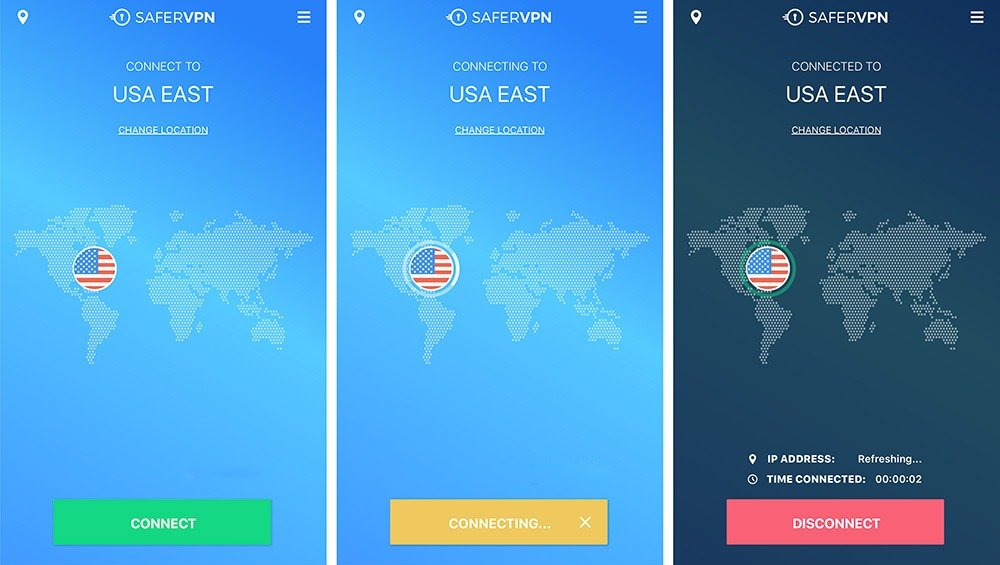 Security
Protocols
SaferVPN employs four VPN protocols. Depending on your OS or device, your SaferVPN app can be running the following protocols:
IKEv2 is one of the newest and most advanced VPN protocols. It is very fast, secure, stable, and easy to set up. It is not supported on all platforms, however. The protocol, which is based on the IPSec tunneling protocol, was jointly developed by Microsoft and Cisco and comes baked into Windows 7.
OpenVPN is the most recommended protocol for all platforms. It boasts the highest performance and security level overall. OpenVPN is an open source and uses various technologies, including the OpenSSL library and SSLv3/TLSv1 encryption protocols. It is difficult to block as it makes its traffic very hard to differentiate from traffic using standard HTTPS over SSL.
L2TP/IPSec, or Layer 2 Tunnel Protocol is usually considered to be very secure and is usually your best option if OpenVPN or IKEv2 aren't available. It is a bit slower than the other protocols, however. Layer 2 Tunnel Protocol is implemented with the IPsec encryption suite.
PPTP, or Point-to-Point Tunneling Protocol, provides a very fast connection, but that's the result of the very basic encryption technology it employs, which really tells you all you need to know about its security performance. It was developed by Microsoft for creating VPN connections over dial-up networks. This protocol has long been the standard protocol for internal business VPNs.
It is not possible to pick your own protocol using the native apps, SaferVPN makes that choice for you. Selection is only possible when setting up SaferVPN on a router.
Location & Logs
SaferVPN may collect the following information:
An email address
The date and time of visits to SaferVPN's website, pages viewed, and the time spent at their site. This data is collected anonymously and does not includes personal data tied to the user.
Emails and messages, along with email addresses and contact information that is necessary to respond to a request.
Usage statistics when a user activates their service, including the session time, the amount of data transmitted during the session, and the VPN server location that was used. The collected data is not tied to an IP address.
A generic 'Order ID Number' that helps the service identify the account and the subscription expiry date.
SaferVPN does not keep a record of any of the websites you visit, any data you download, share, or view, or any of your IP addresses or DNS queries.
The specifics of SaferVPN are quite reassuring, but the fact that it is based in Israel is not. It is true that Israel has some pretty sturdy laws that limit the government's ability to track and monitor citizens, specifically, it's Protection of Privacy Law, which forbids "using, or passing on to another, information on a person's private affairs otherwise than for the purpose for which it was given," and the fact that it explicitly states that this "Law shall apply to the State."
But Israel's intelligence apparatuses are closely linked to those of the United States, a country deeply embedded in the "Five Eyes" information sharing partnership. Israel is also reportedly 'an observer' in Five Eyes. We can never know what that means exactly but it's definitely not reassuring.
Support
This part of the review is going to be quite short, and for good reasons. I had a great experience with SaferVPN's support. I used their 24/7 live chat support twice and twice came out happy with the speed, accuracy, and overall courtesy of their representatives.
Speed
SaferVPN has dedicated an entire webpage to its proclaimed speed prowess. This is what it advertises:
"No matter which device you're using, it takes, on average, less than 10 seconds to connect to SaferVPN's servers."
"We rigorously test and optimize our global network of servers to ensure you receive the highest speeds possible."
"We handpick all of our servers, manage our own VPN network and write custom code to optimize for the fastest VPN experience possible."
The first claim was easy to verify, but what about the other two.
They hold true as well. In fact, SaferVPN passes the speed test with flying colors. I tested 4 servers: USA East, UK, Germany, and France. Here are the results
USA East: an 11.02% reduction in download speed; a 3% reduction in upload speed
UK: an 11.29% reduction in download speed; an 18.34% reduction in upload speed
Germany: a 9.09% reduction in download speed; a 5% reduction in upload speed
France: a 10.47% reduction in download speed; a 22.48% reduction in upload speed
Price & Verdict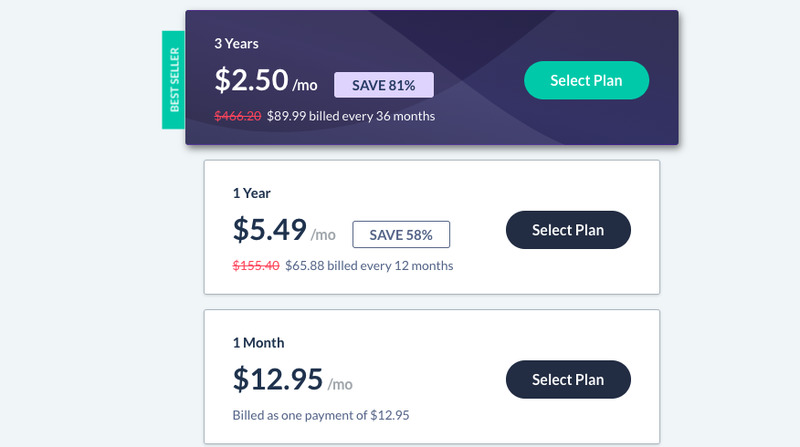 SaferVPN is very expensive, which puts it in a somewhat tough position. For a fairly similar price, you can get VPNs with more features, including the likes of ExpressVPN and SurfShark.
Charging $12.95 for the features they offer is too much, especially since they don't have that much to offer, to begin with. In the end, it all depends on what you're looking for. However, logically speaking, for the same price, you can get way way more.
SaferVPN also offers a 24-hour free trial period – which requires no payment information, just your email – and a 30-day money-back guarantee period. So feel free to give it a run.