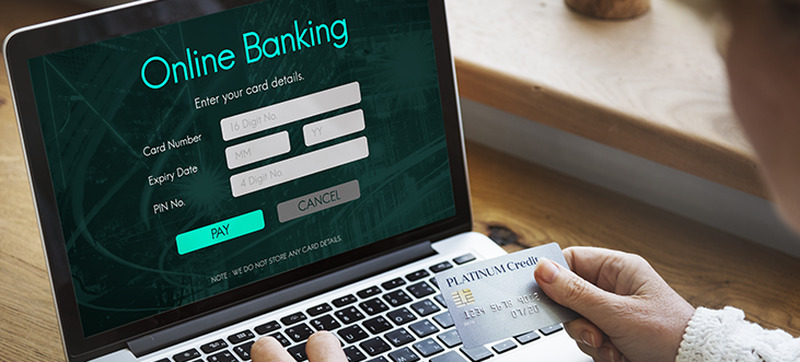 Online banking fraud - money lost
Three types of online banking crime
Safety tips to implement to protect your accounts
Hide your identity and encrypt your data with a VPN
Gone are the days when people would stand in long queues at the bank. Online banking has become a standard operation all around the globe. And there are many reasons for its popularity, including time-efficiency and convenience.
According to the Financial Times, seven out of ten people in the UK prefer online banking. The world has switched to online banking, which, unfortunately, comes with its share of risks and dangers.
---
Content Overview
---
Losses from Online Banking Fraud
Each year, customers, businesses, and banks lose billions of dollars to online banking fraud.
According to Statista, over 790 million British Pounds were lost as a result of online banking fraud in the UK between 2010 and 2018. The year 2015 recorded the largest value of losses, which reached 133.5 million British Pounds.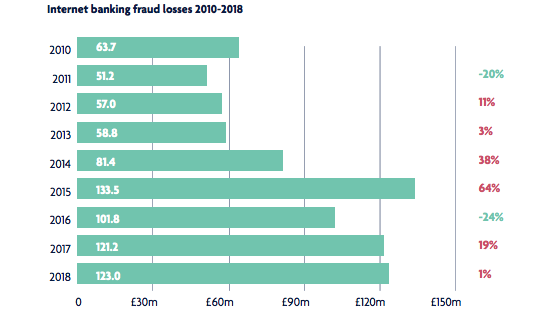 Furthermore, new data revealed that the people most likely to lose money to banking fraud are Millenials, and those who are over the age of 55. According to Lloyds Bank, victims between the ages of 18 and 34 lose an average of £2,630 to frauds. Scammers trick them by "impersonating banking staff, the police or HM Revenue and Customs."
---
Types of Online Banking Crime
Unfortunately, there are different types of online banking crimes. And the average internet user must understand every single one of them.
Phishing
Phishing is a massive threat to the online banking industry. It involves manipulative attempts to obtain your banking information and personal data.
Phishing takes place in a variety of ways. For example, someone might call you claiming that they are from your bank, and they are looking to update your details. Or, you could receive an email similar to the one your bank sends, asking you for sensitive data.
The goal behind it is to obtain your personal information and use it to steal your money and various other things.
Moreover, In many cases, a link will redirect you to a site that looks exactly like your online banking site. And once you submit your username and password, cybercriminals will have access to your account.
---
Identify Theft
Identity theft happens when scammers try to steal your information so that they can hijack your identity. Once someone has all your data, they can go ahead and pretend to be you. And the primary objective behind the identity theft is to gain access to your online financial data.
While traditional identity thefts involve people going through your trash looking for information, today's hacks are much more sophisticated. Yes, dumpster-diving can still give cybercriminals access to valuable data. But online hacks are now easier and much more efficient.
All hackers need to do is access your sensitive data, then use it to impersonate you and make purchases on your behalf. And there are plenty of ways to gather such information (email, name, driver's license, telephone number, address).
Scammers can resort to phishing, planting malicious software on your device, or taking advantage of your weak passwords. And once they get hold of your data, they can do all sorts of damage to your finances and reputation.
According to a 2018 study by Javelin Strategy & Research, there's an 8% increase in the number of US identity fraud victims. The figures showed that 16.7 million American consumers suffered from identity theft in 2017. The amount stolen was an estimated $16.8 billion.
---
Keylogging
Keylogging is a surveillance software that records everything you type or input using your keyboard. It documents email addresses, messages, usernames, passwords, personally identifiable information (PII), and more.
Several companies use this tool to make sure their employees aren't wasting any time. But unfortunately, cybercriminals use it as well. They install it on your device by infecting it with a virus or use phishing to prompt you to click on a dubious link.
And once they successfully set it up on your device, they can collect all sorts of sensitive information, including the passwords to your financial accounts. As a result, hackers will be able to log in to your online banking site and steal all your money.
---
Safety Tips for Online Banking
Online banking fraud is probably the most significant cyber threat out there. Hackers can empty your account using several methods, and by the time you realize it, it will be too late.
Therefore, you must implement these tips to avoid any possible dangers.
Make Sure the URL Has "https" at the Beginning
The first thing you need to check before you click on a website is the URL. If it does not start with "https," then it's better to avoid it. The "s" at the end stands for "secure," which means the communication protocol is encrypted.
All banking websites use this protocol, so if you don't see "https" on yours, that page is probably fake. Moreover, you should also see a padlock or icon symbol.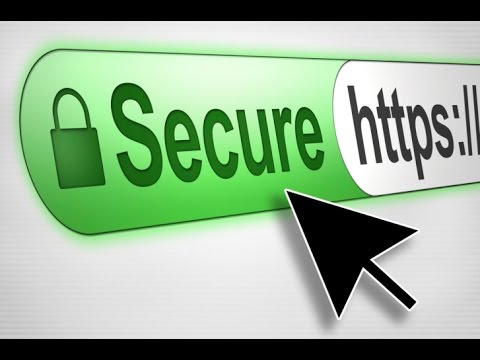 ---
Always Check the URL in the Address Bar
Hackers might copy the e-banking page and replicate it in a malicious website that they create. If you notice anything different, check the address bar immediately. That's because criminals will use a URL that is similar to your bank's page.
For example, if the URL of your e-bank is e-hsbc.com, a hacker might redirect you to a page called eee-hsbc.com.
Therefore, make sure the URL in the address bar is the same one you usually use for e-banking.
---
Use Strong Passwords and Pins
One of the most effective tips is to use very strong passwords and pins. And another equally important advice is never to keep records of your codes on your device.
The best passwords contain a combination of uppercase, lowercase, numbers, signs, and symbols.
Try to mix things up and create extremely hard passwords that are tough to crack. Furthermore, it's better to change your banking security codes every once in a while (ideally, every six months). A lot of banks/websites force you to do that regularly. That might be annoying, but it is in your best interest.
Another helpful tool is a password manager. These tools will store all your passwords in one secure file so that you don't have to remember each one.
---
Sign up for Alerts From Your Bank
Another smart thing to do is register for mobile alerts. And in this day and age, it is also preferable that you deactivate any physical bank statements that you receive. After all, anybody can go to your post box and read your mail.
By signing up for mobile alerts, you'll receive a notification from your bank after every transaction you make. That way, you can take action and cancel any unapproved banking activity.
---
Update Your Device's Software
You must use up-to-date software at all times. If you are using Windows, you need to make sure that your updates are installed regularly. That's because new viruses and threats can emerge, and you need a new version to keep them at bay.
Now, your device will notify you once a new software is available. And all you need to do is click accept, and the updated version will install automatically. But in case you find the process a bit confusing, ask your tech-savvy friends or call the company for help.
---
Only Use a Secure Internet Connection
Never connect to public Wi-Fi if you want to access your internet banking. That's because these networks have weak security protocols, and anyone can hack them. As a result, hackers can view and steal your sensitive data and make their way to your financial accounts.
So take my advice and use a secure internet connection, like the one you have at home. And always log out of your account once you're done.
Now, if you don't want to take any risks at all, I recommend you use a VPN, especially if you're going to connect to public Wi-Fi. A VPN encrypts all your traffic and protects your data.
---
Avoid Suspicious Pop-ups
While you are busy with online banking, never click on any pop-ups. If a message appears on your screen, do not click on it, even if it seems to be from your bank.
And if you notice any suspicious pop-ups, stop what you are doing, restart your computer and internet connection, then try again. You can also make sure that you always clear your browsing history, your cookies, and your cache.
However, even if you do all of that, your browser might be infected with malware. If that happens, it is best not to use your computer for e-banking before a professional has had a look at it.
You can find a lot of online freelancers from reputable sites to do that for you at "upwork.com" or "freelancer.com." Or, you can take it to your local repair shop.
---
Don't Click on Any Email Links
If you receive any emails asking you to update your information, do not click on them, even if they seem authentic and from your bank.
Clicking on a link can redirect you to a fake page. The main objective of these malicious websites is to obtain your personal information for financial purposes. There are all types of fraud going on via email links, so stay on the safe side and avoid clicking anything.
"HSBC UK will NEVER ask for confidential information in an email, or ask to confirm your security details and links within our emails will only take customers to information pages."

HSBC UK
You can call your bank to verify that this is a legitimate request from your bank.
---
Use of Two-factor Authentication
The majority of banks will give you the option to enable two-factor authentication. And if you want to enhance your security and privacy, you'll be wise to take up that feature. With 2FA, you'll receive an SMS/email with a unique code each time you use online banking.
It is an excellent method to ensure that you stay safe online. Yes, it may seem a bit inconvenient due to the extra work and time. But you'll benefit from an additional layer of security to your banking account.
---
Online Banking Safety Tips – Final Thoughts
Although it may seem troublesome to apply the above steps, the truth is that they will help you remain safe online.
Unfortunately, cyber threats are becoming more and more advanced. Therefore, you must stay up-to-date with the latest online security trends to remain safe.
And if you struggle with the technological side of things, no need to worry or panic. You can always ask a family member or someone at your bank to provide you with more assistance.
Which tip will you apply first to protect your online banking accounts? Tell us in the comment box below.