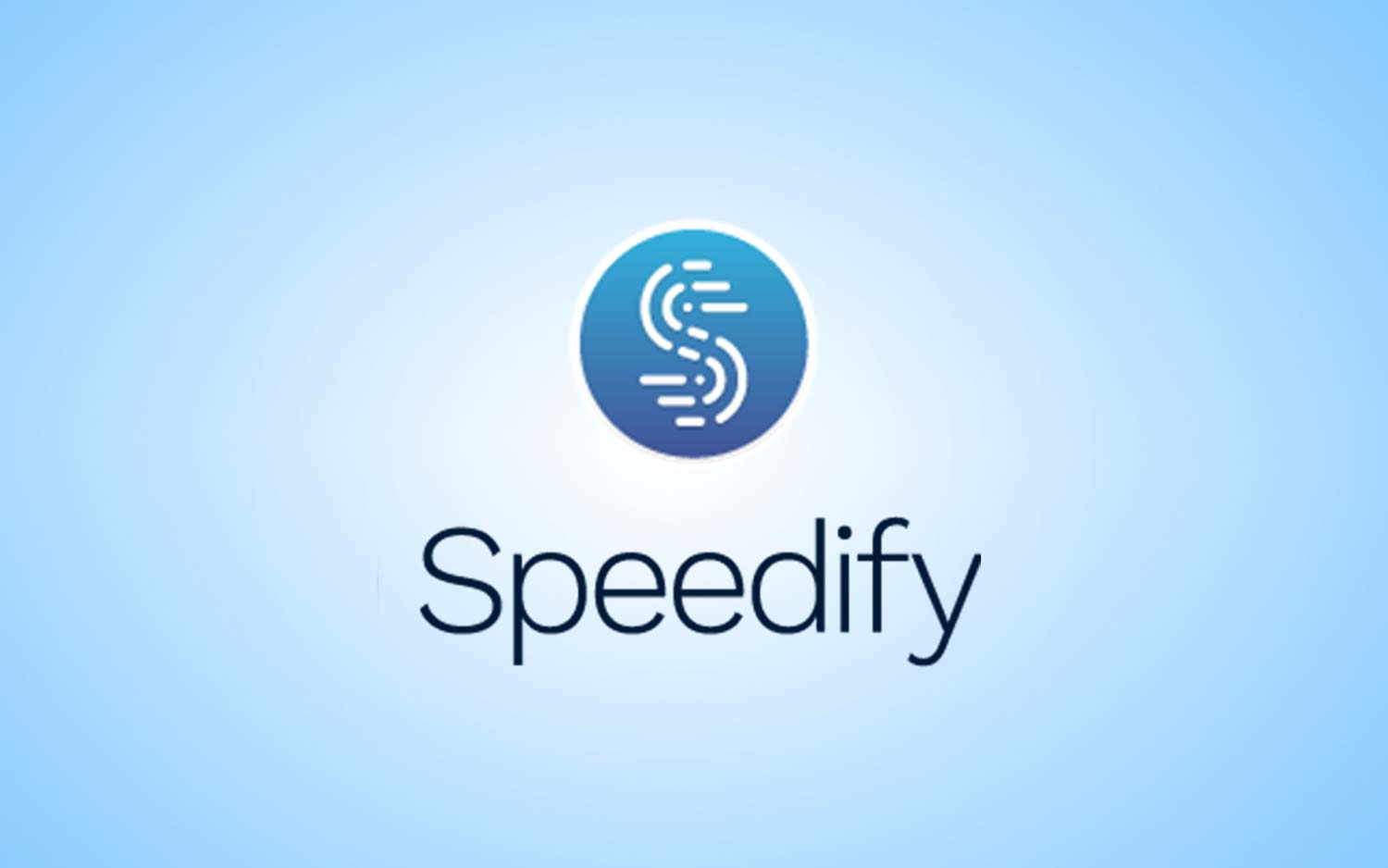 "Two connections are better than one." The statement that sits prominently on the Speedify web page was the first thing that caught my attention. It's certainly an intriguing one too.
There is a lot of emphasis on speed – it's in the name after all. The website goes to great length to highlight the fact that Speedify is not your average VPN. "At its core, Speedify is a VPN" the website reads, "but, in addition to encrypting everything you send or receive online, it allows you to combine multiple Internet connections for improved performance and connectivity."
Since this seems to be such an important part of the value proposition, we're gonna take a few minutes to explain it at the beginning of our review before diving into the features as we usually do.
Channel Bonding
Speedify offers a unique, software-based technology that is used to combine two or more Internet connections. The service uses its cloud servers to intelligently distribute online traffic between Internet connections available to you, which, it claims, increases bandwidth, lowers latency, improves reliability, and reduces the odds of drops in the connection to "almost zero."
This 'revolutionary channel bonding technology' is said to deliver over twice the performance of conventional VPNs. That's a very bold claim, one that we will test thoroughly in the speed evaluation section of our review.
Now back to our regular programming, starting with…
Features
Servers
Speedify runs servers in 32+ countries. Users can either select a server down to the city in certain countries or allow the app the smartly choose the best server based on latency and availability.
As we've said in other reviews, a 30+ server strong network is fine for the majority of users but leaves something be desired. To be fair to Speedify, the servers are better distributed than most providers in the same tier.
The Americas: Brazil, Canada, and the US
Europe: Austria, Azerbaijan, Belgium, Bulgaria, Denmark, Finland, France, Germany, Ireland, Italy, Netherlands, Norway, Poland, Portugal, Romania, Russia, Serbia, Slovenia, Spain, Sweden, Switzerland, Turkey, and the United Kingdom
Asia: India, Indonesia, Israel, Japan, Singapore, and UAE
Africa: South Africa
Oceania: Australia and New Zealand
As is customary with most paid VPN services, there are no caps on server switches, bandwidth, and speed.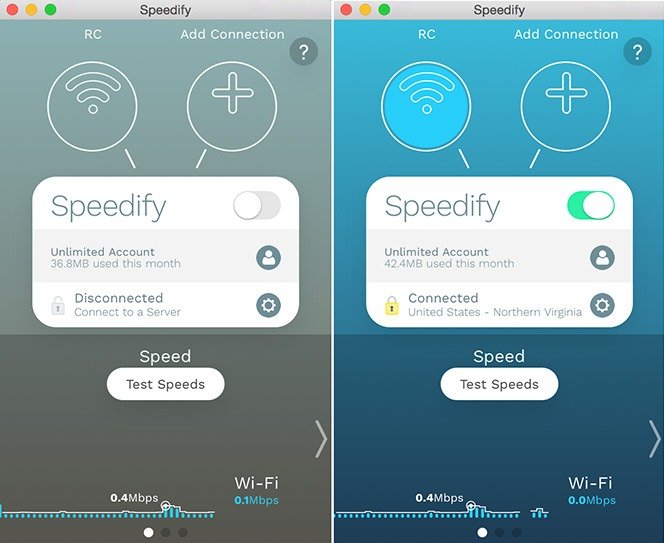 Platforms & Simultaneous Connections
The Speedify client software is currently available for Mac, PC, iOS, & Android. Minimum operating systems required are as follows:
macOS 10.10
Windows 7
Windows Server 2008 R2
iOS 9.0
Android 4.4 (Kit-Kat)
As we mentioned, those are minimum requirements, meaning that any version above those listed is compatible with the corresponding Speedify app.
You can install Speedify on any number of devices, but will only allow 5 of those to be active simultaneously. Five is a solid offering. It is also the standard offer by most VPN service providers.
Redundant Internet
The Redundant Internet mode uses Channel Bonding technology to deal with spotty Internet connections. With the mode enabled, Speedify will send the same data over every available Internet connection at the same time and will rely on the one that responds fastest.
Internet Failover Protection
This is another instance where Speedify puts its Channel Bonding technology to work. Here's the gist of it: Speedify will not wait until your wifi connection drops completely before switching to mobile data, instead, as it constantly monitors both the wifi and mobile connection in the background, it is able to anticipate a drop and balance the load accordingly. This feature is particularly useful when it comes to streaming music or video.
Packet Loss Fix & Fast Error Correction
Internet traffic is divided into small chunks of data called packets. These packets sometimes get lost before reaching their destination. However, this is not a big problem, as lost packets are resent, but because of the way the internet transmission is set up:
The packets that did successfully get through to their destination cannot be delivered before the missing packets arrive. This slows everything down until the situation is resolved.
Speedify claims that it can detect internet lost internet packets and resend them faster than usual. What's more, if you connect a device to more than one connection at once, it can route lost packets through the other available connections using Speedify's smart algorithm.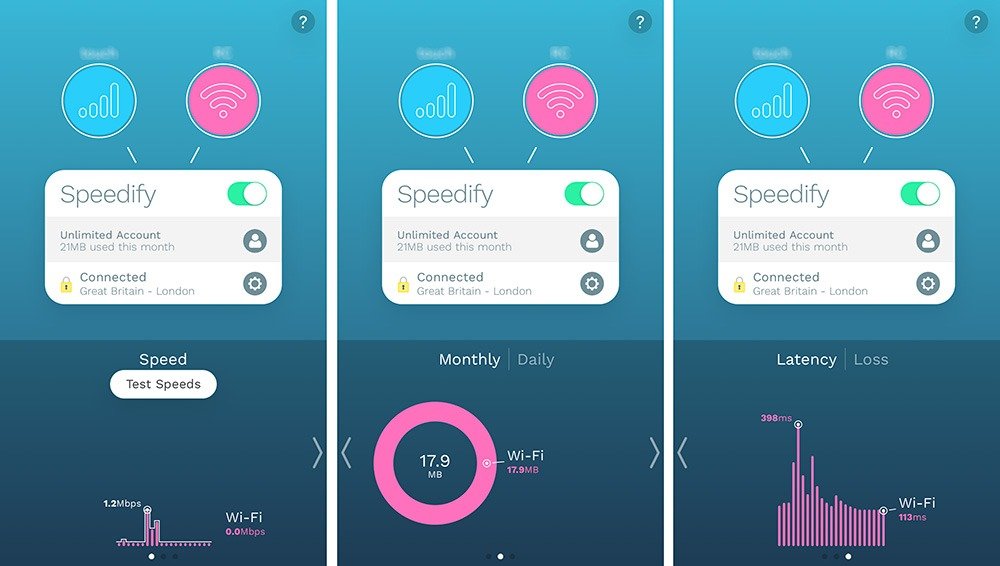 Security
Protocols
Speedify runs on its own protocol, which it calls the Speedify Protocol. The provider makes many bold claims about it, namely its ability to combine any available internet connections – Wi-Fi, Ethernet, Cable, DSL, 3G, 4G, and tethered smartphones – into a single faster and more reliable connection.
Speedify uses the ChaCha encryption cipher, which allegedly encrypts at 3 times the speeds of the commonly used AES ciphers.
Location & Logs
Speedify is refreshingly clear about what it does and doesn't record. You will be shown a breakdown during set up that declares that the company does not log what you do online, what sites you visit, and what services you use.
It does temporarily store some stuff, including your IP address, a unique device identifier, the time and network location of the initial connection, the amount of data transferred, and the duration of the connection.
Speedify is based in Philadelphia in the US. Where should I begin? The US has retention laws, meaning that it can ask companies to keep records of the online activities of their users.
The US has gag orders, which means that it can ask a company that has been asked to retain information not to divulge any information regarding the retention order. Some US intelligence agencies have become synonymous with spying scandals. The US is part of 5 Eyes, a notorious global surveillance alliance. Need more?
But to be fair we must say that all the drawbacks that we've mentioned above do not necessarily mean that Speedify is compromised in any way. But you ought to be informed about the risks.
Support
Speedify does not have live support, that's a bummer. The service does stick to the four most commonly used platforms – Windows, Mac, iOS, and Android – whose apps are easy to set up and do not require much configuration.
You can imagine that VPN service providers that support routers, smart TVs, and such devices are poked at a lot more often. Still, live chat support would have been nice. Email support did what you expect it to do.
Speed
As you've surely noticed, Speedify has invested much of its resources into making its service fast. The time of judgment has come. Let's see.
Here's the problem. It's not that Speedify's speed results were that bad – they're what you expect from an average VPN – it's just that Speedify spends so much time convincing you that their service is so fast that when I saw the results I felt very disappointed.
Here I must make a note on the interface before I proceed. While I was changing servers frequently to do the speed tests, I could not agree with the logic behind the design for the servers' menu.
The list is lodged inside the settings menu, which is slightly unintuitive, and after selecting a location, you have to manually close the menu by clicking on the X button. For me at least, that was a bit confusing.
Anyway, back to speed. Tested the service using servers in Frankfurt, in Paris, New York, and London. The download speeds dropped by 32.3.8% 36.8%, 45.5%, and 28.7% respectively; upload on the other hand suffered drops of 26.1%, 26.4%, 31.6%, and 33.8% respectively.
Price & Verdict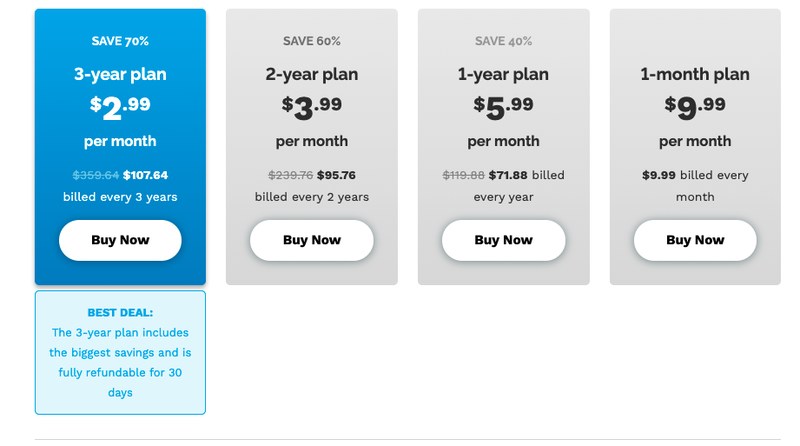 At 9.99 dollars for the monthly plan and about 5.99 a month for the yearly plan, Speedify sits very "close" to the average price of a VPN. I once had a manager that told me that the key to success is managing other people's expectations. I won't recommend Speedify I'll have to be honest, it simply over promises.