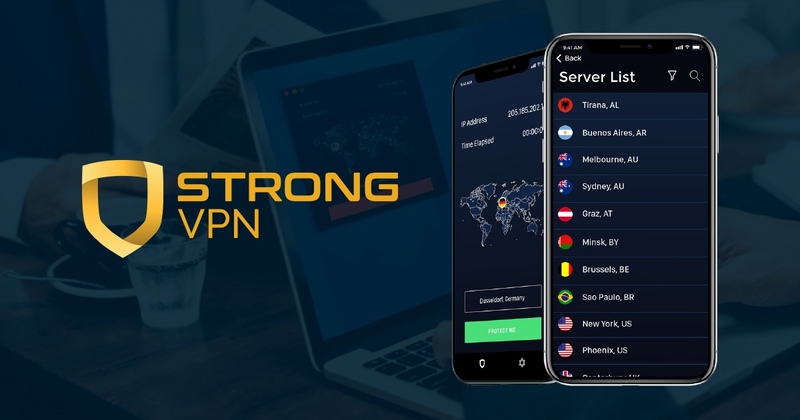 StrongVPN began as a small retailer for personal computers in South Lake Tahoe, California, in 1994. The company slowly increased its product offering, initially adding dial-up internet services into the mix followed by dedicated servers and colocation services (renting equipment, space, and bandwidth) at a later stage. Finally, in 2005, the company launched its own VPN service.
Right now, StrongVPN provides more than 87,000 dynamic and static IPs spanning 900+ servers in 30 countries. Its team currently comprises over 60 people working from around the globe.
I installed StrongVPN on my Mac and iPhone. My only remark about the interface would be the fact that, once connected, the button to select a new location stops working – you need to disconnect before being able to access the list again. This is really minor, granted, and I've seen this kind of behavior on a few apps already, but it still bothers me. It's an unnecessary, and in my opinion, unintuitive, step. I am a firm believer that good design should reduce friction as much as possible.
Other than that, StrongVPN is very well designed: it's neat, simple, good-looking, and a breeze to navigate and use. So what else is in there?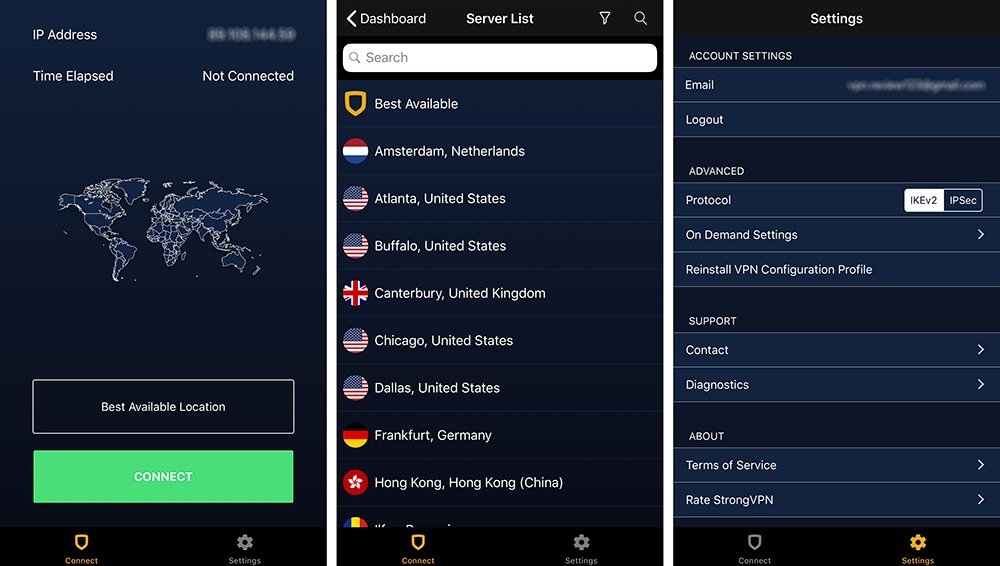 Features
Server Locations
StrongVPN's server network isn't very big. It comprises:
United States
United Kingdom
UAE
Ukraine
Turkey
Taiwan
Switzerland
Sweden
Spain
South Korea
South Africa
Singapore
Serbia
Romania
Portugal
Poland
Peru
Norway
Netherlands
Mexico
Malaysia
Luxembourg
Latvia
Japan
Italy
Israel
Ireland
India
Germany
France
Finland
Estonia
Denmark
Czech Republic
Costa Rica
Colombia
Chile
Canada
Brazil
Belgium
Australia
Argentina
Thirty is a relatively small number. And as you can see, Africa isn't that rich with servers, and so is most of Asia (aside from countries from the Far East). This is not particularly a deal-breaker, but it does put StrongVPN in a lower rank than some of the more established VPN services out there.
It must be noted that StrongVPN's network is heavily tilted towards the United States. On the website, where it lists all its servers, almost 4 and a half out of seven pages of listed servers are servers located in the US. That's around 450 servers out of the total 681.
As with all (decent) paid VPN services, there are no caps on the number of server switches, speed, or bandwidth.
Platforms & Simultaneous Connections
What StrongVPN lacks in network reach, it makes up for with platform versatility. StongVPN is compatible with a very wide range of devices and platforms, including: Windows and Mac OS X, iPhone, iPad, and Android, in addition to Linux, Ubuntu, Amazon Fire TV and Kindle, Kodi, HP web OS, Chromium OS, Google Chrome OS, DD-WRT Routers, Tomato USB, Mikrotik RouterOS, Boxee Box, and so on.
It even has installation guides for 'hasbeen' platforms such as Nokia Maemo and Symbian!
StrongVPN offers 12 simultaneous connections. 12 isn't a number that we usually see in the industry, but it's a big step forward for StrongVPN.
Security
Protocols
StrongVPN offers six protocols:
The ever-reliable OpenVPN, an open source, robust software that is generally the top choice for security-conscious users.
Internet Key Exchange version 2, or IKEv2, another robust tunneling protocol that is compatible with a wide range of encryption methods and particularly well suited for mobile devices.
L2TP can be used when newer protocols aren't supported. It is particularly well suited to penetrate government and ISP firewalls. L2TP does not encrypt data, and so it is usually combined with IPSec, even if the provider refers to it simply as L2TP.
Secure Socket Tunneling Protocol (SSTP) is a very good option for machines running the Windows operating system: it's integrated into the system, making it more stable than other protocols when it comes to Windows machines. It is very secure as well, and much less susceptible to blocking by firewalls than L2TP.
IPSec provides a good balance between speed and security. It is faster than OpenVPN, but not as secure.
Finally, there's WireGuard, the new protocol designed for better security and greater speeds. A lot of VPNs are implementing the popular protocol and to see StrongVPN join the mix is an added plus.
StrongVPN has dropped support for PPTP, which is generally considered to be the weakest protocol with many exposed vulnerabilities.
Location & Logs
Strong Technology LLC is headquartered in Dallas, Texas. The US is a terrible place to base your VPN company as the country is notorious for spying – think NSA and PRISM. StrongVPN tries to mitigate that risk by endorsing a no-logs policy, meaning that even if any entity somehow broke through to its database or government agency asked it to submit data, there is nothing there to steal or submit in the first place.
OnDemand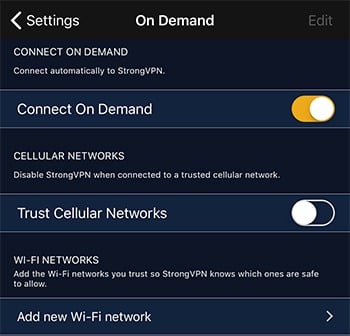 The OnDemand feature in StrongVPN manages the connection automatically based on which network you are connected to.
Basically, you can list trusted networks in the app, and the OnDemand feature will make sure that the VPN is disabled when connected to a trusted network and enabled for all others. The feature also allows you to disable the VPN connection when connected to trusted cellular networks.
Speed
StrongVPN is fast to connect. Unfortunately, though, its speed performance is very erratic. I test StrongVPN's impact on traffic speed using servers in the US, England, Germany, and France.
The server in New York performed the worst, with a 65.5% reduction in download speed and a 62.2% reduction in upload speed. London servers fared a bit better but were still weak by any measure: 36.5% reduction in download speed and 42.4% in upload. The other European servers performed well though. In Frankfurt, download speed was reduced by 8.8% while upload dropped 9.2%. Finally, in Paris, download speed remained practically intact – a negligible 0.6% drop – while upload dropped 28.1%.
Support
StrongVPN offers both live and email support. In my experience, support was flawless. I didn't have to wait at all for the live support representative, and my email inquiry was answered within an hour. All the responses were courteous and satisfactory.
Price & Verdict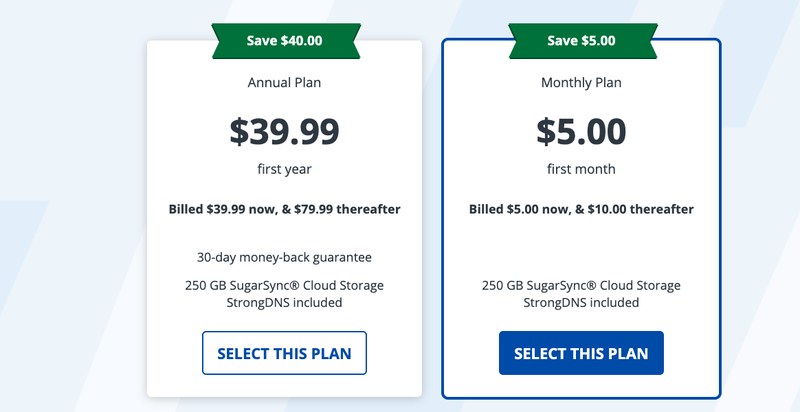 StrongVPN can be purchased in two packages: a 5 dollar monthly plan and a 39.99 dollar yearly one. The 5 dollar fee applies only once and to new customers. After that, you'll be billed $10 a month. StrongVPN is not cheap. It is well designed and easy to use, but considering the (few) features it offers and the erratic speed performance, it is very difficult for me to endorse it. For a similar price, and even cheaper, you can purchase much richer VPN services.