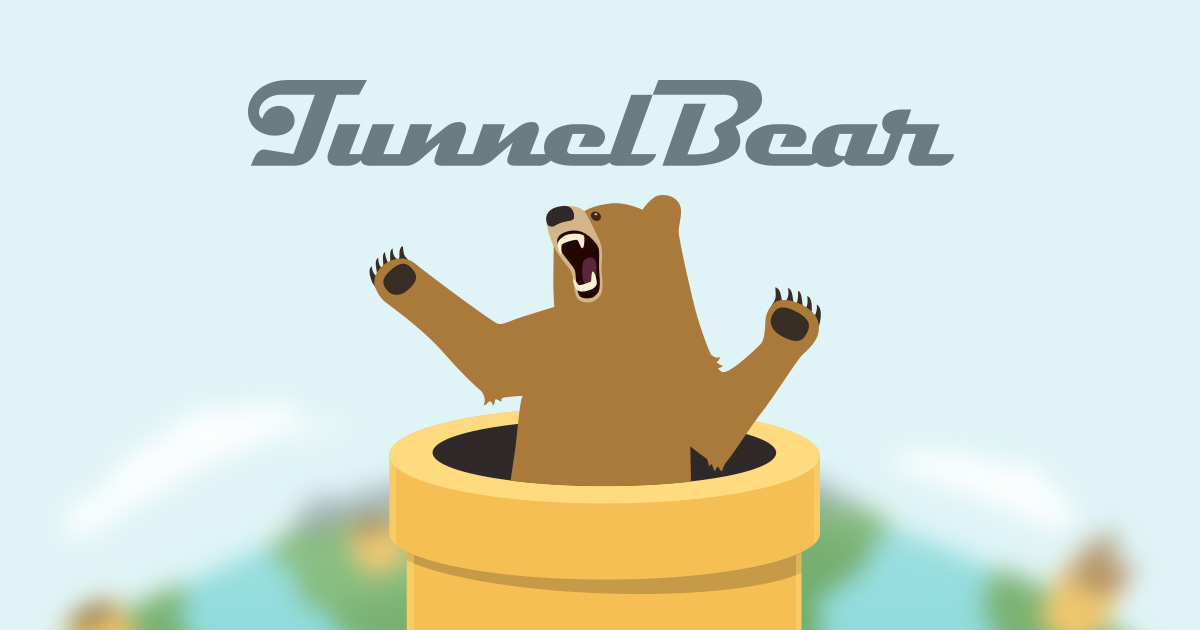 Even if you can't bear puns, TunnelBear's interface makes it worthwhile. Similar to HMA, the company adopts an anthropomorphized animal as a mascot for their brand. TunnelBear's bear-themed interface makes for a very pleasant user experience; on a few occasions, I found myself opening the app just for the sake of fiddling around with it. TunnelBear takes top marks for interface design, but how does the service perform?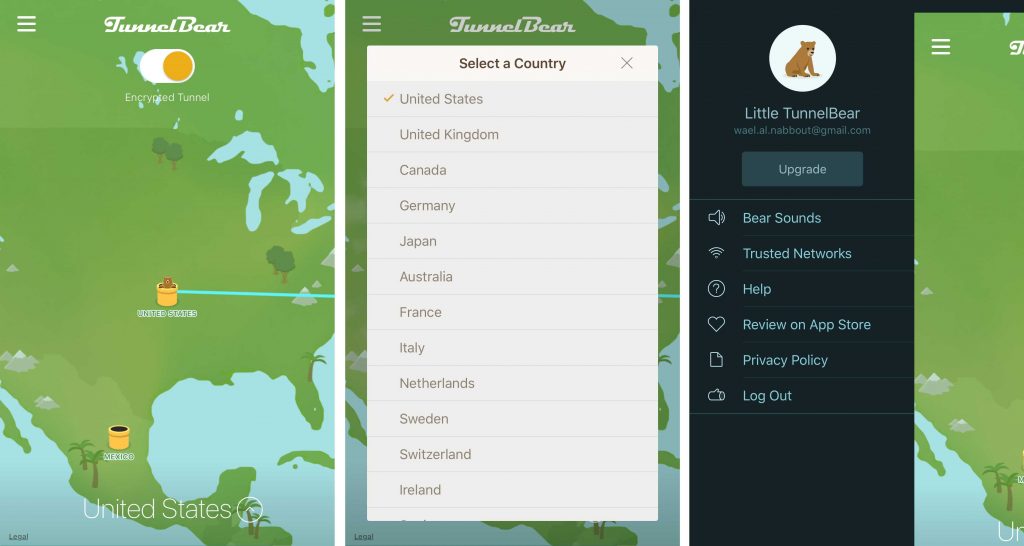 The company was founded in 2011 by Ryan Dochuk and Daniel Kaldor, tech veterans that previously occupied roles at Microsoft, RIM, and Goldman Sachs. The company, which is based out of Toronto, runs servers in 33 countries around the globe.
Features
Locations
The number might throw you off, and that is understandable. Compared to most other VPN service providers, 34 is a small number. TunnelBear does cover most major locations, but completely forgoes Africa and the Middle East. Here's the list:
UK
USA
Canada
Germany
Japan
Ireland
Spain
France
Italy
Netherlands
Sweden
Switzerland
Australia
Singapore
Brazil
Denmark
Norway
Mexico
India
New Zealand
Romania
Finland
Argentina
Peru
Colombia
Chile
South Korea
Moldova
Cyprus
Portugal
Ukraine
Slovenia
Lithuania
As you may have figured by now, TunnelBear wasn't designed with power users in mind. It definitely feels as if the creators wanted to target less tech-savvy users who are merely interested in accessing popular geo-restricted content and browse safely.
Platforms & Simultaneous Connections
TunnelBear offers native apps for Mac and Windows machines as well as iOS and Android mobile devices. The service also offers browser extensions for Chrome and Opera; the extension only tunnels data inside your browser.
TunnelBear lacks support for any, shall we call them non-major platforms: routers, smart TVs, streaming sticks, etc.
The service supports an average 5 simultaneous connections per account. There is a free version of TunnelBear, which caps bandwidth at 500MB a month; The other two paid packages offer unlimited bandwidth.
Blocker
TunnelBear also offers Blocker, a Chrome extension that blocks ads in addition to "privacy-invading techniques and tracking." The most impressive features of Blocker include:
The extension blocks pixel trackers from webmail. Typically, companies to monitor your interaction with an email they send by embedding a tracking pixel into their message. Whether you open the email or not, where you open it (unique IP address), which device you used to open it, and how you interacted with the message itself (did you click, forward, download the attachment).
The blocker impedes browser fingerprinting. Fingerprinting is a method of identifying users using unique identifiers based on your browser and machine – the browser type and operating system, the fonts you have installed, add-ons, and so on.
Blocker blocks Flash, one of the major reasons why your page load time is slow at times and the enabler of annoying pop-ups. What's more, Flash is known to carry major security vulnerabilities.
Blocker also prevents ultrasonic tracking: the emission of inaudible, high-frequency sounds that tell other devices in your vicinity in order to link a person's viewing and online behavior across multiple devices.
In addition to ridding you of the sheer nuisance of these tools, the blocker also reduces load time, making pages load faster.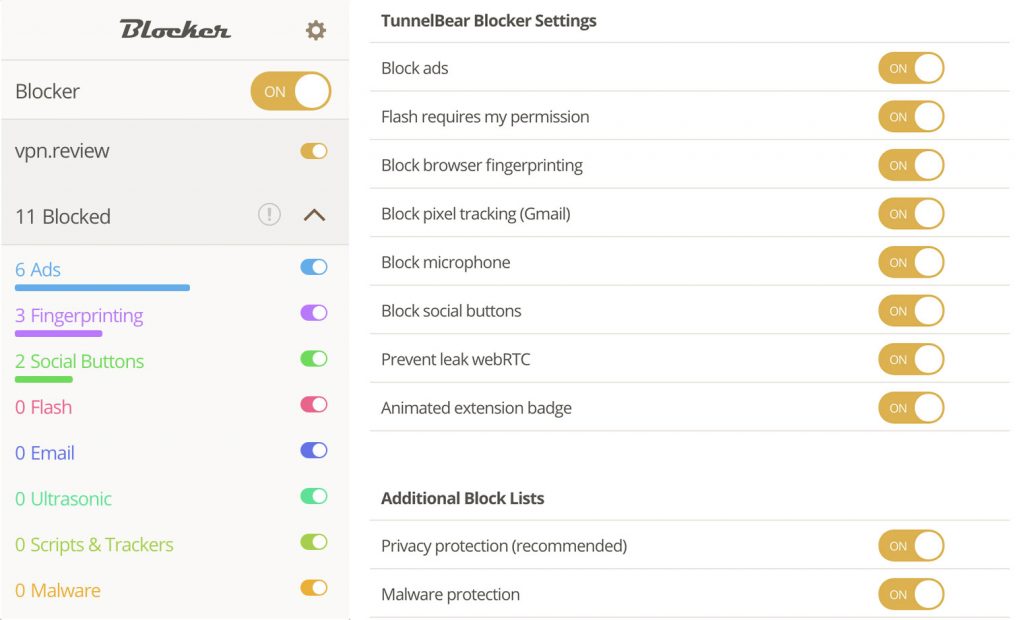 The blocker offers granular options for users. You can either hit the settings button (menu on the right) and enable blocking based on the type of threat; your selection will be enforced on every website you use. Alternatively, the extension button and customize behavior for the particular site you are visiting (menu on the left).
VigilantBear
TunnelBear's bear-themed kill switch, a feature that halts your connection in the event of a drop in connection with a server. The feature will block all unsecured traffic until it is able to automatically reconnect.
GhostBear
GhostBear scrambles your VPN communications, making them harder to detect and block by governments, businesses, and ISPs. The feature, however, is only available on Windows, Mac, and Android apps.
We must also note that unless you feel it necessary to scramble your communication, you should leave GhostBear disabled, as it tends to slow down your connection. make your connection a little slower.
It is also recommended to enable GhostBear if you feel that your connection is slower than usual. This sounds contradictory, I know, but the reason behind the slowdown might be your ISP throttling your connection; ISP might do that if they detect encrypted communications. Turning GhostBear on might fix that for you.
Security
Protocols
TunnelBear supports OpenVPN, IKEv2, and IPSec. If you're unfamiliar with what each protocol entails, I recommend that you check our guide to VPN protocols. The availability of each protocol depends on the device in use.
If you're running TunnelBear on Windows or iOS, you could be using either OpenVPN or IKEv2. Whenever you start a connection, TunnelBear will pick the faster of the two
On Android and macOS devices, TunnelBear will use OpenVPN
TunnelBear uses 256-bit symmetric encryption for all protocols
Location & Logging Policy
TunnelBear is based in Toronto, Canada, but the company was recently acquired by the U.S. antivirus giant McAfee. Neither of those facts is reassuring. Both Canada and the US are part of 5 Eyes, an infamous global surveillance alliance whose members have been caught one time too many in spying scandals.
It is worth mentioning that TunnelBear states that it does not collect user log files in its privacy policy. What's more, in August of 2017, the company announced that it had completed a 3rd party, public security audit. The audit was done by a security company called Cure53, which went over their servers, apps, and infrastructure.
TunnelBear claims that "all findings discovered in the audit were promptly addressed by TunnelBear's engineering team and verified to be fixed by Cure53."
Speed
TunnelBear is fast to connect, and its impact on download and upload speeds was mixed.
I tested server in 7 different locations: I let TunnelBear automatically choose the first one, then I ran two America, two in Europe, and two on the far east end of Asia.
TunnelBear's choice landed on Italy, and the server performed magnificently well.
Auto (Italy): Download was reduced by 2.15%; Upload by 16.39%
The results for the Americas were bad; speeds were reduced by almost half
United States: Download was reduced by 41.15%; Upload by 35.11%
Canada: Download was reduced by 46.41%; Upload by 63.63%
Europe seems to be TunnelBear's forte, though upload was still a problem
United Kingdom: Download was reduced by 10.28%; Upload by 37.96%
France: Download was reduced by 7.41%; Upload by 39.57%
Skip TunnelBear if you want to connect to East Asia
Australia: Download was reduced by 59.8%; Upload by 80.57%
Japan: Download was reduced by 63.39%; Upload by 58.11%
Support
Support was also mediocre. There is no live chat available on the website. To file a complaint or a question, you need to have an account. And the email supports can take anywhere between a few hours and a day.
Price & Verdict

TunnelBear's paid packages are bundled as either a monthly, yearly plan or a 3-year plan. Do the prices make sense? Well, it depends on what you need. As we mentioned before, TunnelBear was not designed for power users, so investing in a more feature-heavy service, even at the same price, might not be the best option for certain people who might not care for all the extra features. What I can say for sure is that TunnelBear is an extremely pleasant, and very efficient VPN.