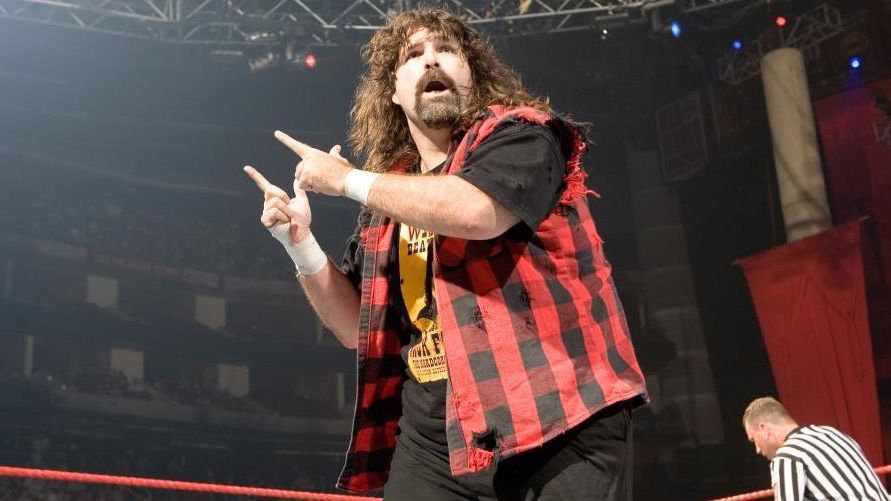 Twitter has become a major target for cybercriminals in their attempts to trick users and infiltrate their devices. When threat actors hijack well-known individuals' accounts, they can do a lot, including legitimizing very popular scams. Well, Mick Foley's Twitter account is selling PS5 consoles for retail price. Can you spot the scam?
With Twitter accounts with a huge follower base, attackers can target almost anyone. A couple of days ago, WWE Legend and Hall of Famer Mick Foley, lost control of his Twitter account.
Now, the account is offering up PS5 giveaways and asked buyers to drop in direct messages for contact. But why? And what is the account's status now? Here's everything you need to know.
Mick Foley's Twitter Hijacked – A Malicious Cyber Mandible Claw
Social media platforms can be used for all sorts of malicious activities. Threat actors utilize these popular websites to spread phishing campaigns, malware, ransomware, and the like.
A while ago, fake suspension notices roamed the platform in a big phishing campaign. This kind of approach preys on one's "fear" factor.
Now, they're preying on the "Trust" factor as they're impersonating (Hijacked account) one of the most popular WWE superstars of all time – Mick Foley.
The attackers managed to hack and gain full access of the account. They posted a Tweet stating that they have 3 remaining PS5 consoles are on sale "for retail price," with the revenue going directly to charity.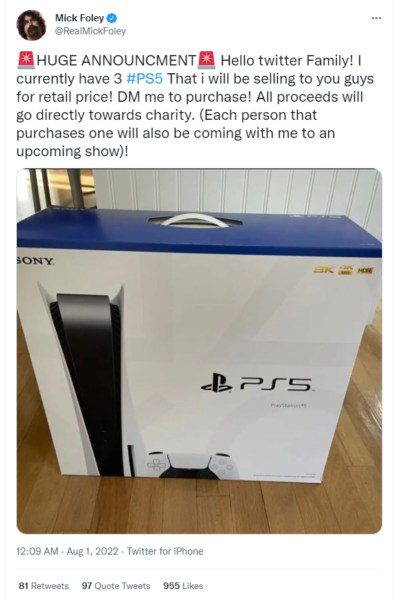 Aside from that, the Tweet shows a promise to take the purchasers to an upcoming show. Such promises from someone like Foley would definitely lure and trick a lot of users into falling for the scam.
But let's be honest, the image and the tweet don't only show a few red flags, it's a parade of them. First, the picture clearly has "Google Images" all over it.
Second, why would THE MICK FOLEY turn off the comments to the post and ask purchasers to contact him through direct messages? Third, an unexpected PS5 sale? Really? It's quite obvious.
Well, thanks to Malwarebytes, everything was clear as they decided to contact the account and see this scam plays out. According to the convesation, the one running the account cared about nothing else but collecting the money.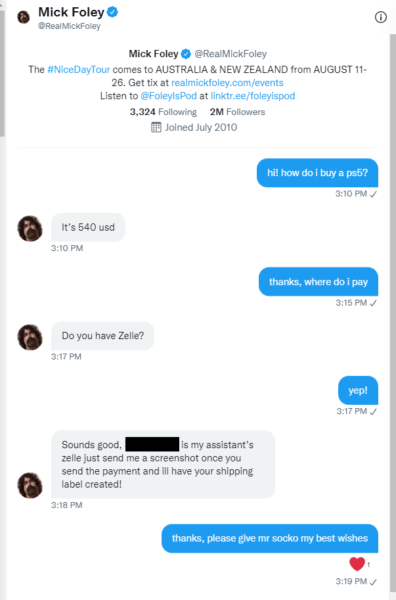 The hijacker asked to settle a Zelle payment for $540 USD through his "fictional" assistant. Finally, the target should send a screenshot of the payment.
Mick Foley's Twitter account is huge, which may cause big damage if users fell for a trick like this. Luckily, there are indications that this is fake and people should notice them with ease.
A New Twitter Scam – Mr Socko Goes Malicious
Scammers targeting verified accounts has become a popular technique to scam their victims. However, with some awareness, you can easily avoid this entire predicament.
To ensure this does happen to you, make sure you set a very strong password. You can use password generators for this task. Never give your username and password out to third parties and enable multi-factor authentication.
That way, you'll make sure that if your account got hacked, you'll be notified when a login attempt is in place. Finally, keep your devices and browser fully updated. This might fix any existing flaw.