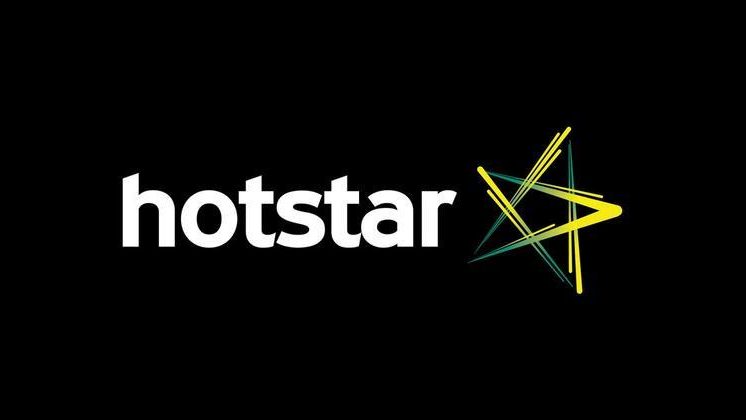 Hotstar and geo-errors
How does a VPN work?
Install a VPN on your device
Best VPNs to unblock Hotstar
How to avoid Hotstar VPN ban
Say no to free VPNs
Indian OTT market outlook
Hotstar leads Indian VOD services
Hotstar supported devices
Final thoughts
Hotstar dominates the online content industry with over 300 million subscriptions in India. And in terms of OTT smartphone apps, the Indian streaming service has a whopping 49% share.
And when you take a look at what Hotstar offers, you'll understand why it is so popular among Indians. From local films and series to international shows, there's something for everyone. Even sports fans are in for a treat, as the channel has rights to the most popular leagues in cricket, football, tennis, and more.
But what if you have to go outside India for work or vacation? Will you still have access to Hotstar?
Everyone overseas cannot access Hotstar from abroad because the service is geo-blocked for copyright issues. So you can forget about catching up on the latest episodes of your favorite shows. But if you bring a VPN into the equation, anything becomes possible.
Unblock Hotstar Anywhere – Quick Steps
Time needed: 6 minutes
To bypass geo-restrictions and watch Hotstar anywhere in the world, make sure to follow the steps provided below:
Subscribe to a VPN service.

The first thing you must do is respect the VPN selection process. We highly recommend ExpressVPN for the task.

Get the VPN application.

Download and install the VPN app on your device.

Activate the VPN client.

Sign in with your newly created credentials.

Connect to a server in India.

This will provide you with an Indian IP address.

Launch Hotstar's website or app.

Sign in with your username and password.

Watch Hotstar anywhere.

Enjoy what one of the best Indian channels has to offer wherever you may be.
---
Content Overview
---
Accessing Hotstar from Abroad Without a VPN – Dead End
India's over-the-top (OTT) market is growing at a rapid rate. According to PricewaterhouseCoopers (PwC), the video streaming industry will witness a 22% growth by 2023 to reach $1.7 billion.
These numbers will make India the eighth-biggest market in the world in four years, overtaking South Korea. That comes as little surprise since the country has more than 25 OTT platforms.
Unfortunately, these numbers only reflect those in India. Due to copyright and licensing issues, Hotstar only has broadcasting rights inside India, the UK, the US, and Canada.
That is why it blocks all viewing attempts from outside those countries. The streaming service can pinpoint your geographic location by reading your IP address.
If the latter shows that you are outside Hotstar's coverage zone, i.e., India, the following messages will pop up on your screen:
"Content Unavailable. The content is currently unavailable in your region."
Or:
"Uh-oh, we cannot playback due to geographic restrictions."
Or:
"HP-4030-This content is not available in your region."
Therefore, the obvious solution would be to hide your IP address. But if you want to unblock Hotstar, that's not enough: you need an Indian IP address. And luckily for expats, switching IPs is within a VPN's jurisdiction.
---
What Is a VPN?
Notice how every sitcom revolves around a group of friends; there's always that one smart person who has all the answers.
"Friends" had Ross, "How I Met Your Mother" had Ted, and "The Big Bang Theory" had, well, almost everyone (especially Sheldon).
VPNs are precisely like that. They provide answers and solutions to your online privacy problems.
A VPN stands for "virtual private network," a tool initially designed to protect data and privacy. Companies mainly used it due to its secure encryption protocols, which prevented third parties from viewing sensitive information.
But as online hazards began to spiral out of control, Internet users started using these technologies to maintain their security and privacy. And although VPNs are excellent safety tools, their most fun feature is the ability to bypass geo-blocks.
You see, virtual private networks have a vast network of servers spread across several locations in every continent.
They redirect your connection through the server that you selected and encrypt your traffic to prevent your ISP from reading it.
In addition to the above, they grant you a new IP address that matches the server's location. As a result, you'll appear as if you were in a different country.
Therefore, you must connect to an Indian server to Unblock Hotstar. The new IP address and rechanneling of your traffic will trick the channel into thinking that you are inside India, which gives you unlimited access to its content.
---
Best VPNs to Unblock Hotstar
As I mentioned earlier, choosing the right virtual private network can be a challenging affair, especially if you're new with the term.
Your VPN must use state-of-the-art security features that guarantee online protection. It must also respect your privacy and never store or share your online activity with third parties. Furthermore, it must provide speedy servers to ensure there will be no buffering or lag issues.
The VPN industry is filled with reliable and trustworthy services but also some terrible ones. To make it easier for you, I compiled a list of the highest-ranked providers on the market today.
ExpressVPN
The VPN service earned rave reviews from users and experts alike, including tech-savvy professionals from Forbes, BBC, The New York Times, TechRadar, and PCWorld.
And when you see the features that ExpressVPN offers, you'll understand why it received so much praise.
First, it gives you access to every major streaming channel that's geographically restricted. That's because it has a network of over 3,000 servers located in 94 countries, including India, the US, Canada, the UK, Germany, France, South Africa, Mexico, and Australia.
Second, you won't have to worry about anyone monitoring or snooping around your online activity as the company uses the strongest encryptions.
I'm talking about the AES 256-bit protocol, the most secure encryption in the business. ExpressVPN also follows a zero-logs policy, which means that it doesn't keep records of your data.
And as for speeds, the service invites you to connect to any of its "unlimited-bandwidth, ultra-fast VPN servers."
This is my number one VPN service, and I always recommend it to my friends. My girlfriend is a Bollywood junkie, and she always uses my account to access Hotstar from Manchester and stream "City of Dreams."
Pros
Pros
3,000+ in 94 countries (160 locations).
Military-grade encryption.
A kill switch.
Unlimited speed rates.
24-hour live chat support.
30-day refund policy.
Access to all Netflix catalogs, as well as BBC iPlayer.
Compatible with all major operating systems.
No-logs policy.
P2P and torrenting support.
Smart DNS proxy service.
Up to five simultaneous connections.
Cons
Cons
Expensive monthly fees ($12.95).
---
BulletVPN
BulletVPN may be the new kid in town, but it certainly demands respect. The company made a decent start by providing the best security features, as well as "blazing fast speeds." However, its only downside is its network coverage, as it provides just over 150+ servers across 50+ countries.
Lucky for you, though, India is one of those nations, and since BulletVPN has excellent speed rates, streaming your favorite Hotstar shows from abroad should be a blast.
Pros
AES-256 encryption.
No-logs policy.
Kill switch + BulletShield.
Fast speeds.
Unblocks streaming platforms.
Allows torrenting and P2P.
Free Smart DNS.
30-day refund policy.
Six simultaneous device connections.
round-the-clock customer support.
---
NordVPN
Another name that regularly features on the list of best VPNs is NordVPN. If you're a fan of English football, you might have heard of it since it is an official partner of Liverpool FC.
The company is based in Panama, a country without data retention laws. Not that it matters anyway because NordVPN does not record your online activity.
And if security is your concern, this brand goes all out to put your mind at ease. It encrypts your traffic twice with a double VPN feature that no other provider offers.
Pros
Pros
Over 5,000 in 60 countries.
Six device connections at the same time.
Various subscription plans.
Double VPN.
AES 256-bit encryption.
No stored data.
Award-winning customer service.
SmartPlay (Smart DNS).
High compatibility.
Cons
Cons
Some of its servers have slow speeds.
---
IPVanish
IPVanish is an excellent VPN service you could consider. It checks the necessary boxes you'd want from a VPN and is a cheaper alternative to the above providers ($10 per month). It uses the same encryption as the other elite brands on the list and doesn't save your online activity.
What sets apart from the other names on this list is the fact that it optimized for Kodi. It is also a great choice for streamers (except Netflix users) because IPVanish has incredibly fast servers.
Pros
Pros
Zero-logs policy.
1,300+ servers in 75+ countries.
Unlimited bandwidth.
Kodi optimization.
It allows torrenting and P2P activities.
Strongest encryptions
Up to 10 simultaneous connections per account.
Cons
Cons
No Netflix compatibility.
US-based (data retention laws).
Short refund policy (seven days).
---
Hotstar VPN Ban – Will It Affect My Access?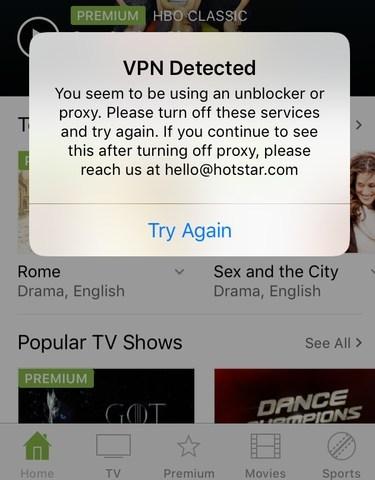 Hotstar has followed the footsteps of streaming giants Netflix and BBC iPlayer and started banning VPN IP addresses. The channel's latest attempts to prevent copyright violations and minimize piracy has left Indian expats very frustrated.
Many Hotstar users abroad complained that their VPN providers could no longer give them access to the latest episodes of their favorite shows. Some even reported the following message displayed on their screens:
"You seem to be using an unblocked or proxy. Please turn off these services and try again. If you continue to see this after turning off the proxy, please reach us at [email protected]."
Don't panic just yet. The brands on my list still work perfectly well with Hotstar.
---
Tips
In case you get this geo-error, try switching to another Indian server. This will give you a new IP address that might still work with the channel. You can also try restarting the VPN app.
And for those who are trying to stream Hotstar content on their PC or Mac devices, change to another web browser (Chrome, Firefox, Safari, Edge, or Opera).
If you try both methods and access to Hotstar is still off-limits, you'll have to subscribe to another VPN provider.
---
Free VPNs Are Like the Plague – Stay Away
While top VPN services still give you access to Hotstar, the ones that don't work anymore are mostly free VPNs. In fact, you shouldn't be using them in the first place.
These providers might seem tempting because they're free, but they are not worth risking your online security and anonymity. Most free VPNs don't have zero-logs policies, which means they keep records of your online activity and sell them to third parties like advertisers.
Also, their encryption protocols are often weak, which means your data can be compromised and readable by hackers, ISPs, and government authorities. And they offer slow speed levels, terrible if you want to stream movies, series, or sports events.
---
India to Witness Significant OTT Growth by 2023 – PwC
The video streaming industry in India is set for substantial growth over the next four years. A PwC report showed that the OTT market is poised for a 21.8% increase by 2023 to reach $1.7 billion from $638 million in 2018.
"India is the fastest-growing entertainment and media market globally and is expected to keep that momentum. Our research shows that in the next five years, India will see significant growth in over-the-top (OTT), online gaming, and Internet advertising," said PwC India's Rajib Basu, partner & leader – in entertainment & media.
The report also showed that video-on-demand platforms that require subscriptions will witness a 23.3% growth to hit $1.5 billion, making up 89.4% of overall revenues.
"Growth in these sub-sectors spurs from the growing trends around personalisation and increased digitalisation."

Rajib Basu, partner & leader – entertainment & media at PwC India.
---
Indian Youth Spurring OTT Platforms
89% of total OTT video content service users are Indians below the age of 35. That's what a recent Counterpoint Research survey titled "India OTT Video Content Market Consumer Survey" found in June.
Age groups of 16-24 and 25-35 had an equal contribution to the overall market, which is dominated by male users (79% of total users).
55% of overall users were from India's five metro cities, which include Mumbai, Delhi, and Kolkata, While 36% of users were from other Tier 1 cities such as Pune and Bangalore.
"Among young users, the age groups of 16-24 and 25-35 contributed equally to the overall market. Male users account for 79 per cent of the total users."

Counterpoint Research
Another key finding that the survey revealed was that Hotstar was the most popular platform in the country. Amazon Prime Video and SonyLIV came in second and third respectively, while Netflix claimed fourth place.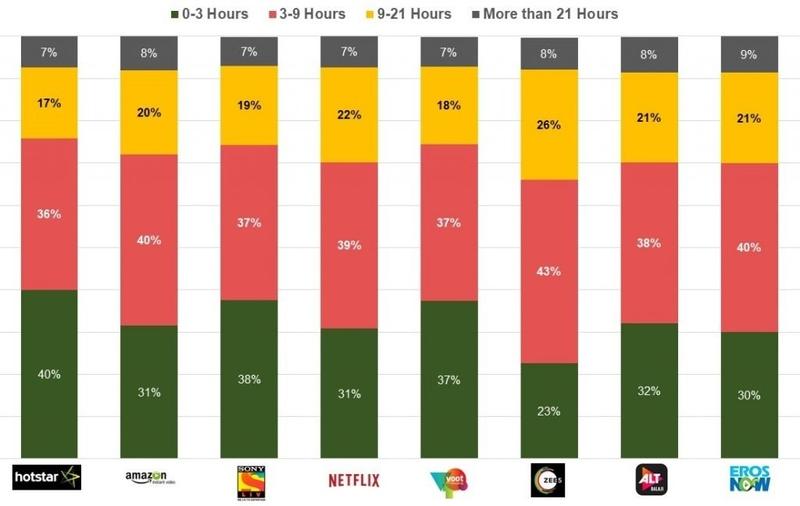 ---
Hotstar Rules OTT Video Content Segment
RedSeer is another research and consulting firm that named Hotstar as the supreme leader of the online content industry. The company, which is based in Bangalore, released the numbers of active monthly users for 15 of India's OTT platforms.
Hotstar led the race with 300 million active subscriptions, followed by Dailyhunt (190 million) and MX Player (176 million). Tik Tok, a Chinese social media video streaming player, came in fourth in the rankings with 129 million active users.
The company revealed that Hotstar's focus on cricket championships and leagues has further cemented its place at the top of India's streaming industry. RedSeer Director Ujjwal Chaudhry said that the Indian people are huge cricket fans, adding that they follow every tournament.
"Nothing unites our country like cricket. Every time there is a World Cup or any other sizeable cricket tournament, we see very high activity on these content platforms, people don't just want to watch matches, they also want to read and talk about it."

Ujjwal Chaudhry, Director of RedSeer
---
Government to Censor Netflix, Prime Video?
Despite its significant success, Hotstar could be handed a massive boost if the Indian government considers the censorship of certain content on Netflix and Amazon Prime Video. Such talks are still in their early stages and the Minister of Information and Broadcasting Prakash Javadekar announced that "thorough discussions" will be held with shareholders before taking any actions.
Hotstar is already India's number one video-streaming service and has a 49% share in the OTT smartphone apps segment. Any potential censorship on major rivals like Netflix or Prime Video will result in higher market power and domination.
---
Compatible Devices with Hotstar
You can stream your favorite shows and programs on Hotstar using any of the following devices:
PC
Mac
iPhone
iPad
Android
Apple TV
Android TV
Fire TV
Chromecast
---
How to Unblock Hotstar From Anywhere – Parting Words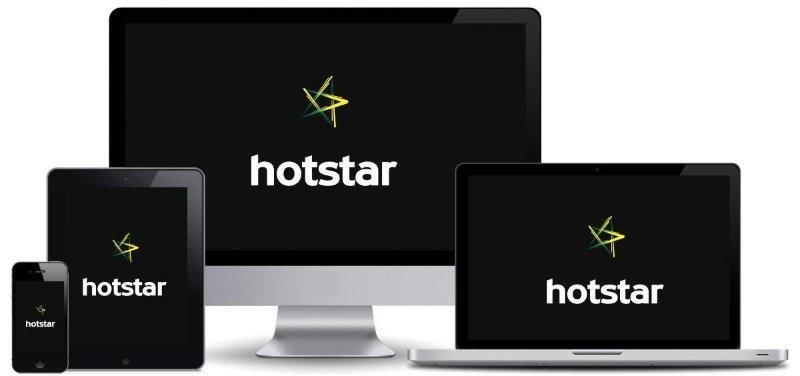 With such a massive lineup of local and international movies, series, and sports tournaments, it's easy to see why Hotstar is so popular. And the fact that it dominates the online video content industry in India with over 300 million subscriptions proves it. Add to that the potential censoring of rivals Netflix and Amazon Prime, and Hotstar is looking at more years of supremacy.
However, the streaming service is only available inside India and a handful of other countries, and the only way to unblock it from abroad is with a VPN. Therefore, make sure you subscribe to top services that still work with Hotstar to avoid the VPN IP address ban that the channel imposes.
Have you ever used a VPN service to watch Hotstar from abroad? Leave a comment and tell us about your experience.