My experience with Windscribe's live chat support was such a delightful one that I feel compelled to start my review with it. I say delightful because their representatives were the friendliest and most cheerful representatives I've come across (and perhaps also partly due to my last experience with a support staff of a rivaling VPN service provider was quite atrocious). Could the fact that it is a company based in Canada have anything to do with this? Regardless, let's move on to the some more critical components…
Features
Servers, Switches, and Bandwidth
Windscribe has servers in over 52 countries in 100 cities. The company boasts the fact that all of its servers are physically located in the countries they link through and seem to take special offense at "some competitors who have most of their servers in the US and Europe, and simply fake the location with false IP WHOIS data to make it appears that it's elsewhere."
Their server network covers:
Americas: Argentina, Brazil, Canada, and the United States
Europe: Austria, Azerbaijan, Belgium, Bulgaria, Czech Republic, Denmark, Finland, France, Germany, Greece, Hungary, Iceland, Ireland, Israel, Italy, ,Latvia Lithuania, Luxembourg, Moldova, Netherlands, Norway, Poland, Portugal, Romania, Russia, Slovakia, Spain, Sweden, Switzerland, Turkey, Ukraine, and the United Kingdom.
Asia: Hong Kong, India, Indonesia, Japan, Malaysia, Singapore, South Korea, Taiwan, Thailand, Vietnam
Oceania: Australia and New Zealand
Africa: Libya and South Africa
Aside from the fact that it is missing the Middle East, Windscribe's network is well spread across the globe. In addition, the service does not put a limit on bandwidth of network switches.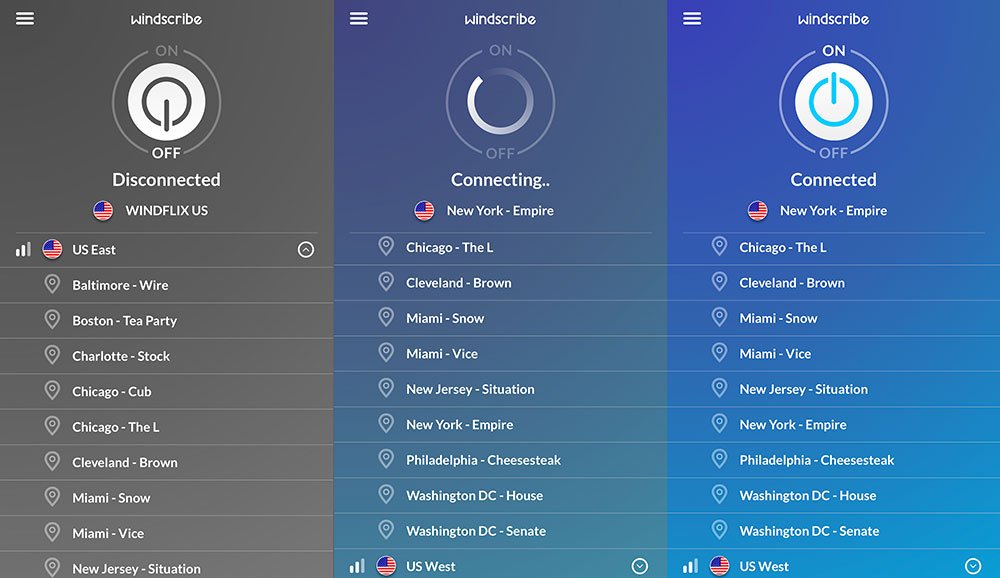 Platforms & Simultaneous Connections
Windscribe offers native apps for Macs, Windows machines, and Linux; iOS, Android, and Blackberry phones; as well as browser extensions for Chrome, Firefox, and Opera.
Windscribe can also be set up on Amazon FireTV, Nvidia Shield, and Kodi. Some routers are also included in the mix: DD-WRT and Tomato.
What's more, the website provides configurations that allow users to setup the VPN on any device that support a number of VPN and proxy protocols: OpenVPN, IKEv2, and SOCKS5.
Here's an unusual, very pleasant twist: Windscribe allows for an unlimited number of simultaneous connections. Meaning that with one account you can power up every device you own.
Windflix
As you may have guessed by the name, these are Windscribe's dedicated servers for US and UK Netflix. Users can connect to the 'Windflix location' from anywhere; iOS devices are excluded though. The company does promise however that the feature will be coming soon.
Browser Extensions
As we mentioned before, Windscribe offers extensions for Chrome, Firefox, and Opera. Unlike other VPN solutions, the Chrome extension is not a simple remote control, it works semi-independently from the desktop app. Here's how that works. If you've got both the native app and the extension installed on your machine, you can connect either from the native app of the extension. But logging on with the extension will only turn on the VPN capabilities for your browser – anything you do in the browser will be encrypted, but other apps running on the OS will be excluded. Logging on from the app means that all your activities will go through the network. In fact, if you log on from the extension to say, Canada, then log on from the app to a US server, for instance, you will notice that the app overrides the extension, both will now be connected through a US server.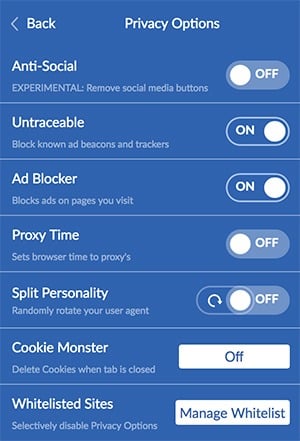 The browser extensions also come with a number of added benefits, namely ad blocking, tracker blocking, and social network blocking, which blocks Facebook "Like" buttons, Twitter "Tweet" buttons, Google+ and LinkedIn widgets – the social media functions listed here all collect your browsing history.
With these features enabled, websites will load faster and users get to enjoy a greater degree of privacy.
Timezone Spoofing
Quite simply, the feature will fake the configured time zone on a user's computer to match that of the location they are connected to. This makes it more difficult for internet providers to know that you are using a proxy.
Security
Protocols
Windscribe support two VPN protocols: IKEv2 and OpenVPN
OpenVPN is an open source, robust protocol that generally considered to be the go-to protocol. It is reliable and supports a great number of strong encryption algorithms and ciphers.
IKEv2/IPsec is a very solid option too. It is typically adopted in apps for iOS and Mac OS.
Windscribe uses AES-256 cipher with SHA512 auth and a 4096-bit RSA key for its desktop apps. The browser extensions use TLS 1.2, ECDHE_RSA with P-256 key exchange and AES_128_GCM cipher.
Location & Logs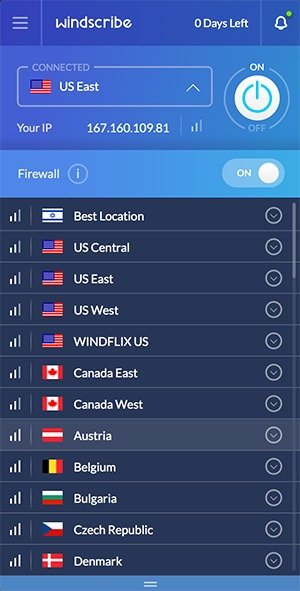 Windscribe is headquarters Toronto, Canada; it's not the most reassuring location. Canada is a member of Five Eyes, a notorious intelligence-sharing global alliance.
However, Windscribe has a no logs policy. Though it does tracks bandwidth usage, this type of data is not to considered as important or revealing, which allows Windscribe to still claim a no logs policy.
For the record, Windscribe also claims that it deletes those logs every month.
Secure.link
Secure.link is an awareness tool-cum-marketing tool by Windscribe. Very simply, the service audits websites for ad beacons and 3rd party trackers and gives a privacy score, which ranges from A to F, denoting how invasive it is.
Here's how it works: through Windscribe, users can create a unique URL that points to a certain website. That link can then be shared with others, which will lead them to the score page. Here's what it looks like: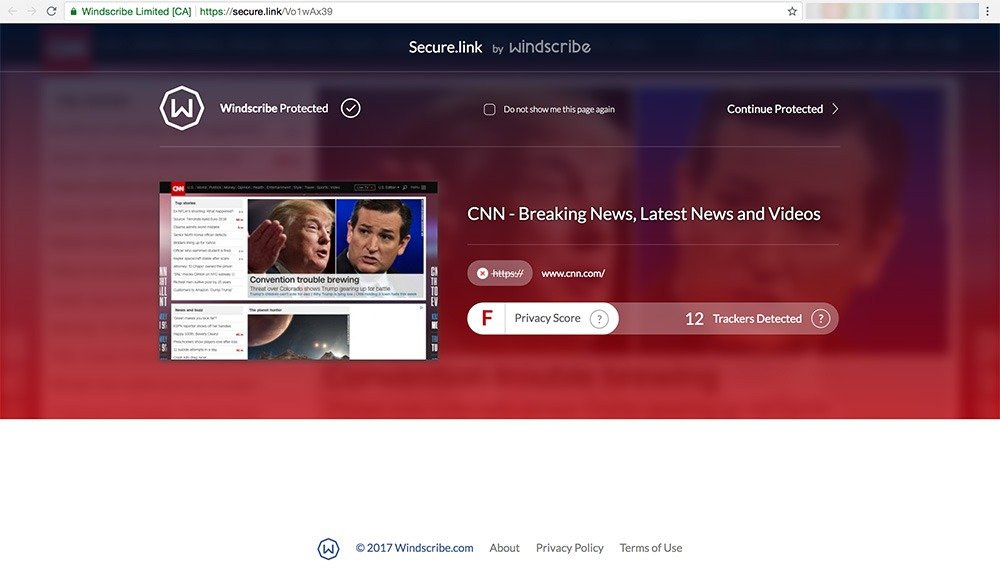 There are two ways that the receiver can proceed, and they depend on how the user configured the URL: the user can either choose to let the score page act merely as a warning, in this instance the recipient can proceed to the page, ignoring the warnings if there are any, if they choose so. The other option would block the recipient from proceeding to the page unless they install Windscribe.
There's money in it to for the user, if, in the second scenario, the recipient signs up to Windscribe, the user will earn 50% of what the recipient user spends.
Split Personality
The drolly named feature randomizes browser settings, such as the operating system used, which version it is, in addition to other specifications, which, together, can help identify specific users.
Double Hop
Double Hop allows the user to route their traffic through 2 locations on the Windscribe network. You need both a desktop app and a browser extension to be able to double hop. After you connect from your desktop app, log on from your extension to a different location. now your traffic is passing through the server location you choose on the desktop app first, then through the server location you picked in the browser extension, and onto its final destination.
This method, more commonly known as a double VPN, provides extra privacy and anonymity, reducing the chances of a correlation attack on a server.
Secure Hotspot
Available only for Windows users, users can create a secure Wifi hotspot from their computers allowing others to connect to this hotspot and take advantage of the secured connection.
Support
As I mentioned earlier, Windscribe's support is a breath of fresh air. This part of the review will be short: they are fast, courteous, and very efficient.
Speed Test
The final test: speed. I tested Windscribe's impact on speed using four different server locations: New York, Paris, Frankfurt, and London.
Download speed decreased by:
24.9% in the US
7.8% in France
14.7% in Germany
12.9% in the UK
Upload speed, on the other hand, decreased by:
12.6% in the US
9.7% in France
12.8% in Germany
16.8% in the UK
There's no point talking a lot here. Those are some pretty good results.
Price & Verdict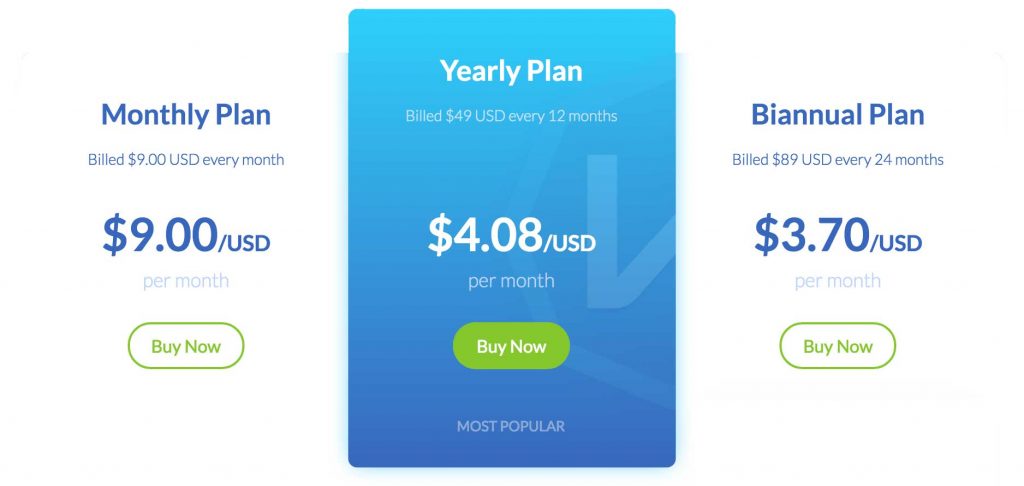 Windscribe's pricing also earns it a few extra points, just a few though. Compared to other VPNs, it's prices fall slightly below the average. But this is definitely worth your money regardless. The choice of protocols is limited, but Windscribe is packed with features, is very easy to use, and performs very well when it comes to speed. The unlimited number of simultaneous connections is a huge plus for me.
What's more, their free plan is also eye-catching. Sure it limits the number of server location dramatically, but all the major content hubs are covered. What's more, the 10 GB limit is more than adequate for a free plan.