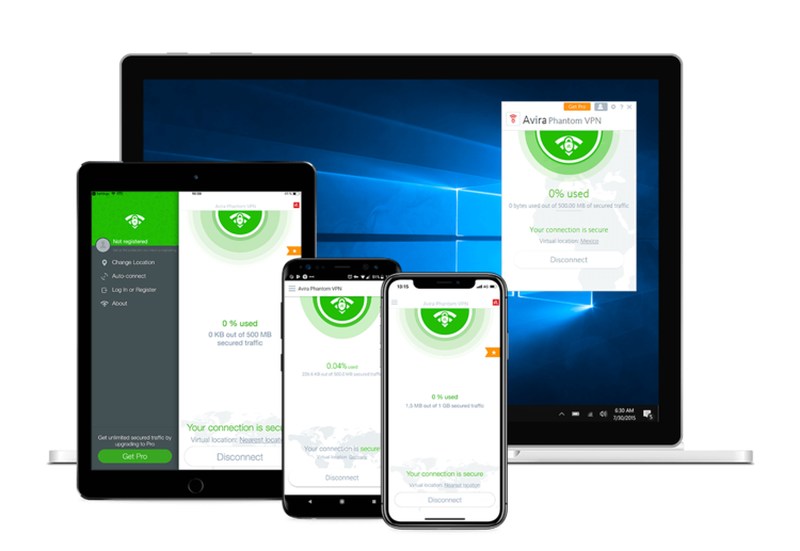 It's become almost customary for security software companies to offer VPN apps and services – think Symantec, Avast, and Avira. For these companies, adding a VPN service to their portfolio make perfect sense. Not only do these companies already possess more than ample know how when it comes to online security, but their standing as the 'defenders', 'the good guys' in the minds of internet users goes a long way too because trust is evidently the weakest link when it comes to VPN services.
But looking at VPN services from such companies you realize that there's a lot more to offer a VPN than technical competency and a good image. I already saw this with Secureline and now I'm seeing it again with Avira.
The app works fine, it's easy to use, and there's really nothing wrong with it. But you can't shake off the sense that Avira sees it's VPN offering as a complimentary service. For now, let's start with the…
Features
Servers
Avira claims that it has more than 1400 servers spread across 37 countries.. That's not really a lot, but we've seen worse:
Australia
Chile
Germany
India
Japan
Norway
Serbia
Sweden
USA
Brazil
Czech Republic
Hong Kong
Ireland
Mexico
Poland
Singapore
Switzerland
Austria
Bulgaria
Denmark
Hungary
Isle of Man
Moldova
Russia
Slovenia
United Kingdom
Belgium
Canada
France
Iceland
Italy
Netherlands
Romania
Spain
One server located in all of Latin America, three clustered at the far East side of Asia, 1 server in Russia and China. Thirty-seven is not too low a number, but the distribution of server locations can be quite limiting for a considerable number of users.
There are also no limitations on the number of switches, bandwidth or speed.
Platforms & Simultaneous Connections
Phantom VPN runs on Windows, Android, iOS, Mac, and on Chrome (as a plugin). And that's it. Avira here is really sticking to the major platforms.
There is no support for even no so niche platforms such as Linux machines. There is no support for any kind of streaming device, gaming consoles, routers (which could really solve a lot of the problem here), smart TVs, etc.
Phantom VPN allows for an unlimited number of connections. As we noted above, there are not many supported platforms, which chip away at the jubilation here. Nonetheless, this still qualifies as a very generous offering.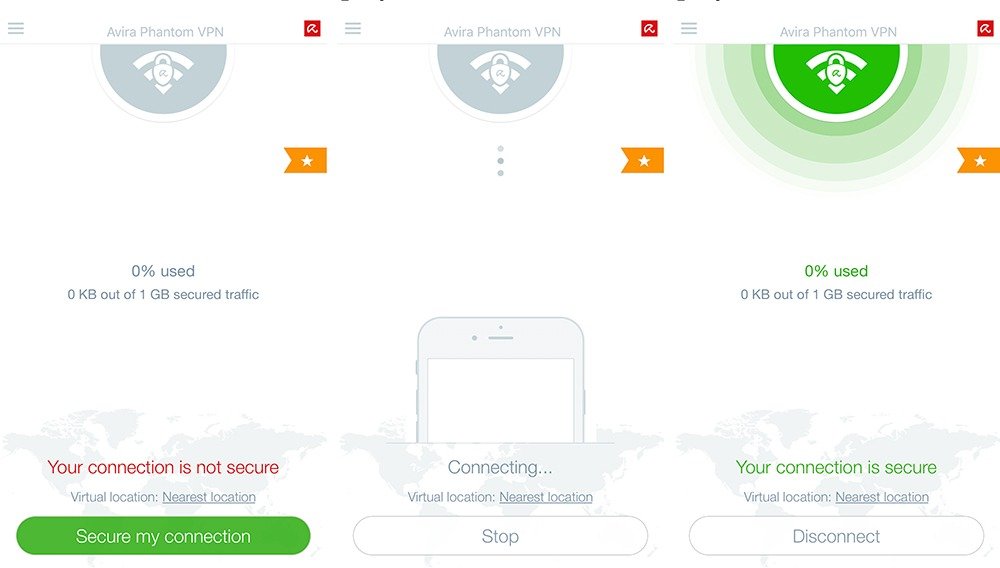 Security
Protocols
For the Windows and Android clients, Phantom VPN uses OpenVPN. OpenVPN is also used in the Mac app, provided that you download it from the website; if you download it from the app store, it will run IPSec; iOS devices run on IKEv2.
OpenVPN is an open source, robust software that is generally the favored among experts, as it balances speed with the safest security standards.
IKEv2 is well regarded too, as it employs very strong cryptographic algorithms and keys. It is typically used for mobile devices as it is good at reconnecting.
IPSec, on the other hand, is a flexible standard, but it is often reproached as being complex, which means that, under poor maintenance, it can lead to a critical failure.
The service also uses the almost standard AES-256 encryption for data transmission.
Location and Logs
Phantom VPN claims a no logs policy, meaning that it does not monitor nor record user behavior – what you search, what you watch, what websites you visit, etc. – but it does keep track of diagnostic data and data consumption. Those are pretty standard and justified metrics that would still quality Phantom VPN for a no logs policy.
Phantom VPN is owned and operated by the German antivirus maker Avira GmbH. Germany has favorable policies when it comes to privacy, but the country is also known for its capable law enforcement agencies. What's more, Germany recently became part of the 14 Eyes surveillance alliance, a global information sharing and spying cabal.
The good news though is that Phantom VPN uses Avira's own servers. Typically, VPN service providers use outsourced servers from undisclosed third parties.
DNS leak prevention
DNS leak is a common security flaw associated with VPNs. Simply, ISPs can still figure out where you are going even if you have a VPN enabled through a leaked DNS request.
This is possible because the browser's DNS requests are sometimes sent to the ISP DNS server directly, and not sent through the VPN. The DNS server acts like a phone book for the internet, a conversion table of IP addresses and URLs.
Fail Safe
Phantom VPN's rebranded Kill Switch. The bad news is, the function is not available in the free version of Phantom VPN, and to be honest, this kind of feels like Avira is attempting to strong arm free users into upgrading.
Support
No live chat. I've come to believe that no VPN service should allow itself not to include live chat support.
Email support was slow too, takes about a day to get an answer, and the answers are typically comprised of pasted chunks of pre-written instructions that best match the question.
Speed
I ran Phantom VPN through the usual speed tests. I compared the speeds with the VPN enabled through 4 different server locations: USA, UK, Germany, and France.
When I read that Phantom VPN uses Avira's server, I came to expect an impressive speed performance. But that wasn't the case, unfortunately. Download speeds dropped by 24.8% 34.7%, 25.5%, and 27.8% respectively; upload on the other hand suffered drops of 18.4%, 28%, 21.2%, and 31.8% respectively.
These are not too bad, but as I said before, I was simply expecting more.
Price and Verdict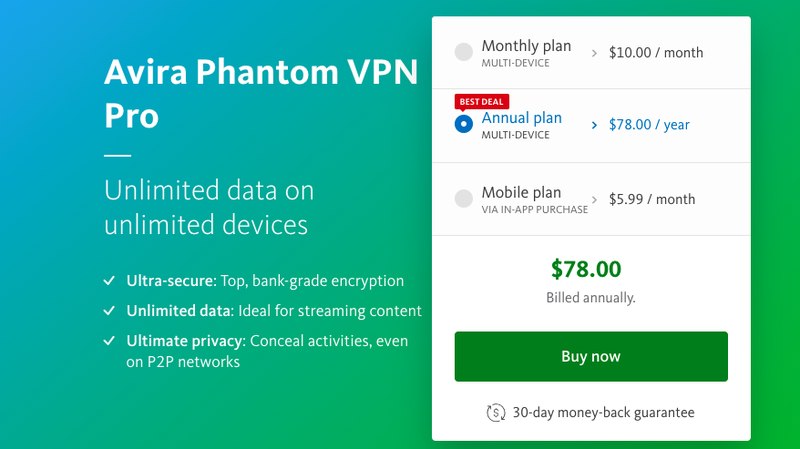 Phantom VPN offers a 10 dollar monthly plan, a $78 yearly plan, and a 5.99 dollar monthly plan that offers support to mobile devices (iOS & Android). There is a free version, which offers half a gigabyte of data and misses the kill switch and technical support. And the thing is, I feel more comfortable recommending the free version here, despite my previous warnings about free VPNs.
The features simply do not justify the cost; you can get a lot more for a lot less from other providers. I do trust Avira though, and doubt that it would have to resort to selling data to keep its VPN service going, which is why this is one of the few times I feel comfortable doing this.