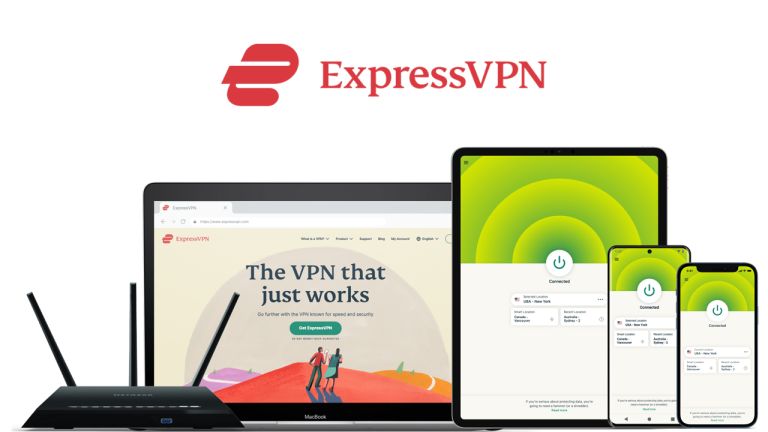 Several VPN experts and users consider ExpressVPN the leading provider in the industry. We have put ExpressVPN to the test. And we have tested all of its premium features. Check our review, and draw your won conclusions
ExpressVPN subscribers benefit from the most exceptional encryption on the market, which guarantees that their online activity remains hidden. And for extra security, you'll have the kill switch and DNS leak protection tools with you at all times.
As for speed rates, they're phenomenal, which makes ExpressVPN an ideal choice for cord-cutters. During our tests, we didn't experience lower download speeds or video buffering while connected to various ExpressVPN servers.
That takes me to my next point, which is streaming compatibility. The provider will give you access to every VOD giant out there, including Netflix, Hulu, HBO Now, and BBC iPlayer. Even sports fans get to unblock their favorite channels like ESPN+, Sky Go, SuperSport, and much more.
Bypassing online restrictions is easy with ExpressVPN because the company claims to operate 3,000+ servers across 94 countries. That's one of the largest networks in the business, with stable speeds across every server.
Moreover, this service is all about protecting your privacy and anonymity. It does not collect data about your online activity or connection. Therefore, no one can determine your identity and location or trace anything back to you. The company is based in the British Virgin Islands where there are no mandatory data retention laws.
Today, I will put ExpressVPN to the test to check if all these claims are true. The series of transparent, unbiased, and thorough tests I conducted are all according with how we rate VPNs at Anonymania.
---
Content Overview
---
| | |
| --- | --- |
| Feature | Availability |
| Money-back guarantee | 30 days |
| Allowed simultaneous connections | Five devices |
| Supported streaming services | Netflix, Amazon Prime Video, Hulu, BBC iPlayer, and all other major streaming outlets |
| No-logs policy | Yes |
| Encryption | Military-grade AES 256-bit |
| Protocols | OpenVPN, L2TP-IPSec, IKEV2, and Lightway |
| Special features | VPN split tunneling, Speed test, kill switch, unlimited bandwidth, Leak protection, and more |
| Customer support | 24/7 customer support with a live chat feature |
| Server locations | 160+ cities across 94+ countries |
| P2P support | Yes |
| Server switches | Unlimited |
| Data traffic | Unlimited |
| Compatible devices | You can set it up on iOS, Android, Windows, Mac, Linux, Kindle Fire, routers, gaming consoles, and Smart TVs |
| Smart DNS proxy | Available (MediaStreamer) |
| Legal Jurisdiction | The British Virgin Islands (outside 14 eyes jurisdiction) |
| Free trial | One week ( only for iOS users) |
---
ExpressVPN – Pros and Cons
After a series of thorough tests, I can conclude that ExpressVPN truly is an industry titan. You won't find a provider that offers better features or services. From security and privacy to speed and coverage, this brand has it all.
Add the high level of compatibility, excellent customer support, user-friendly apps, and a 30-day refund program, and you got yourself the perfect VPN.
Pros
AES 256-bit encryption.
No-logs policy.
Smart DNS proxy: MediaStreamer.
A kill switch.
DNS Leak protection.
Support for Netflix and streaming.
Top speed rates.
Torrenting and P2P allowance.
Ready-made apps for iOS, Mac, Windows, Android, Linux, and Kindle Fire.
Five concurrent device connections.
3,000+ servers in 94 countries (according to the website).
24/7 customer support.
30-day money-back guarantee.
Outside data-retention-law jurisdiction.
---
Interface and Design
I found that ExpressVPN has a very user-friendly website. Its design is very clear and straightforward, and everything you want is displayed on the home page. The menu is located on the top if you seek detailed information about features or your account. That makes it easy to navigate.
And to help you sign up, there are several big red "Get ExpressVPN" buttons on the home page. To register, click on one of them. Then, select a subscription plan, enter your email, and choose a payment method. That's pretty much it. Three Steps and ExpressVPN is all yours.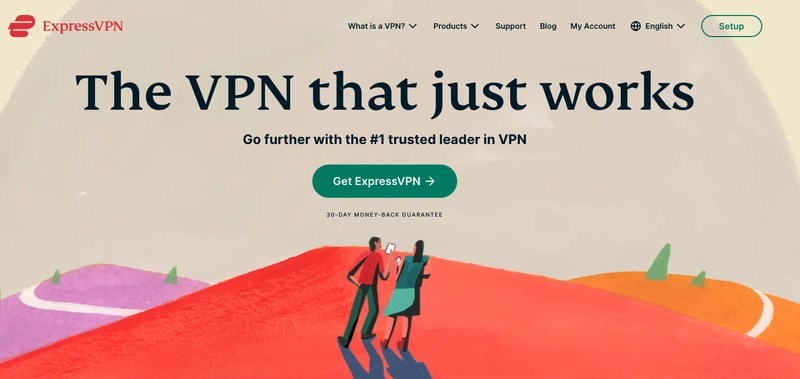 Desktop Client
After you install the ExpressVPN app on your desktop, you need to enter a one-time activation code to verify your account. You'll receive it via email, or you can acquire it from the "My Account" dashboard on the ExpressVPN website.
Once you enter the code and launch the app, you'll see a connect button on display. Clicking on it enables the "Smart Location" feature, which connects you to the fastest server available. But you can select a server of your choice by clicking on three dots that are at the right of the smart location.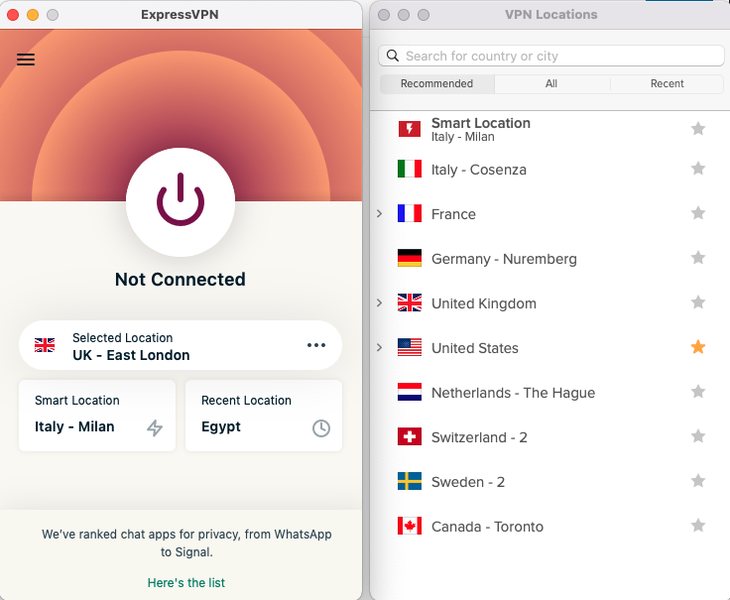 But that's not all. You can customize your desktop app the way you want it by clicking on the menu icon in the top-left corner. From there, you'll have access to plenty of selections like VPN locations, Speed Test, Preferences, Help & Support, and more.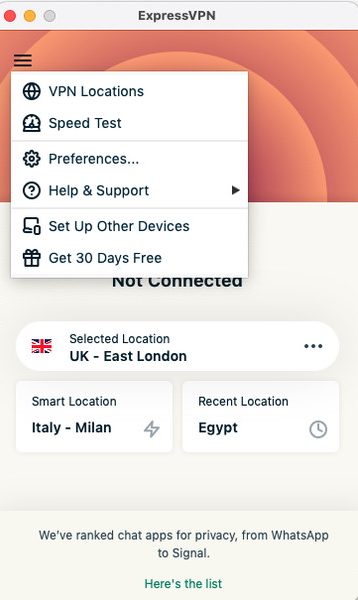 Mobile Apps
While testing ExpressVPN's VPN applications I found the design pretty much the same across all platforms. Therefore, you should feel familiar using it in case you switch to a device with a different operating system.
Just like the desktop client, you need to enter an activation code before you can open the app. Then, the first thing on display is the connect button with a smart location server underneath it. If you wish to switch to a different server, click the three dots.
The only notable difference between the desktop client and the mobile app is the menu options. You have different selections for the smartphone version, but you can still customize your experience.
Users gave ExpressVPN an excellent rating of 4.7/5 on Trustpilot, and according to my tests, that score is well-deserved. It also earned a very good 4.4 stars on Google Play with more than 10 million downloads. As for the iOS app, it scored 4.6/5 from over 54 thousand ratings.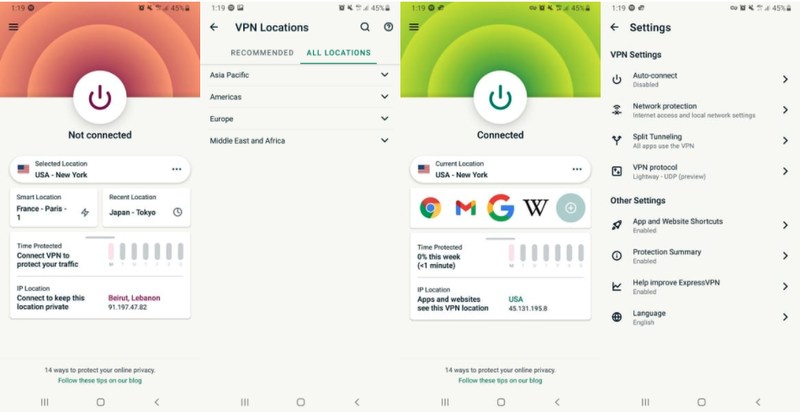 App Compatibility
Another test, another high score. One of ExpressVPN's best features is its broad device support. It has dedicated apps for the majority of platforms like iOS, Android, Windows, macOS, Linux, and Kindle Fire. And if you want to use it on your desktop, it has browser extensions for Chrome and Firefox.
The company also allows up to five simultaneous device connections per account. That means you can pretty much protect all your devices with just one subscription. We tested the Android and iOS applications on a number of devices at the same time from different locations. The five of us were able to use ExpressVPN without any issues.
---
ExpressVPN Review – Server Network
Subscribing to ExpressVPN will give you access to over 3,000 servers spread across 94 countries, according to the company website. However, when I contacted the company to check about the validity of these numbers, the customer support team told me that they operate 160 servers in 94 countries.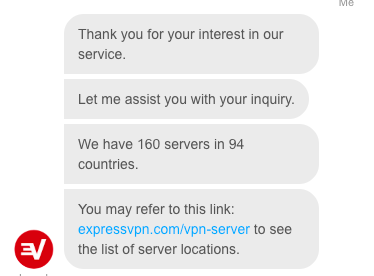 That is still a decent network by industry standards and whether or not ExpressVPN has 3,000 servers remains to be seen. Yet, you'll still be able to bypass almost every geographic restriction and unblock your favorite websites.
The country with the most number of servers is, of course, the United States, due to the premium streaming services that are based there. HBO Now, for example, has award-winning shows like Game of Thrones, Chernobyl, and Westworld. But the channel is geo-blocked outside the US so you can't watch any of them from abroad.
ExpressVPN has 20+ servers in the US. While connected to those American VPN servers, I was able to unblock HBO Now and every other America-restricted channel. That includes US Netflix and Prime Video, Hulu, Showtime, AMC, FuboTV, YouTube TV, and AT&T TV Now.
The VPN provider covers every continent on the planet except Antarctica, with 160 locations worldwide. They include the usual countries like the US, the UK, Germany, Spain, Italy, Canada, Australia, Brazil, South Africa, Hong Kong, and India.
ExpressVPN even has a presence in less familiar areas like Kenya, Egypt, Nepal, Laos, Bangladesh, Brunei, Guatemala, Bhutan, and Azerbaijan.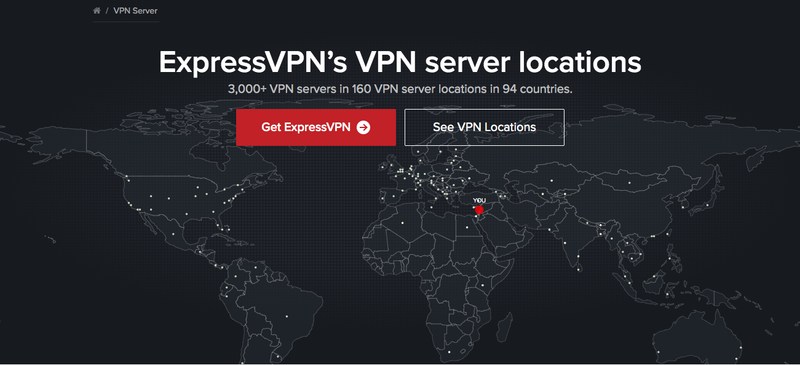 ---
Speed Rates
Speed could be a make-or-break deal for virtual private networks. If your provider does not have fast servers, you can forget all about streaming, torrenting, or video calls. Even regular web browsing will turn out to be a drag.
But with ExpressVPN, you don't have to deal with such frustrations because you'll enjoy incredibly fast speed rates. The service claims that it has the best speeds in the business. But I wasn't going to take their word for it.
Therefore, I connected to two random servers and used a speed test to record the different results.
But first, here is the connection speed without a VPN connection:

You'll notice that your internet connection is faster without a VPN connection. That's because ExpressVPN uses the strongest encryption in the industry. However, the results below will show that the speed drop is barely noticeable.
Nearby Server
I decided to test ExpressVPN's performance while connecting to a server near my location. Speed barely dropped, and ping time did not change much.
Distant Server Location
Given ExpressVPN's reputation and status, I wasn't surprised to see fast speeds when I connected to a closeby server. However, I was very impressed with the results I got when I selected a distant one. To be honest, I was expecting much lower speeds, but the rates hardly changed.

The Speed Verdict
The tests above prove that ExpressVPN has one of the fastest speed levels on the market. These results aren't fixed, of course, because it all depends on your Internet service provider. But at least you know that this VPN will barely affect your internet connection.
And, as I mentioned earlier, ExpressVPN automatically selects the fastest server available to your location; all you have to do is press "connect." It also offers a list of recommendations in case you want a different server. Alternatively, you can choose one from the "all locations" tab.
---
Streaming and Torrenting Compatibility
Netflix and other streaming channels, under pressure from studios and production companies, started banning VPN IP addresses. As a result, cord-cutters around the world had no more access to their favorite shows due to copyright issues and violations.
Similar to other VPN service providers, some of ExpressVPN's servers might occasionally get blacklisted. However, the difference here is that this VPN service usually comes up with quick fixes to bypass these VPN bans.
In other words, you can still use it to unblock major services like Netflix, Hulu, HBO Now, BBC iPlayer, Hotstar, and more. And with speed rates clocked at the best in the industry, I didn't suffer from any buffering issues during testing.
The company also allows torrenting and P2P sharing-activity, which means you can upload/download your favorite files quickly and safely. And since ExpressVPN masks your identity and location, copyright holders can never track you down.
MediaStreamer – Smart DNS
ExpressVPN also has a Smart DNS proxy (MediaStreamer) that makes it available on additional devices like routers, gaming consoles, and Smart TVs. You can also manually set it up on Roku, Chromecast, and Nvidia Shield.
There were a couple of instances where I did need some help with the whole setup process. Eventually, I was able to figure it all out thanks to the well-written support guides and manuals on the ExpressVPN website.
---
Security and Privacy
The most crucial role of a virtual private network is protecting your device and data. To do that, it must use the most robust security and privacy features that are available in our world today.
ExpressVPN aced this test as well, thanks to the premium technologies and programs it has in store.
Military-grade Encryption
ExpressVPN creates a secure, encrypted tunnel between your device and the World Wide Web. It channels your traffic through that pathway so that ISPs and hackers cannot monitor it. But it doesn't just use any encryption level.
You'll benefit from the most secure protocol on the market: AES (Advanced Encryption Standard) 256-bit. This encryption is deemed unbreachable by security experts around the world. Even the US government adopted it to protect classified information and sensitive data.
256-bit stands for 2256 or 1.1 x 1077 possible combinations. In other words, that's 115,​792,​089,​237,​316,​195,​423,​570,​985,​008,​687,​907,​853,​269,​984,​665,​640,​560,​000,​000,​000,​000,​000,​000,​000,​000 possibilities. No wonder no one can crack this encryption.
"A brute-force attack on a 256-bit keyspace is simply infeasible, even if all the world's most powerful supercomputers ran for as long as the universe has existed so far, billions and billions of times over."

ExpressVPN
The company also offers several VPN protocols to apply this military-grade encryption between your device and the VPN server. You can switch protocols anytime you want, but the service recommends that you stick to the automatic setting. That's because it will select "the protocol optimal for your speed and security."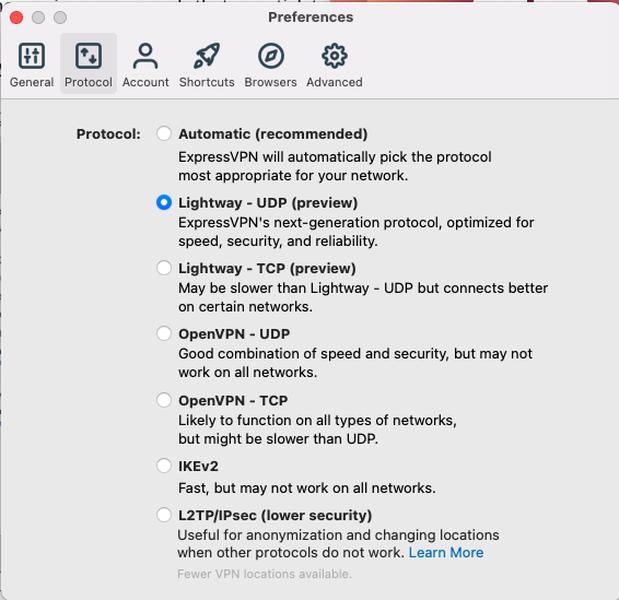 ---
No-logs Policy
I've taken the liberty to read ExpressVPN's privacy policy, which is a crucial thing to do before you register for any VPN service. And I have to say; I was more than satisfied with what I saw.
The company keeps zero records about your IP addresses, browsing history, traffic destinations, or DNS queries. In other words, your online identity, location, and activity are not in jeopardy. Furthermore, ExpressVPN deletes sensitive information, which means it doesn't have to submit user data to authorities.
And the service is significantly transparent when it comes to the data it does gather. That includes dates (not times) and locations (not specific servers) of VPN connections, and the amount of data transferred per day. That is minimal information about you and does not put your privacy or security at any risk.
On a side note, Turkish authorities seized an ExpressVPN server in 2016 in relation to the assassination of Russian Ambassador Andrei Karlov. However, the police didn't find any valuable information that can be used to track online activities.
That proves that the company's servers categorically eliminate sensitive data about connection or activity logs.
Moreover, the company is located in the British Virgin Islands, outside the heavy surveillance of the Five, Nine, and 14 Eyes. The country does not have mandatory data retention laws, which puts an extra layer of privacy around your data.
---
Kill Switch and DNS Leak Protection
VPN apps are a great way to protect your device. But just like any other program, they can sometimes malfunction. As a result, your IP address will be exposed, along with your online identity and location.
To tackle all that, ExpressVPN created a built-in kill switch that automatically cuts your internet connection if the VPN stops working. That way, no one can see your actual IP and find out who and where you are.
Furthermore, the company has private DNS servers and blocks requests to third-party servers like your ISP. And the secure tunnel between your device and the Internet will handle all your DNS requests so that they are sent back to your Internet service provider.
And to make sure ExpressVPN has no leaks whatsoever, I conducted a leak test myself.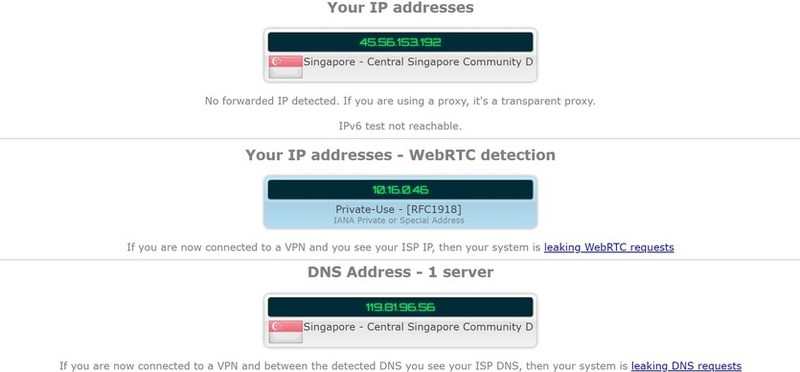 ---
Independent Third-party Auditors
ExpressVPN regularly invites third-party auditors to verify that its VPN servers are in compliance with the zero-logs policy. It recently called upon "Big Four" experts PricewaterhouseCoopers (PwC), who conducted thorough examinations and staff interviews.
The company released the report details back in July so that anyone can access the findings, from customers and journalists to reviewers and partners.
---
Customer Support
ExpressVPN has published plenty of articles and troubleshooting guides to help you with general issues like VPN setups, pricing, and more.
As is the case with the majority of other premium VPN services, ExpressVPN's support comes in the form if a FAQ section, email, support ticket, or live chat.
I contacted customer support via live chat to test their response time. The result was a swift answer after just ten seconds. But please note that some problems might be too complicated to be resolved through this feature. If that is the case, you might find emails a better alternative.
Sure, response time may take a bit longer, but you'll get a clear and detailed breakdown of the problem and solution.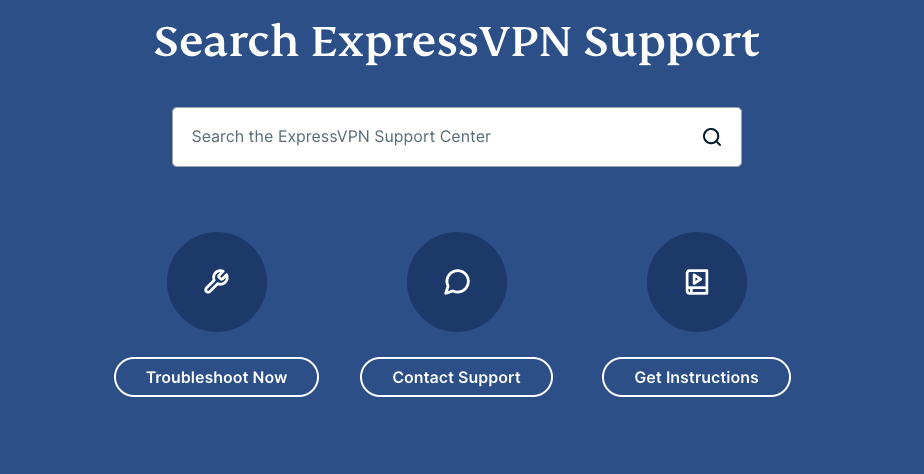 ---
Pricing and Payment Methods
Now we come to the most important question: How much is it worth? Well, let's just say it's not cheap. ExpressVPN has one of the most expensive subscription plans in the industry.
The monthly package costs a whopping $12.95, pricier than any VPN I'ver ever used. But you can get the six-month plan for less money if you break it down to monthly payments. It is priced at $59.95 (every six months), which equals to $9.99/month.
And you can save even more money if you subscribe to the yearly deal, which is billed $99.95 every 12 months. You'll end up saving 49% on your monthly package as you'll also be getting 3 extra months for free.
All these deals come with a 30-day money-back guarantee. That allows you to test the service for yourself and see if you like it before you commit.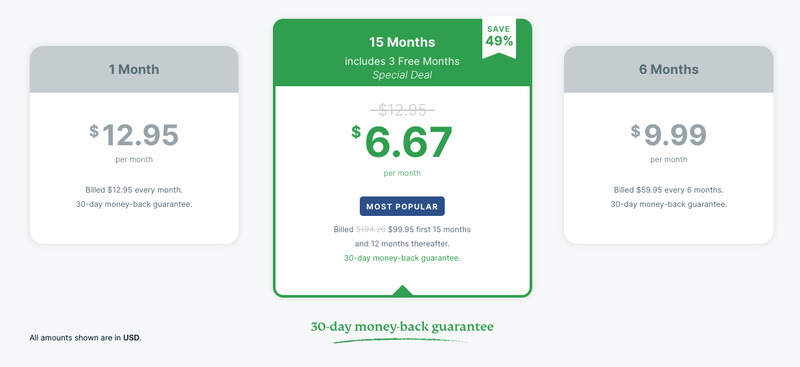 How Can I Pay for It?
ExpressVPN offers a host of payment options to facilitate your purchases. They include Visa, MasterCard, American Express, PayPal, Bitcoin, and much more.
To subscribe, select your favorite package, then enter your email, followed by a payment method from the below.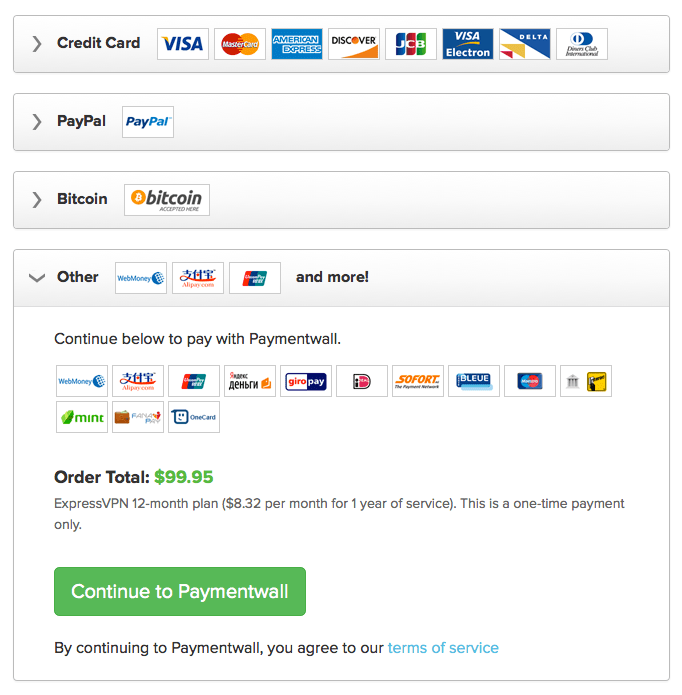 ---
Does ExpressVPN Offer a Free Trial?
Only iOS (iPhone or iPad) users get to benefit from a free seven-day trial. However, all VPN subscribers can enjoy a 30-day refund policy guarantee, which is practically the same.
You'll have to submit your credit information when you subscribe, but you can demand your money back in full within the first month of the subscription.
---
2023 ExpressVPN Review – the Wrap-up
ExpressVPN really goes all out to provide you with premium services. Users will enjoy military-grade encryption, excellent speed rates, and top-notch security tools. Moreover, no one will be able to track your online activity or identity, thanks to the company's zero-logs policy.
As for online access, ExpressVPN can bypass geo-restrictions and unblock streaming channels, bank accounts, VoIP services, and then some. ExpressVPN also assured me that its VPN servers work inside Chinese territories, where Internet censorship is stringent. However, for transparency, I must state that I did not test this VPN service provider in Mainland China myself.
Now, you might have to spend a significant amount of cash to benefit from these features, but at least you'll put your mind at ease. After all, your online security, privacy, and freedom are priceless.
What did you think of ExpressVPN? Leave a comment below and tell us all about it.
ExpressVPN Review
Speed - 95%
Refund Policy - 90%
Security and Privacy - 90%
Customer Support - 95%
Torrenting - 90%
Bypass Geo-blocks - 90%
Compatibility - 90%
Pricing - 80%