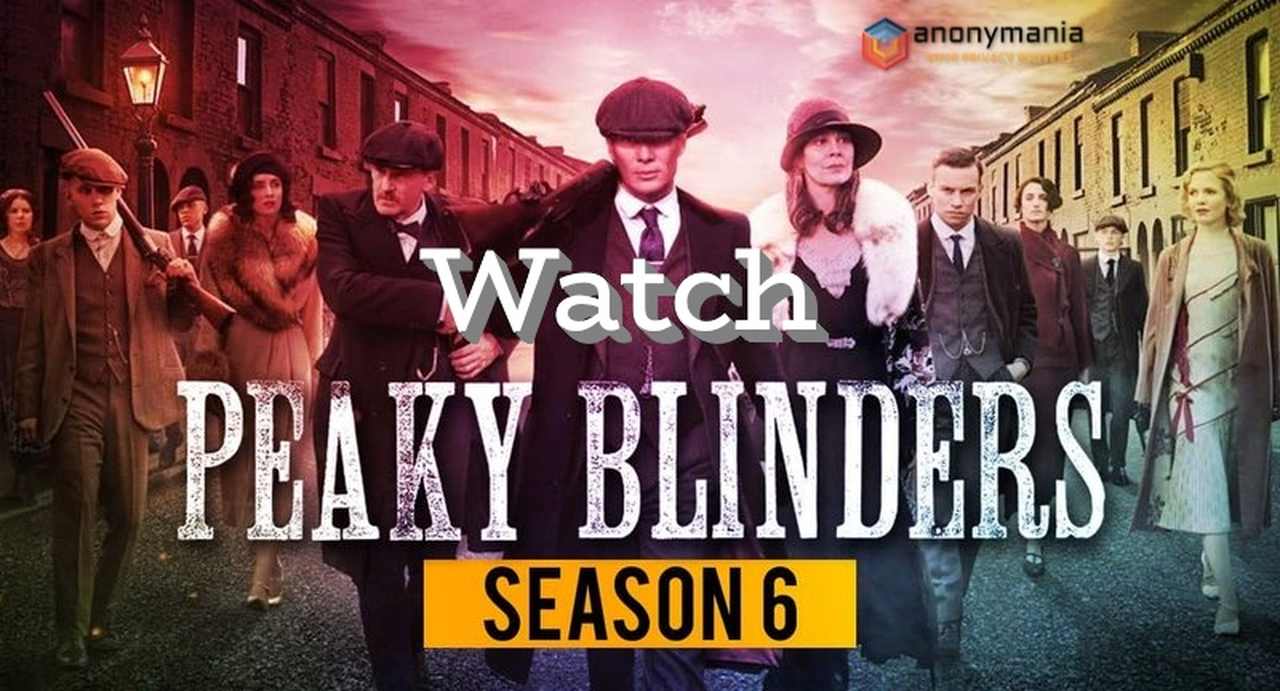 Are you a fan of Birmingham's bad boys? Well, then you're in luck as Peaky Blinders will be hitting your screens with its sixth and final season in early 2022.
Streamers all over the world are excited to see what the show's big conclusion will entail and BBC iPlayer is the only way to do so.
One problem though! The popular streaming service is only available to viewers in the United Kingdom. Well, that won't be an issue for long as we're here to fix it.
Streamers! The Shelbys are back in business and so are you. Here's how you can watch Peaky Blinders season 6 anywhere in the world.
Stream Peaky Blinders S6 Anywhere – Quick Guide
Time needed: 4 minutes
While Peaky Blinders moved from BBC Two to BBC One, you can still use the BBC iPlayer platform to stream it. However, to do so overseas, the following steps are required:
Subscribe to a credible VPN service.

When it comes to providing quality servers in the UK, we highly recommend ExpressVPN.

Download and install the VPN application on your device.

Dedicated clients are available on Android, iOS, PC, Mac, as well as Amazon Fire Stick.

Activate the app and sign in with your credentials.

Once in, open the server list.

Connect to a UK server.

This process will give you a British IP address.

Launch BBC iPlayer's website or application.

If you don't know how to do that, follow the guide below.

Sign in with your BBC iPlayer account.

Don't have an account? This comprehensive walkthrough will show you how to get one.

Click on I Have a TV License.

If you don't select this option, you won't be able to access the channel's content.

Stream Peaky Blinders anywhere.

Watch the 6th and final season as soon as it's released.
Peaky Blinders Online – Full Guide
There's more to it than just the steps above, especially when you want to unblock content overseas. Hopefully, this full guide will shed more light on how you can watch Peaky Blinders in your region:
The Requirements
To watch Peaky Blinders on BBC iPlayer, the following is required:
VPN subscription.
BBC iPlayer account.
A compatible BBC iPlayer device.
Peaky Blinders S6 – British to the Core
Fans of the TV show watched a teaser shared on the official Peaky Blinders Twitter account. The show's protagonist, Tommy Shelby, walks down a darkened street with a bag in hand.
This teaser can be seen all over the world. However, the show itself can only be viewed in the United Kingdom via BBC iPlayer.
The channel has millions of streamers and is without a doubt, one of the most popular channels in the UK. In fact, the service harnessed more than 1.7 billion streams in the first three months of the year.
Despite its popularity, BBC iPlayer applies what we call geo-blocking. It examines the users' IP addresses in order to pinpoint their location.
If the streamers are outside the UK, BBC iPlayer will block their access almost instantly, mainly for copyright reasons. Below, you'll find the error messages you'll get if you try to stream Peaky Blinders outside the UK:
"This content is not available in your location."

"This content doesn't seem to be working."

"BBC iPlayer only works in the UK. Sorry, it's due to rights issues."

"Something's gone wrong. Exit the video and try to restart the programme."


"BBC iPlayer TV programmes are available to play in the UK only."
The errors above reflect exactly what you get if you're trying to stream Peaky Blinders. However, if you felt like tricking BBC iPlayer (Just as we did) and tried to download the content instead, you'll end up with the same outcome. Downloads abroad are also prohibited.
"Download Failed."
Such errors may seem intimidating for a lot of streamers out there. Dont fret. Just like millions of others, you can stream BBC iPlayer anywhere by following the steps above.
A VPN – The Key to Bypass Restrictions
A Virtual Private Network is an online tool used to enhance your security and anonymity while browsing the web.
Once you connect to a VPN server, the software applies military-grade encryption that deems your data unreadable by third parties, including hackers.
On the other hand, the VPN also hides your IP address and replaces it with one based on the country where the connected server is located.
With this new IP, you can access several websites/channels no matter where you physically reside. To sum a VPN up, we've listed the benefits you get below:
Encrypts your data for better security.
Cloaks your IP address and anonymizes your browsing activities.
Unblocks major streaming services all over the world.
Improves speed rates by bypassing ISP throttling.
We have to note that not all VPNs are equal, especially when we speak of providing the benefits above. Also, BBC iPlayer is one of the hardest channels to unblock, which makes the VPNs' job a lot more difficult.
BBC iPlayer can detect VPN traffic and block its access on the spot. If the VPN is not credible and does not optimize its servers, they're not unblocking the channel. The image below showcases VPNArea, a good VPN that lacked the ability to unblock BBC iPlayer.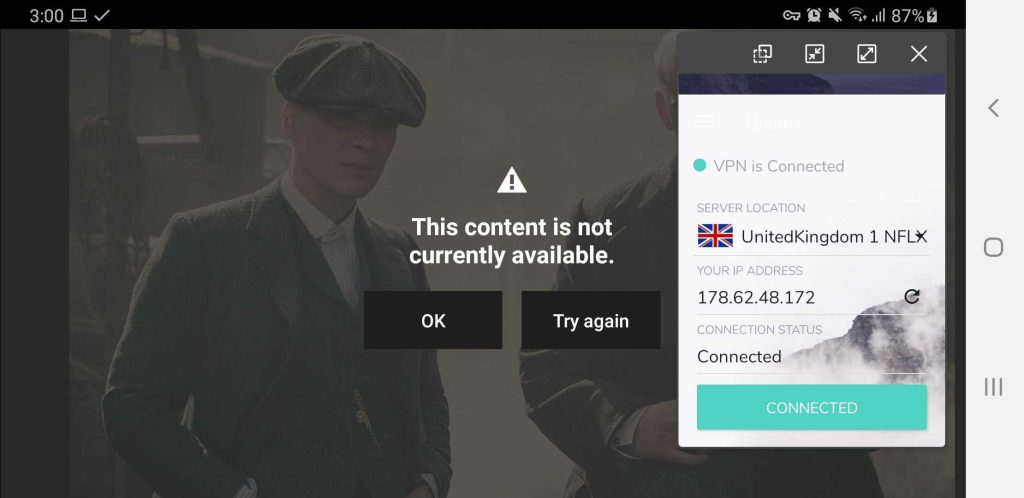 Unfortunately, this is not the only VPN that fell victim to iPlayer's blocking mechanism. We've tested several VPNs – some failed, while others prevailed.
ExpressVPN is our top pick for unblocking BBC iPlayer. However, it's not the only one as BulletVPN also got the job done within seconds. You can also check other providers in the table below.


30-Day Money-back Guarantee
Unlimited Bandwidth
Apps For All Your Devices
24/7 Live Support
Visit ExpressVPN
How to Create a BBC iPlayer Account Outside the UK
With a VPN, BBC iPlayer is guaranteed. However, streaming its content requires an account, which can be easily created by following the steps below:
First, activate your VPN and connect to a UK server.
Go to BBC iPlayer's official website.
On the top right of the screen, click on "Sign in."

Once the next page loads, select "Register Now."

Choose the "16 or Over" option so that Peaky Blinders can show up in your library.

Now, enter your Date of Birth and select "Continue."

Submit your Email & Password, then choose The United Kingdom as your country. (Enter a valid UK zip code and your Gender).

Select "Register" and you're done.
Now, with a BBC account and a UK VPN connection, you can stream BBC's Peaky Blinders no matter where you reside.
Get BBC iPlayer on Any Device Anywhere
You now have all the essentials to watch Peaky Blinders. What's left is the BBC iPlayer platform on your device. Here's how you can get it:
Xbox
To get BBC iPlayer on your Xbox, you must first establish a VPN connection on your router.
Once you do that, change your Xbox region to the UK and search for the app in the Microsoft Store.
Finally, click on "Get it Free," sign in with your account, and start watching Peaky Blinders.
PlayStation
At first, you must install the VPN on your router and connect to a server in the United Kingdom.
After that, switch the PS region to the United Kingdom and open the PlayStation Store.
Download the BBC iPlayer app, log in, and enjoy.
Android
If you're using an Android device, be it mobile, Sony Smart TV, or Nvidia Shield, you'll have to download and install the VPN app.
Next, connect to a UK server and change your Google Play Store country to the United Kingdom.
Get the BBC app and you'll be watching Peaky Blinders in no time.
iOS
Apps are easily installed on iPad or iPhone regardless of their availability. Just change your iOS region to the UK and you can get BBC iPlayer and other UK-based apps anywhere.
Apple TV
To get BBC iPlayer on Apple TV, an Apple Store region-change to the UK is required.
To watch the channel, you must install a VPN on your router and connect to a UK server.
Desktop
This is an easy one. All you have to do is connect to a UK VPN server and head over to BBC iPlayer's official website.
Roku
When it comes to Roku, you need to change your Store's region to the UK and get the iPlayer app.
Once done, establish a UK VPN connection on your router and start watching.
Fire TV
A Fire Stick user? Just switch your Amazon account to the UK, and get the BBC iPlayer app.
Note that you can install the VPN client directly on FireStick and establish a connection.
Peaky Blinders S6 – FAQ
Peaky Blinders' final season had us asking a lot of questions. We've seen your inquiries and we hope that this section answers what you're looking for:
Is Peaky Blinders Season 6 Free on BBC iPlayer?
It's not just Peaky Blinders. Everything offered on iPlayer is for free.
Do I Need an Account to Watch Peaky Blinders?
Yes. When it comes to streaming BBC iPlayer, creating a free account is a must. Once created, you can stream everything for free.
Can I watch Peaky Blinders on Netflix US?
Unfortunately, no you can't. Peaky Blinders is not available on Netflix USA at the moment. To watch seasons 1-5 on Netflix, connect to a VPN server in Canada.
When Will Peaky Blinders Season 6 Be Available on Netflix?
Netflix cannot require Season 6 before it fully airs on BBC iPlayer. And since we're expecting the final season to land in early 2022 on the British channel, it might be coming to Netflix as early as April 2022 and as late as May 2022.
Can Any VPN Unblock BBC iPlayer?
No, not all VPNs have the ability to do that. Only a select few are listed in the guide above.
Can I Watch Peaky Blinders on BBC Abroad?
If you're streaming directly, watching without a VPN is not possible. However, if you've downloaded the episodes back in the UK and traveled, you'll still be able to watch the episodes without using a VPN.
Can I Watch Peaky Blinders S6 on Kodi?
Yes. If you happen to be using Kodi for streaming content, we should inform you that BBC iPlayer can be easily accessed through the platform. All you have to do is install the "BBC iPlayer" add-on from Kodi's official repository.
What is the Title of the First Episode of Season 6?
According to Peaky Blinders director Anthony Byrne, the sixth will open with an episode called "Black Day."
How Many Episodes Will Season 6 Consist of?
So far, all five seasons of Peaky Blinders consist of six episodes. We expect the sixth installment to also follow that pattern.
Watch Peaky Blinders 2022 Online – Final Words
Peaky Blinders' series finally promises to be the best in hopes of ending the show with a bang. We'll be seeing returning stars such as The Queen's Gambit actress Anya Taylor-Joy as Gina Gray and some new faces like Black Mirror actress Amber Anderson.
The official release date is still unknown, but based on the whispers, it's coming very soon. If you have any information to add or questions to ask, make sure to drop them in the comments below.