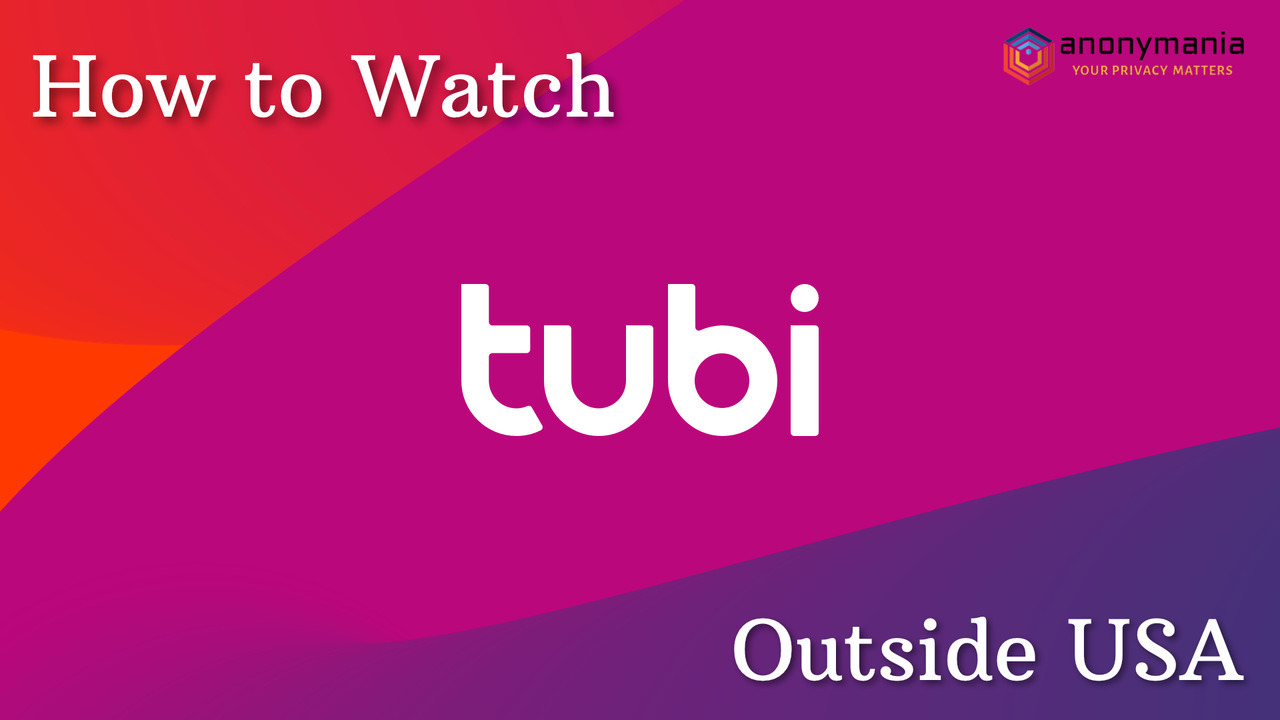 Tubi is a very popular streaming service in the United States. It's free and offers content from all over the world.
However, despite providing international content, the service itself is geo-restricted to specific areas. Different countries, different libraries, but the richest one lies in the US.
So the question is: Can you access Tubi US abroad? Of course, you can, and here's how to do it.
Tubi Anywhere – Quick Guide
Time needed: 5 minutes.
The unblocking process is easy, so let's get to it. Here's how you can watch Tubi TV anywhere in the world.
Get a VPN subscription.

A premium service such as ExpressVPN is highly recommended.

Get the VPN app on your device.

You can download the app on Android, iOS, PC, or Mac.

Sign in with your VPN account.

Open the server list once you log in with your credentials.

Connect to an American server.

You'll receive a US IP address.

Launch Tubi's website or app.

An installation guide is presented below.

Watch Tubi Anywhere.

Stream live and on-demand content wherever you are.
Unblock Tubi – The Full Guide
There's a lot more to talk about and we've included everything you need to know in this full review:
The Requirements
To unblock Tubi outside the US, you must have all of the following:
A Tubi account (More privileges).
VPN subscription.
Tubi-compatible device.
Tubi or Not Tubi Outside the US?
When it comes to streaming Tubi, you must know that the content you get isn't the same in its supported countries.
Channels such as Tubi, Netflix, and Amazon Prime apply several geo-restriction mechanisms as they're available in more than one area.
They assign specific libraries to each region, mainly for copyright reasons. In Tubi's case, the users get their assigned catalog based on their IP address.
For example, if you live in Canada, you'll be watching the Canadian version of Tubi. In other words, titles in the US won't be available and vice versa.
Let us elaborate. Imagine traveling from Canada to the United States, having The Ant Bully already prepared to be watched upon arrival.
Once you connect to the internet in the US, your IP address changes to an American one. Unfortunately, the movie is not available there and you'll be presented with one of these error messages:
"We're sorry, the title you've chosen is not available this time."
"Content Unavailable. Sorry, this video is not currently available."
The errors above appear within Tubi's supported regions. However, if you live in a country where the service is not available, let's say the UK, a different error appears:
"Tubi is the largest free movie and TV streaming service in the US. We are not available in Europe due to changes in EU laws."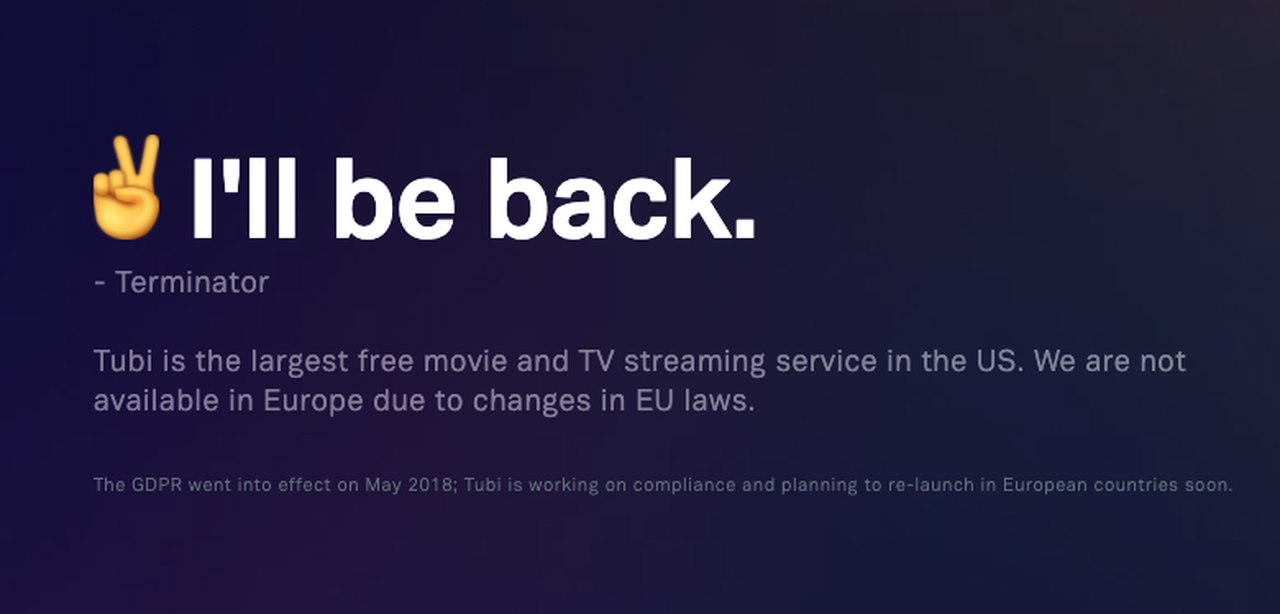 Tubi expanded to Canada, Australia, Mexico, and New Zealand, but the richest library still lies in the United States.
To unblock Tubi outside of the US, follow the steps presented in the walkthrough above. You'll have one of the best US channels at your disposal in no time.
VPNs Explained!
A Virtual Private Network is an internet security tool that helps users access the internet with a more secure approach.
It encrypts their data and provides a strong degree of anonymity by hiding their IP address. Once connected, you'll protect yourself against hackers on public WiFi, circumvent Internet censorship, or browse the web without being traced.
A VPN is a great tool for accessing geo-blocked content. When it cloaks your IP, it replaces it with a temporary one in a country of your choosing.
As a result, you'll be able to access websites/services not made available in your region. For example, if you connect to a US server, you can access Tubi from anywhere.
It's a one-click process. However, you should know which VPN to use if you want your task to go smoothly.
We've tested dozens of VPNs and not all of them can get the job done. We highly recommend ExpressVPN due to its server diversity, excellent speeds, and military-grade security.
They have a 30-day refund policy if you wish to try their service out. But it doesn't stop here. There are other VPNs worth checking. You can find them in the table below.


30-Day Money-back Guarantee
Unlimited Bandwidth
Apps For All Your Devices
24/7 Live Support
Visit ExpressVPN
How to Get Tubi on Any Device Anywhere
Streaming Tubi requires no account. You just have to get the channel on your device and start streaming. To do so outside the US, this is what you need to do:
Android
In the United States, Tubi TV has dedicated apps for almost any Android-based device.
That includes mobiles, tablets, Sony TVs, as well as Nvidia Shield. To get the app, you must first install the VPN on your device and connect to a US server.
If you're outside the US, change your Google Play Store country to the USA and download the app.
Finally, launch the client and start watching.
iOS
If you happen to have an iPhone or iPad, all you have to do is install the VPN app and connect to a US VPN server.
Next, change your Apple Store country to America and install the Tubi app. Now, activate the client and stream away.
Desktop
Watching Tubi on PC or Mac is an easy task since no application is needed. Instead, connect to an American server and open your preferred browser.
Head over to Tubi's official website, pick your movie/show title, and enjoy.
Chromecast
Chromecast's method differs a bit as it doesn't support VPN clients nor does it allow you to get the app abroad.
However, you can still watch Tubi overseas. Just establish a US VPN connection on your router and download the Tubi app on your mobile device.
Launch the client, play a video, and hit the cast button. You can now stream Tubi through Chromecast.
Smart TV
Using your Samsung Smart TV as a streaming platform? Well then, to get Tubi, install the VPN on your router and connect to a US server.
After that, change the TV's region to America and get the Tubi application. Finally, open Tubi and watch your favorite titles.
Xbox/PS
If you happen to be using a PS5, PS4, Xbox One, S, or X, you'll need to install the VPN on your router.
You won't be able to find the app if you're abroad, so change your console's region to the USA and download Tubi.
Finally, activate the Tubi client, sign in (if you want), and watch your shows and movies anywhere.
FireStick
Amazon Fire Stick is a handy streaming device. Unfortunately, the apps on it are also geo-blocked.
To get Tubi, you must first download and install the VPN app on FireStick. Next, connect to a US server and change your Amazon Account to the US.
Find the app and install it. You can also sideload Tubi using other sources. Now that you have Tubi, launch it, and start watching.
Roku
Do you happen to own a Roku device? Then just install the VPN on your router, change your Roku account to the USA, get the Tubi app, and start watching.
Tubi Anywhere – FAQ
Do you want to know more? Make sure you go through the FAQ section below:
Tubi is now available in the US, Canada, Mexico, Australia, and New Zealand.
Does Tubi's Content Vary in Each Country?
Due to copyright reasons, the service's library is different in every supported country. So far, the richest catalog is the American one.
The channel is totally free. You can access anything on the channel without having to pay a dime.
Do I Need an Account to Watch Tubi?
No, you don't. You can create one, however, if you want to add favorite titles and gain extra privileges.
Can I Watch Live TV on Tubi?
Yes. Aside from all the free on-demand content, you can watch Live television from major US channels free of charge.
What Channels Do I Get to Watch Live?
When you get access to the US version of the service, you get to watch more than 45 channels live, including Fox, NBC News, People TV, fubo Sports Network, MLB, NFL Channel, USA Today, and so many more.
Tubi Goes Global – Final Words
With a free channel like Tubi, your streaming experience will elevate to a whole new level.
You now have all the tools to watch the American version of the channel. If you have any more questions, don't hesitate to drop them in the comment section below.