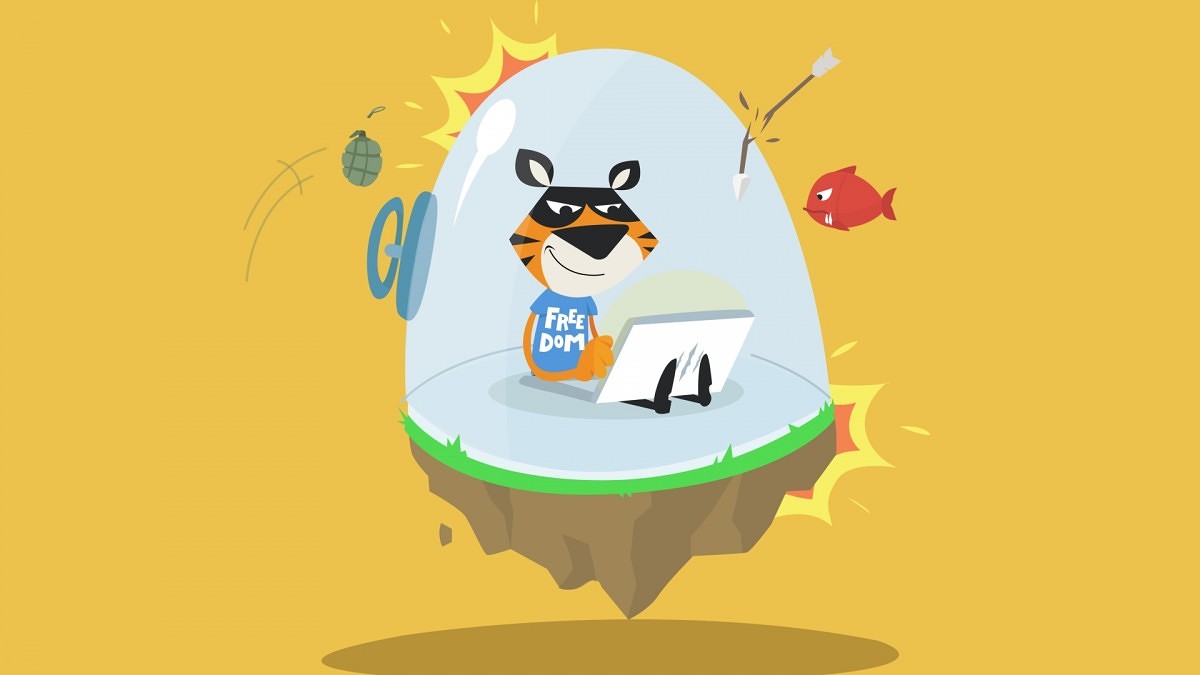 tigerVPN is a Slovakian-based VPN service that has been around for almost a decade. The VPN provider has some cool features to offer, but is it well-equipped to compete against the giants in the industry? Let's find out.
A Bumpy Start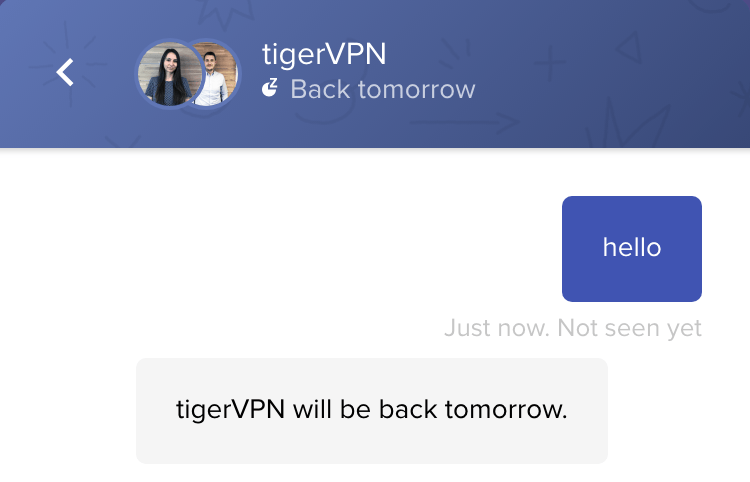 …that's not the greatest start, but let's see.
Typically, I start my VPN review journey with a chat with customer support. That didn't happen as you can see above, so I jumped straight into the Mac app.
….and things actually managed to get worse.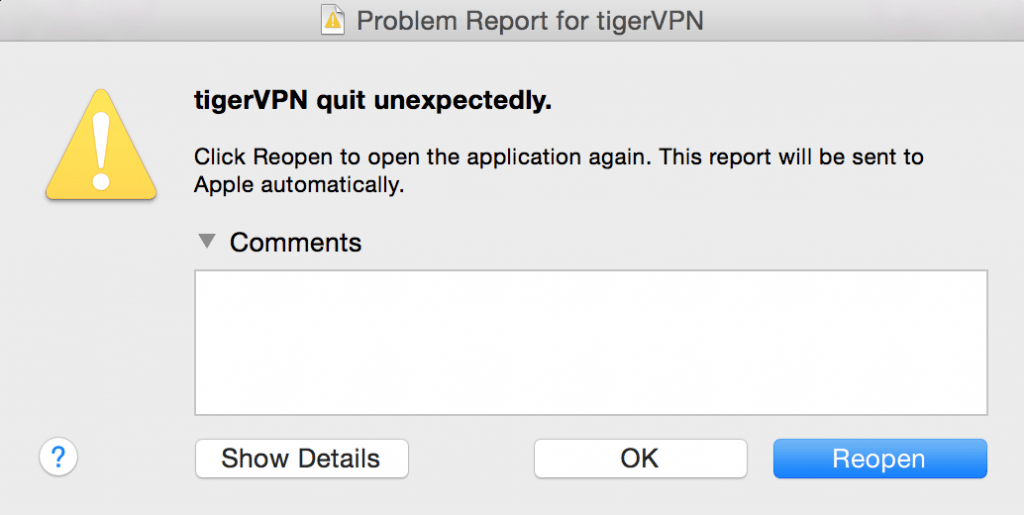 That was the first thing I saw after I installed and tried to run the app. But to be fair, this kind of thing happens sometimes, even with the best of VPNs. So to give tigerVPN the benefit of the doubt, I will review the service using the iPhone app. In the meantime, if TigerVPN gets back to me regarding the desktop app's failure to launch, I'll be sure to update this article.
Let's start with the specs.
Features
Servers
tigerVPN says that it owns over 300 servers spread across 61 cities covering 42 countries. 42 is a very decent count; the average VPN typically covers 30-ish countries. 300 servers, on the other hand, doesn't seem like a great number, but server count can be a very misleading metric, it all boils down to the quality of the servers.
For what it's worth, I'm going to repeat tigerVPN's claim: "We build everything inhouse, operate our own network, servers and monitor them round the clock." We'll be able to determine how truthful they are in the speed tests later on in this review.
For now, here are the cities that comprise tigerVPN's server network:
North America: Atlanta, Chicago, Denver, Los Angeles, Mexico City, Miami, Montreal, New York, Seattle, Toronto, and Vancouver
South America: Buenos Aires, Rio de Janeiro, Santiago, and Sao Paulo
Europe: Amsterdam, Belgrade, Bratislava, Bucharest, Budapest, Cologne, Copenhagen, Dublin, Frankfurt, Kiev, Klagenfurt, Lisbon, Ljubljana, London, Luxembourg, Madrid, Manchester, Milan, Moscow, Munich, Oslo, Palermo, Paris, Prague, Sofia, St. Petersburg, Stockholm, Vienna, Warsaw, and Zurich
Asia: Ankara, Bangkok, Chennai, Delhi, Dubai, Hanoi, Hong Kong, Istanbul, Jakarta, Mumbai, Osaka, Seoul, Singapore, Taipei, and Tokyo
Oceania: Sydney
Africa: Johannesburg
There is no mention of speed caps or download limits. That's because there are none. All respectable, paid VPNs do not limit either of these features, and neither does tigerVPN.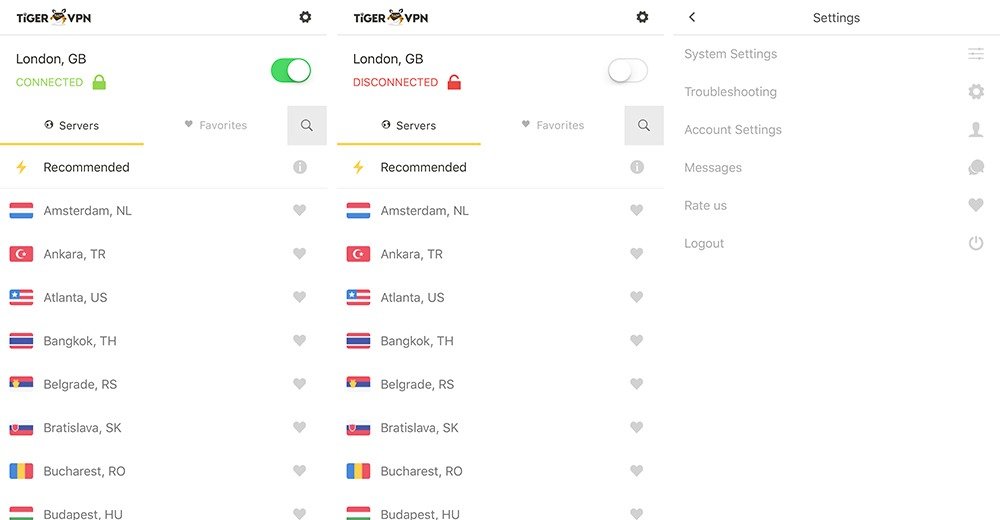 Platforms & Simultaneous Connections
tigerVPN does the bare minimum when it comes to native apps, covering iOS and Android devices, as well as Windows and Mac machines. I was also able to find installation guides to DD-WRT routers, as well as one for Linux using the avoid at all cost PPTP protocol, and one for Chromebook using L2TP. You can't find those easily on the website, I hate to manually browse their support pages to find them.
tigerVPN offers 2 simultaneous connections if you subscribe to the monthly plan, which is practically the only option you have. I can't understand the reasoning behind this, to be honest. Forcing someone into one subscription plan without giving them the freedom of choosing long-term ones that usually offer less prices. It seems a bit unfair to me, not to mention greedy.
The 30% Rule
The website claims that tigerVPN always keeps 30% bandwidth reserved. "That means, if required, we automatically allocate more bandwidth and resources." I have no way of verifying if this is true nor its implications, but as I mentioned before, all gets revealed during the speed tests.
Security
Protocols
Depending on which app you are using, you could be running one of the following protocols: OpenVPN, L2TP/IPsec, and PPTP The tigerVPN.
OpenVPN is an open source, robust software that is generally recommended "for the most security-conscious". It is reliable and supports a great number of strong encryption algorithms and ciphers.
L2TP/IPsec is typically used when newer protocols aren't supported – think old hardware, or in cases where security isn't a major concern. The protocol also used for countries where this particular protocol is able to penetrate government and ISP firewalls. It is not generally recommended unless necessary.
PPTP is the oldest of the bunch, and, understandably, the least secure. It is typically only used when security is not an issue.
Windows, Mac, and Android apps use OpenVPN; The tigerVPN iOS app runs on IPsec.
tigerVPN uses AES 256-bit encryption, "meaning that your data is encrypted in 115,792,089,237,316,195,423,570,985,008,687,907,853,269,984,665,640,564,039,457,584,007,913,129,639,936 possible combinations."
Location & Logs
tigerVPN is owned by Tiger At Work & Co. k. s., a limited liability company organized and existing under the Slovakia law.
In Slovakia, a new law entered into force on January 1st, 2016, abolishing the preventative blanket retention and storage of data by telecommunications companies and introducing all the safeguards prescribed by the Court of Justice of the European Union.
This year, with the passing of GDPR, companies have stricter privacy rules to follow. All in all, Slovakia seems like a smart choice to base a VPN.
Furthermore, tigerVPN has a no-logs policy. It does collect some data, no of which qualifies as activity logs. Namely, it collects the following:
Account Data (email address, password)
Financial Payment Data (credit card, PayPal, etc ….)
TAX & VAT Data (Geolocation & time stamp)
Fraud & abuse prevention (Anonymized financial data + geolocation)
All information related to providing the VPN service namely:

VPN protocol and version
Operating system
app version
traffic statistic
connection session (server location)
favorite servers [optional]
debug information [optional]

Usage & Tracking Data (includes information we or others collect information about how from cookies and similar tracking technologies, such as web beacons, affiliate links, pixels, and app identifiers about how you use our website and apps)
Meshed IPs
tigerVPN says that it clusters together a number customers per IP as a means to prevent the ability to link certain activities to specific individuals. "That's like riding a bus together but nobody knows each other and from the outside, it's just one big bus," the website says.
Protection from DNS Leaks
tigerVPN uses its own DNS servers, this means that ISP's won't be able to figure out where you are going online by intercepting a stray DNS request.
Support
As I mentioned, live support was offline while I visited the site. I couldn't find a way to contact support by email on the website either. The support widget only allows you to live chat with support personnel or browse the help section. tigerVPN's support is just below par.
Speed
The moment of truth: tigerVPN's speed performance is way too erratic, and bad. In my tests, speeds were reduced anywhere between 20 and 80 percent. I tested the service's servers in New York, London, Paris, and Frankfurt. Here are the results
New York: download speed was reduced by 76.2%, while upload was reduced by 79.7%
London: download speed was reduced by 38.2%, while upload was reduced by 18.8%
Paris: download speed was reduced by 77.6%, while upload was reduced by 53.2%
Frankfurt: download speed was reduced by 45.2%, while upload was reduced by 23.6%
Price & Final Verdict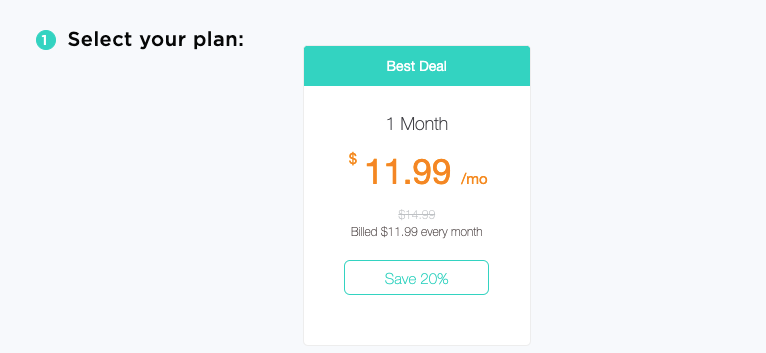 Looking at price alone, tigerVPN used to offer an eye-catching 3-year plan, a yearly plan, and a monthly plan (which, I should remind you, allows for 2 simultaneous connections). Now, the only subscription available is the monthly one, and it's quite expensive. The specs sound nice, but in practice, the software is too unstable and the speeds just aren't good enough.