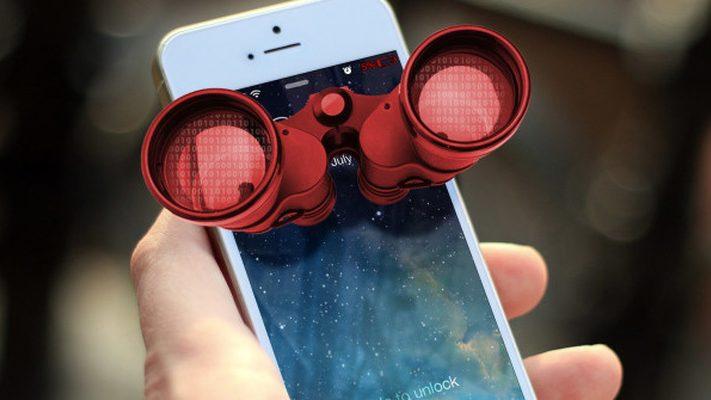 Secure your smartphone
Avoid Facebook and Facebook Messenger
Don't Use AccuWeather
Angry Birds: Intelligence agency
Nosy Zynga
Other apps after your data
Take precautionary measures
Reduce phone time
Final thoughts
The popularity of smartphones has skyrocketed over the past decade. Today, these devices have conquered every household and occupied everyone's lives. In fact, an Ofcom report showed that the average Briton spends more than a day a week online. The company attributed these numbers, which doubled over the past ten years, to the surge of smartphones. Ofcom also revealed that 78% of the population now uses smartphones, compared with only 17% in 2008. It added that Britons nowadays check their phones every 12 minutes.
But the smartphone fever didn't just spread in the UK; it had a global effect. And how could you not spend so much time on your mobile device when you have countless cool apps installed on it? We now have mobile applications for everything: social networking, banking, education, cooking, gaming, weather forecasts, news, sports, and much more. To put it simply, everything you need is now on your smartphone.
However, there is a dark side to most of these apps: privacy invasion. These programs must gain access to your most private data to "function properly." And they'll ask for your permission too as soon as you click install. This data includes your contacts, photos, location, camera, microphone, and WiFi details. Some are more intrusive than others, of course, including these five worst apps for your privacy.
---
Content Overview
---
Is Your Smartphone Secure?
Before I dive into the apps that you should avoid to safeguard your privacy, you need to make sure that your mobile device is secure. As you may know, your smartphone can monitor everything that you do. But you can avoid all that by merely changing a few settings.
If you have an iPhone, you must disable location tracking, turn off microphone and camera access for certain apps, and regularly update iOS (among other things) to maintain your privacy.
As for Android users, you should switch off your location and its history. You should also disable the ads personalization setting so that Google cannot track your online activity.
And for an extra piece of security, all smartphone users must install a VPN app to encrypt their traffic and hide their IP address.
---
Five Apps That Invade You Privacy the Most
What's a smartphone without a few apps on it? Just an expensive calculator, calendar, and alarm clock. The reason why you bought an iPhone, Samsung, or Huawei device is to install your favorite applications and access them whenever you want.
But some of these apps require a ridiculous amount of your data to give a 100% performance. So if you don't feel comfortable sharing such information, then it's probably best that you delete such privacy-intrusive apps.
Facebook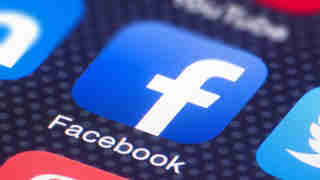 Facebook would make the CIA, NSA, KGB, MI6, and every other central intelligence agency look like a bunch of amateurs. That's how big of a surveillance specialist this app truly is. It requires permission to access every piece of personal data there is, including your contacts, gallery, location, and more.
That means it can take pictures, record audio, alter contact information, view your text messages… The level of control that this app has over your device is terrifying. And the funny thing is that we allowed it.
The Facebook app can even track your activities after you log out. Moreover, it consumes a massive amount of data and battery as it keeps running in the background.
And who can forget about the data leak that exposed about 146 gigabytes (540 million users) of user data earlier this year? This shows that Facebook doesn't just track your online activity, but exposes it as well.
Therefore, follow my suit and get rid of this app ASAP.
Here's a look at what Facebook can access on your phone:
Contact list.
Location.
Camera.
Microphone.
Media gallery.
Text messages and call logs.
Internal storage.
WiFi connection.
When Quitting Facebook Isn't That Simple
Despite everything that I mentioned, shutting Facebook entirely out of your life can be quite tricky. It has 2.3 billion users worldwide, including your friends and family members, so you might feel a bit left out if you stop using it.
Therefore, if you can't find a cure to the Facebook disease, at least log out, delete the app, and use your browser to sign in instead. This method may seem a bit inconvenient, but at least Facebook won't be able to track your every move. But please note that the social media service will still be able to read your messages.
---
Facebook Messenger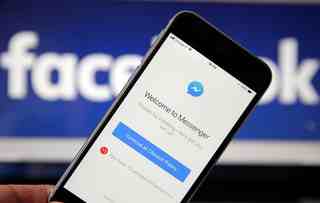 After reading all about Facebook's privacy hacks, I'm sure you're already ringing the alarm if you're using Facebook Messenger. And you're absolutely right. This app has terrible privacy features and doesn't even offer end-to-end encryption.
This means that should someone intercept the messages you send to a friend; they'll be able to read them. Heck, even Facebook can see the texts you send and receive.
However, Messenger does offer a "Secret Conversation" feature that encrypts your messages. To enable it:
Open Messenger.
From the "Chat" section, click on the edit button in the top right corner ().
Then, hit secret (or the lock icon) in the top right to enable "Secret Conversations."
Choose who you want to chat with from the conversation list.
"Secret conversations in Messenger are end-to-end encrypted and can only be read on one device of the person you're communicating with."

Facebook Help Centre
As for regular conversations, any Facebook employee or hacker can read them. Mark Zuckerberg even admitted that Messenger inspects every image or link that you send. If the algorithm finds anything suspicious or incoherent with the company policy, the app will block it.
How to Quit Messenger
Removing Messenger can be a pain in the neck as well. The process is quite easy, but you'll find it difficult to part ways with a decent social network app that, despite its privacy flaws, has over 1.3 billion users. Furthermore, you'll have to say goodbye to all the conversations and chats that you've had with your friends and family.
But at least there are plenty of alternatives for Messenger, including WhatsApp, iMessage, and Skype. Those three apps don't offer regular and 'secret' conversations. Instead, every message or file you send via these platforms is encrypted and only readable by yourself and the recipient.
To quit Messenger, log out of your account then delete the app from your device. I recommend you use a more secure messaging app like WhatsApp.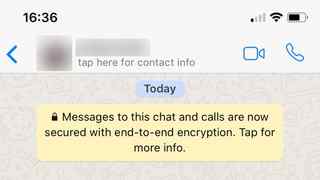 ---
AccuWeather (and Other Weather Apps)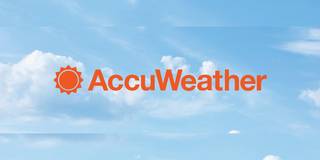 Weather apps like AccuWeather must know your location to provide you with accurate forecasts and readings. That part makes perfect sense, and I don't think many users would mind sharing their location with the app. However, why would it want access to my media gallery and photos? Something is fishy with this one.
But the biggest red flag is the fact that AccuWeather tracks your location 24/7 and shares it with third parties, even when location-sharing is off. Will Strafach, a security researcher, discovered that the iOS app collects geo-specific data and sends it to a monetization firm called Reveal Mobile. And the scary thing is that AccuWeather doesn't mention anything about data-sharing in its policies.
According to Strafach, the app sends the following information:
Your exact GPS coordinates.
Details about your WiFi router.
The state of your Bluetooth feature (on or off).
The app released a statement denying any intentional involvement in user data collection. It added that it removed the software responsible for such breach, but that iOS users must update AccuWeather to prevent any similar data storage.
More Private Way to Check the Weather
In its FAQ section, AccuWeather says that it "stores the last 5 locations you've searched for" to give you accurate forecasts in your preferred locations. These addresses can include your home, workplace, a favorite restaurant, gym, or anywhere else you like to hang out.
And after Will Strafach's findings, who knows who AccuWeather will share all of this with.
Therefore, it's best if you check the weather online. You can also select your location on the app without enabling location-tracking.
---
Angry Birds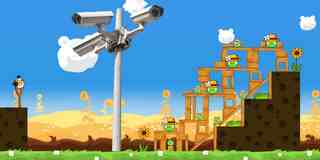 Who knew that a game involving birds and pigs can be an efficient spying tool for the NSA and GCHQ? Angry Birds is one of the most popular apps ever, gathering over four billion downloads ever since it came out in 2009.
But Rovio Entertainment, the Finnish company behind the game, did not put in much effort on security. Well, maybe it wasn't the developer's fault. After all, it was the advertisement company collaborating with Rovio that was responsible for the data leak.
The ad firm used the Angry Birds platform to provide customized advertisements for users based on previously collected data. But the problem was that it did not hide the information it gathered. Instead, it stored them for all public eyes to see. The info that was revealed included user location, phone number, marital status, call logs, political views, and even sexual preferences.
That's why the National Security Agency (NSA) and the British GCHQ were drawn to the game like bees to honey. And it was NSA whistleblower Edward Snowden who blew their cover by releasing these classified documents.
Now according to Rovio, the new versions of Angry Birds aren't as compromised as before. But after this whole fiasco, who would install the game on their mobile again? If the answer is you, then I suggest you at least update the app.
One Flew Over the Cuckoo's Nest
Take my advice and stay away from Angry Birds. And if you have it on your phone, uninstall and delete it ASAP. Besides, the game isn't even worth it anymore. It had its moment in the sun almost ten years ago and seems irrelevant today.
If you're a huge fan of the franchise, then I advise you to wait for the new movie to come out. The Angry Birds Movie 2 is scheduled for release on August 2 in the UK, and August 14 in the US and North America.
---
Words with Friends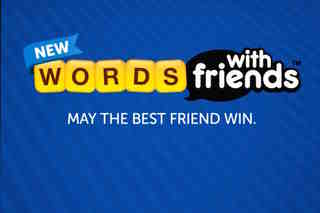 Who doesn't enjoy a good online multiplayer puzzle game with friends? It starts in a fun and amicable way, but soon after it turns sour and competitive. Next thing you know your mate Andrew is doing his victory dance because he put together some random letters to form the word "QOPH" (I know you used a word-generator, Andy).
You get mad, accuse your best friend of cheating, delete the app, and swear never to install again. Thirty minutes later, you're playing another round.
But I don't think you'd want to download it ever again after you hear what I'm about to tell you.
Words with Friends is an app developed by Zynga, the company behind gaming hits like FarmVille, Zynga Poker, and Mafia Wars. What you probably didn't know is that the company requires access to tons of information, including:
Contacts
Email
Name and username
Location
Gender
Age
Chats with other players
Players' posts in the message board
Facebook ID
And that's not even half of it. Zynga uses cookies and identifiers to track IP addresses, as well as the device and internet browser you're using.
Now tell me, do you honestly believe that Zynga apps must have access to all this information for better functionality? I think not.
How to Get Zynga Games and Other Apps Off Your Back
It's not just Zynga. Almost every gaming app wants permission to access some part of your data, especially free applications. These programs generate money by selling your information to third-party advertisers who use such information to give you specific ads.
Therefore, you must check which part of your data is being collected and shared and remove unnecessary permissions; the more, the better. If the app keeps functioning well without them, then great. If not, then it's better if you delete it.
---
What About the Other Apps?
The above apps may be the worst for privacy, but they aren't the only ones. Every application you install or have on your phone requires access to certain information. Some of them will be crucial for the app to work well, while others are unnecessary.
Furthermore, no one ever discovers data leaks until after it's too late (like the Angry Birds incident), which is why you must always check the app permissions before you install it. If you can't block their access to sensitive data, then you better search for an alternative that has more respect for your privacy.
---
No More Data Leaks
"WHAT DO WE WANT?" – "MORE ONLINE PRIVACY!" – "WHEN DO WE WANT IT?" – "NOW!"
The people have spoken, and they are all sick of news about privacy-invasive apps and data leaks. Therefore, if you want to maintain online anonymity, you must follow the below steps.
A little background check: Before you hit that install button, take some time to do a little research about the app. Examine its privacy policy, check out the rating, and read some of the reviews that users post.
Check for permission before you wreck the mission: The app will ask for your consent to access certain data before you install it. Make sure that it doesn't see or collect anything unnecessary to function. Like why would a flashlight need to track your location?
To disable permissions, go to Settings > Privacy then untoggle the one you want to remove (for iOS users).
As for those who use an Android device, head to Settings > Applications (or Apps) > select the app > Permissions then untoggle the one you don't want.
Update or delete, never stay put: I'm sure you have a lot of apps on your smartphone, some of them you don't use anymore. That's why you must delete unused apps and update the ones you use regularly.
Use a virtual private network: VPNs are these amazing security tools that go all out to maintain your online privacy. They use military-grade encryption protocols like AES 256-bit to ensure no one can read your data in case of any leak. They also reroute your traffic through secure servers and change your IP address. As a result, your identity will remain hidden, and no one will be able to track your internet activity.
I recommend you use ExpressVPN as it offers the most secure features, as well as a 30-day refund policy.
---
Put Away Your Phone and Smell the Roses
Are you spending too much time scrolling through your smartphone? Let's face it; we all need a break. As the above data shows, we spend an average of four hours a day scrolling through Facebook and Instagram, texting on WhatsApp, and watching videos on YouTube.
That's way too much time. Remember what life was like before smartphones and apps became cool? Well, it wasn't long ago. So why not cut back on some social media time and do something else for a change? Take up a hobby, exercise, go out, sleep; the choices are limitless.
Besides, everyone knows that spending too much time on your phone can have harmful effects on your mental and physical health. The symptoms include neck pain, eye strain, insomnia, anxiety, depression, ADHD, and more.
So take some time to disconnect from the online world and engage in the real one.
---
Wrapping Up Your 10-minute Read
Our phones contain our most private and sensitive information. From photos, messages, and chats, to work files, passwords, and contacts, this device has become a storage room for all our data. Therefore, we must treat it right and make sure it's never compromised.
To achieve that goal, you must avoid nosy, vulnerable apps that store your data and sell it to advertisement firms. You could also limit their accessibility by denying permission to certain information.
But the ideal solution would be to install a trustworthy VPN service like ExpressVPN to safeguard your privacy and security.
Which actions did you take to prevent apps from invading your privacy? Leave a comment below and tell us all about it.