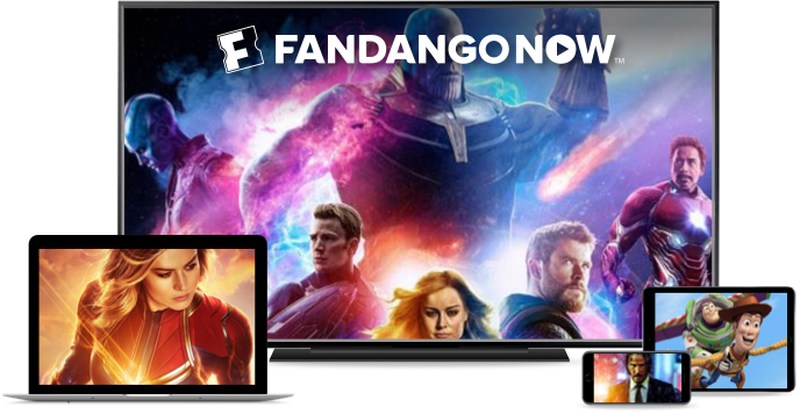 The majority of people resort to Netflix or Hulu to satisfy their streaming habits. But did you know that there are other video libraries out there that carry titles that neither of these two streaming giants does?
Think classics and even some new releases. Well, that's where FandangoNow comes in. With a huge library, it's certainly one of the best video services in the US.
Unfortunately, the US is only where the channel is available. American ex-pats and people, who happen to be overseas, need an extra hand to access FandangoNow abroad, and that's exactly what we'll be lending you today. Let's begin.
---
Unblock FandangoNow Anywhere – The Steps
Time needed: 4 minutes
To get FandagoNow in your region, all you have to do is follow the steps provided below:
Subscribe to a VPN service.

Sign up with a VPN that has credible US servers. As a recommendation, give ExpressVPN a try.

Get the VPN application.

Download and install the VPN app on your device.

Activate the app.

Sign in with your username and password.

Connect to an American server.

This process will grant you a US IP address.

Launch FandangoNow's website or application.

Sign in with your account when prompted.

Enjoy Fandango anywhere.

Watch anything that FandangoNow has to offer wherever you may be.
Is FandangoNow Available Outside the US?
With FundangoNow, you can either buy or rent a movie. The platform hosts over 50,000 movies and TV shows; I'm sure FandangoNow will always have something you've never seen.
The streaming platform has gained a lot of popularity throughout the years, harnessing over 60 million monthly visitors back in December 2019.
One setback, though. If you have already paid for a movie and happen to be traveling, the content won't be streamable abroad. According to their website:
"At the moment, you cannot download a video if you are located outside the United States. If you are going on a trip outside of the U.S. and want to watch some of your favorite FandangoNOW titles, we recommend you download a few titles before you leave."
That's just half of it. If you try to ignore their statement and try to stream anyway, the channel will terminate your access almost instantly.
Instead of viewing your content, you'll end up getting the following geo-error message:
"Sorry, FandangoNOW is not currently available in your region."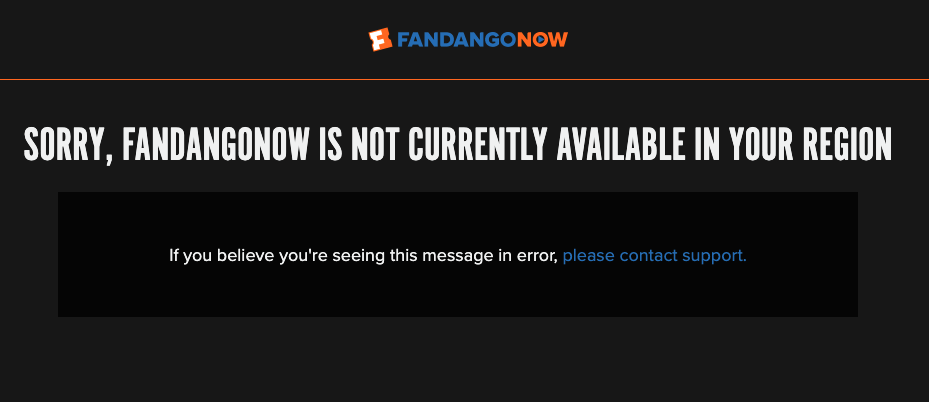 This incident is what we call geo-blocking, a technique used by channels and websites to protect their copyrights outside their coverage area.
By examining your IP address, the online service can determine your location and, finally, allow/block your access accordingly.
The title of the guide is pretty clear, and by the time you're done with this guide, you'll indeed be able to watch FandangoNow wherever you are.
---
How to Unblock Fandango Now Abroad with a VPN
A Virtual Private Network can grant you access to dozens of servers around the world. When you connect with a VPN, you can spoof your online location and appear to be in the area where the chosen channel is available.
Take FandangoNow, for instance; you need to connect to a US server and obtain an American IP address.
As a result, when the channel reads your IP, you'll be determined as a current US resident and have complete access to all streamable content on FandangoNow.
Investing in ExpressVPN is worth it. It will guarantee you a flawless geo-restriction workaround. You'll be able to stream anything on FandangoNow with this robust VPN.
In case it doesn't meet your needs, you can check the top VPN providers for the US in the table below.


30-Day Money-back Guarantee
Unlimited Bandwidth
Apps For All Your Devices
24/7 Live Support
Visit ExpressVPN
---
Will a Free VPN Work with FandangoNow?
We tried several free VPNs to watch Fandango Now from outside the US, and most of them failed to access the platform. Others sort of got the job done but were either inconsistent, slow, or offered little bandwidth.
The only free VPN that was fast, reliable, and had excellent streaming support was Qamo VPN. In addition to the US server in Miami, it offers over 10 key locations worldwide, including Canada, UK, France, Germany, Netherlands, Denmark, and Japan.
And despite the ad-supported app, which is only available on Android devices, Qamo is till one of the best free VPNs for Fandango Now.
Pros
Fast servers in 10+ locations
Extra bandwidth limit
Unblocks popular streaming channels
Military-grade encryption
No-logs policy
Kill switch
Cons
Fewer servers than premium VPNs
Bandwidth cap
Only available on Android devices
Ad-supported app
No 24/7 live-chat support
---
Method #2 – Smart DNS
Smart DNS is another way to spoof your online location and appear to be browsing straight from the US. Despite getting you the same results as VPNs, the two techniques cannot be more different.
Unlike VPN, Smart DNS changes your location by changing the URLs that highlight your current whereabouts.
It just redirects your traffic partially and applies no encryption, giving you access to Fandango's content with minimal speed loss.
Moreover, Smart DNS does not change your IP address, which means that you get to bypass restrictions and navigate between local and restricted channels simultaneously, losing access to neither of them.
In the steps below, we'll be taking Unlocator as an example. We'll show you why later on. Here's what you need to do:
First, sign up for a free Unlocator trial.
Visit their website and follow the setup guides based on your device.
Restart your platform.
Watch Fandango Now anywhere.
The table above represents the top VPNs in the United States, and they all provide a Smart DNS service.
However, Unlocator is the only provider that allows you to use Smart DNS as a standalone subscription without a VPN. This is perfect for streamers who are either on a budget or have no need for Virtual Private Networks.
Moreover, Unlocator has a 7-day free trial, followed by a 30-day refund policy. If that's not enough to test what a service can offer, we don't know what is.
---
FandangoNow Unblocked – FAQ
Do you want to know more about the popular US channel? Here's everything we have for you:
Unfortunately, the channel is neither free nor does it have a free trial subscription. FandangoNow doesn't even have a subscription fee. You just pay for the title you're purchasing.
What Devices Can I Watch FandangoNow on?
These are the devices on which you can stream FandangoNow:
PC
Mac
Android
iPhone
iPad
Roku
Smart TV
Chromecast
What Can I Watch on FandangoNow?
FandangoNow has thousands of titles to get your hands on once you unblock the channel. You don't have to subscribe to the channel – rent or buy any movie within their arsenal. Here are some of the titles you'll be able to get:
Wonder Woman 1984
Chaos Walking
Tom & Jerry The Movie
Minari
I Still Believe
NomadLand
Birds of Prey
The Invisible Man
Once Upon a Time in Hollywood
The Mauritanian
Crazy Rich Asians
Emma
Jumanji: The Next Level
The Courier
Godzilla vs. Kong
Wrath of Man
The Unholy
Spiral
Lazarus
The Retreat
The Marksman
Feral State
Wildcat
Truth to Power
Enforcement
---
How to Watch Fandango Now Outside the US – Final Thoughts
And that's a wrap. You now have the perfect solution to a problem most expats are facing.
Fandango is an amazing platform to stream old movies that you can't find elsewhere. That's why you need to use a VPN to unblock FandangoNow anywhere you are outside the US.
If you have more questions about setting up VPN or Smart DNS on your device, please drop them in the comments below.