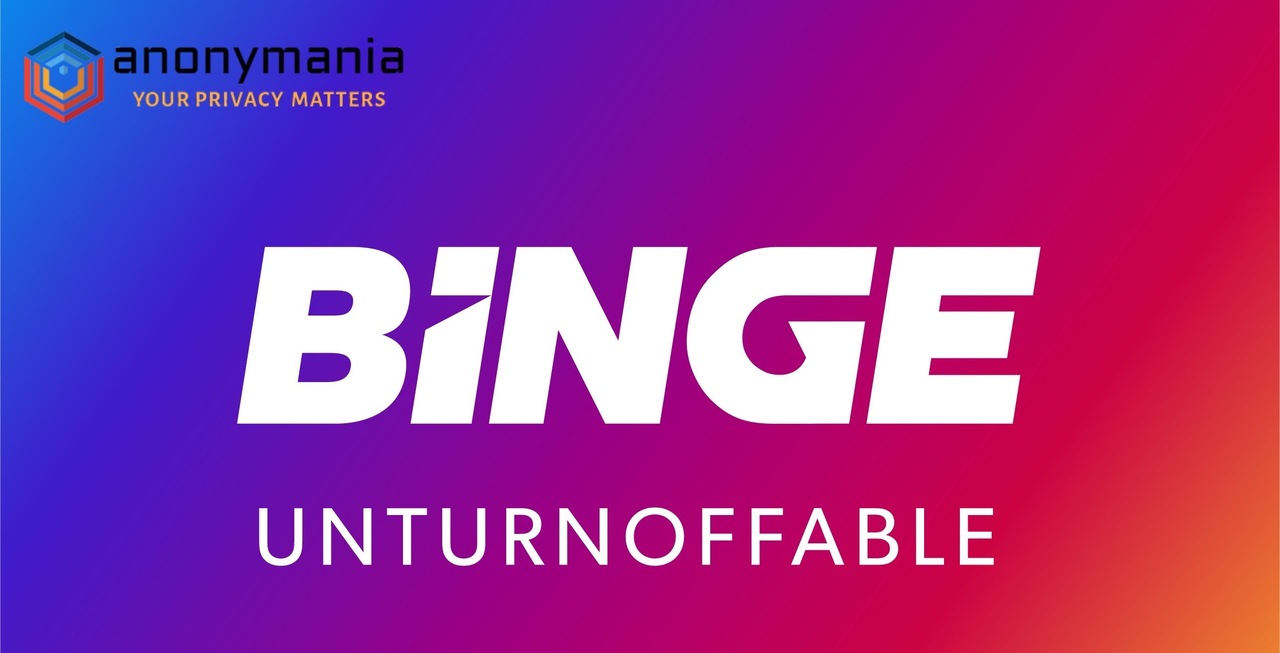 Lately, the Australian streaming industry has been growing a lot. And thanks to big names like Foxtel, this growth doesn't seem to be stopping at all. The provider introduced us to Kayo Sports, one of the biggest sports channels in the country. In 2019, Foxtel launched Kayo's TV counterpart, Binge, home to hundreds of movies and shows from several global production companies.
While Binge provides international content from all over the world, it's still an Australian brand, i.e., only available in Australia.
We have a reputation for making the internet a free place to roam, and that's exactly what we'll be doing here once again. So, if you want to watch Binge outside Australia, this is what you need to know.
---
Binge Anywhere – Quick Steps
Time needed: 5 minutes
To unblock Binge outside of Australia, the following steps should be followed carefully:
Subscribe to a VPN service.

Sign up with a VPN that has credible Australian servers. We recommend using BulletVPN.

Get the VPN application.

Download and install the VPN software on your device.

Activate the VPN client.

Sign in with your username and password.

Connect to an Australian server.

This step will grant you the Australian IP address to bypass geo-restrictions.

Launch Binge's website or app.

Sign in with your Binge account.

Watch Binge anywhere.

Enjoy a plethora of TV shows and movies wherever you may be.
Binge – Unturnoffable in Australia Only
Binge is practically the next big thing in the Australian streaming industry. The channel is brought to you by Foxtel, one of the biggest providers in the country.
So far, the channel has more than 1.5 million subscribers, which is pretty solid considering it hasn't been around for long.
Now, despite the plethora of titles users get to… well… binge, only those who reside within the Australian borders have that privilege.
Binge is geo-restricted to Australia, which means that users in the US, UK, Canada, and elsewhere abroad won't be able to access the channel in their region.
That's geo-blocking, where Binge examines your IP address to determine your location. Once it pinpoints your whereabouts – outside its coverage area – it'll block you on the spot.
During our tests, we received three different error messages. Take a look:
"Access Denied. You don't have permission to access "http://auth.streamotion.com.au/authorise?" on this server."

"An unexpected error occurred. If the issue persists, please contact the Binge Support Crew. Error Code: 3005."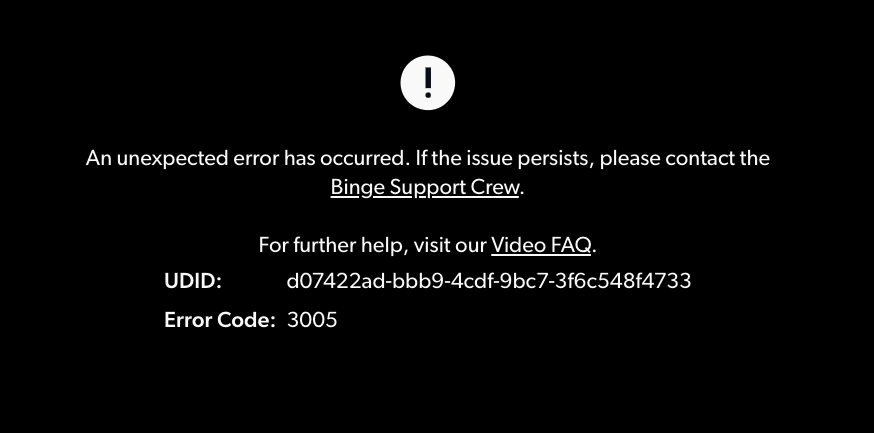 "Sorry, Binge is only available within Australia. Error Code: 3004."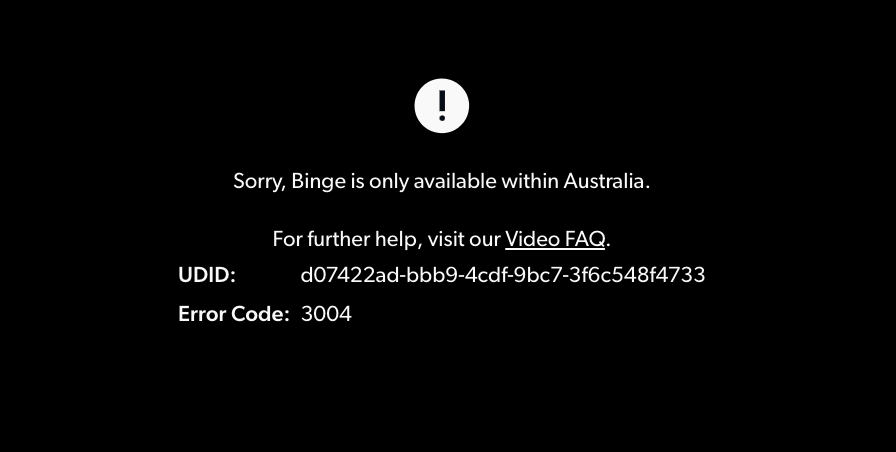 Regional restrictions are quite frustrating, especially if you're an avid streamer who's tired of what their region has to offer on television.
We already addressed that your IP address is the problem, but what if there's a tool that can reroute your entire traffic and provide you with an IP address in a different country? Let's say Australia.
Yeah, there is, and that's what we'll be using in this guide. It's called a Virtual Private Network, i.e., your ticket to accessing Binge anywhere in the world.
---
Binge – Restricted No More
A VPN is an internet tool solely made for enhancing your online security and anonymity. However, as it does that, it also allows you to bypass regional restrictions and access content from all over the world.
Here's how it works. Once you connect to a server, the VPN reroutes your data through a private tunnel and encrypts it, making it next to impossible for any third party to make use of it.
Moreover, the VPN hides your IP address and assigns you a temporary one in the country where the server is located, granting you full access to restricted content in the area.
For example, in Binge's case, an Australian IP address is required. All you have to do is connect to an Australian server, wait a few seconds, and start streaming no matter where you physically reside.
---
Do All VPNs Get the Job Done?
The answer is NO. A couple of years ago, streaming services declared war on VPNs, so they started blocking their traffic.
These services use a special mechanism that measures the number of users connected to its servers from the same IP address.
Most VPNs share their servers (IP Addresses), which makes it a lot easier for the channels to detect and block them.
Binge's sister channel Kayo Sports, is well known to be one the toughest when it comes to blocking VPNs. This makes Binge no different, as they practically use the same method.
We learned that the hard way while testing top VPN providers as we tried to unblock Binge Abroad. Unfortunately, the best of the best failed to get the job done. Here's what we got:
"We have detected you are on a VPN. Please disable your VPN to view this content."
As mentioned, we tested a lot of VPNs, and none of them worked with Binge, except one – BulletVPN.
Apparently, this premium provider continuously monitors its servers to make sure they work with channels that apply tough VPN blocking, such as Netflix, Amazon Prime Video, Kayo Sports, DStv, Showmax, and now, Binge.
---
Unblocking Binge – The Steps
BulletVPN did all the hard work and optimized its servers in order to bypass any blocking mechanism applied by Binge. This makes your job a lot easier.
You can see how we managed to unblock Binge using BulletVPN in the following image: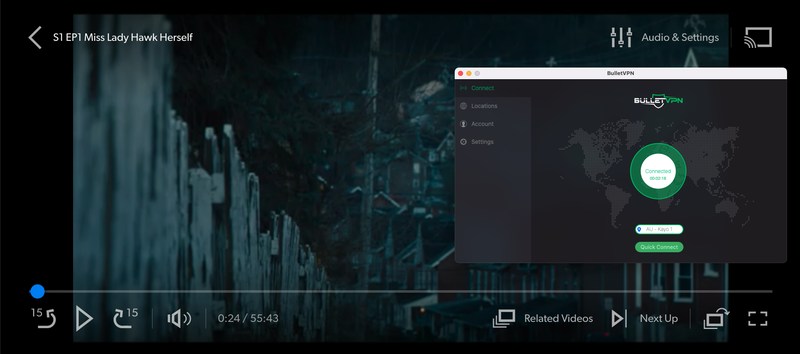 BulletVPN proved on and on that it's the number 1 channel unblocker. It got the job done where dozens of reputable VPNs failed.
When it comes to watching Binge Abroad, BulletVPN has all the tools for consistency. However, while it's the only VPN that unblocked the channel in every single attempt, other VPNs did manage to get good results most of the time.
We do recommend BulletVPN for consistency, but it all depends on what you're looking for. So, here are a couple more options to choose from.


30-Day Money-back Guarantee
Unlimited Bandwidth
Apps For All Your Devices
24/7 Live Support
Visit BulletVPN
---
What Does Binge Have to Offer?
To know more about Binge and what you can get out of it, make sure to check the following FAQ section:
What Devices Can I Watch Binge on?
With a single subscription, you get to watch Binge on Apple TV, iPhone, iPad, Android, Android TV, Samsung Smart TV, Chromecast, Telstra TV, Windows PC, and Mac.
No, it's not. However, if you're a new subscriber, you can benefit from a 2-week free trial to give the service a test run.
You will be charged a small $1 pre-authorization fee on your card as part of their card validation process, though.
What Production Companies Does Binge Provide Content From?
Binge brings content from all over the world, courtesy of top-notch deals with major production companies such as ITV, Paramount Pictures, BBC, WarnerMedia, FX, Sony Pictures Television, and so many more.
It also became the new home for HBO shows and content in Australia.
How Many Simultaneous Streams Am I Allowed Per Account?
The number of simultaneous streams you can have depends on your subscription type. With Binge, you get one screen for Basic, two screens for Standard, and four for Premium.

What Can I Watch on Binge?
You might be wondering what kind of content you'll be getting once you unblock Binge overseas. Check out some of the titles below:
The Leftovers
True Blood
Watchmen
The Witcher
Chernobyl
Russian Doll
Line of Duty
The Wire
The OC
Stranger Things
Titans
Westwood
Succession
Superman & Louis
American Horror Story
Doom Patrol
His Dark Material
Ozark
The Boys
Game of Thrones
How Much Does Binge Cost?
Binge offers three subscription plans. Basic costs $10, Standard costs $16, and Premium costs $18.

Can Any VPN Unblock Binge Outside Australia?
According to our tests, no. Not every VPN can get Binge to operate outside of the Land Down Under. In fact, only a couple of providers managed to get the job done, and BulletVPN tops this list.
---
Watch Binge Anywhere – Parting Words
Binge is definitely the next best thing in Australia, and soon after you're done with this guide, all over the world.
We tested dozens of VPNs to create the perfect guide for you, and now it's here. Your job isn't hard at all. All you have to do is subscribe to BulletVPN, connect to an Australian server, and start watching Binge anywhere.
Please guys, if you have any further questions you'd like to ask, kindly drop them in the comment section below. We're here to help.