About Fanmio
Mayweather vs. Paul pricing
What the fans are saying
Only one clear favorite
Just when you thought 2020 couldn't get any stranger, it throws another punch that knocks you off your feet. On December 6, boxing legend Floyd Mayweather and social media star Logan Paul announced they would face off in the ring in a "special exhibition" match that will take place on February 20, 2021.
Yes, you heard that right. An undefeated champion with a record of 50-0 will take on a YouTuber who only has one official boxing match under his belt: a defeat to his fellow YouTuber KSI. And although both individuals have been exchanging insults on social media over the last few months, no one expected this fight to actually happen.
Yet, almost two months from now, Mayweather and Paul will step inside the same ring. The event will be available as pay-per-view (PPV) on Fanmio, starting at $24.99.
---
What Is Fanmio?
There is no shortage of broadcasters when it comes to boxing, especially for events where division titles are on the line. For example, Wilder vs. Fury 2 was available on several streaming platforms, including Fox Sports, ESPN+, and BT Sport. Heck, even exhibition matches receive plenty of media attention if they feature legends of the sport.
For instance, the match between Mike Tyson and Roy Jone Jr was broadcasted on FITE, BT Sport, Main Event, and Kayo Sports.
So what about Mayweather vs Paul? Surely a fight that features the undefeated Floyd "Money" Mayweather should have a wealth of networks fighting for coverage, even if his opponent is a boxing amateur. After all, Mayweather has a perfect record of 50-0 and has previously defeated the likes of Manny Pacquiao and Saul Alvarez. He even came out of retirement and won against MMA star Conor McGregor in 2017.
However, according to early announcements, the only way to stream Mayweather vs. Paul is via Fanmio. The service isn't your regular streaming platform. It is more of a "new way to meet your heroes" (at least that's what the website says). It allows fans to meet and greet stars like Stranger Things' Gaten Matarazzo, Shazam's Zachary Levi, and Back to the Future's Christopher Lloyd, for a price, of course. It's similar to Cameo but offers something like Zoom calls with celebrities.
So how has this service manage to acquire rights for an exhibition boxing match? Well, perhaps it has something to do with Mayweather joining Fanmio in April. The undefeated champion has three packages available, the most expensive of which costs $1,500 and includes a meet-and-greet with the man himself.
That's all the information concerning broadcasters at the moment, but we will post updates once more details are available.
How Much Will Mayweather vs Paul Cost?
Fanmio has already shared its prices for the PPV bout between Floyd Mayweather and Logan Paul. The first one million buyers will get the fight for $24.99. After the PPV sales break the one-million-barrier, pricing will increase to $39.99. As for those who purchase Mayweather vs. Paul after December 29, they'll have to pay $59.99, while those who wait till February 11 must cough up $69.99.

Therefore, we suggest you get your orders in quickly while the fight is still relatively affordable.
---
Mayweather vs Paul Reception
Floyd and Logan have been exchanging insults on social media for some time now. In one of his videos, Paul called his opponent illiterate, hinting that he first thought Mayweather was scared to fight him. He also urged him to "sign the f***ing contract."
"At first I thought you didn't sign it because you didn't want one punch to ruin your legacy. But now I feel like maybe you didn't sign it because you don't know how to spell your name."

Logan Paul, YouTuber
That was after the champ called Paul a "YouTube girl" and told him to "find some barbie dolls to play with." In his tweet, he also labeled the YouTube boxing concept a "kid games" while also aiming a dig at UFC star Conor McGregor, whom he defeated in 2017.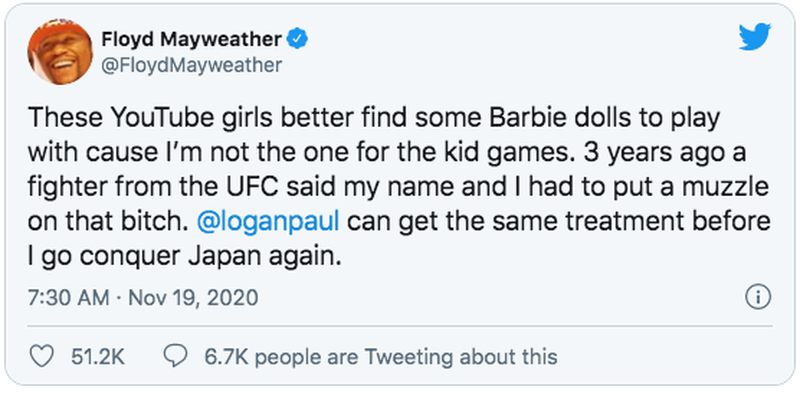 Nonetheless, no one expected Mayweather to actually accept Paul's challenge. Logan Paul is a YouTuber who rose to fame through Vine, an entertainment network and app. His only official boxing experience came from an exhibition match against fellow YouTuber KSI, which ended in defeat.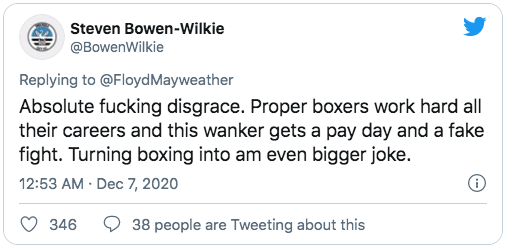 Therefore, many boxing fans, experts, and fighters called Mayweather vs. Paul a "joke" and wondered about the payout for both fighters. Meanwhile, others feared for Logan Paul's life, saying he could be killed in the ring. Either way, it seems the YouTuber's wish finally came true, and on February 20, he'll get the chance to put his money where his mouth is.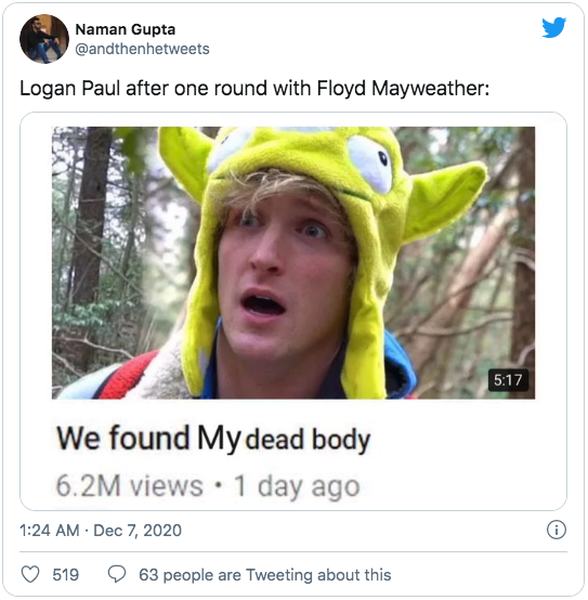 Prediction
The logical question isn't if Mayweather will win; it's more like when Mayweather will win? Nobody expects Logan Paul to last more than a round with the undefeated champ, despite the latter's defensive style of play. Yet, the YouTuber claims all he needs is one clean punch to knock out his opponent. Although it's highly doubtful (impossible, if you ask me), imagine the scenes if he actually pulls it off and tarnishes Mayweather's perfect record.
Leave your predictions for Mayweather vs Paul in the comment section below.