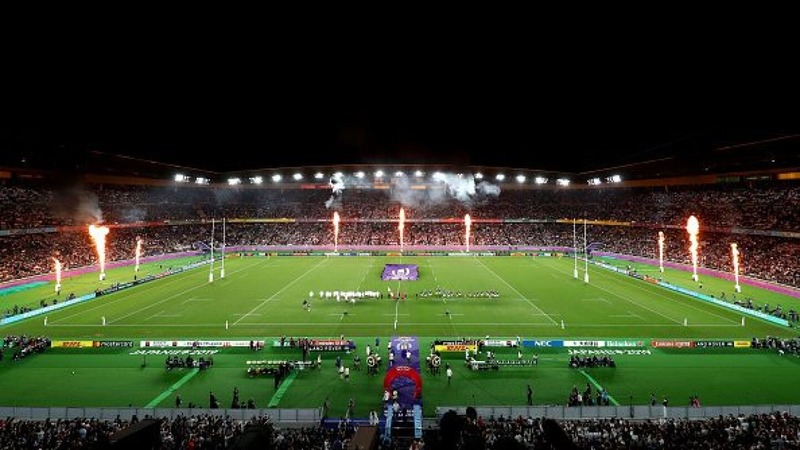 Rugby fans all over the world, the most popular quadrennial world championship for rugby union national teams is here. The Rugby World Cup kicks off on September 8 all the way to October 28, 2023, across nine venues all around France.
Such a huge event demands a global audience, and that's exactly what it got. Several streaming services around the world are broadcasting the event live. However, geo-restrictions still apply, depriving millions in certain countries of this privilege.
Geo-blocking can be very frustrating, especially for sports fans. But we're going to change that. Here's how you can watch the 2023 Rugby World Cup live anywhere.
Stream Rugby World Cup – Quick Steps
Time needed: 6 minutes
To stream the 2023 Rugby World Cup, the following steps should be taken:
Sign up with a VPN.

Based on our thorough evaluation, we recommend using ExpressVPN.

Download and install the VPN app.

Dedicated clients are available on Android, iOS, PC, and Mac.

Activate the VPN application.

Log in with your username and password.

Connect to a VPN server.

Choose a server in the country where your selected channel is available.

Launch the channel's website or app.

Sign in with your credentials if required.

Watch Rugby World Cup 2023 live.

Enjoy one of the biggest events in Rugby wherever you may be.
Rugby World Cup – The Official Channels
Every four years, the Rugby World Cup gathers all of the sport's fans in one place – their screens. Millions around the world expect the best there is to rugby and the best is exactly what they get.
How else can we explain the ninth edition's viewership rate? According to reports, Japan's Rugby World Cup saw a huge spike in viewer numbers, harnessing more than 857 million viewers globally.
This number could not have been achieved without broadcasting deals. However, it could've been even higher if it wasn't for geo-restrictions.
We'll address this issue that a lot are facing while streaming in a bit. As for now, here are the 2023 Rugby World Cup official broadcasters:
So, basically, all of the channels on the list above cannot operate outside their country of origin. That's why we listed each region where the channels have broadcasting rights.
In general, websites and streaming services examine your IP address to determine your location. Once they pinpoint where you are, they allow/deny your access on the spot.
For example, if you wish to watch the Rugby World Cup on ITVX, you'll need to be in the UK. In other words, you have to operate using a UK IP address.
If you're not, the channel will block your access instantly, presenting the following error instead:
"Due to our broadcast and content licences, you can only watch ITVX in the UK. Error code: 01-04."
The error above is the only thing standing in your way. Luckily, the steps we provided in this guide are more than enough to bypass that and stream the 2023 Rugby World Cup anywhere.
What a VPN Can Do!
Before we proceed, we have to note that a Virtual Private Network is the only tool that can change your IP address to bypass regional restrictions.
A "Fake GPS" application won't be able to do that job as the channels only examine your IP to determine your whereabouts.
With that said, we have to explain what a VPN is and does so you can understand what you're working with.
A VPN is a tool that enhances your security and privacy by encrypting your data and hiding your real IP address.
When you connect to a server, the VPN will shield your sent/received data from any third-party interception, especially malicious actors such as hackers.
Not only that, but it grants you a temporary IP address in the country where the server is located. With that, you can access geo-restricted content in that region wherever you may physically reside.
When it comes to unblocking channels, not every VPN can get the job done. Our top recommendation goes to ExpressVPN. Why?
Well, the VPN has servers across 94 countries, which is enough to access any of the channels provided above. Not only that, but it comes packed with high-end security features.
If you want to give ExpressVPN a try, you can do so risk-free courtesy of their 30-day refund policy. If that's not your choice, you can check other top providers in the table below.


30-Day Money-back Guarantee
Unlimited Bandwidth
Apps For All Your Devices
24/7 Live Support
Visit ExpressVPN
The 2023 Rugby World Cup – FAQ
If you want the full details above the 2023 Rugby World Cup, you can check the following FAQ section:
When Will the Rugby World Cup 2023?
The 2023 Rugby World Cup will take place between 8 September and 28 October 2023.
Where Will the Rugby World Cup be Held?
This year's edition of the Rugby World Cup will occur across nine venues in France.
Which Edition of The Rugby World Cup is This Year's?
On September 8th, 2023, The Rugby World Cup will be returning for its tenth edition of the tournament.
Can I Watch the RWC for Free?
With channels like ITVX and RaiPlay, you can definitely watch the competition for free.
What's the World Cup Schedule?
The 2023 RWC's schedule is as follows:
8 September
9 September
Italy vs. Namibia
Ireland vs. Romania
Australia vs. Georgia
England vs. Argentina
10 September
Japan vs. Chile
South Africa vs. Scotland
Wales vs. Fiji
14 September
15 September
16 September
Samoa vs. Chile
Wales vs. Portugal
Ireland vs. Tonga
17 September
South Africa vs. Romania
Australia vs. Fiji
England vs. Japan
You can check the full schedule on the RWC official website.
Stream the 2023 RWC Live – Final Words
This year, the defending champions are South Africa. Will they be able to maintain the title? We don't know what will go on in the competition, but we do know that it's going to be epic.
Now, you have all the means to stream it online. If you have any questions, make sure to drop them in the comment section below.