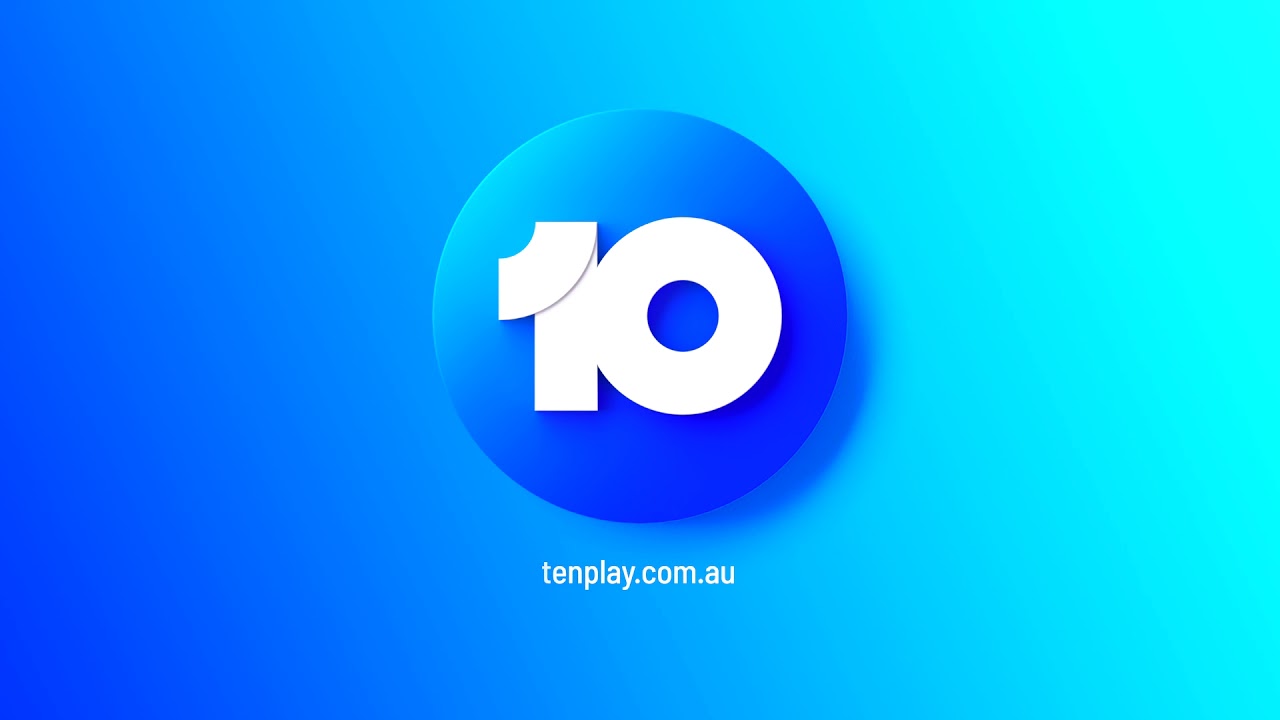 TenPlay is home to Australia's most iconic shows, including Neighbors, Australian Survivor, and MasterChef Australia. It is a live TV and video-on-demand service that allows Aussies to watch their favorite programs online for free.
But accessing TenPlay when abroad is tricky because the service is geo-blocked outside Australia. Does this mean you're going to miss out on top shows? No. With a proper VPN like BulletVPN, you'll unblock TenPlay from anywhere.
Unblock TenPlay Anywhere – Quick Steps
Time needed: 4 minutes
To access Channel 10 in your region, the following steps are required:
Subscribe to a VPN service.

Based on our tests, BulletVPN is your best option to unblock 10Play abroad.

Get the BulletVPN application.

Download and install the BulletVPN client on your device.

Activate the app.

Sign in with your BulletVPN username and password.

Connect to an Australian server.

This process will grant you an Australian IP address.

Launch 10Play's website or app.

Sign in with your account.

Watch Tenplay anywhere.

Enjoy top shows and movies wherever you may be.
---
Everything You Need to Know about TenPlay
Network 10 is one of Australia's five national free-to-air TV networks. As of 2019, it ranked third in audience numbers and TV viewership behind Nine Network and Seven Network, respectively.
That makes Channel 10 a very popular platform for entertainment in the country, amassing 17.2% of total viewers.
Ten grew its audience share by 0.5% towards the end of 2019. Its key reality franchises, including The Bachelor, Survivor, and The Masked Singer, helped it achieve this feat.
In fact, the latter show was Australia's most popular non-news program. The only thing on Network 10 that earned a higher audience was the 2019 Melbourne Cup Carnival Race, with 1.92 million viewers. The Masked Singer registered 1.34 million viewers.
The company launched TenPlay in September 2013, replacing the old website that offered limited catch-up TV services.
Today, the streaming platform is a live TV and VOD service, home to various shows. That includes soap operas, game shows, reality TV, series, sports, news, lifestyle, and documentaries.
Such a lineup makes TenPlay a source of entertainment that you can access anytime on the go. That's thanks to the website and app, which are compatible with the majority of devices. The only problem is you can only watch TenPlay from inside Australia.
How Can TenPlay Determine My Location?
Due to copyright restrictions, 10 Play can only show its content inside Australia. That is why if you access it from abroad, a location error message will appear on your screen instead.
Here's what happened when I tried to watch MasterChef Australia while I was in Germany:
"This video is restricted from playing in your current geographic region."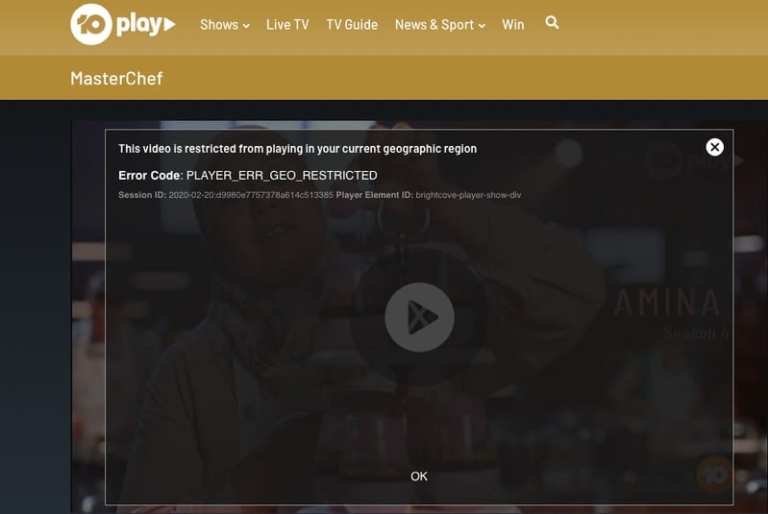 The reason why this geo-error message pops up on your device and not the actual video is due to geo-blocking.
Streaming services have been using these restrictions ever since online viewing rose to prominence. They do so to honor the broadcasting agreements of each region.
TenPlay, and all the other streaming platforms, can locate you using the IP address that's attached to your device.
Internet service providers give each user an IP address when they go online so that the web can identify who accessed what.
And since each country has a set of designated IP addresses, it's easy for websites to determine where you are.
Therefore, once you open the TenPlay website or app, the service can identify and locate you pronto. What you need to do is hide your actual IP address and switch to an Australian one. And the only tool that allows you to do that is a virtual private network.
---
What Is a VPN?
A VPN, which is short for virtual private network, is a cybersecurity tool that protects your online privacy and gives you Internet access at the same time.
Instead of using your ISP's servers, which is what happens during regular browsing sessions, VPNs use their own servers to reroute your traffic.
They allow you to choose the server location, redirect your connection through it, then change your IP address.
Moreover, they encrypt all the data that you send or receive as soon as you connect to their servers. As a result, you'll appear as if you're in a different location, and no one will be able to monitor your online activities.
So in order to unblock a streaming service that's only available in a certain region, you have to connect to a server that's inside its broadcasting zone.
To put it in simpler terms, you must connect to an Australian VPN server to get an Australian IP address. After that, you'll have access to TenPlay and every other service restricted to the land down under.
The benefits of rerouting, IP changing, and encryption exceed online privacy and unblocking streaming services. They also allow to avoid Internet censorship that governments impose.
In China, for example, Google, Facebook, YouTube, and a host of other websites are blocked. And in the UAE, video call services are banned.
By redirecting your traffic through a server outside those jurisdictions, you'll be able to access all these platforms.
But the most important thing about VPNs, or at least the reputable ones, is that they don't keep records of your sensitive data. That includes browsing history, web destinations, IP addresses, and connection timestamps.
---
Best VPN for TenPlay
Geo-blocks aren't the only problem standing in your way when unblocking streaming platforms and VOD services. After people started using VPNs to circumvent online restrictions,
TenPlay, Netflix, Hulu, and the rest of the lot started banning VPN IP addresses. As a result, you were no longer able to watch their content from abroad.
Still, several premium VPN providers could get themselves off that blacklist, allowing you to access any website. But according to our tests, BulletVPN is the most reliable.


30-Day Money-back Guarantee
Unlimited Bandwidth
Apps For All Your Devices
24/7 Live Support
Visit BulletVPN
BulletVPN

BulletVPN is headquartered in Estonia, another country that is not part of any data retention alliance. Judging by its name, this VPN has fast servers that can unblock Netflix, Disney+, BBC iPlayer, and other VOD services. However, the server network isn't as extensive as other VPN services.
The company has more than 150+ servers in 55 countries, much less than the other names on this list. Nonetheless, BulletVPN covers all the major locations on the world map, with a presence in almost every region. Moreover, they are regularly adding new servers to their grid.
BulletVPN also has a free Smart DNS proxy that you can use to unblock streaming channels in case you have a device that doesn't support VPN apps.
It also allows torrenting activities and protects your online privacy with AES-256 encryption and a strict zero-logs policy.
Its unique feature, however, is called BulletShield. You can activate it along with the kill switch for extra protection, as it won't allow you to connect to the Internet unless you're connected to a BulletVPN server.
The VPN also offers a 30-day refund policy, round-the-clock customer support, and six concurrent device connections.
AES-256 encryption.
No-logs policy.
Kill switch + BulletShield.
Fast speeds.
Unblocks streaming platforms.
Allows torrenting and P2P.
Free Smart DNS.
30-day refund policy.
Six simultaneous device connections.
24/7 customer support.
---
Can I Use a Free VPN to Watch TenPlay?
You'll find a lot of free VPNs when you search online or Google Play and the App Store. And while these services won't cost you anything in terms of subscription fees, you'll end losing so much more.
First of all, free VPNs have a limited number of servers, which will affect speed rates as millions of users will be connected to them.
Furthermore, they offer terrible privacy features. Some of them don't use any encryption, which puts your online activities at risk. And to make money, they will keep logs of your sensitive data and sell it to third parties.
Besides, the majority of free VPNs have limited unblocking capabilities, especially when it comes to streaming platforms.
As a result, you won't be able to access TenPlay or other services. But the most dangerous part is that they might contain malware in their software or through third-party ads. Once you install them, they will infect your device and steal your data.
---
10Play Unblocked – FAQ
For more information about Australia's Channel 10, make sure you give this section a quick read:
Tenplay offers its services without asking for a fee. Anyone with an Australian IP address can watch the channel's content for free.
Do I Need an Account to Watch TenPlay?
Although 10Play is free, you still need to create an account to watch its videos.
What Can I Watch on TenPlay?
Network 10 and its live TV and VOD service TenPlay offer some of the best of Australian television.
That includes series, reality TV, game shows, documentaries, sports, and news. You can spend hours binging on your favorite programs no matter where you are with a VPN.
Here's my list of top show recommendations:
MasterChef Australia
Australian Survivor
Gogglebox Australia
Have You Been Paying Attention
I'm A Celebrity…Get Me Out Of Here.
Neighbours
The Graham Norton Show
The Late Late Show with James Corden
Law and Order
NCIS
Hawai Five-O
Beecham House
Jamie: Keep Cooking and Carry on
The Connors
L.A.'s Finest
Friends
Seinfeld
Rugby World Cup
Formula 1
MotoGP
What Devices Can I Watch 10Play on?
You can stream your favorite shows at home or on the go as TenPlay has compatible apps with several devices:
iOS
Telstra TV
Android
Windows
Mac
Apple TV
FreeviewPlus
Xbox One
Samsung TV
Android TV
Fetch TV
---
Watch TenPlay from Anywhere – Final Words
As you can see, TenPlay offers some of Australia's finest shows, in addition to international programs, for free.
The only problem is that you have to be in the land down under to watch them. The service is geo-blocked outside the country due to broadcasting rights and agreements.
But if you use a premium VPN like the ones above, you'll be able to switch to an Australian IP address and stream your favorite shows from anywhere.
I'm hooked on MasterChef Australia, but what's your favorite show on TenPlay? Tell us below.