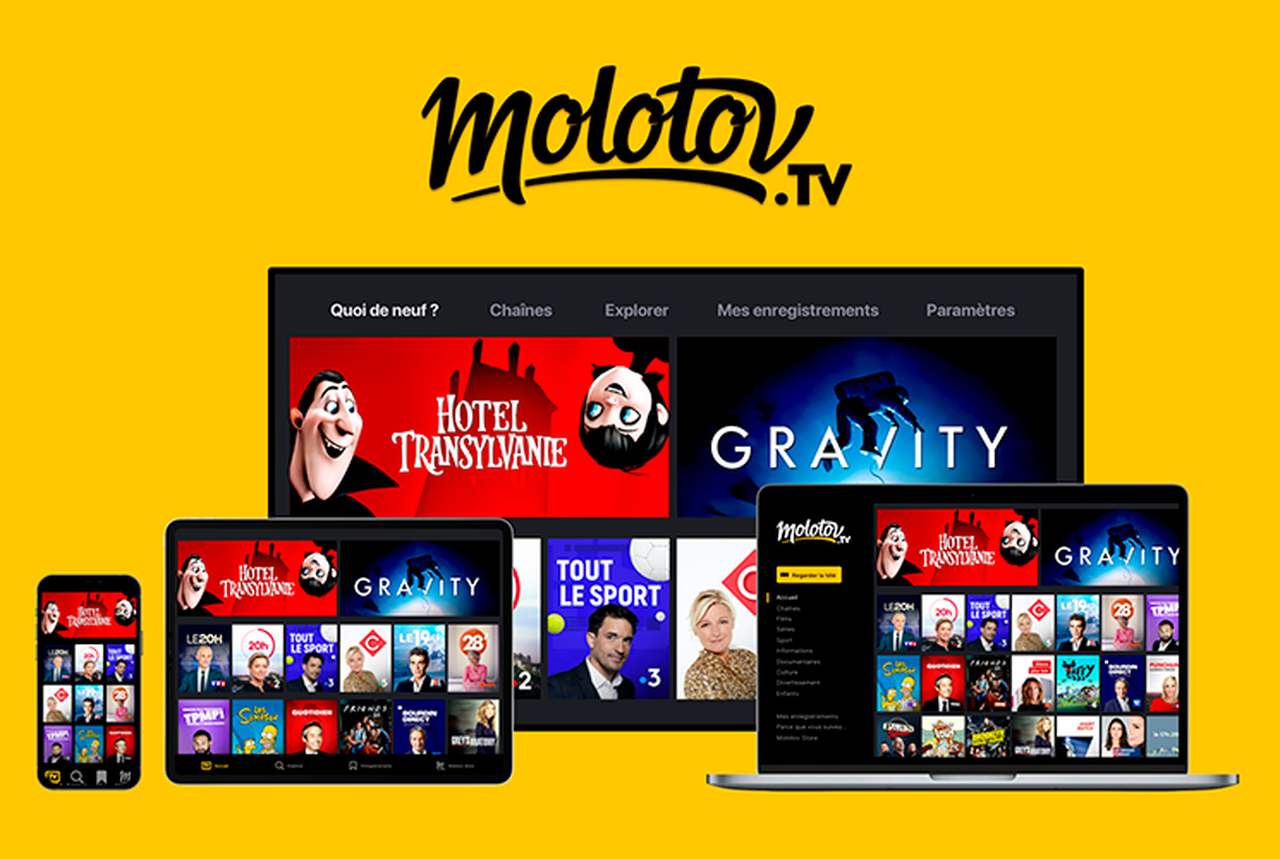 When it comes to free online television, several channels come to mind, including Molotov TV. This streaming service offers live streaming of more than 35 channels free of charge. However, that's a privilege only French residents can benefit from.
Yes, Molotov is geo-blocked outside of France. Even if you already have an account, stepping outside the French borders will forbid you from accessing the channel.
What do you do in this situation? Easy! Here's everything you need to know about how to unblock Molotov TV outside France.
Unblock Molotov TV Anywhere – The Process
Time needed: 5 minutes.
Accessing Molotov TV in your country is an easy task. All you have to do is follow the steps below:
Sign up with a VPN service.

For seamless connections, we recommend using ExpressVPN.

Download the VPN application.

Install the VPN client on your preferred device. You can find apps on Android, iOS, PC, or Mac.

Activate the VPN software.

Sign in with your username and password.

Connect to a French server.

This process will grant you an IP address in France.

Download and install Molotov.

Even on desktop devices, you have to get the Molotov app.

Sign in with your Molotov account.

The signup process is very simple and free.

Enjoy top French television anywhere.

Stream Molotov TV wherever you may be.
Get Molotov TV Anywhere – The Full Walkthrough
The steps above are more than enough to get you Molotov TV in your region. But before we got to that, we went through an entire process, which we'll be sharing in this thorough review:
The Requirements
To watch Molotov TV outside France, you need everything on the list below:
A VPN subscription.

A Molotov TV-compatible streaming device.

The Molotov application.
A free Molotov account.
Molotov TV – French to the Core
France is known for hosting dozens of streaming services that offer international content, catering to everyone's taste. Some are free, some are premium, and Molotov is both.
With over 10 million subscribers, Molotov has become one of the most popular channels in the world. Yes, Molotov TV has it all. What it doesn't have is international coverage, and that all falls on copyright and licensing for media distribution rights.
Unfortunately, Molotov does not operate outside of France. The channel applies geo-blocking – a technique used by websites and services to determine your location based on your IP address.
Once you launch the channel, it'll examine your IP address. If you're abroad, you will be denied access almost instantly. Below, you'll find a list of error messages you might encounter if you're trying to watch Molotov overseas:
"Êtes-vous a I'étranger ?"
"Nous avons détecté que vous accédez au service Molotov depuis I'étranger.Le service Molotov n'est pas disponible en dehors de France métropolitaine et Outremer."
"Vos droits sont insuffisants pour effectuer cette action."
"We noticed that you are currently not in France. Molotov is accessible from Europe to French residents by subscribing to Molotov Plus."

"Désolé. Ce contenu n'est pas disponible dans votre zone géographique."

We got the last error message while trying to watch one of the service's live channels. But that's all in the past.
Once you follow the steps provided above, you'll be able to bypass any applied geo-blocking and stream Molotov wherever you may be.
Get a VPN – Unblock Your Internet
A Virtual Private Network is a tool that elevates your online security and privacy to a whole new level. Once you connect to a server, the VPN applies military-grade encryption that shields your data from any outside interference.
In other words, no one can intercept the sent/received information as they'll be totally protected. Moreover, the VPN cloaks your IP address and replaces it with one based on the server's location.
As a result, you'll be able to surf the web in complete anonymity and access geo-restricted content available in that country.
For example, if you connect to a server in France, you'll receive a French IP address. With that, you'll be able to watch the likes of TF1, Canal+, and of course, Molotov TV wherever you are.
Please note that not all VPNs are capable of unblocking the channel. If you want guaranteed results, you better opt for premium services such as ExpressVPN.
The provider has been around for years, and the features it offers are over the top. We tested speed, security, privacy, and so many more feature. ExpressVPN checked all the boxes. You can also check other providers in the table below.


30-Day Money-back Guarantee
Unlimited Bandwidth
Apps For All Your Devices
24/7 Live Support
Visit ExpressVPN
How to Get Molotov TV on Any Device Anywhere
To get Molotov, you need to create a free account on the channel's website. Once done, follow the steps below based on the device you're operating:
To watch Molotov TV on Android or iOS devices, follow the steps
Connect to a French server.
Switch your app store region to France:
Download and install the Molotov app.
Sign in with your account and start streaming.
On Windows or Mac, the process is quite easy. Just connect to a French server and go to Molotov TV's official website.
Download the Molotov TV application on your desktop device, sign in with your account, and stream live wherever you are.
With FireStick, it's straightforward to get Molotov TV. Connect to a French server and change your Amazon account to France.
Download the Molotov TV application, sign in with your account, and stream live anywhere.
To access Molotov on your Smart TV or Apple TV, you have to install a VPN on your router and set the connection to a French server.
After that, change your Samsung Smart TV or Apple TV region to France and download the Molotov app. Finally, activate Molotov, log in with your account, and enjoy.
To watch Molotov on your Xbox console, you'll need to install a VPN on your router and establish a French connection. Once configured, switch the Xbox region to France and get the Molotov TV app.
Launch the channel's application and sign in with your account. Start streaming live French channels anywhere.
Molotov TV Anywhere – FAQ
If you happen to have more questions, make sure you go through the following "Frequently Asked Questions" section:
Molotov TV is completely free for residents in France.
Can Residents of the EU Access Molotov for Free?
EU residents can access Molotov TV without using a VPN. However, they have to opt for Molotov Plus to do so.
Can I Watch Molotov's Channels without an Account?
To stream the channel's content, you need to create a free Molotov TV account first.
Can I Watch Molotov on my Desktop Device using a Web Browser?
With Molotov, you need to download the channel's app even if you're using PC or Mac.
What Do I Get If I Subscribed to Molotov Plus?
If you want a premium subscription, you'll benefit from the following features:
4 simultaneous connections.
Full HD and 4K streaming
Cloud recording
Offline Playback
What Channels Can I Stream on Molotov TV?
Once you create your free account, you'll be able to access dozens of channels, including:
NT1
LCP
BFM TV
D17
Gulli
HD1
D17
LCI
Fashion TV
TF1
ARTE
France 2
France 3
M6
D8
W9
TMC
France 24
Euro News
TV5Monde
What Devices Can I Watch Molotov TV
You can download the Molotov TV application on the following devices:
Android
iOS
PC
Mac
Android TV
Smart TV
Amazon Fire Stick
Xbox
Chromecast
Apple TV
Molotov TV Unblocked – French TV's Best Anywhere
A channel like Molotov has to purchase the rights to media for their location, which explains the geo-blocking mechanism it uses to limit international access.
With a VPN, this can easily be bypassed. If you follow the steps provided in this guide, you'll be able to unblock Molotov and stream live French television wherever you are.
Remember, if you need any help, you can always give us a shout-out in the comment section below.