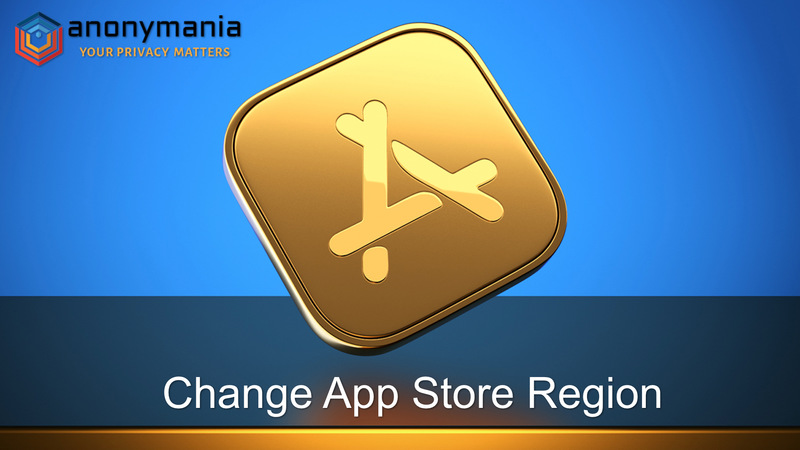 For quite some time now, the Apple Store has been a trusted place for Mac and iOS users to discover and download their favorite applications.
However, certain apps, games, music, and tools only target an audience in specific countries. This is due to several reasons, including tariffs, competition laws, branding, or contracts with distribution companies.
Regardless of such restrictions, your App Store's region can be changed. So, in case you are moving to a new country or want to download apps only available abroad, here's how you can switch your Apple ID's country.
---
What You Need
Below, you'll find everything you need in order to change your Apple ID's region:
Apple ID
iPhone, iPad, Mac, or Windows PC
A VPN (To access geo-blocked content)
4 Minutes of your time
Before You Proceed
Apple has really done a terrific job of protecting its platform and users from all kinds of cyberthreats.
However, while browsing the web, even Apple's greatest defenses might not be enough. Therefore, encrypting your data while using a VPN would be your best option.
A VPN will also help you get access to region-restricted content on your iPhone, iPad, or Mac.
According to the thorough evaluation we conducted, ExpressVPN's iOS app tops the chart in terms of ease-of-use, functionality, and features.
How to Change Your Apple ID's Region
Switching your Apple Store's region opens up a whole new world of applications and services.
Now, changing iTunes' region isn't that big of a hassle. There are several ways to do so depending on the device you're using:
iPhone/iPad Method
If you have an iOS device at the moment, the entire process lies within the Settings section. This is what you need to do:
Open Settings on your iPhone/iPad and click Media & Purchases.

In the small pop-up window, tap on View Profile.

You'll be asked for your account's password.

Once you submit your password, click on Country/Region.

On the next screen, select Change Country or Region.

Now, choose the country you wish your iTunes to be based in.

Read the Terms and Conditions carefully, and tap on Agree.

Next, you'll see a Payment Page. You can choose None if you don't want to submit payment information. Fill in the necessary details and click Next.

That's all you need to do to switch to a different App Store country. Keep in mind that you can always revert these changes and reaccess your original App Store region.
---
iTune's Region Change on Mac
Another way to change your Apple ID's region is through the App Store itself on Mac:
On your macOS, launch the Apple Store, and click on your account on the bottom left of the screen.

After that, select View Information.

On the next screen, choose the "Change Country or Region" option.

A list of countries will pop up afterward. Pick the country you wish to switch to. (We chose the US as an example).

Go through Apple's Terms and Conditions then hit Agree.

If you don't want to choose a Payment Method, select None, fill in the required information, and click Continue.

Your App Store will now show you applications and tools based on the country you've chosen.
---
Windows PC Method
The final method is considered as your last resort, in case none of the Apple devices are within reach.
If that's the situation, you can follow the steps below and change your Apple ID's region on any Windows PC:
First, head over to appleid.apple.com
Sign in with your username and password.

In the account section, click on Edit.

On the next page, scroll down until you find Region/Country. Tap on it.

A list of countries will open, select the desired region, and click "Continue to Update" on the following pop-up.

Now, a page were information should be submitted will show up. Don't be alarmed when you see Payment Options, you can choose None, fill in what's required, and hit Continue.
You have successfully changed your iTunes Region using your Windows PC.
---
Apps Downloaded – Geo-restrictions Still Apply
Now that you changed your Apple ID's region, you'll be able to download any app from any country.
However, despite having the app, geo-restrictions might still prohibit your access. Let's say you changed your region to the US and got yourself Hulu on your device.
Hulu is still an American channel that requires a US IP address to operate. If you live abroad, that's exactly what you lack, resulting in the following error message once you launch it:
"This isn't available available to watch in your location."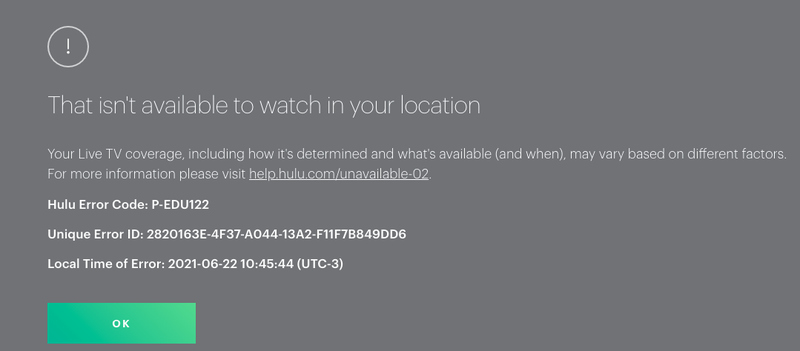 To solve the issue, you must use a VPN. Short for Virtual Private Network, this tool enhances your online security and changes your IP address based on the server you connect to.
If you connect to a US server, you'll receive an American IP address, which is exactly what you need to access Hulu and other US-based channels. Here's what you need to do:
First, subscribe to a credible VPN provider. We recommend ExpressVPN.
Download and install the VPN app on your device.
Activate the app and sign in with your credentials.
Connect to a server based on the app/channel you wish to unblock.
Launch your application.
Start using it wherever you are.
ExpressVPN is one of the best providers in the industry. However, it's not the only one that can get the job done. If you want more of our top recommendations, check the table below.


30-Day Money-back Guarantee
Unlimited Bandwidth
Apps For All Your Devices
24/7 Live Support
Visit ExpressVPN
Apple Store's Region Change – The Benefits
You might be asking yourself, what am I getting out of this? Well, if you haven't seen what, for example, the US store has to offer, let us give you an idea.
The following are some of the applications only available to download in the United States:
HBO Max
Hulu
Apple Camera+
Apple iMovie
Google Voice
Pandora
USA TODAY
Vevo
Similarly, there are certain apps that are only available in the UK, Canada, Australia, and other countries across the globe.
Frequently Asked Questions
As mentioned, your Apple ID's region determines what you get and what you don't when it comes to downloading apps. Changing it might be a big step for a lot of users out there, which raises a lot of important questions:
Do I Lose My Previously Installed Apps?
Definitely not. What you've downloaded and installed remains on your device. Not only that, but any app you've previously downloaded will still get the latest updates.

Do I Need a Credit Card or Any Other Form of Payment Method?
That's also a solid No. Apple has made it possible for users to change their region without having to submit any credit card information.
With the option to choose "None," changing your Store's region has never been easier.

Why Can't I Change Apple ID's Country?
The steps we'll be providing, later on, will allow you to change your App Store's region. However, there are instances where the process might not work for you. That's mainly due to the following:

– You did not cancel your subscriptions or spend your store credit.
– You're part of a Family Sharing Group.
– You have pending memberships, pre-orders, film rentals, Season Passes, or credit refunds.
Where Do I Get a Valid Zip Code From?
Depending on the country you choose, you can simply perform a quick Google search to get a corresponding Zip Code.
Can I Switch Back to My Original Region?
Yes. In order to revert the changes you made, follow the steps listed above, choose your country, and submit your original address instead.
Learn More About iOS Devices:
Switch Apple ID's Region – Final Thoughts
Most developers release their apps globally. However, some of these applications might end up only available in certain regions.
The App Store is the second-largest app store with around 2 million available apps for iOS. Now that you how to change your region, you get to download any one of them.
If you have any more questions, please don't hesitate to drop a line or two in the comment section below.