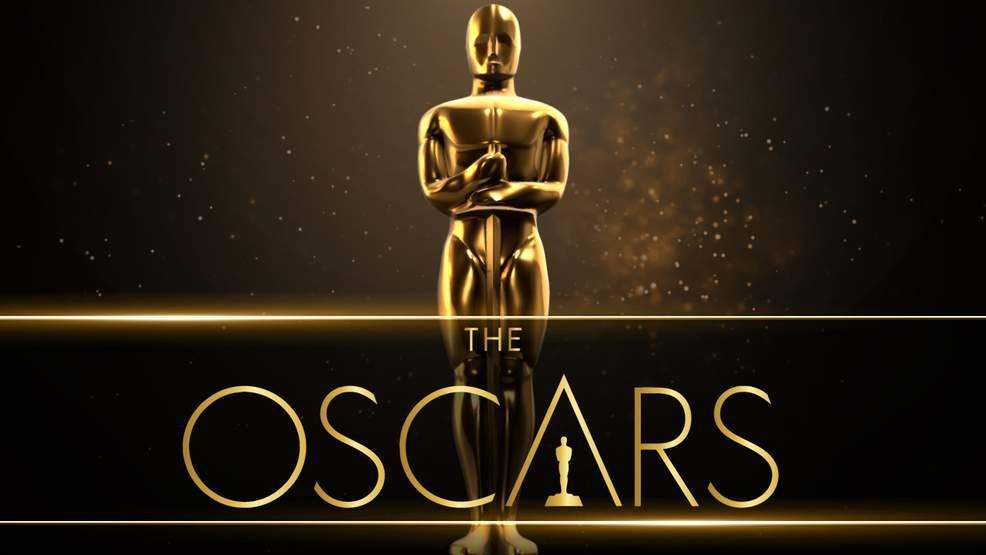 The Oscars on ABC
Other options for cord-cutters
Bypass streaming geo-blocks with a VPN
What you need to know about the 92nd Oscars
"That was the best acting I've ever seen in my whole life." If you didn't catch Once upon a time in Hollywood, then you missed out on a lot. The quote from that movie isn't just another line as there's some grade-A acting from Leonardo DiCaprio and Brad Pitt. Heck, both of them were so good that they received Oscar nominations.
DiCaprio is nominated for Best Actor in a leading role, while Pitt got himself in the Best Supporting Actor category. But those weren't the only accolades the movie received. One upon a time in Hollywood can take home the biggest prize of the night: Best Picture. Furthermore, Quentin Tarantino, the legend behind the camera, is nominated for Best Director.
Of course, there are plenty of other top names in every category. Joker, 1917, The Irishman, and Marriage Story received plenty of praise, and so did their brilliant actors and actresses. As a result, the 92nd Oscars ceremony is expected to be epic.
Millions of viewers from all over the world will tune in on February 9 (or 10, depending on where you reside) to see who will take home the Oscars. US broadcasting network ABC will televise the event, which will also be available on the ABC website and app. However, streamers who live abroad will need a VPN to bypass online geographic restrictions.
---
Content Overview
---
ABC the Exclusive Home for the Oscars
The Acadamy Awards, better known as the Oscars, are the highest international recognition of excellence in cinema. So when it comes to film awards, it doesn't get bigger than this. ABC has held exclusive broadcasting rights for the Oscars since 1976. Its current contract with the Academy runs until 2028.
The event will air on Sunday, February 9, starting with the red carpet coverage at 6:30 pm Eastern. The awards ceremony will follow on at 8:00 pm. Those who live abroad might have to stay up past midnight or wake up at dawn to catch the Oscars. But since this is the biggest movie event of the year, it's all worth it.
Now, if you think the time difference is your only inconvenience, then I'm afraid you're wrong. ABC's online library and live content are geo-blocked outside the US due to broadcasting rights. As a result, you won't be able to stream the Oscars if you are abroad.
The ABC website and app can determine your location through your IP address, which has a designated numerical tag depending on the country you're in. Once ABC sees that you are outside its broadcasting zone, it will block its video content. Therefore, you'll need a VPN to trick ABC into thinking that you are inside the United States.
But even with or without a virtual private network, cord-cutters cannot access the service. ABC requires that you sign in with a participating TV provider, meaning you must have a cable/satellite subscription.
---
The Oscars for Cord-cutters
Limiting the Oscars to viewers with a cable subscription that includes ABC rules out millions of fans in the US and abroad. It means that anyone without a US TV contract cannot watch the 92nd Acadamy Awards online.
Cutting the cord is a fast-growing trend that is taking the world by storm. More and more TV lovers are opting for affordable standalone streaming platforms to replace contract-abiding and expensive cable subscriptions. Since ABC hold exclusive rights to air the Oscars in the US, you'll need a live TV streaming service that features ABC in its lineup.
The most popular services are AT&T TV Now, YouTube TV, and Hulu with Live TV. Now, keep in mind that these services are also geo-restricted outside the USA. But at least you won't need a TV provider subscription to access them. Therefore, if you live abroad, a VPN can help you.
YouTube TV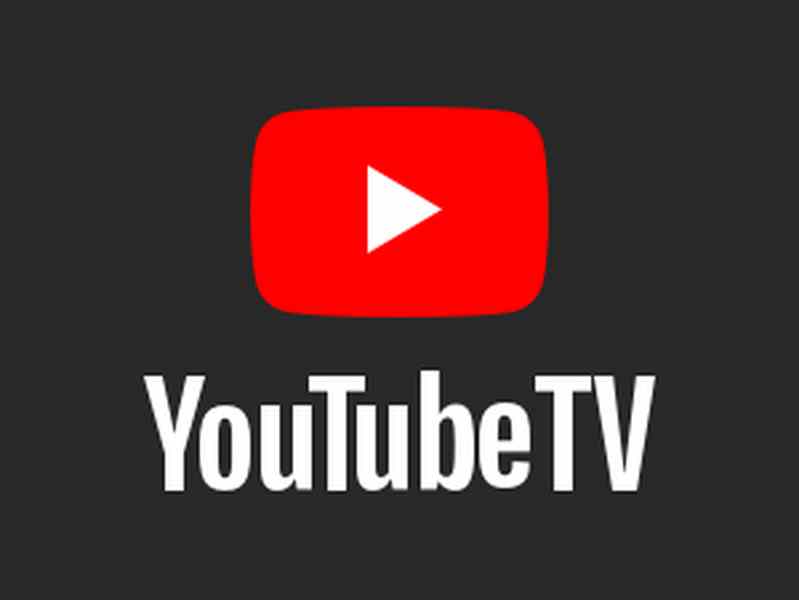 The cheapest live TV streaming service with ABC access is YouTube TV. For $49.99 a month, you'll get the Oscars broadcaster, in addition to 70 more channels. I'm talking about ABC, CBS, Fox, NBC, AMC, CNBC, and more. And if you're a sports fan, you'll enjoy ESPN, ESPN 2, Fox Sports, FS1, FS2, and MLB Network.
YouTube TV offers even more beneficial features, including:
Unlimited DVR storage space
Stream your library wherever you go
Personal library space for each account
Recordings kept for nine months
No contracts: Cancel anytime
And if you subscribe before February 13, you'll benefit from an extended two-week free trial. YouTube usually offers a free trial period of seven days. As a result, you can register now and cancel your subscription once the event is over.
Hulu With Live TV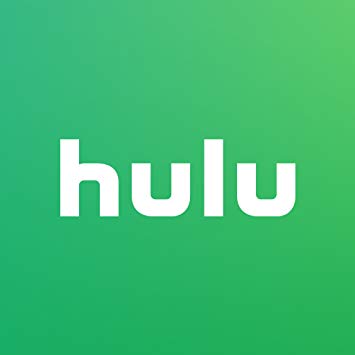 Hulu is a Disney-owned streaming platform that offers a lot of entertaining movies and shows. It has an extensive library of the most entertaining Original series, such as The Handmaid's Tale, Ramy, and Castle Rock. All this is available for $5.99/month.
But you'll have to pay much more for the Live TV service, which features ABC, CBS, Fox, CNBC, NBC, TLC, and a lot more. Sports enthusiasts also get FS1, FS2, ESPN, ESPN2, NBC Golf, and NBCSN. Hulu + Live TV costs $54.99 per month. Add-ons like HBO and Showtime are priced at $14.99 and $10.99 a month, respectively.
Hulu Live TV offers a seven-day free trial as well, so you can watch the Oscars without spending a penny. You'll also benefit from Hulu's library for a week.
AT&T TV Now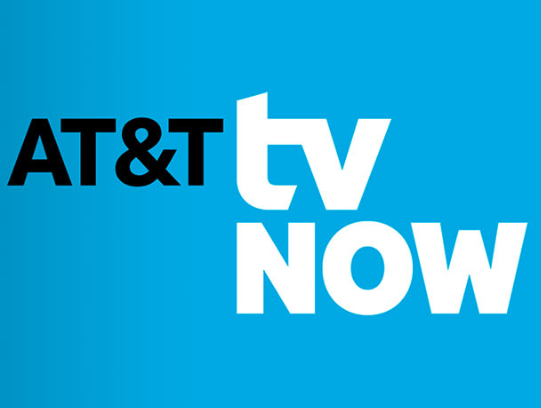 AT&T TV Now is the most expensive of the lot but includes three HBO channels, in addition to ABC, in its basic plan. As you may know, HBO is home to Emmy-award-winning shows like Game of Thrones, Westworld, Succession, and Chernobyl. All that content, as well as the Oscars, is available for $65/month.
You'll also enjoy 45+ channels, including The CW, Comedy Central, FX, MTV, and CBS. And if you're into sports, AT&T TV Now offers NBCSN, ESPN, Fox Sports, and TBS. There's also a free trial for seven days, which allows you to watch the Oscars and test the platform before you commit to it.
International Broadcasters
ABC may be the home of the Oscars in the US, but overseas, there are other broadcasters perfect for cord-cutters. And just like the US-restricted streaming platforms, these services are only available inside their respective regions. Therefore, you'll need a VPN to unblock them if you're abroad.
The best international broadcasters for the Oscars are:
Now TV: You can watch the Oscars through this standalone UK streaming service by subscribing to the Sky Cinema Pass. It costs £11.99 ($15.50) a month and comes with a seven-day free trial period.
OSN Play: OSN is your go-to destination for movies, series, and entertainment in the Middle East. The network will bring you the Oscars live on TV and via streaming as well. The basic plan costs $30/month.
7Plus: You can catch the Oscars for free by subscribing to the famous Australian streaming service 7Plus. All you need is a premium VPN because the platform is only available in the land down under.
Other online platforms covering the Oscars are Canal+ (France), DStv (South Africa), and Hotstar (India).
---
How VPNs Can Bypass Oscars Geo-blocks
Virtual private networks can help you bypass online restrictions and watch the 2020 Oscars from anywhere in the world. These tools rechannel your Internet traffic through one of their own servers, which are located all over the world. They allow you to choose the server location of your choice and send your connection through it.
Then, your VPN will change your IP address so that it matches your new whereabouts. As a result, streaming platforms and other websites, like banking services, will think that you are inside their coverage area. So if you want to watch the Oscars on YouTube TV or the other US-based platforms, you just need to connect to an American VPN server.
But please note that your paid VPN subscription does not replace the registration fees of streaming services. So you have to pay for both the VPN and YouTube TV.
Elite virtual private networks also encrypt your traffic with the military-grade AES-256. That way, your Internet service provider cannot monitor your online activities. Furthermore, they keep zero records of sensitive information like IP addresses, browsing history, and web destinations. In other words, you'll get total anonymity, and no one can trace anything back to you.
VPN Installation – Five Simple Steps
29.6 million viewers watched the Oscars last year, and that's in the US alone. This is the event of the year for filmmakers, actors, and all TV lovers. Therefore, you shouldn't miss out on it simply because of your geographic location.
Streaming the Oscars is really simple, with the help of a VPN. Just follow the below steps, and you'll be able to see all the action live, from the red carpet to the awards ceremony:
Register to a premium VPN provider. You'll have to enter your email and create a password, then choose a subscription plan, followed by a payment method.
Download the VPN app on your device from Google Play or App Store. Elite VPNs have compatible apps with the majority of operating systems.
Open the app and sign in with your new account.
Connect to an American server if you want to watch the Oscars on YouTube TV, Hulu + Live TV, or AT&TV Now. You can stream it for free on 7Plus by connecting to an Australian server.
See all your favorite celebrities all glammed up at the 92nd Oscars.
---
Best VPNs for 2020 Oscars
To enjoy the best viewing experience, your VPN must provide three essential attributes: Efficiency, accessibility, and speed. You need a provider that can successfully unblock streaming services. And the last thing you want is buffering issues when you're watching the Oscars or other live events in HD.
Premium, paid VPNs offer all those features and much more. And you can save up a lot of money by committing to their long-term plans. Meanwhile, free providers will get you nowhere, and you'll regret wasting your time on them. They also could infect your device with malware and sell your private data to third parties.
So choose one of the below providers to watch the Oscars without any hassle.
ExpressVPN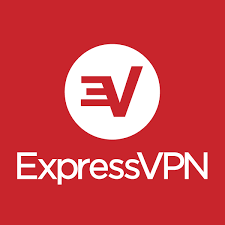 ExpressVPN is a lot like Meryl Streep. It's so good at what it does that it always gets nominated for top awards. The VPN is one of the best in the business, earning rave reviews and high praise from users and experts alike. It is also one of the oldest VPNs out there and has been around since 2009.
I found ExpressVPN to be the best all-round VPN performer. It offers phenomenal speed rates, a vast server network, and access to every major streaming service. Furthermore, it uses the AES-256 encryption, the same kind the US government implements to protect secret files.
ExpressVPN also has a strict and proven no-logs policy. Its systems categorically eliminate the storage of sensitive data and only keep minimal information that doesn't endanger your identity or location.
"We may know THAT a customer has used ExpressVPN, but we never know HOW they have utilized our Service."

ExpressVPN
That makes ExpressVPN ideal for torrenting and P2P file-sharing as well, as no copyright holders can identify you. The company also offers a 30-day refund policy, kill switch, and a Smart DNS proxy called MediaStreamer.
Pros
Fast speed rates.
Access to US Netflix and other major streaming platforms.
Torrent support.
Military-grade encryption.
Zero-logs policy.
30-day money-back guarantee.
Smart DNS: MediaStreamer.
3,000+ servers in 94 countries.
Kill switch and DNS leak protection.
Apps for all the major operating systems.
Five simultaneous device connections per account.
24/7 customer support with live chat feature.
Unlimited bandwidth.
Cons
Slightly pricier than other elite VPNs.
---
BulletVPN
There are other excellent VPN choices on the market, and BulletVPN is one of them. The Estonia-based company offers the same security and privacy features as ExpressVPN, including AES 256-bit encryption, zero-logging policy, and a kill switch. You can even enable BulletShield with the latter, which won't give you Internet access unless you use a BulletVPN server.
This provider is also very fast, allowing you to stream live events like the Oscars in full HD without video buffering. It is an excellent choice for torrent lovers too. And with such secure privacy features, you don't have to worry about copyright trolls.
The only area where BulletVPn seems less impressive than its peers is in the coverage network department. So far, the company only operates 114+ servers in 51+ countries, with the number continuously expanding. But, these servers are located in key regions and cities all over the world to help you unlock the most in-demand services.
BulletVPN subscribers will benefit from more features like 30-day refund policy, unlimited bandwidth, and up to six simultaneous device connections.
Pros
Speedy servers.
AES-256 encryption.
Ability to unblock Netflix libraries and other streaming services.
No-logs policy.
Smart DNS proxy.
Six concurrent device connections per account.
30-day refund policy.
Round-the-clock customer support (with live chat).
Torrent and P2P support.
Apps for Android, iOs, Windows, and Mac.
Kill switch with BulletShield.
Cons
Smaller server network than other elite providers.
---
About 92nd Oscars
The 2020 Oscars will take place on February 9, with the awards ceremony happening at 8:00 pm Eastern. For the red carpet interviews and action, celebrities will start flocking in at 6:30 pm. The event will remain hostless for a second year running.
In 2019, actor and comedian Kevin Hart was supposed to host the Oscars. But he stepped down after an old homophobic tweet of his resurfaced. Last year's no-presenter show, the first in 30 years, was well-received by critics, who said the show was quicker and more creative.
Viewers also seemed to enjoy it as 29.6 million people in the US tuned in for the show, according to Nielsen data released by ABC. That's better than the record-low 26.5 million in 2018. The 12% increase ended a four-year decline in TV viewership.
Number of viewers of the Academy Awards ceremonies from 2000 to 2019 (in millions)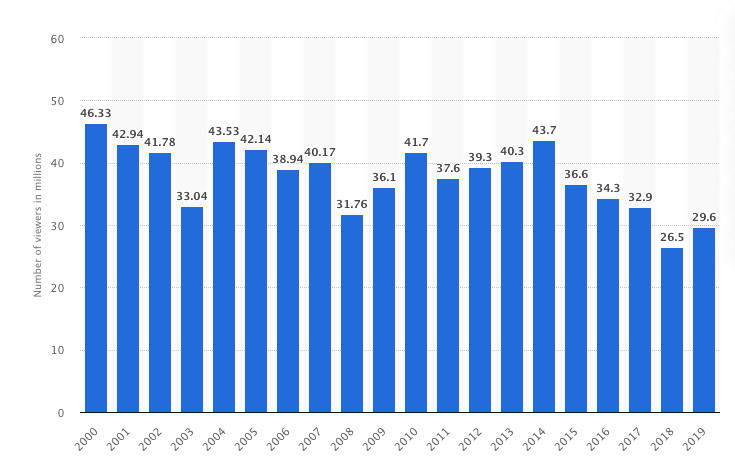 Most Notable Categories and Nominees
The upcoming Oscars feature a lot of excellent and entertaining movies in all genres. Here are the biggest categories and their respective nominees:
Best Picture
Ford v Ferrari (Le Mans '66).
The Irishman.
Jojo Rabit.
Joker.
Little Women
Marriage Story.
1917.
Once upon a time in Hollywood.
Parasite.
Best Actor
Antonio Banderas.
Leonardo DiCaprio.
Adam Driver.
Joaquin Phoenix.
Jonathan Pryce.
Best Actress
Charlize Theron.
Cynthia Erivo.
Saoirse Ronan.
Renée Zellweger.
Scarlett Johansson.
Best Supporting Actor
Tom Hanks.
Anthony Hopkins.
Al Pacino.
Joe Pesci.
Brad Pitt.
Best Supporting Actress
Kathy Bates.
Laura Dern.
Scarlett Johansson.
Florence Pugh.
Margot Robbie.
Best Director
Martin Scorsese.
Bong Joon Ho.
Todd Phillips.
Quentin Tarantino.
Sam Mendes
Kobe Tribute
Producers from the awards show revealed that Kobe Bryant would receive a tribute during the 2020 Oscars. The 41-year-old NBA star, who tragically died in a helicopter accident on January 26, along with his 13-year-old daughter Gianna and seven other passengers, will "be embraced" during the In Memoriam segment of the show.
"I think what's really appropriate is that Kobe was part of the film community, and as such, he will be embraced within the In Memoriam segment."

Stephanie Allain, Oscar Producer
Kobe won an Oscar for his Best Animated Short "Dear Basketball" in 2018. It was based on a poem he wrote when he retired from the Los Angeles Lakers and the NBA at the end of the 2015-16 season.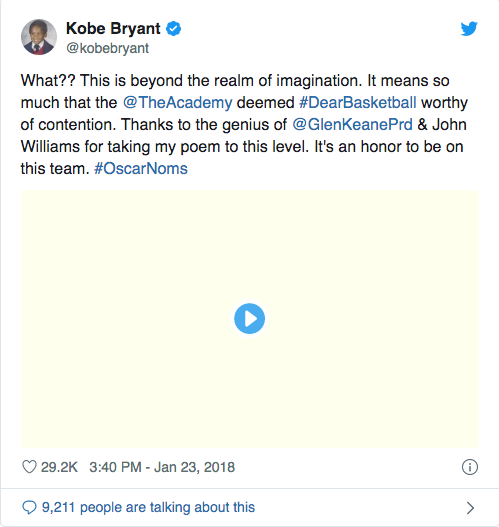 ---
How to Stream the Oscars Live Online – Final Thoughts
As with every year, the Academy Awards ceremony brings together the creme de la creme of the film industry. This year's Oscars are no different, with so many excellent nominees competing for the prestigious award. Kobe Bryant's emotional tribute should make the show even more unmissable, as well.
Therefore, if you don't want to miss the event, hurry up, and get a VPN because the 2020 Oscars are just two days away. And make sure you subscribe to a premium provider to ensure the best viewing experience.
Which category are you looking forward to the most? Who do you think will win it? Share your predictions below. I'm rooting for Joaquin Phoenix for his brilliant role in Joker.