When you want to buy a VPN service, you look for the essential qualities that every provider should have. I'm talking about fast speed rates, top-level encryption, zero-logs policy, and unlimited online access. Well, a lot of brands claim to offer such features, but few actually do.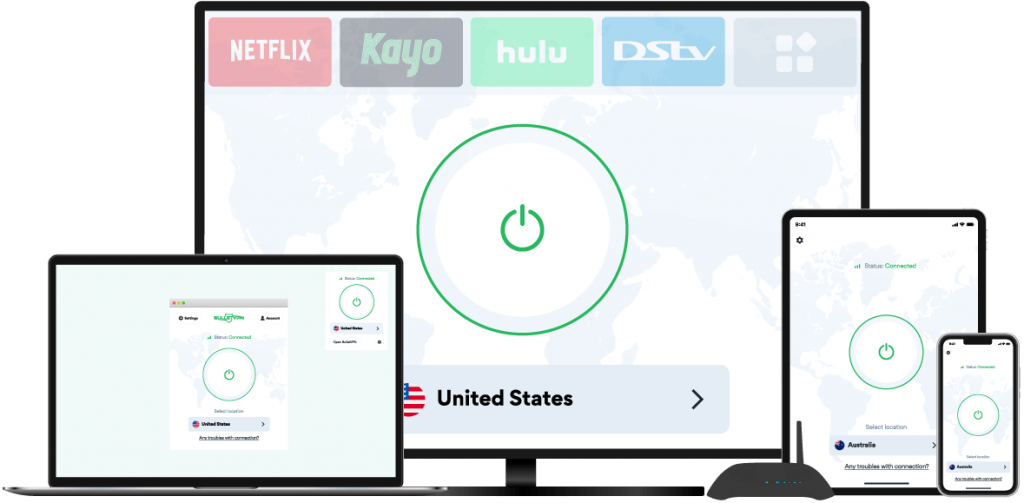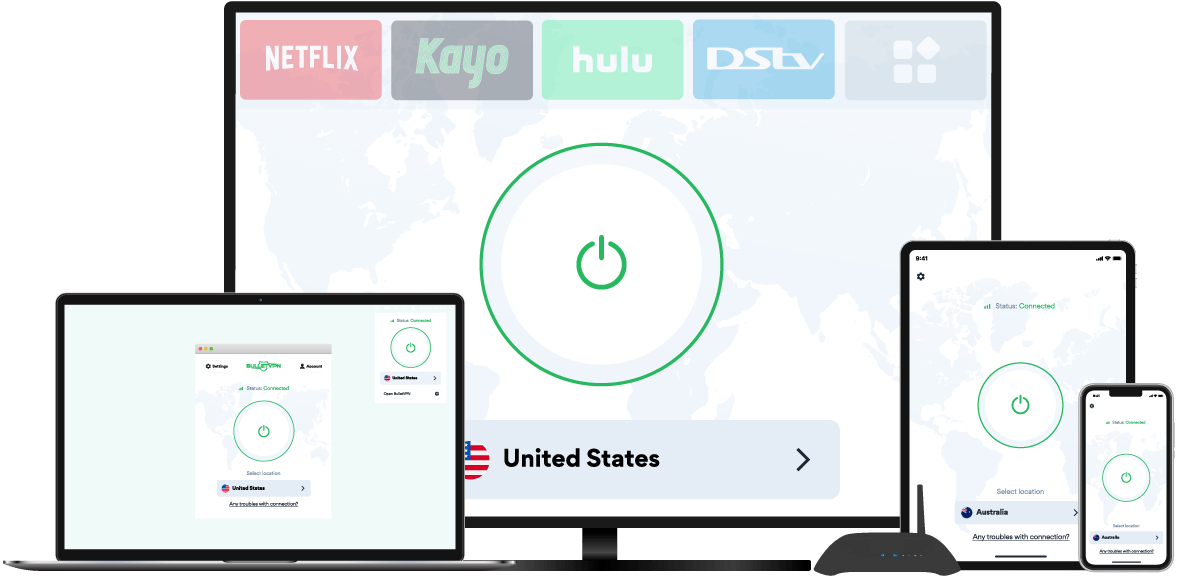 Among that exclusive and elite group is BulletVPN, a virtual private network service established in 2016 that provides all the above features, and then some. By subscribing to this service, you'll be able to bypass every online obstruction and access your favorite websites, including streaming channels.
And if you're a privacy-concerned user, BulletVPN makes sure that your Internet activities are safe from the prying eyes of cybercriminals, government agencies, and ISPs. As for speed, well, the name says it all.
The BulletVPN review below is the outcome of a transparent, unbiased, and thorough study to help you determine if BulletVPN is right for you.
---
Content Overview
---
| | |
| --- | --- |
| Feature | Availability |
| Money-back guarantee | 30 days |
| Allowed simultaneous connections | Six devices |
| Supported streaming services | US Netflix, Amazon Prime Video, Hulu, and all other major streaming outlets |
| No-logs policy | Yes |
| Encryption | Military-grade AES 256-bit |
| Protocols | OpenVPN, L2TP/IPSec, IPSec, IKEv2, and PPTP |
| Special features | Kill switch + BulletShield, unlimited bandwidth, Leak protection, and more |
| Customer support | 24/7 customer support with a live chat feature |
| Server locations | 150+ servers in 54+ countries |
| P2P support | Yes |
| Server switches | Unlimited |
| Data traffic | Unlimited |
| Compatible devices | You can set it up on iOS, Android, Windows, Mac, Linux, Amazon Fire TV, and routers |
| Smart DNS proxy | Available for PS4, Xbox, Apple TV, Smart TVs, Chromecast, among many others |
| Legal Jurisdiction | Estonia (outside 14 eyes jurisdiction) |
| Free trial | One day (upon request) |
---
BulletVPN Verdict
BulletVPN scored excellent results on my tests. It provides the best industry encryption, a rigorous zero-logs policy, fast speed rates, as well as plenty of other features. And just like every premium VPN, it gives you the chance to take it for a spin before you commit, thanks to the 30-day money-back guarantee.
In fact, it was only found wanting in the network coverage department. And even then, BulletVPN has a presence in every corner of the globe. That means you can access the most in-demand online services. If the provider can expand its server network, it will climb further up the charts.
The bottom line is that BulletVPN is ready to mix it up with the big boys of the VPN industry, and that's why it gets my stamp of approval. I conducted these tests based on the essential criteria that every VPN should have.
Pros
Military-grade encryption (AES 256-bit).
Zero-logs policy.
30-day money-back guarantee.
A kill switch + Bulletshield feature.
Unlimited bandwidth.
24/7 customer support.
High-compatibility with major operating systems.
Works with Netflix.
Fast speed rates.
Torrenting and P2P support.
Support for five VPN protocols.
Free Smart DNS proxy.
Six simultaneous device connections per account.
---
BulletVPN In a Nutshell
BulletVPN is a VPN provider based in Estonia, a country outside the jurisdiction of the 14 Eyes alliance. The latter is intelligence cooperation between 14 countries, including the US, the UK, France, Germany, and Australia.
In other words, any company headquartered inside those borders is subject to data retention laws. That means the corporation must submit user data to the government upon request.
However, BulletVPN doesn't have to provide such information because Estonia is not part of that coalition. Besides, the VPN service implements a rigid zero-logs policy, which means it does not store or share records about your online connection or activity.
Furthermore, BulletVPN uses AES 256-bit encryption, the best protocol on the market. It prevents third parties from reading your data and traffic. It also offers a kill switch to disconnect you from the Internet in case the VPN client malfunctions.
As for speed, this provider offers blazing rates throughout every server. That makes BulletVPN an excellent option for streamers and gamers. However, keep in mind that the server network isn't as vast as other brands provide.
Nonetheless, you'll be able to access plenty of popular streaming channels, especially American ones like Netflix, Amazon Prime Video, HBO Go, and Hulu.
---
Interface
Based on my tests, I found no problem navigating the BulletVPN website as it had a smooth and user-friendly design. The home page includes some vital information about the provider's advantages, server network, and premium features.
You'll also find plenty of options on the top screen. Click on any of them to know more details about support, pricing, apps, or contact information. There's also a button that allows you to sign up/sign in. Alternatively, for easier access, you can click on the big green button that says, "Get BulletVPN."
Desktop Client
BulletVPN's desktop client has a similar design to the website. After you log in, you'll see a world map with a large "Connect" button in the middle of it. If you press on it, the provider will connect you to the best server available, which will be on display at the bottom of the screen.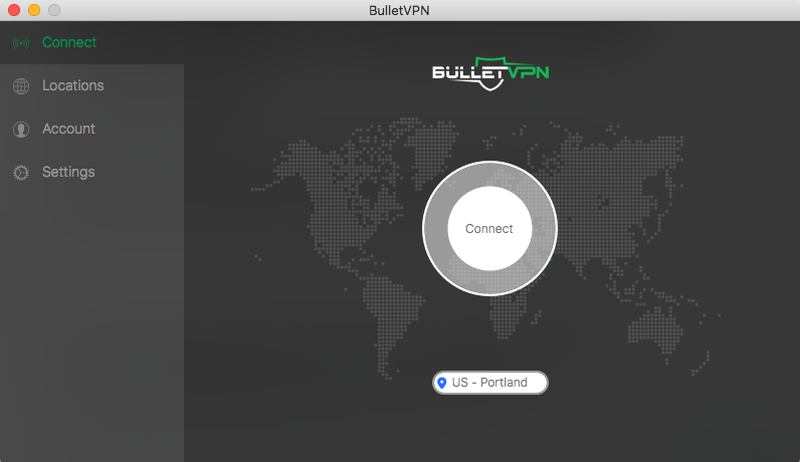 To the left, there are four options to choose from: Connect, Locations, Account, and Settings. Clicking on "Locations" shows you the list of available servers, in case you wish to connect to a different location. Also, you can mark your favorites.
As for the "Account" section, it reveals your account details like email, subscription plan, and full name. It also allows you to sign out once you're done with your session.
Moreover, you can enable/disable several features like Kill Switch and BulletShield. You can also change your device's VPN protocol.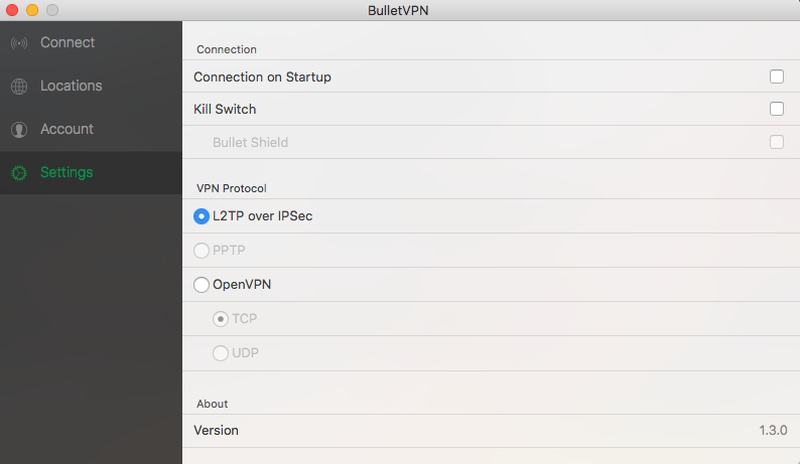 Mobile Apps
BulletVPN has applications for both iOS and Android. There aren't any notable differences in terms of interface, and both are the same across both platforms. However, the design is a bit different from the desktop client.
The first item on display after you open the app and log in is a "Connect" button with a server location underneath it. The desktop version featured the navigation tabs on the left of the screen. But on the mobile app, you'll find them at the bottom.
Furthermore, the "Search" tab replaces the "Locations" section, but it has the same function. It allows you to choose which server you want, as well as save your favorite locations.
BulletVPN registered a high score of 4.7/5 on Trustpilot, and after testing it myself, I give it an excellent rating.

The Android app on Google Play earned a score of 3.6 stars, while the one on the App Store also recorded a top score of 4.7.

BulletVPN Compatibility
To make things easier for users, BulletVPN developed dedicated apps across every major platform and operating system. That includes Windows, Android, iOS, and macOS. That means you can automatically download and install the application from Google Play or the App Store.
That doesn't mean BulletVPN isn't available on other devices though. In fact, you can manually set it up on Amazon Fire TV and Fire TV Stick, as well as Apple TV, Roku, PlayStation, Xbox, and other network-based streaming/gaming devices. There are plenty of setup guides on the service's website to help you do that.
Furthermore, I was able to use BulletVPN on six different devices at the same time with just one account. I tested it on iPhone XS, iPhone 8, iPad Mini, Samsung A7, Samsung S10, and the Huawei Mate 30.
---
Server Network
BulletVPN may not have an extensive server network as its other elite peers, but the company is constantly adding new server locations. The provider operates 150+ servers in 54+ countries. However, these servers are spread out in key cities and countries so that you can unblock your favorite websites.
Streaming fans will benefit the most because they won't miss out on the top streaming channels. BulletVPN has 17 servers across the United States, home of Hulu, HBO Now, Showtime, American Netflix, ESPN+, and much more.
You can also choose between seven servers from the United Kingdom to watch the latest British drama. Services like ITV, All 4, UKTV, Sky Sports, and BT Sport will be within your grasp.
BulletVPN's network covers a lot of ground, with a presence in every continent (except Antarctica).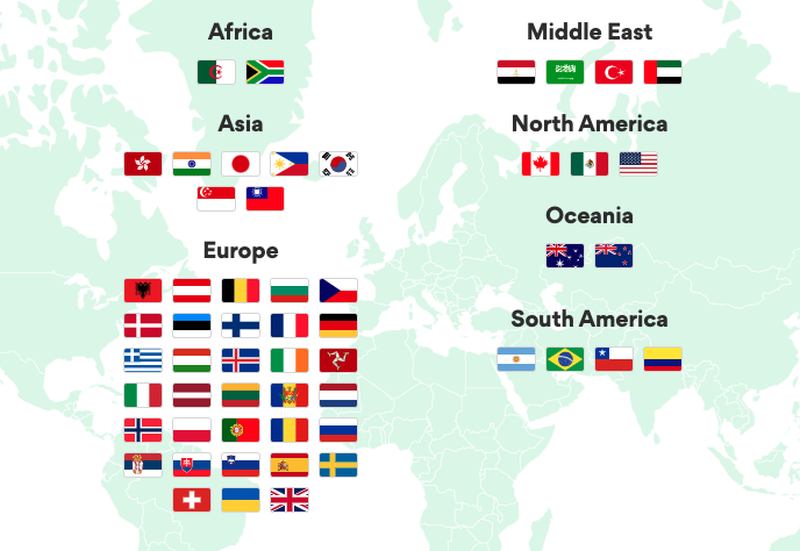 Americas: Argentina, Brazil, Canada, Chile, Colombia, Mexico, and the USA.
Europe: Albania, Austria, Belgium, Bulgaria, Czech Republic, Denmark, Estonia, Finland, France, Germany, Greece, Hungary, Iceland, Ireland, Isle of Man, Italy, Latvia, Lithuania, Moldova, Netherlands, Norway, Poland, Portugal, Romania, Russia, Serbia, Slovakia, Slovenia, Spain, Sweden, Switzerland, Ukraine, and the UK.
Asia/Pacific: Australia, Hong Kong, India, Japan, New Zealand, Philippines, Singapore, South Korea, and Taiwan.
The Middle East and Africa: Algeria, Egypt, UAE, Saudi Arabia, South Africa, and Turkey.
---
Speed
You probably guessed from the name that this VPN offers "blazing fast speeds." BulletVPN promises an internet connection with the speed of the bullet so that users enjoy their online experience. After all, who wants loading and buffering issues?
"We make sure our servers are not overloaded and use premium grade carrier lines to provide the highest speeds possible."

BulletVPN
And since transparency is one of our core values here at Anonymania, you can check out the results of the BulletVPN speed tests below.
Internet speed without a VPN connection
As you may know, encryptions reduce your internet speed. That is why it's reasonable to see that your connection is fastest without a VPN. However, it's not the safest.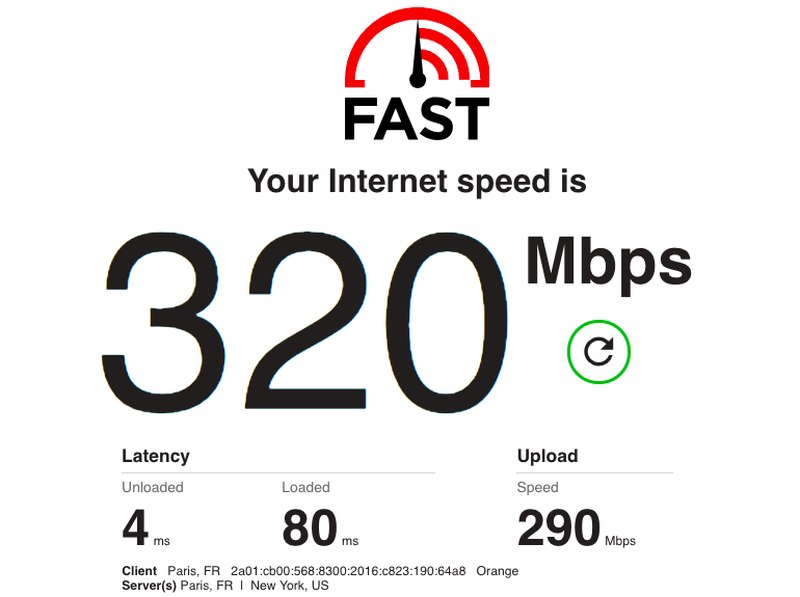 ---
Speed after connecting to a recommended server
Surprisingly, BulletVPN scored higher when I connected to a Dutch server, 320 vs. 340. That could mean that my ISP is throttling my Internet connection and BulletVPN bypassed the throttling. It could also indicate that the Netherlands server has better routing than Orange ISP which leads to higher speeds being recorded.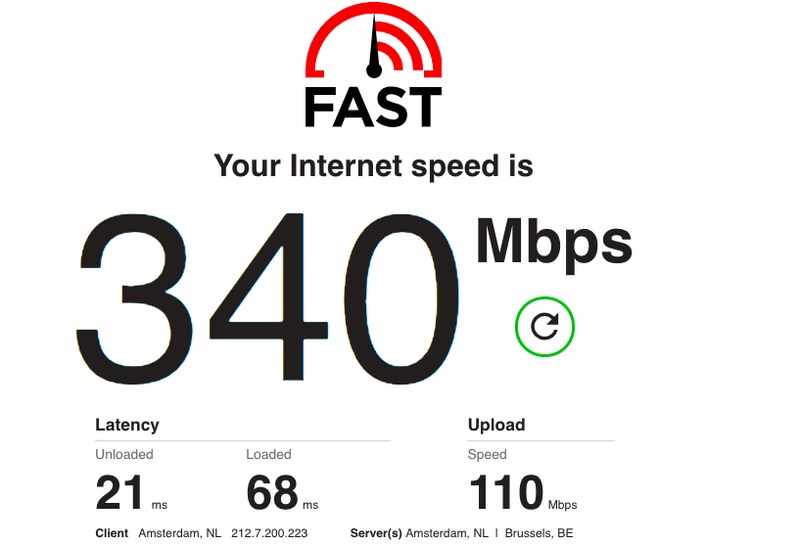 ---
Nearby server speed test
In other tests, the UK server scored 260Mbps which is super fast and allows you to stream in 4K/UltraHD. The speed witnessed a slight drop because the British server is a bit distant to my actual location in Paris.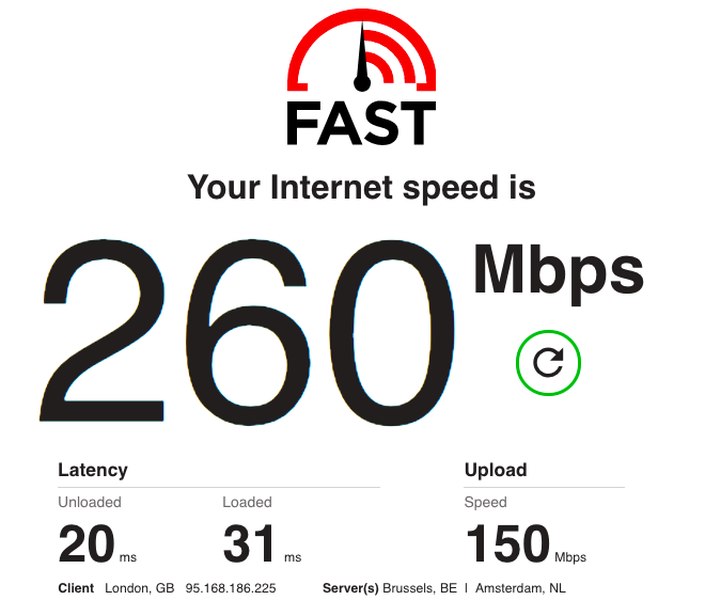 Overall, I was pleased with the results that BulletVPN scored in that domain.
Note: Latency is the time of delay between your device and the server/webpage/streaming media you are connecting to. BulletVPN had the lowest latency time between all the VPN providers I have tested.
---
Access to Streaming Channels and Torrenting
BulletVPN isn't just compatible with devices and operating systems. It also works with the majority of streaming channels like Netflix, Hulu, Amazon Prime, DSTV, TVNZ, HBO Now, and much more.
You see, streaming channels launched a persecution against most VPN services and started banning their IP addresses. BulletVPN can still avoid the geo-blocks that are enforced by these services and give you access to your favorite.
As you may know, Netflix is available in almost every country. However, the streaming service offers different catalogs depending on your region. Even with the VPN IP address ban, I managed to stream US Netflix from France.
Please note that not every American server can unblock the platform. For example, the high-speed Miami server worked perfectly well, while the one in Lake Geneva did not.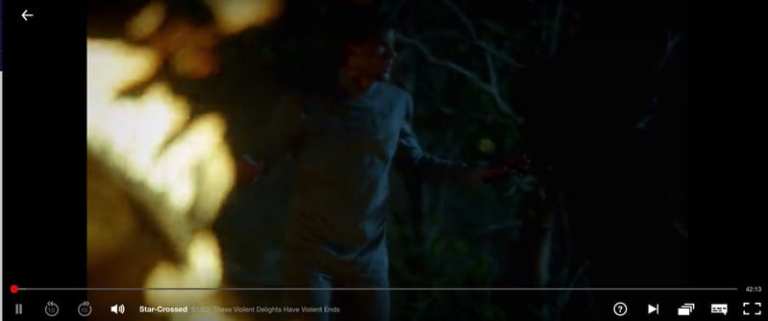 BulletVPN also allows torrenting and P2P activity. Thanks to its fast speed rates, you can download your favorite movies and series in no time. But most importantly, copyright holders won't be able to determine your online identity and location because BulletVPN will conceal them.
BulletVPN's Smart DNS
Alternatively, you can use the free Smart DNS proxy that BulletVPN offers to avoid geo-restrictions. Unlike the VPN, this tool only reroutes the URLs that expose your location instead of your entire traffic. You might have to give up certain privacy features like data encryption and IP Address concealment, but at least your Internet speed won't be affected.
BulletVPN provides this option in case you have a device that isn't compatible with virtual private networks. Those include Smart TVs, Apple TV, gaming consoles like PS4 or Xbox, and routers.
You'll also find manuals to help you install this service on your device.
---
Privacy and Security
Virtual private networks are first and foremost cybersecurity tools. Therefore, they must provide the best security and privacy features on the market. Unfortunately, not all VPNs do, especially free ones.
But you won't have to worry about any attacks or snooping eyes when you're using BulletVPN. This provider is just as well-equipped as the veterans in this domain.
Encryption
BulletVPN uses the strongest encryption in the business: AES 256-bit. That is a military-grade protocol that guarantees total secrecy and security. Hackers, authorities, and internet service providers won't be able to read your data or monitor your online activity.
US government agencies use the same encryption to protect their information from potential threats.
The reason why it's so popular among security freaks is because of the 256-bit. It means 2256 or 1.1 x 1077 possible combinations. That's 115,​792,​089,​237,​316,​195,​423,​570,​985,​008,​687,​907,​853,​269,​984,​665,​640,​560,​000,​000,​000,​000,​000,​000,​000,​000 possibilities. In other words, it's uncrackable.
The provider also supports five VPN protocols: PPTP, L2TP, OpenVPN, IKEv1, and IKEv2. It automatically selects the best one that suits your device. But you can switch to another one from the "Settings" page.
---
Zero-logs Policy
Like any other respectable VPN provider, BulletVPN does not keep records of your sensitive data. And most importantly, they don't share it with any third parties. That includes information like your online identity, activity, and connection.
They follow a rigorous privacy policy that forbids them from snooping on their users.
"BulletVPN does not collect logs of any user activity, nor can it link any other collected information to any specific user. We do not collect any logs of user browsing history, connection history, traffic and data transfer, or DNS queries, nor do we store VPN connection logs of any type."

BulletVPN Privacy Policy
Furthermore, the company is based in Estonia, where there are no data retention laws. The fact that it is outside 14 Eyes jurisdiction means that BulletVPN is under no obligation or pressure to submit user data to authorities.
---
Kill Switch + BulletShield
BulletVPN offers a built-in kill switch, meaning you don't have to resort to third parties to get one. This tool cuts your internet connection automatically in case the VPN malfunctions. As a result, your IP address will remain hidden from the public eye, and no one will be able to see any compromising data.
You can also choose to activate the kill switch conjointly with BulletShield for extra protection. This additional feature will restrict your internet connection strictly to the VPN. "When the BulletShield feature is switched on, you will have no internet access unless you are connected to a BulletVPN server."
To enable these features, all you have to do is go to "Settings" and click on the "Kill Switch" and "BulletShield" checkboxes.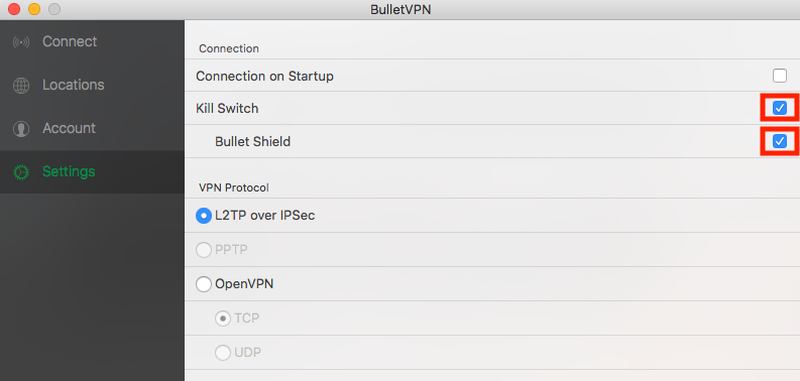 ---
No IP/DNS or WebRTC Leaks
So the encryption is supposed to prevent anyone from seeing your data and the kill switch is supposed to cut off your Internet connection in case of any malfunction. But to make sure that are no IP/DNS leaks, I tested BulletVPN while connected to their Miami High-Speed server. Here are the results:

As seen in the image below no WebRTC leak was detected during the tests I conducted either.

As you can see from the results, BulletVPN fully conceals your private information thanks to the secure AES-256 encryption.
Malware Scanning
VirusTotal is a product of Spanish security firm Hispasec Sistemas. Google acquired it back in 2012. It is a reliable website that scans and analyzes your files and URLs for malware. I used it to scan BulletVPN apps for any potentially malicious software or suspicious files.
The VPN passed the tests of 72 virus scans.
---
Customer Support
You can contact the BulletVPN customer support via email, live chat, and support ticket. The team is available round-the-clock to assist you with your inquiries. Response time is usually okay, and the people behind the telephone are very professional.
Alternatively, you'll find plenty of help in the FAQs section, as well as the setup guides. And according to the feedback from users on Google Play, App Store, and Trustpilot, the BulletVPN support team is very professional and quickly responsive to any issue you might have.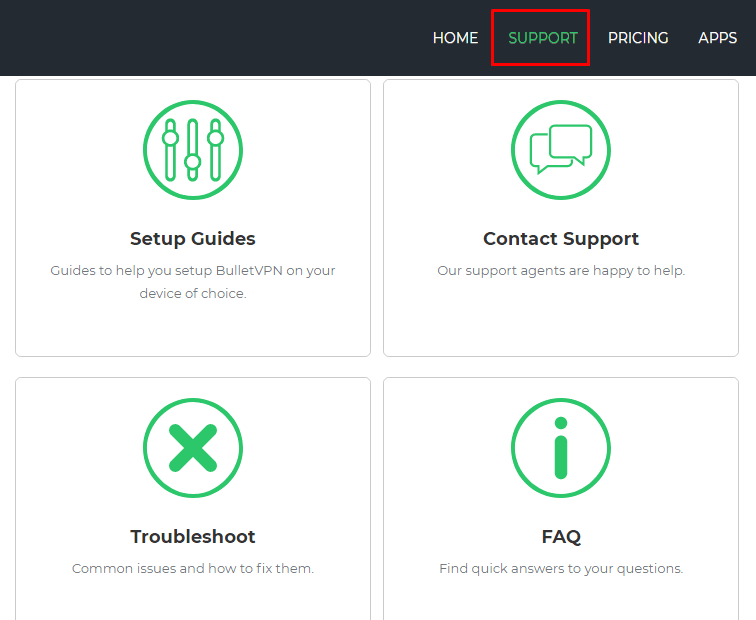 ---
Pricing and Payment Methods
BulletVPN offers you plenty of options when it comes to subscription plans, and each package has excellent value for money.
One-month plan: For $10.98 a month, you can benefit from every BulletVPN feature that I mentioned.
12-month plan: This package will cost you $89.98 each year. That means you'll save 32% on your monthly bill ($7.50/month).
36-month plan: The cheapest of the three options. You'll receive a bill of $118.58 every 3 years, which means you'll save 72% on your monthly subscription ($3.29 per month).
Choosing the best package suitable for you depends on why you need BulletVPN and how long you're planning to use it. But the best choice, obviously, is to subscribe to the long-term annual plan.
But the best part about it all is that BulletVPN offers a 30-day refund policy. That means if you don't like the service, you can claim your money back in full.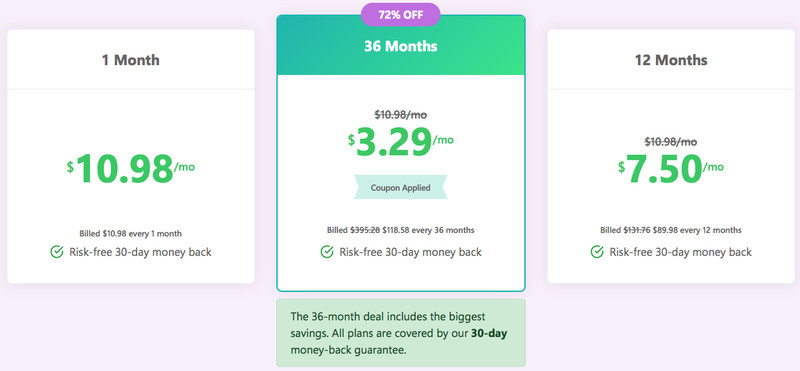 ---
Payment Methods
BulletVPN offers several platforms to facilitate the payment process. You can purchase the plan of your choice with your credit card, PayPal account, and Bitcoin.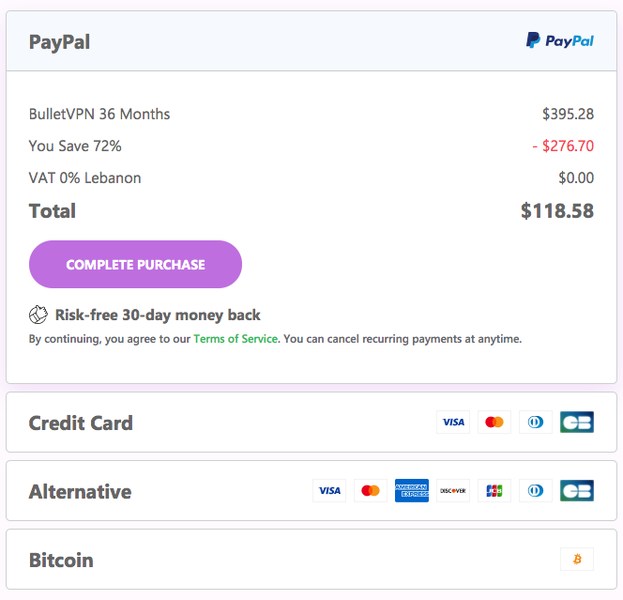 ---
Does BulletVPN Offer a Free Trial?
Some VPN services offer a short free trial period, allowing you to test the features before you purchase a plan.
Now, BulletVPN does not offer such an option. However, if you contact customer support and inquire about the service, they'll generously give you a free ride for a day.
But please note that I did not get in touch with anyone from BulletVPN. I just know a couple of users who did, and they benefited from a one-day free trial period.
Anyway, it's worth a shot.
---
The 2023 BulletVPN Review – Wrapping Up
BulletVPN is a trustworthy service to consider when shopping for a VPN. It has added various new features recently such as a Kill Switch, the BulletShield option, and improved speeds since we first reviewed the service. The other aspect we found impressive was BulletVPN's compatibility with all major streaming channels. Other elite VPN providers sometimes struggle when it comes to accessing sites from other parts of the globe, but this isn't the case here.
The company takes users' privacy and security quite seriously, providing the highest encryptions and a no-logging policy. It also ensures that users enjoy their online experience with fast and stable speeds across all servers. Furthermore, the apps are easy to use and compatible with the majority of platforms.
BulletVPN can still give you access to plenty of streaming giants, including US Netflix, DSTV, ABC GO, TVNZ, TenPlay, HBO Now, and Hulu. It also allows you to protect up to six devices at the same time.
Moreover, its long-term subscription plan is very affordable and offers excellent value for money. The 30-day refund program is also a reassuring feature. As for customer support, the team is available 24/7 to assist you.