VPN
What Is a VPN Kill Switch and Why Is It Crucial?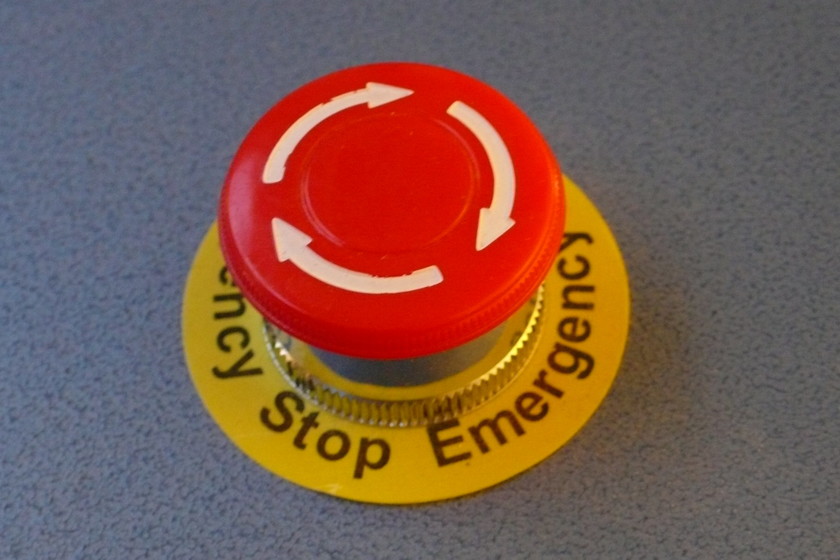 Kill switch explanation and importance
The role of the kill switch when the VPN drops
Causes of VPN server disconnection
Top VPNs that offer a kill switch
Murphy's law states that "anything that can go wrong, will go wrong." One interpretation of this epigram is that even the best-laid plans can sometimes go haywire, which is why it's crucial to have a Plan B. That applies to everything, whether it's finance, business, politics, sports, or cybersecurity.
Well, it seems that VPNs, or at least the premium ones, received the memo. That is why they developed a kill switch, your data's last line of defense. This feature protects your private information from accidental exposure to third parties. As a result, you'll maintain your online anonymity.
Therefore, before you subscribe to a virtual private network, check if all its apps and browser extensions feature a kill switch. Otherwise, you could land in big trouble if you value your privacy. Read on to find out more about these tools and which VPN providers offer them.
---
What Is a VPN Kill Switch
Virtual private networks, better known as VPNs, are cybersecurity programs that reroute your Internet traffic through a secure and encrypted tunnel. They also hide your actual IP address and replace it with another one that matches one of their server locations.
As a result, no one can monitor your online activities, including browsing history and web destinations. Furthermore, websites won't be able to determine your physical location. In other words, you'll have complete privacy and anonymity when you connect to a VPN server.
However, even the best VPN services can malfunction sometimes. That is why elite brands designed a built-in kill switch in case the VPN connection suddenly drops. This tool cuts off the Internet traffic traveling from/to your device, meaning you won't have online access anymore.
And the only way to restore Internet connection is by reconnecting to the VPN server or disabling the kill switch (not recommended).
Why Is It Important?
Without a kill switch, your sensitive data would leak to your Internet service provider's (ISP) servers. That means that your ISP, as well as other snoopy third parties like government agencies and hackers, will be able to see what you're doing.
They'll be able to track the websites you visit, your actual IP address (i.e., location), and any data content. It's like you didn't have a VPN connection at all. Journalists and activists rely on VPNs to avoid government censorship or restrictions, and without a kill switch, they could face grave consequences.
Even regular VPN users could suffer from the absence of a kill switch, especially those who live in countries with strict Internet regulations. In China, for example, Google, Facebook, Twitter, YouTube, and other platforms are banned. If you're using a VPN to unblock one of these services and the connection drops, you will longer have access to these websites.
Moreover, your ISP, and possibly the authorities, will see that you attempted to enter a restricted site, which could land you into trouble. But the kill switch will help you avoid these threats by disconnecting you from the Internet. That way, your traffic will stay safe from prying eyes.
VPN Kill Switch – Who Benefits From It the Most
All the people who value their online privacy and anonymity must use a VPN. And since these programs may stop working all of a sudden, anyone can benefit from a kill switch. However, people with certain professions or domains can use this feature more than a regular user. In fact, I would describe the kill switch as essential for:
Journalists: Investigative journalism involves deep investigations in serious and usually top-secret matters. That includes crimes, corruption, or corporate wrongdoing. That means undercover reporters can face a lot of dangers from several parties, including the authorities. A kill switch ensures that the journalist's identity, sources, and information are safe, even if the VPN connection drops.
Activists: The World Wide Web isn't as open as you might think. In a lot of countries, governments apply strict Internet regulation and censorship in an attempt to quash freedom of speech. Therefore, activists resort to VPNs to express themselves without worrying about the law. The kill switch keeps their identities and location hidden.
Whistleblowers: People who expose secretive information about the illegal activities of certain organizations face great risks and intimidations. Some parties will do whatever they can to keep them quiet. That is why they use a VPN to reveal their discoveries. And a kill switch protects their real identity.
Torrent users: Torrenting is a simple and fast method to download/upload files and share them with other people. However, some of this data can be subject to copyright. If your VPN connection drops, copyright trolls/holders can see your actual IP address, which can get you in legal trouble. But the kill switch cuts off your Internet connection so that no one can trace anything back to you.
---
When Does a Kill Switch Go Into Effect?
All top VPNs have a kill switch feature in their apps. In most cases, however, you have to enable it manually. Not that it's complicated or anything. You just go to "Settings" or "Options" in the VPN application and toggle "Kill Switch" to activate it. And some providers activate the kill switch automatically when you log in to your account.
The point is that no matter which VPN you choose, make sure you always activate the kill switch. It doesn't just come in handy when your provider malfunctions, but also whenever there's an Internet disconnection. That means it keeps your data and traffic safe when you change Wi-Fi networks or your signal flickers.
Moreover, your data will remain secure when you put your laptop in sleep mode or close it, when you turn on or off your Internet connection, or when your ISP faces a momentary outage.
Causes of VPN Disconnection
When you register for a premium VPN brand, chances of a connection failure are low. But as the old saying goes, prevention is better than cure. That is why top services designed the kill switch. And yet, a VPN disconnection may not always mean it's your provider's fault.
It could happen due to:
Internet connection interruptions: Instability in your Internet connection can cause frequent disconnection to your VPN server. If your Wi-Fi signal is weak and your device constantly changes between Wi-Fi and mobile data, it could interrupt your VPN connection and cause to malfunction.
Devices and security software: If your computer, phone, or tablet is on auto-update, it can reset its configuration settings and stay without VPN protection. Furthermore, security software like antivirus programs and firewalls can block VPNs from operating correctly. Therefore, you must always add your provider to your firewall's list of exceptions.
Server failures: VPN servers are physical boxes, which means they are subject to damage and vulnerability. As a result, timeouts and connection failures can sometimes occur, even if the chances are slim.
---
Elite VPNs That Offer a Kill Switch
As I mentioned earlier, all premium VPN services have a built-in kill switch feature. Some activate it by default when you sign in to your account, while others require that you enable it yourself. I advise you always to turn the kill switch on as you don't know when things could go wrong.
The VPNs with the most efficient kill switches, yet the least possibility to malfunction, are as follows:
ExpressVPN
ExpressVPN is one of the best providers in the industry. A lot of experts and users put it on top of their recommendations list. That's because the company uses the most advanced encryption on the market, the military-grade AES-256. It also doesn't keep any records of any sensitive data you input, thanks to its strict zero-logs policy.
But despite these security and privacy features, ExpressVPN offers an automatic kill switch as a precautionary measure. Called Network Lock, it is activated by default when you open the VPN app, so you don't have to enable it manually. The company offers instructions in case you wish to turn it off, although I highly recommend you not to do it.
For more ExpressVPN features, read the full review.
BulletVPN
Another top VPN with a kill switch is BulletVPN. It offers the same encryption level and no-logging policy as ExpressVPN. However, you have to enable the kill switch manually to benefit from it. You can do that in just a few clicks. After you log in, got to "Settings," then click "Kill Switch."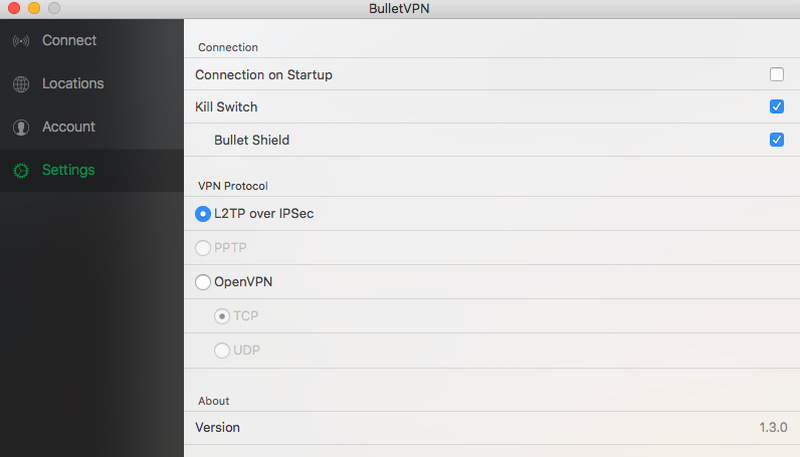 I also recommend you enable BulletShield with the kill switch. This option only allows connection to the Internet when you connect to a BulletVPN server.
Read the BulletVPN review for everything you need to know about this provider.
Unlocator
You might know Unlocator as a Smart DNS proxy service. But the company launched a VPN product in 2019 and did not hold back on the kill switch feature. That's despite offering users the best encryption in the VPN industry, as well as a transparent no-logs policy.
To activate the Unlocator kill switch, simply click the gear button on the top right. Then, under "App," check the empty box next to "Kill Switch." You can also choose to activate Unlocator Shield, which prevents any Internet connection to your device unless you're connected to an Unlocator server.
Check out the Unlocator review for more information.
NordVPN
NordVPN is famous for its first-class privacy and security features. Other than the AES-256 encryption and the zero-logging policy on offer, you'll benefit from the double VPN protection, as well as CyberSec. The first one encrypts and reroutes your traffic twice, while the latter blocks ads and malicious websites.
Yet, despite all these safety advantages, NordVPN has a built-in kill switch in case things go south. Windows and Mac users can choose between fully disabling the Internet connection, or only blocking certain apps in case the server drops.
Meanwhile, iOS apps have an integrated kill switch that "prompts a system-wide network lock in case a VPN connection drops." As for Android users, they can enable the kill switch by going to "Settings" -> "Wireless and networks" -> "More" -> "VPN."
Check out all the NordVPN pros and cons in this review.
---
Why You Must Always Enable the Kill Switch – Final Words
Virtual private networks are excellent cybersecurity tools that can conceal your actual location and encrypt your traffic. And even though they use the most robust encryption and delete any information that might compromise users, they leave no room for errors.
The kill switch is a last line of defense that top VPNs provide in case one of their servers drops. It prevents your traffic from traveling to your ISP's servers, where prying eyes can see it. Therefore, always remember to enable this feature when you use your VPN. It won't affect your device's performance in terms of Internet speed, so you might as well benefit from it.
Have you ever encountered a VPN connection drop? Was the kill switch activated? Share your experience below.