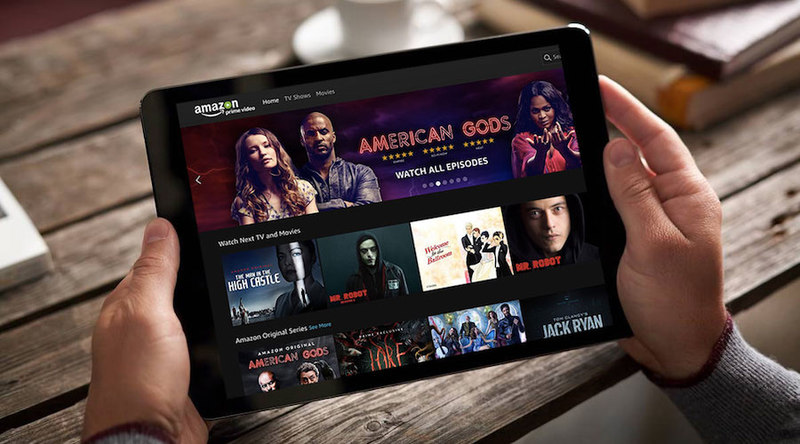 About Amazon Prime Video
Is Prime Video Available Everywhere?
How to Access Any Prime Video With a VPN
Top VPNs vs. Free VPNs
Access Prime Video With Smart DNS
Prime Video Top Shows and Devices
Parting Words
Netflix was one of the first online services to tap the streaming market back in 2007, leading to an era of dominance that is still in effect today. During that period, the channel gathered around 150 million subscribers worldwide.
But as other streaming services entered the game, Netflix's dominance began to wane. The likes of Amazon Prime Video, Hulu, and HBO Now gained plenty of market share in recent years. And the first one, in particular, is proving to be a major competitor.
It has around 75 million subscribers around the world, and BMO Capital expects that number to rise to 100 million by the end of 2020. Yes, that's about half of what Netflix has, but Prime Video is quickly gaining momentum.
The streaming service has thousands of hours of entertainment available for viewers. However, the content on display varies depending on each region. That means US viewers have a different library than British subscribers.
So if you're hooked on a show that's only available in the USA, you'll need a VPN or Smart DNS proxy to access it from abroad.
---
Content Overview
---
What You Need to Know About Amazon Prime Video
Who hasn't heard of Amazon? The multinational company is famous for its e-commerce and online retail platform. However, it focuses on plenty of other areas as well, like cloud computing and Artificial Intelligence. In fact, it is one of the top four technology companies in the US and the world, alongside Google, Apple, and Facebook.
Jeff Bezos, the founder of Amazon, was the main reason behind the company's success. And he was handsomely rewarded for his troubles, as his business helped him become one of the wealthiest men in the world. Forbes estimates that his net worth is a staggering $108.2 billion.
The American business magazine ranked him the richest man in the world back in March, with a $131 billion fortune. However, his recent divorce to 25-year partner MacKenzie Bezos cost him a 4% ($38 billion) Amazon stake.
But a large part of his company's success is due to the streaming service he launched. Called Prime Video, the channel is available all around the world, except in China, Cuba, Iran, North Korea, and Syria.
It offers video-on-demand (VOD) and original content, as well as access to other suppliers' programs, including HBO. Moreover, the service supports offline viewing and 4K videos, as well as three simultaneous streams per account.
Amazon Prime Video has 40 million subscribers in the United States and 75 million worldwide. It witnessed substantial growth in terms of viewers, as the number rose from 26 million in the US in 2017. And the momentum doesn't seem to be slowing down.
Statista predicts that Prime Video will register 122 million subscribers worldwide in 2022, with 56 million from the USA alone.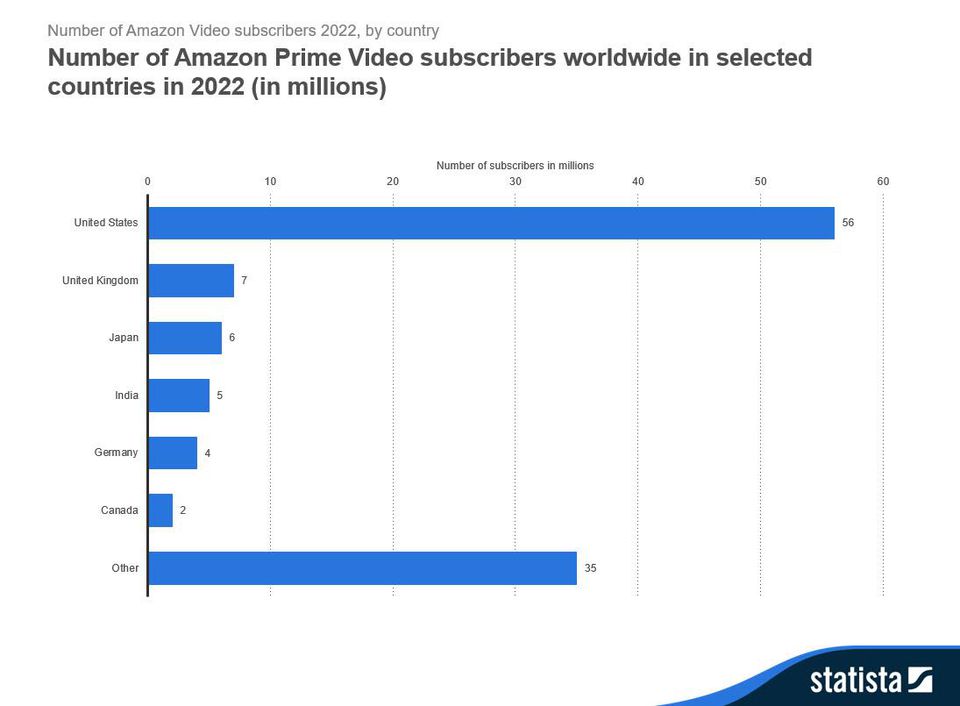 ---
Pricing
Amazon Prime Video doesn't just offer different libraries depending on your region, but also prices and plans as well.
First of all, you can subscribe to Prime Video in two ways: As a standalone service or as an Amazon Prime membership. The first one costs a monthly fee of $8.99 and will give you access to the service's full content catalog. That includes original programs like "The Marvelous Mrs. Maisel" and "Jack Ryan."
But please note that the price tag is specific for US residents and might differ if you're in a different market.
For example, if you're in Bulgaria, you'll benefit from an attractive discount to your monthly subscription. As a result, the service will cost you $2.99/month during the first six months. After that period, membership renews for $5.99 per month for new customers.
And you'll also benefit from Prime Video's full library, although some programs might vary due to your geographic location.
And if you prefer to sign up for the Amazon Prime membership, you'll enjoy plenty of additional features, but for a higher price, of course. Subscribing to this bundle will cost you $12.99 a month or $119 per year. But you'll have access to the following features:
Prime Video.
Free two-day shipping on all Prime-related purchases on Amazon.
Prime Music
Twitch Prime
Prime Reading
Amazon Photos
All these plans come with a 30-day free trial period.
Furthermore, you can add many premium channels to your subscription, like HBO, STARZ, Showtime, and more. And if you're a sports fan, sit back, relax, and enjoy MLB.TV, NBA League Pass, and PGA Tour Live.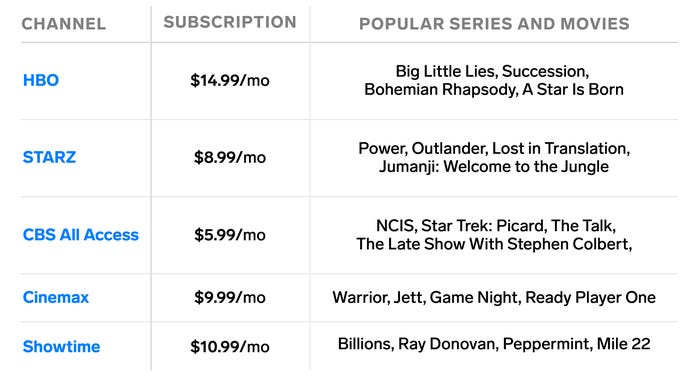 ---
Where Is Amazon Prime Video Available?
Just like its number one competitor, Netflix, Amazon Prime Video is available almost everywhere. In 2016, the service went global, covering every country, except China, Cuba, Iran, North Korea, and Syria. As a result, it gained millions of subscribers and followers.
However, the content on display differs according to each region. Due to licensing agreements, several programs may be off-limits in certain locations. And since the US catalog has the richest and most entertaining shows, a lot of users try to access it from abroad, but to no avail.
Furthermore, if you're hooked on a series that's only available in your country, and you happen to be traveling overseas, you're going to miss the latest episodes. That means you'll have to avoid all human and social media interactions, just in case there are potential spoilers.
Now, that doesn't sound like too much fun, right? Why accept such a gloomy fate of geo-blocks when there's a simple solution to this problem? Get yourself a VPN.
---
What Is a VPN?
VPN is short for virtual private network, a tool that can change your online location to any other place you want. Thanks to a global network of servers, this program can redirect your internet traffic and make it appear that you are somewhere else.
For example, if you wish to access the US library of Prime Video, you must convince the streaming channel that you are inside the country. To do so, you need to connect to an American VPN server. In a matter of seconds, your provider will reroute your connection to the server you selected.
Then, it will mask your actual IP address and give you a new one from the United States. As a result, Amazon Prime Video US will think that you are inside its coverage zone, and you'll have access to its American catalog.
And that's not all. Your VPN will also encrypt your traffic so that no third party can monitor your activity. That includes the like of hackers and Internet service providers.
---
How to Access Any Prime Video Library with a VPN?
Switching through Amazon Prime Video libraries is one of the easiest and fastest things you can do when you have a VPN. And the same thing can be said about installing this tool on your device.
That's because VPNs have dedicated apps for the majority of operating systems, such as iOS, Android, Windows, and Mac.
First, please note that Prime Video blocks VPN IP addresses, which means you have to select a provider that still works with the service.
Once you sign up for this reputable VPN, you have to download and install the app or client on your device.
Then, launch the app and connect to a server that's inside your target location. For example, if you want to access Prime Video US, choose an American server.
Wait a couple of seconds till the connection establishes and revisit Prime Video.
Notice that the programs on display are different than the ones that are usually available in your region. Also, the pricing might change.
---
Do Free VPNs Work with Amazon Prime Video?
Most of the free VPNs we tried did not provide reliable access to Prime Video's US catalog. Some were inconsistent or slow while others couldn't even bypass the geo-restrictions in place.
QamoVPN was the only free VPN that allowed us to watch Prime Video outside the USA without speed drops or buffering. We connected to servers in Miami, London, Paris, and Frankfurt, and they were all fast and reliable every time.
Additionally, Qamo is one of the few providers that prioritizes user privacy and security with military-grade encryption, a no-logs policy, and a kill switch.
There are a couple of disadvantages you won't find with premium providers. Qamo is only available on Android and the app is ad-supported, not to mention the limited server selection and bandwidth. However, it is still the best free VPN for Amazon Prime Video.
---
Watch Prime Video With These VPNs
As I mentioned earlier, Amazon Prime Video started blacklisting VPN IP addresses. Therefore, a geo-error message might still appear on your screen even if you're using a VPN.
However, elite providers are still effective in bypassing Prime Video geographic restrictions. That's another reason to subscribe to them.
In case you don't know a thing about virtual private networks and their ranking, take a look at the features that top brands provide. Or, you could pick a brand from my suggestion list. It includes the best VPNs to access any Amazon Prime Video catalog.
ExpressVPN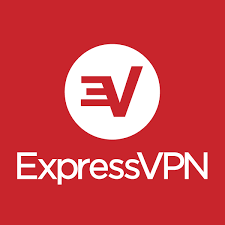 My top recommendation for avoiding geo-blocks is ExpressVPN. Out of all the VPNs I tested, this one registered the highest scores. It is the perfect choice for cord-cutters as it gives you access to every major streaming channel.
That includes Prime Video. Netflix, Hulu, HBO Now, BBC iPlayer, ITV, Hotstar, and plenty more.
But Internet access isn't its only strong point. ExpressVPN operates over 3,000 servers in 160 locations across 94 countries, making it one of the largest networks in the business. That means you'll never have to worry about geo-blocks or online censorship ever again.
And the company is not about quantity over quality. All these servers have excellent speed rates to ensure that your streaming experience goes smoothly. As you may know, secure encryption consumes part of your Internet connection, and live HD programs need fast speeds.
However, ExpressVPN offers stable rates throughout all servers that you'll barely notice the speed drop.
"ExpressVPN's performance is great. Consistently good speeds."

PCWorld
And speaking of encryption, this VPN uses the military-grade AES 256-bit. That's the same one the US government applies to classified information and is the strongest encryption on the market. In other words, it is merely uncrackable.
The company also cares a great deal about your privacy, which is why they enforce a rigorous zero-logging policy. As a result, ExpresVPN won't collect, store, or share any information about your IP address or online activity and connection.
And the best part is its 30-day money-back guarantee. It allows you to demand a full refund during the first month of subscription; no questions asked. That way, if you're not too happy about the service, you won't lose a dime.
If you'd like to know more, read the ExpressVPN review.
Pros
The most robust encryption.
No logs kept or shared.
30-day refund policy.
High levels of speed.
A massive network of servers.
Compatible with the majority of streaming channels.
24/7 customer support with live chat feature.
User-friendly apps for Kindle Fire, iOS, Android, Windows, Mac, and Linux.
Allows torrenting and P2P activity.
Support for five concurrent device connections.
DNS leak protection and a kill switch.
MediaStreamer: Smart DNS proxy.
Based outside Five Eyes jurisdiction.
Cons
Pricey subscription fees ($12.95/month).
---
BulletVPN
BulletVPN may not have an extensive server network as its counterparts on this list but is still, nonetheless, a reliable alternative.
Despite its recent burst onto the scene, this VPN managed to build a decent reputation for itself by providing some high-quality features. That includes the Advanced Encryption Standard 256-bit keys, also known as AES 256-bit.
The company also doesn't record what you do online and certainly doesn't share it with any outsiders. It offers fast speed rates and can unblock the vast majority of streaming services. So if you want to switch to a different Prime Video library, BulletVPN is always an option.
However, this provider operates 115+ servers in 51 countries. But they are located in key areas around the globe, covering every major continent. Twelve of these servers are in the USA alone, which means you'll definitely have access to US Amazon Prime Video.
Pros
AES-256 encryption.
No-logs policy.
Kill switch + BulletShield.
Fast speeds.
Unblocks streaming platforms.
Allows torrenting and P2P.
Free Smart DNS.
30-day refund policy.
Six simultaneous device connections.
round-the-clock customer support.
---
NordVPN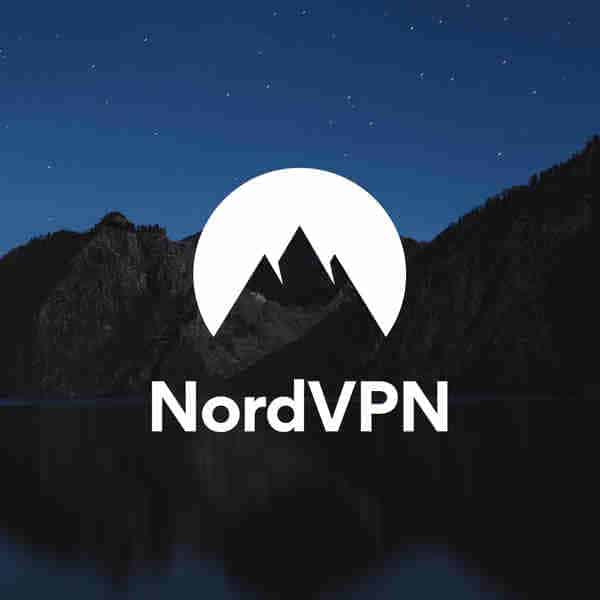 A VPN provider that came close to ExpressVPN's scores was NordVPN. This top service is another well-known brand in the VPN world that is fully capable of unblocking any Prime Video Library.
That's mostly due to the company's extensive server network, which features more than 5,000 servers in 59 countries. The Prime Video IP address ban did not affect NordVPN, nor did the block that other services apply.
That means it still works with every must-have streaming channel, including Amazon Prime Video, Netflix, Hulu, and BBC iPlayer.
NordVPN aced the security and privacy scores thanks to a bunch of unique features. One of those is CyberSec, a technology that blocks ads and harmful websites. The other is the double VPN, which encrypts your traffic twice. And, of course, you'll benefit from the AES 256-bit encryption, as well as a no-logs policy.
Another notable mention is the service's customer support. It received the Best Customer Service 2018 award at the BestVPN.com Awards.
Pros
Military-grade encryption.
Double VPN.
Ad-blocker: CyberSec.
SmartPlay: Smart DNS service.
Award-winning customer support.
5,000+ servers in 62 countries.
Works with Prime Video and other streaming services.
Zero-logs policy.
Six simultaneous device connections.
30-day money-back policy.
Compatible with every primary operating system.
Cons
Some of the servers had low speed rates.
---
How Else Can I Watch Amazon Prime Video?
You don't have to rely on selected VPN brands to access a different Prime Video catalog. Even though virtual private networks are the preferable option, you can unblock APV with a Smart DNS proxy.
These programs redirect the connection part of your traffic, making it appear that you are in a different location. As a result, Prime Video and some other channels will give you total access to their content.
But please note that Smart DNS proxies cannot unblock every streaming service. Each provider has a list of supported channels, which is why you have to make sure the one you want is included. Furthermore, these tools don't function properly if your ISP uses DNS hijacking or transparent proxies.
And you can forget about privacy and security because Smart DNS proxies don't hide your IP address or offer any encryption. But at least you won't witness a speed drop to your Internet connection.
Which Smart DNS Should I Use?
As I already said, make sure Prime Video, or whichever service you want, is included in your provider's channel list. The ideal choice would be a Smart DNS that can unblock a lot of channels.
Based on personal experience, I found that Unlocator is the best service you can get. It can unblock over 220 channels, including Amazon Prime Video, Hulu, HBO Now, BBC iPlayer, and much more. You'll also benefit from a free 7-day trial period, without the need to reach for your credit card.
Head over to Unlocator and register. You don't need to enter your credit card information during the first week of service.
You'll need to set it up manually on your device because Smart DNS proxies don't have apps. Just follow the guides and videos on the website to install it.
You can set up Unlocator on Mac, Windows, PS4, Xbox, Wii, Amazon Fire TV, Apple TV, Chromecast, Samsung Smart TV, Android, iPhone, iPad, Kindle Fire, and more.
Enjoy any Amazon Prime Video library no matter where you are.
---
Amazon Prime Video Device Support
Amazon Prime Video allows you to share your account with two other users. That means you can stream shows on up to three platforms simultaneously. And you can watch your favorite programs at home or on the go using several devices, including:
Android smartphones and tablets
iPhone, iPad, and iPod Touch
PS3 and PS4
Xbox One
Fire TV/Fire TV Stick
Fire Tablet
Sony Smart TV
Panasonic Smart TV
Samsung Smart TV
LG Smart TV
Windows
Mac
---
Top Shows on Prime Video
Amazon Prime Video has a wide selection of the latest and most popular movies and TV shows, including Amazon Originals. It also allows you to add a bunch of entertaining channels to your subscription.
Movies and Series
Fleabag
The Marvelous Mrs. Maisel
The Man in the High Castle
Jack Ryan
Homecoming
Good Omens
Bosch
King Lear
Ordeal by Innocence
Goliath
Mozart in the Jungle
One Mississippi
Patriot
The Grand Tour
Gringo
Life Itself
Yardie
Last Flag Flying
Manchester By the Sea
Channels
NFL
NBA
PGA Tour
CBS All Access
MLB.TV
Sport Now
Showtime
HBO
STARZ
Cinemax
BritBox
Comedy Central
Boomerang
BET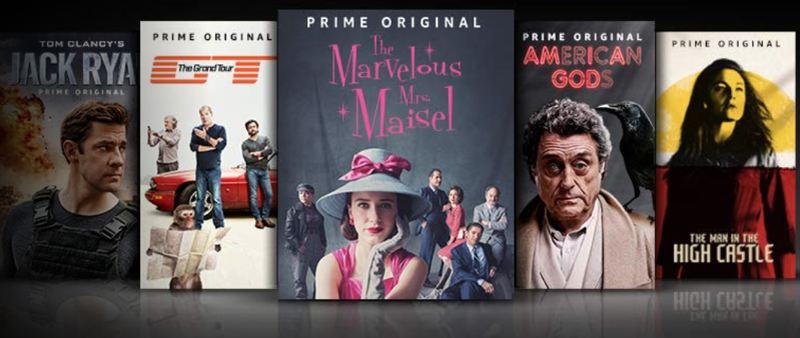 ---
Access American Prime Video From Anywhere – Parting Words
Amazon Prime Video is a fantastic streaming service with plenty of shows, programs, and channels that cover every domain. That includes entertainment, politics, environment, music, sports, and much more.
But unfortunately, that content is not available everywhere because the library differs depending on each region. And since the US catalog has the widest variety, anyone from outside the country won't be able to access it. Therefore, you need to cover your back and get a VPN or a Smart DNS proxy if you're overseas.
Those tools will give you access to US Prime Video and any other library no matter where you are.
Are you a fan of the Emmy-award-winning series "Fleabag"? Share your favorite Prime Video show in the comment section below.