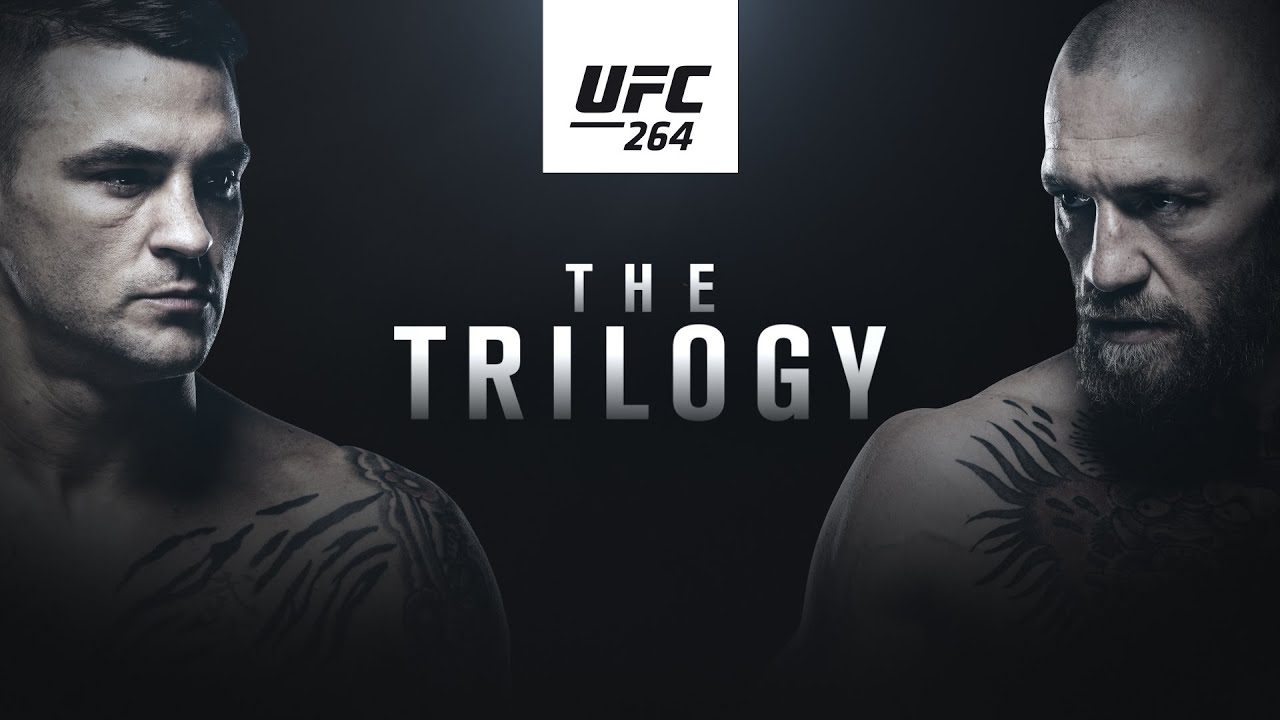 On July 10th, 2021, Conor McGregor and Dustin Poirier will collide once more at UFC 264 to conclude their ultimate trilogy.
The main event at the T-Mobile Arena in Paradise, Nevada won't have a title on the line, but there sure will be plenty at stake, especially if the winner would likely be landing a title shot against lightweight champion Charles Oliveira.
They say that the third time's a charm, and we, as UFC fans, definitely have no doubt about that. But the question remains: How can you watch UFC 264 live online? Follow this guide and find out.
Watch UFC 264 Live Anywhere – Easy Steps
We know that you're very excited to watch the fight, so we won't be taking too much of your time. To cut it short, here's how you can watch McGregor vs. Poirier 3 live online:
First, sign up with a credible VPN service. We recommend using ExpressVPN.

Download and install the VPN application on your device.

Activate the VPN client and open the server list.

Connect to a server in the country where your selected channel has the right to broadcast.

Launch the channel's website or application.

Stream UFC 264 wherever you may be.
Stream UFC 264: Poirier vs. McGregor 3 – The Full Guide
You now know the basic steps you need in order to stream the upcoming epic fight between the former champions.
However, there's a lot more to learn in terms of what channels are broadcasting the events, the devices you can use for streaming, and the fight itself.
So, if you have a minute or two, keep on reading and find out everything about the upcoming Trilogy tie-breaker.
First, You Need These
Before you proceed, make sure you have the following:
A VPN account and app.

A subscription to a UFC official channel.

Streaming devices that are compatible with your streaming channel.

Good internet connection.
UFC 264 – The Broadcasting Channels
UFC needs no introduction, especially when it comes to popularity. The sport is loved all over the world, bringing fans from different countries and regions all together when a fight is on.
UFC 263 registered approximately 600,000 pay-per-view (PPV) buys back on June 12th, 2021 as Adesanya took on Vettori on an outstanding rematch.
Now, we have no doubt that the Trilogy of the McGregor vs. Poirier bouts will also get some solid numbers, come July 10th, 2021.
ESPN+ – UFC Has a Home in the USA
For years now, ESPN+ has had the rights to broadcast UFC events in the United States of America.
Unlike some previous right holders in the country, ESPN+ allows users to watch its content without having to opt for long-term TV deals.
They can subscribe to the channel in exchange for a small monthly/yearly fee, and the rest is on the channel.
However, when it comes to streaming UFC, extra payment should be made as it's offered as PPV. If you're subscribing for the first time, you can get UFC as part of the ESPN+ bundle, which helps you save up a lot.
| | |
| --- | --- |
| SUBSCRIPTION PLAN | PRICES |
| Monthly Plan | $5.99 |
| Annual Plan | $59.99 |
| PPV + Annual Plan Bundle | $89.98 |
| PPV Standalone | $69.99 |
You can get a single UFC PPV event (in HD) and an ESPN+ annual subscription for $89.98. After that, the yearly subscription will renew automatically at the original price ($59.99).
However, if you don't want a subscription, you'll have to pay $69.99 for UFC 264 alone.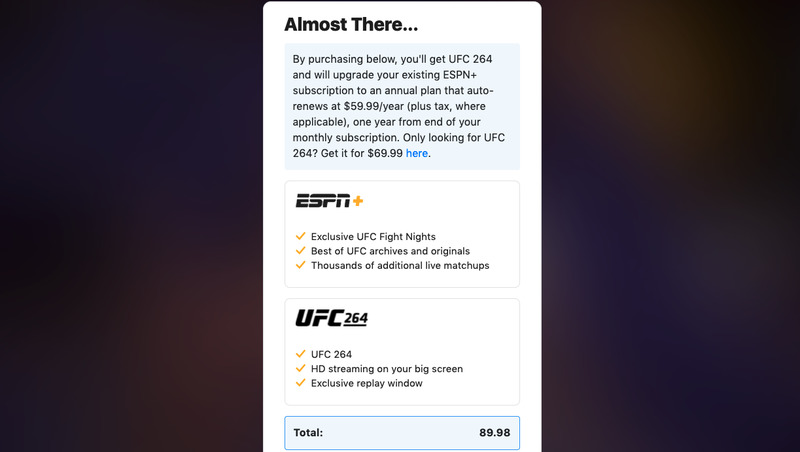 Please note that the fight is only available on ESPN+. If you're using Fight Pass, you should know that UFC 264 will be blacked out and you won't be able to purchase it.
Global Streaming
Aside from PPV purchases, UFC viewership keeps skyrocketing every time a fight is on. The promotion has more than 300 million fans worldwide, thanks to their broadcasting partners in more than 165 countries.
If you don't know which channel is broadcasting the UFC 264 event in your country, check the table below:
The channels in the table above offer UFC in so many different ways. For example, ESPN+ requires a subscription and a PPV purchase, while DAZN offers each and every fight for free as long as you have a subscription.
KIJK, on the other hand, shows UFC fights for free. No subscription, no PPV purchase needed. All you have to do is visit the website or use the app to start streaming come July 10th.
Geo-Blocking Applies
There are instances where UFC fans prefer to watch events on channels located in other countries.
There are several reasons for that actually and we don't blame you. Your country might not host a broadcasting channel, your existing channel's subscription fee is beyond your budget, or the fight's time might not be convenient to your schedule.
We have to inform you that all of the channels are restricted to their respective countries, which prohibits you from accessing them in yours.
Channels and websites apply geo-blocking, where they examine your IP address to determine your location.
If the IP address is deemed not within the channel's coverage area, you'll receive an error message almost instantly.
For example, here's what you get when you try to access ESPN+ outside of the US:
"ESPN+ is not available in your country due to content rights issues."
All the channels require a valid IP in their country to operate. If not, a similar error will appear.
To circumvent such geo-restrictions, you must make use of a Virtual Private Network, which we already mentioned in the unblocking part above.
A VPN's Benefits
A VPN is an online tool solely made to enhance your security and anonymize your internet approach.
If a VPN is credible enough, it'll apply military-grade encryption to shield your data from hackers and anyone who tries to intercept it.
Once you establish a connection to a VPN server, the software hides your IP address and replaces it with a temporary one based in the country where the server is located.
As a result, you'll appear to be browsing the web from that region, gaining access to everything online-restricted in the area.
When it comes to UFC streaming, a VPN grants you the following:
Better Speeds: When you connect to a VPN, it hides your IP address, which helps avoid any ISP throttling that may be in place.
Cheaper Prices: Fight Pass is available globally, but its pricing varies based on the country. With a VPN, you can select a server in a region where the prices are lower.
Unblock UFC Channels: You can use a VPN to access UFC channels from all over the world and stream at your convenience.
Not all VPNs are equal, especially when we compare free VPNs to premium ones. We tested a lot of VPNs in terms of speed, security, and unblocking capabilities.
So far, ExpressVPN tops the industry. It has servers in more than 94 countries and boasts several security features to protect your browsing activities.
However, as grand as it may be, ExpressVPN isn't the only one that passed our tests. You can check other top providers in the table below:


30-Day Money-back Guarantee
Unlimited Bandwidth
Apps For All Your Devices
24/7 Live Support
Visit ExpressVPN
Stream UFC 264 on Any Device
This part will show you a detailed step-by-step walkthrough on how you can stream the upcoming McGregor vs. Poirier fight on any device you may be operating:
Stream UFC on Desktop (PC or Mac)
To watch the fight on July 10th, 2021 using PC or Mac, follow the steps below:
Sign up with a VPN provider and download the app on your computer.
Connect to a server in a country where UFC is broadcasted.
Subscribe to a streaming service that shows UFC (If needed).
Launch the channel's website and start watching.
UFC 264 on Mobile (iOS and Android)
On your mobile device, you must do the following:
Create a VPN account and download the app.
Open your respective app store and download the chosen streaming application.
Connect to a server in the country where the channel is available.
Launch your channel's app.
Hit play and enjoy!
McGregor vs. Poirier on Apple TV
Apple TV's method differs from the ones above as it doesn't natively support VPNs. So, here's what you need to do:
Subscribe to a VPN with Smart DNS. (All the ones in the list above offer both services).
Open the App Store on Apple TV and download the channel's client.
Install the VPN on your router (Connect to a server) or configure Smart DNS on your Apple TV.
Finally, launch the channel and start watching.
Watch UFC 264 on Smart TV
If you have a Samsung/LG Smart TV, make sure to go through the following:
Subscribe to a VPN service.
Install the VPN on your router or set up Smart DNS on your TV.
Go to the TV's app store and download the channel's app.
Start watching McGregor vs. Poirier live anywhere.
Stream UFC on Android TV
Android TV's process is pretty simple. If you have Sony Bravia, HiSense, or Nvidia Shield, follow these steps:
Subscribe to a VPN service.
Download the VPN app and the channel's from Google Play Store.
Connect to your preferred server.
Launch the channel's app and start watching.
Stream live on Roku
This is how you stream UFC 264 on Roku:
Subscribe to a VPN service that has Smart DNS.
On your Roku, click on search and enter the name of the streaming service you subscribed to.
Now, set up the VPN on your router or configure its DNS settings.
Launch the channel's application and stream away.
UFC Live on PlayStation
Streaming UFC on PlayStation is very easy. This is what you need to do:
Create VPN account that has Smart DNS.
Install the VPN app on your router or set up the DNS on PlayStation.
Now, open the PlayStation Store and download your channel's app.
Start streaming UFC 264.
Live-Stream UFC 264 on Xbox
Get to watch UFC 264 on Xbox using the following:
Sign up for a VPN service that has Smart DNS.
Set up the VPN on your router or Smart DNS on your Xbox.
Download the channel's app from the store.
Stream UFC 264 live anywhere.
UFC 264: Poirier vs. McGregor 3 – Inside the Card
On July 10th, 2021, a lightweight trilogy between Dustin Poirier and Conor McGregor will take place at the T-Mobile Arena in Paradise, Nevada.
The two had their fair share of back-and-forth action in the past. During their first encounter, McGregor was able to pick up a win during the first round.
However, in their second collision, Poirier returned the favor by knocking McGregor out in the second round.
We don't know what the upcoming fight's outcome will be, but we do know that the winner would land a title shot against lightweight champion Charles Oliveira.
Until then, here's the full card of UFC 264:
Main Card
Dustin Poirier vs. Conor McGregor
Gilbert Burns vs. Stephen Thompson
Tai Tuivasa vs. Greg Hardy
Irene Aldana vs. Yana Kunitskaya
Sean O'Malley vs. Louis Smolka
Prelims
Carlos Condit vs. Max Griffin
Niko Price vs. Michel Pereira Lima
Sean Brady vs. Kevin Lee
Trevin Giles vs. Dricus Du Plessis
Early Prelims
Ryan Hall vs. Ilia Topuria
Jennifer Maia v. Jessica Eye
Omari Akhmedov vs. Brad Tavares
Zhalgas Zhumagulov vs. Jerome Rivera
Hu Yaozong vs. Alen Amedovski
Watch UFC 264 Live – The FAQ Section
We've practically answered all of your questions in the guide above. However, some die-hard UFC fans may have more, so we've also covered that:
Can I Watch UFC 264 for Free?
Free streaming is available through various third-party websites. We highly advise you not to use them. They lack quality, they might be hosted by hackers, and most importantly, they're illegal.
To watch UFC 264 for free, you can connect your VPN to a server in the Netherlands and use KIJK. It's an official channel that offers UFC free streaming.
Is Using a VPN to Watch UFC Legal?
The answer is Yes. Many streaming services address that using a VPN goes against their terms and conditions. However, it is not illegal.
Why Can't I Purchase UFC 264 on Fight Pass?
UFC Fight Pass is available almost everywhere. However, if you can't purchase a PPV on the platform, you're probably in a country where Fight Pass is blacked out due to the presence of a major TV broadcaster.
Is UFC 264 Available on Hulu Live TV or Amazon Prime Video?
Unfortunately, that's not the case. You won't find UFC 264 on any of these platforms. You can only watch them using the channels on our list.
Can I Watch UFC 264 on Kodi?
At the moment, there are no reliable sources to watch UFC on Kodi. You'll find dozens of unofficial add-ons, but we don't recommend that.
They're dangerous and illegal. So, keep visiting our page for further updates regarding Kodi's UFC streaming.
Watch UFC 264 Live Anywhere – Final Thoughts
The UFC revolutionized the fight business and today it stands as a premium global sports brand and the largest pay-per-view event provider in the world.
Fights between giants like McGregor and Poirier has set high bars for other competitors to parr with. Now, you have everything you need to stream the fight on July, 10th, 2021.
If you have any questions, you can simply drop us a line or two in the comment section below.