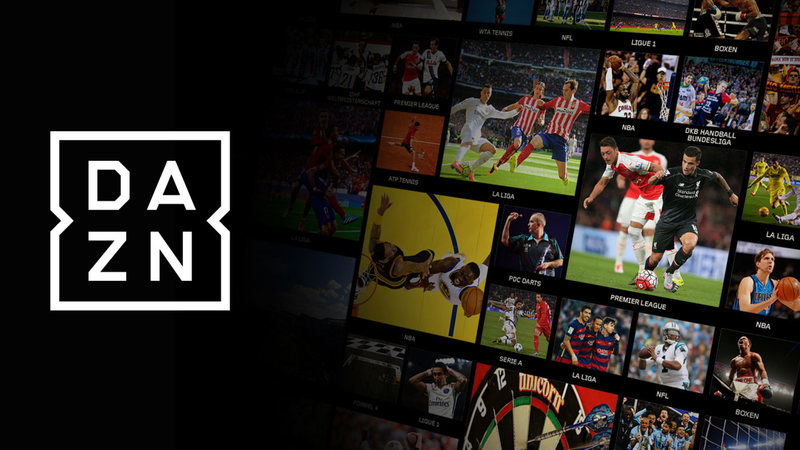 DAZN expansion plans postponed
DAZN only available in nine countries
Use a VPN to unblock DAZN from abroad
Smart DNS (Unlocator) - VPN alternative
Peak performance from an athlete during a game is often referred to as being "in the zone." It's most evident in basketball when a player is on a roll and scoring basket after basket. But for streaming sports fans, being in "da zone" has a whole different meaning.
DAZN (pronounced Da Zone) is a British-based streaming platform dedicated to sports, bringing you all the action from the most popular tournaments in the world. That includes the NBA, NFL, MLB, NHL, the Premier League, La Liga, Ligue 1, Bundesliga, Champions League, Serie A, UFC, and more.
The all-sports online platform isn't available everywhere, though. Only viewers who reside in Austria, Brazil, Canada, Germany, Italy, Japan, Spain, Switzerland, and the US can stream content. However, DAZN announced earlier this year that it plans to expand to over 200 countries.
Still, coverage and pricing differ according to each region, and some users might live outside DAZN's existing markets. Therefore, you could really use a handy tool like the VPN.
---
Content Overview
---
Step Inside DAZN
Dubbed "The Netflix of Sport," DAZN offers a wide range of sporting competitions, tournaments, and leagues. And although the service was founded in London, it was unavailable in the UK upon its release. DAZN first launched in Austria, Germany, Switzerland, and Japan in 2016, then in Canada a year later. It expanded to the US and Italy in 2018, followed by Spain and Brazil in 2019.
The online sports platform seeks to compete with industry titan ESPN and its OTT arm ESPN+. And as a real statement of intent, DAZN hired former ESPN President John Skipper as Executive Chairman in May 2018, following his shock resignation from the US sports network in December 2017.
Now, the streaming service offers a different catalog of sports to each region due to licensing agreements. DAZN cannot cover the English Premier League in the US, for example, because broadcasting rights belong to NBC Sport. And it's the same deal when it comes to other sports.
Even pricing depends on your geographic location, with DAZN offering different subscription plans to each country:
| | | |
| --- | --- | --- |
| | Monthly Plan | Yearly Plan |
| The US | $19.99 | $99.99 |
| Canada | $20 | $150 |
| Brazil | BRL37.90 | – |
| Germany | €11.99 | €119.99 |
| Spain | €9.99 | €99.99 |
| Italy | €9.99 | – |
| Switzerland | CHF12.90 | – |
| Austria | €11.99 | €119.99 |
| Japan | ¥1,750 | – |
DAZN's Global Expansion
Earlier this year, DAZN announced that it was going global, with plans to expand beyond the current nine countries to more than 200 territories. The first event that was supposed to launch DAZN onto the international scene was Canelo Alvarez's fight. However, it had to be postponed after the Coronavirus outbreak shut down all sporting events.
According to a press release, the streaming service's first phase of global expansion will focus on boxing. The company heavily invested in the sport, with the five-year, 11-fight, and $365-million signing of Alvarez speaking for itself. Furthermore, DAZN has international rights to several top promotional companies, such as Golden Boy Promotions, Matchroom Boxing USA, and GGG Promotions.
"Beginning this spring, most of the world will have access to DAZN and its unmatched schedule of boxing events."

John Skipper, DAZN Group Executive Chairman
But the COVID-19 pandemic put a dent in those plans, forcing DAZN to put everything on hold for now. It also told sports leagues that it would not make rights payments for canceled or postponed games, according to the Financial Times.
The paper also published an email that CEO Simon Denyer sent to his staff, in which he describes the Coronavirus as "the biggest disaster to hit the sports world in 75 years and the biggest challenge our business has ever faced."
So at the moment, DAZN is still only available in the above countries.
What to Watch on DAZN
DAZN is home to the most popular sports in the world, from soccer, basketball, and tennis to baseball, football, and boxing. You'll enjoy the latest action from sports' top divisions and quality games that guarantee entertainment. But as I mentioned earlier, the catalog may differ due to licensing agreements.
In a nutshell, here's what's available on DAZN:
Tennis
World Boxing Super Series
PDC Darts
Cricket
Formula One
MotoGP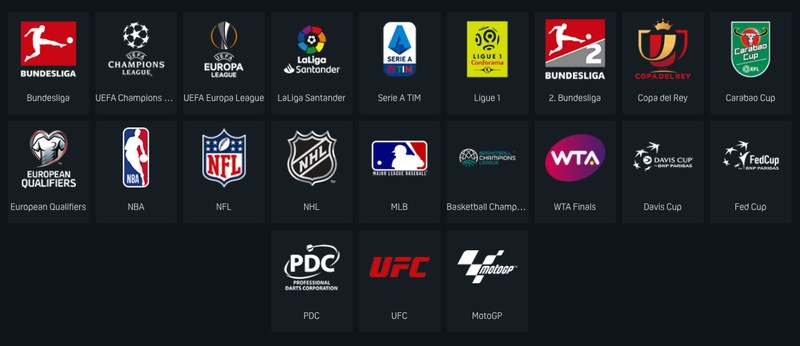 DAZN Device Support
Since it's solely a standalone streaming service designed for cord-cutters, DAZN allows users to watch content at home and on the go. You can access the website and install the app on pretty much any device and operating system, including:
Windows
Mac
Linux
Android TV
Apple TV
Amazon Fire TV
PS3
PS4
Chrome/Firefox
Chromecast
Roku
VIZIO Smart TV
---
What Happens When You Access DAZN from Abroad?
If you live outside the nine countries where DAZN is available, you'll find that content is geo-blocked. In other words, instead of streaming your favorite sports, the following location error message will appear on your screen:
"DAZN isn't available in this country."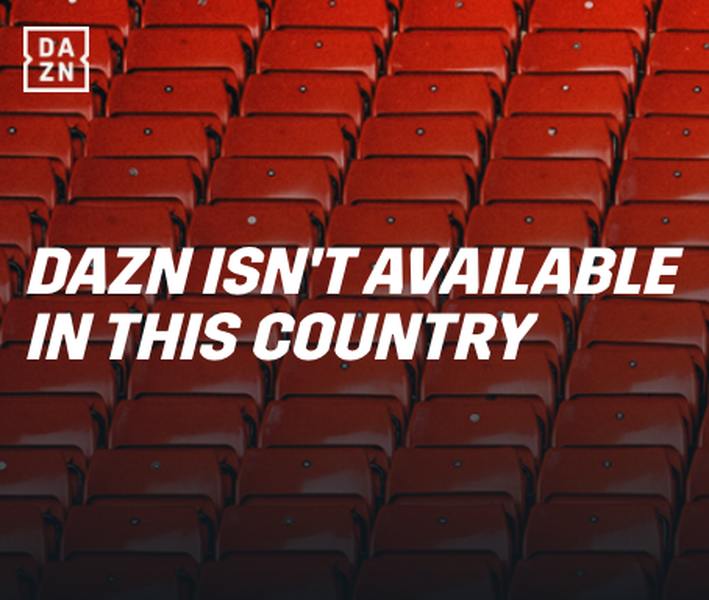 Streaming platforms use geo-blocks to prevent out-of-market viewers from watching content. When it comes to sports, each country or region has its own broadcaster that pays for rights to cover one or several competitions. In the UK, for example, Sky Sports, BT Sport, and Amazon Prime Video have Premier League broadcasting rights. But in the MENA region, only beIN Sports can show games from England's top football division, while in Canada, DAZN holds exclusive rights.
Now, DAZN and its peers can pinpoint your geographic location by looking at your IP address. To help keep track of their identity and whereabouts, the web assigns each user with an IP address. Once streaming services take a look at the latter and see that you are outside their market, they won't allow you to watch games and other videos.
Furthermore, in DAZN's case, each of the nine countries has a different library. So even if you live inside the platform's market and have a valid subscription, you may not be able to watch your favorite sports. In the US, for instance, ESPN is the exclusive home for UFC events, which means you can't stream any fight on DAZN. In Germany, meanwhile, the latter is a perfect choice if you're an MMA fan.
---
Stream Any DAZN Sport from Anywhere with a VPN
You can avoid any geo-restriction that DAZN and other similar platforms impose with a premium VPN. This tool operates a global network of private servers, allowing you to reroute your traffic instead of using the ones your ISP provides. Your VPN will also create a secure, encrypted tunnel through which your data travels before reaching its destination.
Moreover, when you connect to a VPN server, your IP address will change to match that server's location. In other words, if you connect to a German server, you'll get a German IP address. As a result, you'll be able to access any website restricted to that country, or in this case, unblock DAZN's Deutsch catalog.
Virtual private networks aren't just good for circumventing online restrictions, they're also ideal for privacy. The data encryption will keep hackers, ISPs, and government agencies off your back as none of them will be able to monitor your online activity. Also, websites won't be able to determine your actual location thanks to the IP address switching.
More VPN Benefits
You'll get a lot of benefits if you use a VPN service when you go online. For one, you can maintain your Internet privacy and anonymity, as well as unblock geo-restricted material. That's not all she wrote, however.
Here are some of the other advantages:
Zero-logs policy: Top providers don't keep records of your sensitive data and online activities. Information on your IP address, browsing history, and the websites you visit are all eliminated from VPN servers.
No ISP throttling: Your Internet service provider can't slow down your connection speed if your bandwidth consumption is high because it can't see what you're doing.
P2P support: Protect yourself from copyright holders by concealing your activities and location when you download copyrighted material via P2P networks.
Avoid censorship: You'll find a lot of blocked and banned websites in countries with strict Internet regulations. VPNs help you unblock these services by connecting to a server from another territory.
Unblock VoIP services: Call your friends and family back home for free using video call apps like Skype or WhatsApp Calling.
How to Install a VPN – Five Simple Steps
Unlimited access to DAZN is just a few steps away. VPNs have dedicated, easy-to-install apps for the majority of operating systems, covering all the major ones like Windows, macOS, iOS, and Android. Some are also compatible with Linux and Kindle Fire.
The only devices that don't have a VPN client are gaming consoles, Smart TVs, and routers. But you can manually set up a VPN on the latter machines if they have VPN support.
Follow these easy steps to watch DAZN from anywhere:
Subscribe to a premium VPN service that offers all the above features.
Go to the App Store or Google Play to download and install the app on your device. You can also do that directly from the VPN website if you're using a PC or Mac.
Once the installation process is complete, open the app and sign in with your new account.
Connect to a server from any of the nine countries where DAZN is available (Austria, Brazil, Canada, Germany, Italy, Japan, Spain, Switzerland, and the US).
Enjoy your favorite sports anytime, anywhere.
---
Best VPN for DAZN
VPN lesson one number one: Not all VPNs are the same. Each brand offers a different set of features, and just like any other product, you have the good, the bad, and the ugly.
Free VPNs mostly belong in that last bracket, yet somehow, people tend to favor them over their paid counterparts. Yes, consumers are more tempted not to spend money on a VPN service, especially if they're using it for unblocking purposes. But in light of recent privacy breaches, people are now more privacy-conscious, and they should be.
You see, these VPNs may offer their services for free, but they make money by collecting and selling your data. That includes the websites you visit, browsing history, IP addresses, and much more. Third parties like advertisers are interested in such information because it helps them deliver targeted ads to users.
Even those who aren't concerned with what data they share are getting the wrong end of the stick. Free VPNs have a small server network and thus, limited unblocking capabilities. Furthermore, their servers are quite slow, meaning you'll encounter buffering issues when streaming live sports in HD.
Therefore, use a paid VPN service to maximize your online experience. The below suggestions are two of the best providers on the market.
ExpressVPN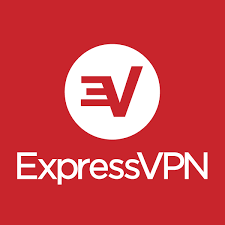 Although ExpressVPN is slightly more expensive than its peers, it covers every area with excellent scores, from privacy and security to unlimited access and speed.
The company has over 3,000 servers across 160 locations in 94 countries. This broad network provides thousands of IP addresses, allowing users to bypass geo-blocks with ease and access restricted content. Servers are also quite fast, which makes them ideal for streaming sports and torrenting activities.
When it comes to privacy, ExpressVPN follows a proven no-logging policy and uses AES with 256-bit keys – military-grade encryption that top government agencies like the NSA use to protect classified information. And for extra safety, there's an automatic kill switch inside the app that disconnects you from the Internet in case the VPN connection drops. That way, your data won't leak to your ISP's servers.
ExpressVPN apps are compatible with Android, iOS, Mac, Windows, Linus, and Kindle Fire. The company allows five simultaneous device connections per account and offers a 30-day refund policy.
For more information about ExpressVPN, check out the full review.
Pros
AES-256 encryption.
No-logs policy.
Kill switch and DNS leak protection.
Speedy servers.
Broad server network.
Works with the majority of streaming platforms.
Five simultaneous devices per account.
30-day refund policy.
Cons
Slightly more expensive than its peers.
---
BulletVPN
Another VPN service that is similarly astonishing and works quite well for DAZN is BulletVPN. The company is based in Estonia, outside Five-Eyes jurisdiction, and offers pretty much the same features as ExpressVPN, but for a more affordable price. That includes AES-256 encryption, a no-logs policy, and a kill switch.
What's unique about this service is the optional BulletShield feature, which works conjointly with the kill switch. Enabling it won't give you Internet access unless you're connected to a BulletVPN server.
BulletVPN also offers a 30-day money-back guarantee and allows up to six simultaneous device connections per account. You can install it on Mac, Android, Windows, and iOS, while also benefiting from a free Smart DNS proxy service.
The only area that needs improving is the small server network BulletVPN operates. Nonetheless, it still covers all the important locations, like the US, Canada, the UK, Germany, Italy, Spain, Japan, Australia, and South Africa. In other words, you'll still be able to unblock your favorite services. In fact, BulletVPN is one of the few providers that still work with DStv.
See our BulletVPN review for the full details.
Pros
Fast servers.
Military-grade encryption.
Zero-logs policy.
Kill switch + BulletShield.
Six device connections at the same time.
30-day money-back guarantee
Cons
Smaller server network than other providers.
---
Other Top VPNs to Consider
In addition to the above providers, we rounded up other leading VPNs in the industry to broaden your options. The following table features the best four VPN services to install on your device, whether to unblock streaming platforms like DAZN or safeguard your online wellbeing.


30-Day Money-back Guarantee
Unlimited Bandwidth
Apps For All Your Devices
24/7 Live Support
Visit ExpressVPN
---
Smart DNS – VPN Alternative
Some users only have one goal in mind – unblocking DAZN from abroad. They don't give online privacy much thought and aren't bothered by leaving digital footprints all over the web. If you're one of them, you can resort to an alternative method to access DAZN: Smart DNS proxy.
This tool only redirects the URLs that expose your location, without affecting the rest of your traffic. It only works with specific platforms, though, as each service has a list of supported streaming channels. Furthermore, Smart DNS proxies don't encrypt your traffic nor change your IP address. Nonetheless, they can still get the job done, which is why a lot of people prefer them over VPNs.
Pros
No speed drops.
More affordable than a VPN.
Compatible with the majority of operating systems (including routers, smart TVs, and gaming consoles).
Cons
No encryption.
Exposed IP address.
Limited unblocking capabilities.
---
Unlocator – Best Smart DNS for DAZN
Since Smart DNS proxies don't offer much except bypassing geo-blocks, the best thing you could do is choose a service with vast channel support. Unlocator, for instance, can unblock more than 220 streaming service, including DAZN, ESPN+, BT Sport, and beIN Sports, as well as Hulu, Disney+, HBO Go/Now, and BBC iPlayer.
The company even introduced a VPN product as of late, giving you the opportunity to enjoy both privacy and Internet access with Unlocator Hybrid. and no matter which subscription plan you choose, you'll benefit from a one-week free trial without having to submit your credit card credentials.
Here's how you can watch DAZN with Unlocator:
Visit Unlocator and sign up for your 7-day free trial. You don't need to provide credit card details during that period, just a valid email.
Follow the setup guides and videos on the Unlocator website to easily set up the service on your device.
You can configure Unlocator on iOS, Android, Mac, Windows, Linux, routers, PlayStation, Xbox, and Smart TVs.
Don't miss another match no matter where you are.
---
Watch DAZN from Anywhere – Final Words
Although DAZN is planning to go global, using a VPN to unblock the service is the best course of action. One, the expansion plans have been postponed due to the Coronavirus pandemic (with no cure in sight in the near future). Two, DAZN has different sport catalogs for each region, which means you might miss your favorite competitions if you're overseas.
Therefore, use a reputable VPN or Smart DNS service to bypass geo-restrictions and access DAZN from anywhere in the world.
Which sport do you enjoy most on DAZN? Let us know below.