VPN Unlimited is a product of KeepSolid Inc., a New York-based company that specializes in privacy protection. Vasily Ivanov, Oleg Bocharnikov, and Vasily Diakonov established the company in 2013, which was then known as Simplex Solutions. In the beginning, the VPN was only available on iOS devices. A year later, the company extended its apps to cover macOS, Android, Windows, and Linux operating systems.
The company rebranded in 2015, changing its name to KeepSolid. It introduced new features to its VPN service, as well as new products as well. Today, VPN Unlimited operates more than 400 servers across 80+ locations, according to the website. That's quite the jump after it started with just two servers in the US and the Netherlands.
In 2017, PCMag awarded VPN Unlimited Editors' Choice winner for iPhone VPN apps, arguing that it's affordable, user-friendly, and fast. Users also seem to praise the VPN service on several user-review websites, earning mostly excellent ratings on most of them.
Therefore, we examined VPN Unlimited to see if it lives up to the hype. The VPN went through our eight-step evaluation process, which is a string of unbiased and thorough tests.
---
Content Overview
---
| | |
| --- | --- |
| FEATURE | AVAILABILITY |
| Money-back guarantee | 30 days |
| Allowed simultaneous connections | Five devices (you can increase it to ten for extra money) |
| Supported streaming services | US Netflix, Hulu, HBO GO/Now, BBC iPlayer. |
| No-logs policy | Yes |
| Encryption | AES with 256-bit keys |
| Protocols | OpenVPN, IKEv2, KeepSolid Wise protocols, and Wireguard |
| Special features | kill switch, lifetime VPN subscription, Split-tunneling, Personal Server, Personal IP, and DNS Firewall. |
| Customer support | Live chat, support ticket, and email |
| Server locations | 400+ servers across 80+ locations (54 Countries) |
| P2P support | Yes |
| Server switches | Unlimited |
| Data traffic | Unlimited |
| Compatible devices | Windows, Mac, iOS, Android, and Linux, in addition to Chrome, Firefox, Opera, and Edge browser extensions |
| Legal Jurisdiction | USA (inside Five-Eyes jurisdiction) |
| Free trial | One week |
---
VPN Unlimited Quick Verdict – Pros and Cons
If you don't have time to go through our full detailed review, here's a quick summary of what this VPN offers.
VPN Unlimited is a US-based service located in New York, which is a bit worrying. The country is part of the Five-Eyes alliance, a cooperation between several nations in the field of intelligence and data monitoring and retention. Therefore, any company operating inside these jurisdictions must hand in user data upon request.
Another privacy-related matter that might alarm some customers is data collection. VPN Unlimited logs sensitive data like IP addresses, device and Wi-Fi network names, and session dates. However, according to KeepSolid's privacy policy, the VPN only stores this information for the duration of your session, which isn't bad.
Additional privacy features include AES-256 encryption, the most secure algorithm on the market, and a VPN kill switch. The latter will protect you from data leaks by disconnecting your device from the Internet in case the VPN malfunctions.
In other fields, VPN Unlimited operates more than 400 servers across 80+ locations. It's not the broadest network we've seen, but it covers almost every region. Moreover, these servers can unblock the majority of streaming platforms, including US Netflix, Amazon Prime Video, Hulu, and BBC iPlayer. As for speed rates, they are average.
Pros
Excellent unblocking capabilities.
Vast server network.
P2P support.
30-day refund policy.
AES encryption with 256-bit keys.
A kill switch.
No-logs policy.
DNS Firewall.
Multiple browser extensions.
24/7 live chat support.
Various subscription plans.
High device compatibility.
Five or ten simultaneous device connections.
Multiple VPN protocols.
7-day free trial.
Cons
Separate Smart DNS service.
Based in the US.
---
Interface and Design
Before testing VPN Unlimited's apps, we took a look at its website to see what it has to offer. The homepage displays the benefits of subscribing to the service, which include security, privacy, and malware detection. As you continue to scroll down, you'll find more information about device compatibility, server locations, and user and expert reviews. And at the bottom right of the page, there's a chat button that allows you to contact customer support.
Meanwhile, at the top and bottom of the homepage, you'll find several links to additional features and information. They include pricing, extras, downloads, help page, privacy policy, and company history. We always advise our readers to do their homework before subscribing to a VPN, and the best way to do that is by visiting the website and reading user reviews.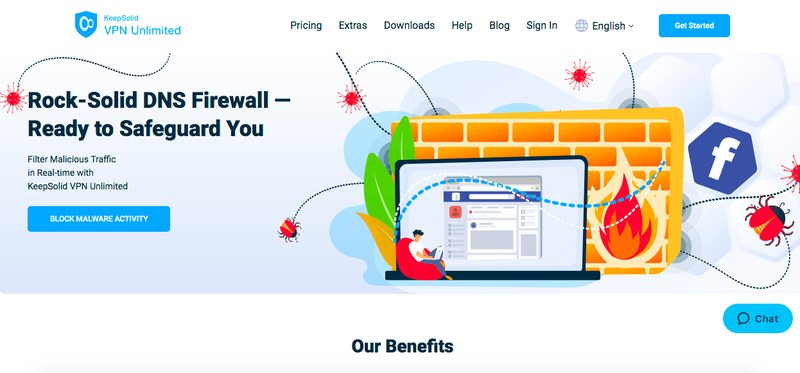 Desktop Client
We first tested the VPN Unlimited Mac application, which we thought was well-designed and easy to use. After you launch the app and log in, you'll find a connect button with a server location underneath. At the top, the VPN displays your actual IP address, while a world map in the background shows where you are.
If you press connect, the VPN will connect you to the server location that's on display at the bottom of your screen. You'll also find two boxes: The blue one reveals your real location, while the green one shows your virtual IP address that VPN Unlimited provides.
To change servers, simply click on the server location, which will take you to the complete server list. What we really liked is that VPN Unlimited divides servers into three categories: Favorites, general, and streaming. The latter provides special servers for streaming, which is usually a popular purpose for using a VPN.
On the top left of the home screen, there's a hamburger icon that leads you to the menu. From there, you can choose from four tabs: My account, settings, information, and support. To activate certain features or change VPN protocols, go to settings.
Mobile App
Next, we gave VPN Unlimited's Android app a test drive, which was pretty much identical to the Mac application. After you sign in, you'll see a connect button with a server location underneath it. The app will display your actual and virtual IP addresses once you connect to a VPN server. The list of server locations is divided into four categories: Favorites, general, torrent, streaming.
And if you want to enable features like the kill switch, hit menu on the left of the screen, then go to settings. Besides the latter, you can also choose from My account, information, and support.
VPN Unlimited earned an excellent 4.5/5 rating from users on Trustpilot. It holds the same score on the App Store and an impressive 4.2 stars on Google Play.
"Most stable and great VPN Service I know. Tried before some others, but VPN Unlimited is always enabled on my iPhone, Asus Router to protect all my devices behind the router."

Peter, VPN Unlimited user on Trustpilot
App Compatibility
You can download and install VPN Unlimited on the majority of operating systems. The service has compatible apps with Mac, Windows, Linux, iOS, and Android. But what is really impressive is their browser extensions, which you can add to Chrome, Firefox, Opera, and Edge.
VPN Unlimited allows you to connect up to five device connections at the same time using one account. But for an extra price, you can bump that number to ten simultaneous devices per subscription.
---
VPN Unlimited's Server Network
Most premium VPN services offer thousands of servers, with a network that spreads across almost every region. Other services don't operate as many servers, but they have a presence in every continent in the world. VPN Unlimited is one of the latter services, yet its server count isn't that low. And when you consider the number of locations, bypassing geo-blocks won't be a problem.
According to the website, the company operates more than 400 servers in more than 80 locations, which is decent coverage.
Here's a list of all the countries where VPN Unlimited has a presence:
EUROPE
Austria
Belarus
Belgium
Bosnia and Herzegovina
Bulgaria
Croatia
Cyprus
Czech Republic
Denmark
Estonia
Finland
France
Germany
Greece
Hungary
Iceland
Ireland
Isle of Man
ASIA, AFRICA, AND PACIFIC
Australia
New Zealand
Hong Kong
India
Israel
Japan
Malaysia
Singapore
South Korea
Thailand
Turkey
UAE
Vietnam
Libya
South Africa
Italy
Latvia
Lithuania
Luxembourg
Moldova
Netherlands
Norway
Poland
Portugal
Romania
Serbia
Slovakia
Slovenia
Spain
Sweden
Switzerland
UK
AMERICAS
Brazil
Canada
Chile
Costa Rica
Mexico
US
---
VPN Unlimited Speed Tests
One of the most essential VPN features is speed. As you may know, virtual private networks consume part of your connection due to the encryption algorithm in use, as well as the rerouting process. But despite all of that, elite VPNs keep the speed drop to a minimum by providing fast servers. As a result, you will continue with your online activities without any inconvenience.
With all that in mind, it was time to see how fast VPN Unlimited was through a series of speed tests.
First test: No VPN connection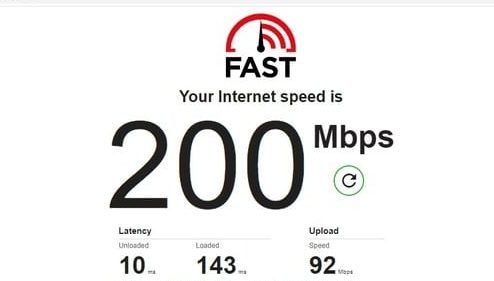 To have room for comparison, we had to find out how fast our Internet speed was, which is why our first test was without a VPN connection.
Second test: Nearby French server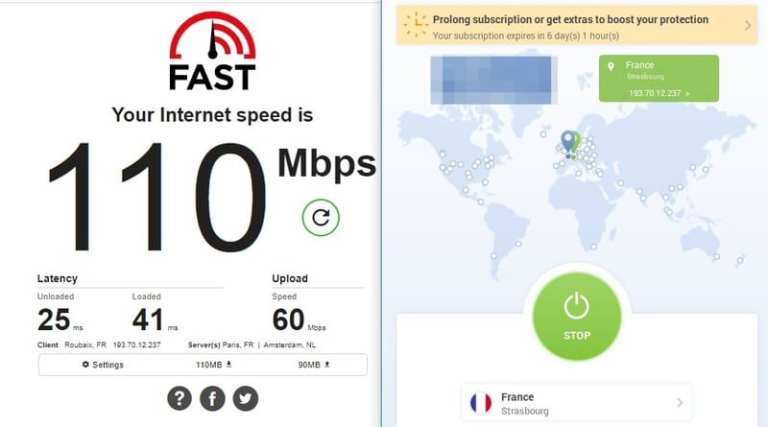 The first VPN Unlimited server we connected to was inside France, which is near our actual location. Speed rates dropped by almost 50% to 110 Mbps, which isn't that bad when you compare it to other VPNs we've tested.
Third test: UK server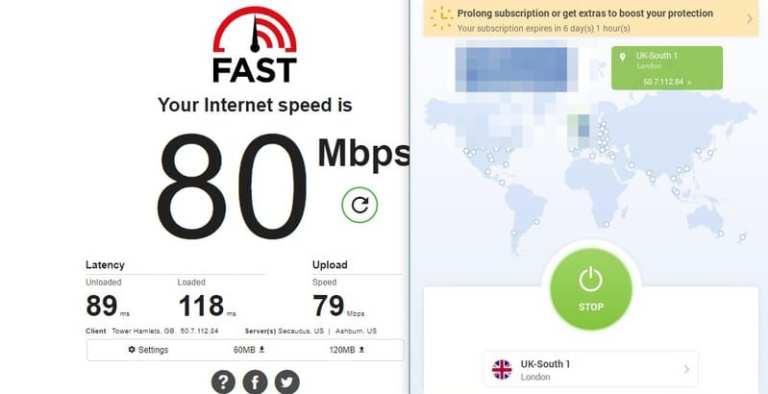 Then, we connected to a server that's a bit further to our location, and as expected, speed decreased even further, but not by much.
Fourth test: US server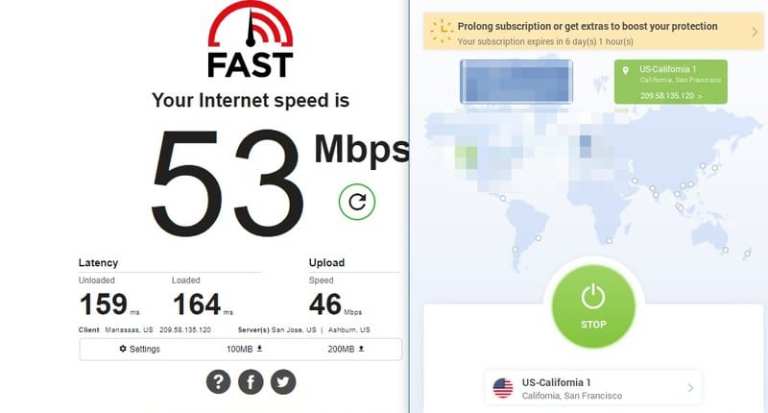 Finally, we picked a distant server located on the US West Coast. We also selected an American server because it's a popular location, as the country is home to the most in-demand streaming platforms. As you can see, speed dropped even further. It's almost 75% slower than our regular connection speeds.
What's the Verdict? Is VPN Unlimited Fast?
To say that VPN Unlimited is not the fastest VPN we've tested would be an understatement. We expected speed levels to decrease when using the service, but not by that much. For example, connecting to a nearby server should ensue faster rates since your traffic isn't traveling far from your location. But the tests showed a slump of almost half.
As for the distant American server, a drop of more than 75% isn't a result you want to see. Nonetheless, if you have a fast Internet connection like this one, you'll still be able to browse the Internet without any speed issues.
---
Can VPN Unlimited Access Streaming Platforms?
Bypassing geo-restricted content is one of the main reasons why people resort to virtual private networks. You see, the Internet may be home to an unlimited supply of resources, but it's not as open as you think.
For example, popular streaming platforms like BBC iPlayer are only available inside the United Kingdom. Other similar services like Hulu and HBO Go/Now are accessible from the United States alone. Meanwhile, Netflix and Amazon Prime Video, which you can access from almost anywhere, offer different libraries depending on your region.
That's all because it's difficult (and expensive) for these services to acquire the necessary licenses to make their content available worldwide. Therefore, they use geo-restrictions to block users who live abroad after locating them through their IP addresses.
But after people started using VPNs to bypass these restrictions, streaming services started blacklisting VPN IP addresses. As a result, not all providers can give you access to the platforms you're looking for.
Does VPN Unlimited work with these platforms or not?
Netflix and Amazon Prime Video
As we mentioned earlier, VPN Unlimited divides its servers into several categories, one of which is streaming. It means that the provider has dedicated servers for streaming platforms, which is why we were able to access Netflix US, Hulu, HBO Go/Now, Disney+, Amazon Prime Video, and every other American-restricted channel.
BBC iPlayer
The British Broadcasting Corporation's streaming service, the BBC iPlayer, is strict in terms of who can view its content. A lot of VPNs have trouble bypassing its geo-blocks as the platform can identify that you're using a virtual IP address. However, VPN Unlimited managed to unblock the service as soon as we connected to one of the dedicated servers.
We were very impressed with VPN Unlimited's unblocking capabilities and how easy it is to access streaming services. Once you select the appropriate server category, you'll find a list of several channel options. Simply click on the video icon next to the streaming platforms and VPN Unlimited will open the website of the relevant service on your browser.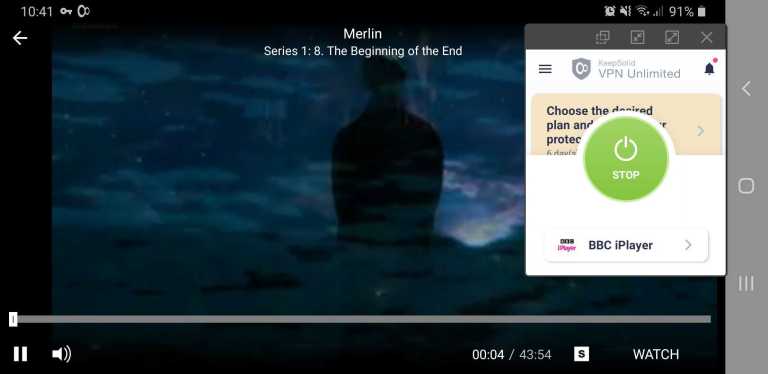 Smart DNS Proxy
VPNs aren't the only tools that can bypass online restrictions. Smart DNS proxies can also accomplish this feat by only rerouting the URLs that reveal your location, leaving the rest of your traffic intact. But privacy-oriented users won't enjoy these tools much as they don't hide your IP address nor encrypt your traffic.
The reason why several VPN services offer Smart DNS proxies is because not all devices support VPN clients. Gaming consoles and Smart TVs, for example, are not compatible with virtual private networks.
Now, VPN Unlimited is a product of KeepSolid, a company that owns other services as well. One of those is KeepSolid Smart DNS. But we were disappointed that the company does not offer the Smart DNS proxy as part of VPN Unlimited. In other words, you have to subscribe to the service separately.
---
VPN Unlimited P2P Support
Torrent websites like The Pirate Bay are blocked in several countries as P2P file-sharing activities are considered illegal. Users who download files through torrent clients face Internet connection termination, fines, and sometimes jail time. That is why they need VPNs the most.
Virtual private networks prevent authorities and copyright holders from identifying and locating users. By hiding your IP address and encrypting your traffic, you'll be able to download files like movies, shows, music, and games securely and privately.
We contacted VPN Unlimited's customer support team to see if they allowed torrenting on their servers. The response was that the majority of the servers don't support P2P downloads, with the exception of the following servers:
US – California 1
Canada – Ontario
Romania
Luxembourg
France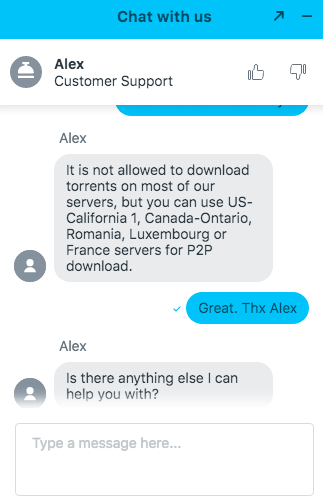 ---
Security and Privacy
All the features that we mentioned in our review are crucial for VPNs. But the most important one is related to security and privacy. After all, a virtual private network's main job is to maintain your privacy by encrypting your activities and not keeping any logs.
So what does VPN Unlimited Offer in this domain?
Company Headquarters
We start with the VPN's base of operations, as it could be an important privacy factor. If the company is located in a country that is part of the Five, Nine, or 14-Eyes alliances, you could be in trouble. That's because any firm operating within these jurisdictions must hand in user information upon government request.
And these countries focus on monitoring data over the Internet. Furthermore, they share this information with each other. The US and the UK were the first to cooperate, with other nations joining afterward.
Here are the countries that consist the alliances:
Five-Eyes: US, UK, Australia, Canada, and New Zealand.
Nine-Eyes: Five Eyes countries plus Denmark, France, Netherlands, and Norway.
14-Eyes: Nine Eyes members plus Belgium, Germany, Italy, Spain, and Sweden.
There are additional nations that cooperate with these alliances, like Israel, Japan, and Singapore.
Now, VPN Unlimited is based in New York, USA, a country that co-founded the Five Eyes. Some find this a bit disturbing, while others don't give it much thought as long as there's a no-logs policy.
Zero-logs policy
According to KeepSolid, VPN Unlimited's parent company, the VPN does not collect or store any data about your online activities. That includes your browsing history, web destinations, and server usage. The company also does not log your IP address after the end of your session. However, they collect some information when you use the service, including:
IP address
Browser type and operating system
Device name, code, manufacturer, and language
Time zone, connection type, WiFi network name
Country
The total amount of web traffic for each session and session dates (Certain products only).

But the company ensures that they delete this information once you end your session.
"Certain personal data collected by us automatically (i.e. IP address, connection type, browser type and operating system) is stored only for the duration of your session in the VPN Services."

KeepSolid privacy policy
Encryption
Data encryption protects your traffic from the prying eyes of ISPs, government agencies, and hackers. It means no one will be able to monitor your online activities. But there are several encryption algorithms on the market. Premium VPNs use the Advanced Encryption Standard with 256-bit keys, better known as AES-256.
To breach it, you would have to go through trillions of possible combinations, something that's impossible so far.
VPN Unlimited uses AES-256, meaning your data have the most secure encryption. Furthermore, the VPN offers five VPN protocols: OpenVPN, L2TP/IPSec, IKEv2, KeepSolid Wise protocols, and Wireguard. The latter ensures more online freedom and security, respectively.
Kill Switch and Leak Protection
VPN Unlimited offers a kill switch with all its VPN apps. You can activate the feature manually by clicking "Menu," followed by settings. This is a crucial tool to have as kill switches are your last line of defense. They prevent your traffic from going through your ISP's servers by disconnecting your device from the Internet. That way, no one can monitor your online activities.
Moreover, we tested VPN Unlimited for any potential leaks by connecting to a US server, then using an IP checker. As you can see from the image below, the IP address on display is American, as it should be. There is also no evidence of any WebRTC leaks neither.
Additional Features
In addition to these features, VPN Unlimited offers unique features for users, including:
Malware detection: VPN Unlimited can detect malicious websites and other malware, thanks to the DNS Firewall.
Personal server: You'll enjoy more speeds, increased protection, and greater Internet access with this feature. Plus no one will know that you're using a VPN.
Personal IP: Avoid undeserved bans by purchasing your own VPN Unlimited IP address.
---
VPN Unlimited Customer Support
Every reputable VPN service must have a responsive and knowledgeable customer support service. That means they must provide quick and precise answers to any question users may have. But that's not all. Top VPNs must be available round-the-clock through multiple channels so that people can contact them at any time.
You can reach VPN Unlimited via email, support ticket, and live chat, which is available 24/7. But sometimes, you can find the answer you're looking for in the help page, which includes guides, manuals, and FAQs.
We tried VPN Unlimited's live chat feature, and we thought it was good enough. The team was professional and knowledgeable, while response time was fast. The only problem was that it took them a few minutes to answer our first question, even though we were first in line. But once we heard back from them, they immediately started answering our remaining questions.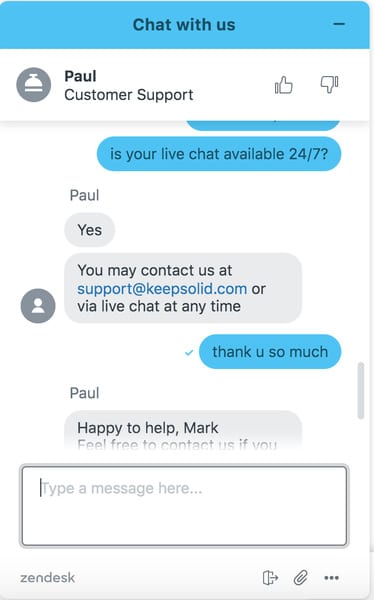 ---
How Expensive Is VPN Unlimited?
Price is the most important VPN factor for some VPN users. In fact, a lot of people prefer not to spend money on a service that they can get for free. That is why you'll find a lot of free VPN providers. And some of them have hundreds of millions of subscribers.
However, we strongly recommend you avoid these VPNs as you'll end up paying with your privacy and security. These brands collect your sensitive data and sell it to third parties, which is how they stay in business. Furthermore, most of them don't use encryption algorithms, meaning your ISP can monitor what you're doing.
VPN Unlimited is a paid VPN service with premium-level privacy features. It offers plenty of subscription plans, depending on how many simultaneous device connections you want. These packages are divided into monthly, yearly, and three-year plans, in addition to a lifetime plan:
FIVE DEVICES:
Monthly plan: $9.99/month
Annual plan: $59.99/Year, equalling $5/month
Three-year plan: $99.99/Year, equalling $2.78/Month
Lifetime plan: $199.99, billed once

TEN DEVICES:
Monthly plan: $14.99/month
Annual plan: $89.99/year, equalling $7.50/month,
Three-year plan: $149.99/year, equalling $4.17/month
Lifetime plan: $299.99, billed once

Other Subscription Plans
In addition to the above packages, VPN Unlimited offers different and unique subscription plans to its extra features. The personal VPN server will cost you $19.99 per month and features 100 Mbps speed, 2GB RAM, and single-core CPU. Meanwhile, the personal IP has a price tag of $14.99/month.
Moreover, you can extend the number of simultaneous devices by one, five, or ten devices:
| | | | |
| --- | --- | --- | --- |
| | MONTH | YEAR | LIFETIME |
| ONE DEVICE | $0.99 | $9.99 | – |
| FIVE DEVICES | $2.99 | $29.99 | $99.99 |
| TEN DEVICES | $5.99 | $59.99 | – |
VPN Unlimited for Teams
You can also benefit from VPN Unlimited's packages for teams if you want to secure your business data. VPNs are essential tools for companies and firms, especially if employees have to work remotely.
| | | | |
| --- | --- | --- | --- |
| | MONTHLY | ANNUALLY | LIFETIME |
| 5 ACCOUNTS – 25 DEVICES | $19.99 | $99.99 | $499.99 |
| 20 ACCOUNTS – 100 DEVICES | $79.99 | $399.99 | $1,999.99 |
Payment Methods
You can subscribe to any VPN Unlimited plan via credit cards, PayPal, and Bitcoin. You'll get a 10% discount if you choose the second option, while the cryptocurrency method guarantees total anonymity and privacy.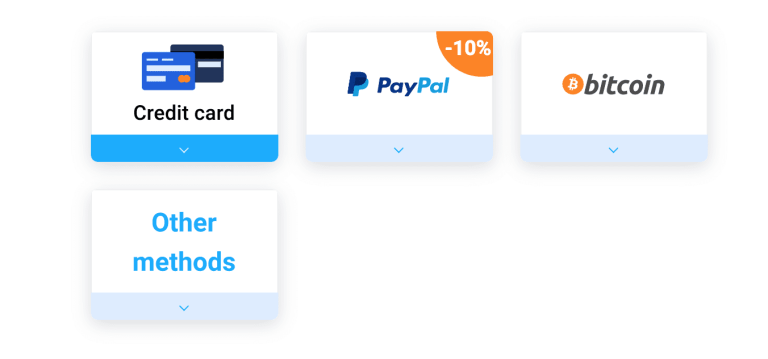 Refund Policy and Free Trial
All subscription plans come with a 30-day money-back guarantee, which is practically what other VPNs offer. However, VPN Unlimited also allows you to fully test its services before committing to any purchases, thanks to the 7-day free trial.
---
The Final Verdict on VPN Unlimited
You could do a lot worse than VPN Unlimited. This VPN is one of the best providers when it comes to bypassing restrictions, giving you access to all the popular streaming platforms. You can even use some of its servers for downloading files through peer-to-peer networks. Furthermore, the apps are well-designed and easy to use, and there are plenty of subscription plans to choose from.
And let's not forget about the free trial, as well as all the security and privacy features on offer.
However, just like any other service, there are areas that VPN Unlimited should improve. That includes adding a Smart DNS proxy, extending its server network, and improving speed rates. The fact that it's headquartered in the US is also a privacy issue, but the no-logs policy takes care of that.
Overall, we think VPN Unlimited is a decent VPN that is worth considering.
What did you think of VPN Unlimited? Let us know below.