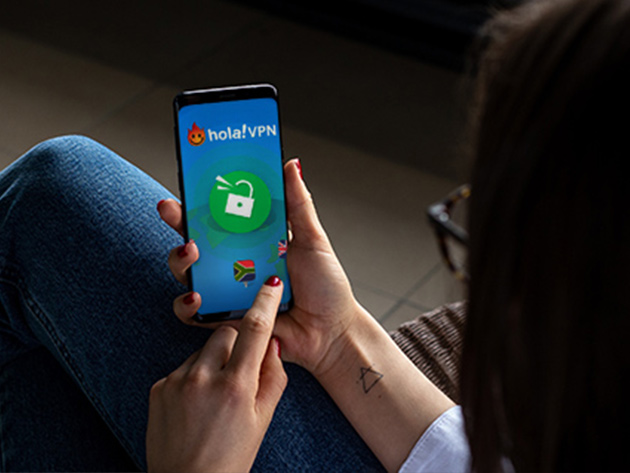 Hola VPN is one of the most famous freemium providers on the market. It gathered more than 180 million users ever since its launch in 2012. Hola is not your regular VPN service, acting more as a peer-to-peer network than an actual virtual private network. It works by sharing the bandwidth of its users instead of rerouting their traffic through servers.
In other words, you'll be using someone else's IP address, while another Hola user gets to use yours. Furthermore, and unlike any other VPN service, Hola does not have servers, nor does it encrypt your traffic. It routes your traffic through other peers who are part of its network.
So in short, maybe this isn't the best VPN service for privacy and anonymity. In fact, Hola VPN is surrounded by controversies and criticism from industry experts and researchers. But what about its other features?
Hola VPN prides itself as "the first community-powered or peer-to-peer VPN," claiming it can unblock 99% of websites, bypass censorship, and offer competitive speeds. And since this is a popular VPN with hundreds of millions of users, we decided to examine through a series of unbiased tests, based on our VPN evaluation criteria.
---
Content Overview
---
FEATURE
AVAILABILITY
Money-back guarantee
30 days (for Hola VPN Plus – paid version)
Allowed simultaneous connections
Unlimited devices for the free version
Ten devices for Hola VPN Plus
Supported streaming services
US Netflix, Amazon Prime Video, Hulu, BBC iPlayer, and more.
No-logs policy
No
Encryption
No
Protocols
IKEv2 (According to their website/ Premium Plan)
Special features
Ad-blocker, Hola Accelerator, Hola Browser.
Customer support
Email and telephone support
Server locations
Peer-to-peer network – No servers
P2P support
No
Server switches
N/A
Compatible devices
iOS, Android, Windows, Mac, Chrome, Firefox, Internet Explorer, Edge, and Opera
Legal Jurisdiction
Israel
Free trial
Free version
---
Hola VPN Pros and Cons
We can't say that Hola VPN is a virtual private network service. It does not operate a grid of servers through which it reroutes your traffic. Instead, it redirects your traffic through other Hola users, acting as a customer-supported P2P network. This process won't slow down your Internet connection as regular VPNs do, but it also does not provide the same privacy and security.
Once you choose a country from Hola's locations list, the service will allow you to use someone else's IP address and bandwidth. At the same time, another user might use yours. Moreover, Hola won't encrypt your traffic, meaning ISPs and government agencies will be able to monitor what you do online.
The only positive outcome that comes from such a lack of privacy is speed. In fact, Hola VPN offers very little advantages other than fast connections. They include high device compatibility, user-friendliness, and free services. Other than that, Hola is generally poor in all departments. It keeps records of your sensitive data, allows premium users to access your online connection, and is inconsistent when it comes to unblocking streaming services.
In fact, the only way to access different Netflix libraries, as well as Hulu and BBC iPlayer, you'll need to subscribe to Hola VPN Plus. And even then, it's a hit and miss, meaning your attempts won't always be successful.
Pros
Fast speed rates.
Compatible with the majority of operating systems.
Easy to use.
Free (with paid version)
Cons
Logs sensitive information.
Very expensive.
No encryption.
Inconsistent unblocking capabilities.
No P2P support.
Allows users to use your connection and IP address.
Poor customer support.
No privacy features.
Is Hola VPN Safe to Use?
Simply put, Hola VPN is one of the worst VPN services (if you can call it that) in the industry in terms of privacy and security. The fact that it shares the "idle resources of its users" is a huge red flag on its own. Add to that the logging of your sensitive data, like IP address and web destinations, and the absence of traffic encryption, and you got yourself a very intrusive VPN.
As a matter of fact, you're better off without Hola. At least no one will use your IP address or have access to your Internet connection. The company came under heavy fire multiple times after experts and researchers criticized its entire operations.
Researchers from Trend Micro said that while Hola VPN markets itself as a community-powered P2P VPN, where users help each other make the Internet more open and private, that may not be a good thing.
"Hola VPN is being marketed as a community VPN: Internet users are told they can help each other to access websites freely and without censorship by sharing their Internet connections. This may sound like a noble initiative, but in reality, the Hola VPN service poses severe risks to the Internet community in a number of ways."
The Trend Micro report argues that the absence of encryption may lead to man-in-the-middle attacks as cybercriminals will be able to intercept your traffic. Moreover, it could also lead to user IP address leaks.
"Hola VPN is not a secure VPN solution — rather, it is an unencrypted web proxy service."

Trend Micro
Given all these concerns, one might wonder why Hola is so popular. Well, first of all, it is advertised as a free unblocker/proxy/VPN service. However, it isn't free at all, given that its users have to give up their personal data in addition to a part of their WiFi or mobile data in exchange for using Hola.
Hola became particularly popular back in the days when unblocking various Netflix regions was pretty straightforward. Netflix though started actively blocking services that enabled users to access Netflix libraries other than their own.
Hola's popularity can also be attributed to the fact that many netizens either are indifferent or simply ignorant when it comes to their online privacy and security.
---
Interface and Design
We first checked out Hola VPN's website, which had a nice design and plenty of information. The homepage features details about the VPN's unblocking capabilities, device support, features, and Hola VPN Plus. There are also shortcuts at the bottom of the page with more details about the service.
Surprisingly, Hola does not have a live chat feature at the bottom of the homepage. The majority of the VPNs we tested include a button to quickly contact customer service. Instead, the only way you can reach client support is by clicking the contact shortcut at the very bottom of the page.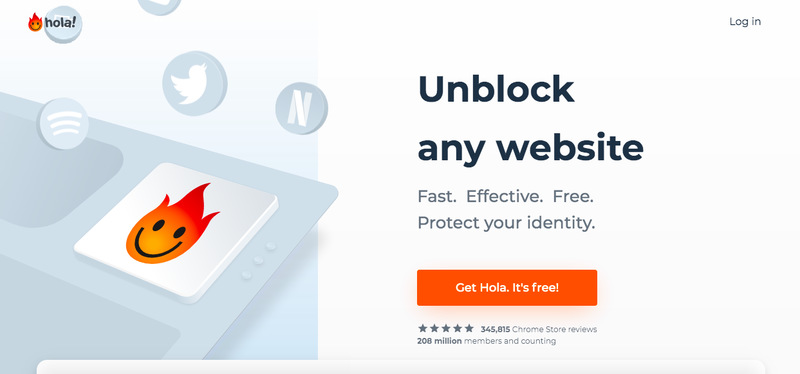 Android App
First, we tested the free Hola VPN version on our Android device. The home screen gives you two options:
Continue using Hola for free in exchange for your idle resources.
Or upgrade to Hola VPN Plus and avoid sharing resources.
We proceeded to the free version of Hola, but another "terms of service" page popped on our screen. This time, Hola VPN notified us that it will collect logs and personal data. We agreed and finally accessed the app, which displayed all the apps we had on our device. We tapped on the Netflix app, but we couldn't open the service unless we subscribed to Hola VPN Plus.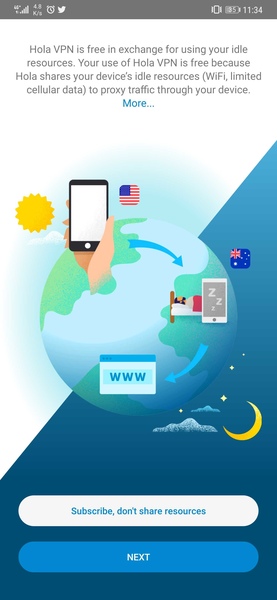 Simply put, the free version was limited and didn't give us access to Netflix and other services. Therefore, we opted for Hola VPN Plus. We had trouble logging in to the account at first, but after that, we were able to access US Netflix.
The premium version does not share your resources with other Hola users. However, just like the free service, it keeps records of your sensitive data.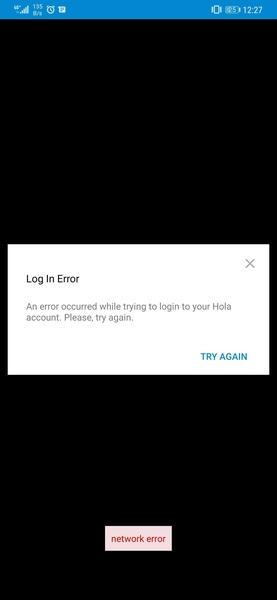 Despite many disadvantages, Hola VPN has an excellent score of 4.6/5 on Trustpilot. Users mostly like that it's free and can occasionally unblock streaming platforms. In other words, some people don't mind a lack of online privacy. Google Play users were full of praise, giving the service 4.4 stars. On the App Store, meanwhile, Hola VPN has an average rating of 1.8/5.
App Compatibility
You can install the free version of Hola VPN on pretty much any device. Its apps are compatible with iOS, Android, Windows, and Mac, in addition to Chrome, Firefox, Opera, and Microsoft Edge browser extensions. Moreover, there are setup guides for routers, gaming consoles, Smart TVs, and Apple TV.
If you're using free Hola, you can install it on as many devices you want as there are no license requirements. As for the paid version, it allows up to ten simultaneous device connections per account.
---
Hola VPN Server Network
As I mentioned at the beginning, Hola VPN is not like regular VPN providers. It channels your traffic through a peer-to-network that consists of its users, allowing you to use their connection for web browsing. Therefore, it does not operate any servers. Instead, the company has a list of countries that you can choose from.
Almost every nation is included, but whether or not these locations work as intended remains to be seen. We had some trouble while connecting to certain countries with the IP address remaining the same. But after a few attempts, Hola worked fine.
We tried locations like Angola, Argentina, Brazil, Denmark, Italy, the US, Canada, and the UK. The IP address changed each time.
---
How Fast Is Hola VPN?
Since Hola VPN does not reroute your traffic through foreign servers nor use any encryption, speed levels should remain respectable. After all, it's VPN privacy features that consume Internet speeds. Therefore, we expected decent results when we tested the service.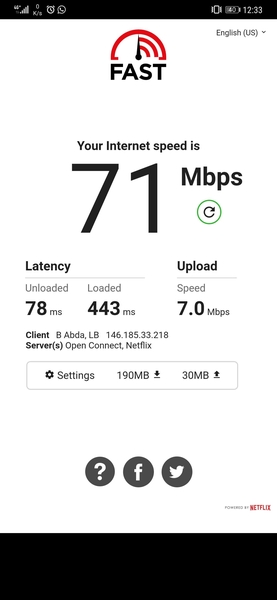 Before testing Hola's speed levels, we first checked how fast is our Internet connection. That way, we'll know how much the provider affects our speeds.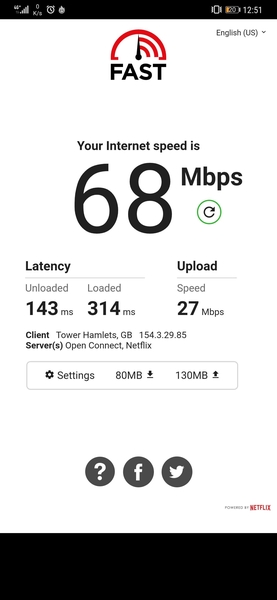 We tried the Hola VPN connection in the UK, and as you can see, speed levels minimally dropped. That's mostly because the United Kingdom is near our actual location.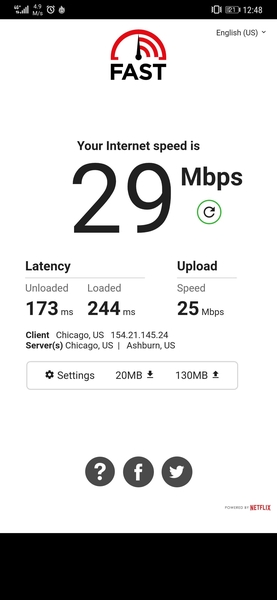 Finally, we connected to a US location, which is far from our actual whereabouts. We expected speed levels to drop, but not by that much. Had this been a proper VPN service with encryption, we wouldn't have given the decline much thought. But Hola VPN uses a peer-to-peer network, which should provide better results.
Nonetheless, if you opt for nearby connections, you won't notice the difference.
---
Can Hola VPN Unblock Streaming Platforms?
A lot of people use VPNs to unblock geo-restricted streaming platforms like Hulu and BBC iPlayer, or access different Netflix catalogs. And some of those users are not concerned about online privacy and anonymity. That is why Hola VPN has over 180 million users who simply want to bypass geo-blocks and stream their favorite shows. And with decent speed rates, they can do so without any video buffering.
However, you might fail to do so with the free Hola VPN. When we tested it to access Netflix's US library and BBC iPlayer, we were told that we had to upgrade to Hola VPN Plus. Furthermore, a location error message popped up when we tried to watch a Disney+ video.
After subscribing to Hola VPN Plus, we were able to access the majority of streaming platforms. These services use advanced software to detect VPN IP addresses and block them. That way, no one can access their content from outside the designated broadcasting region. But Hola VPN gave us users' actual IP addresses, which helped us unblock both Netflix and BBC iPlayer.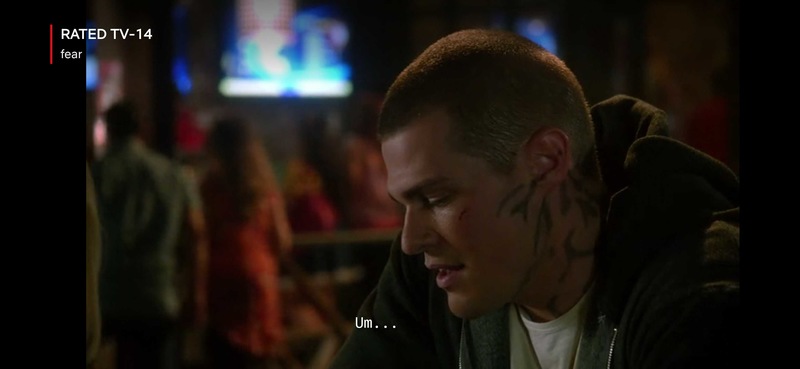 But please note that we tried to access BBC iPlayer on a separate occasion, but we hit the geo-error brick wall. So it's really a hit and miss with Hola VPN, no matter which version you use.
Torrent and P2P Support
Hola VPN uses a collaborative peer-to-peer network to bypass regional restrictions. Yet, ironically, it does not support torrenting or P2P file-sharing. That's probably for the best since the provider lacks privacy measures that keep you safe from copyright holders.
---
Hola VPN Security and Privacy
The most important VPN feature is privacy and security. If a VPN cannot hide your identity, location, and online activities from third parties, then it's not a proper or reliable service. And with Hola VPN, that's exactly the case. It does not offer the minimum requirements in this department and is surrounded by several controversies.
Company Headquarters
Hola Networks, the company behind Hola VPN, is based in Israel. And although the country is outside the Five, Nine, and 14 Eyes alliances, it is very cooperative with governments that have data retention laws. These alliances are a collaboration between 14 countries in the field of surveillance and data monitoring. In other words, they collect user information and share it with each other.
Now, Israel may not be part of these alliances, but it collaborates with government agencies. That means it will force companies within its jurisdiction to submit user data and share it with foreign authorities. In fact, Israel has strong ties with the United States, a key member of the Five Eyes alliance.
Data Collection
Hola VPN does not have a zero-logs policy, which means that it collects sensitive data like web destinations, IP addresses, names, and emails. Such information reveals your location and identity to third parties like ISPs, government agencies, and hackers. the company admits to these intrusions in its privacy policy.
Reliable VPN services would never log the following information: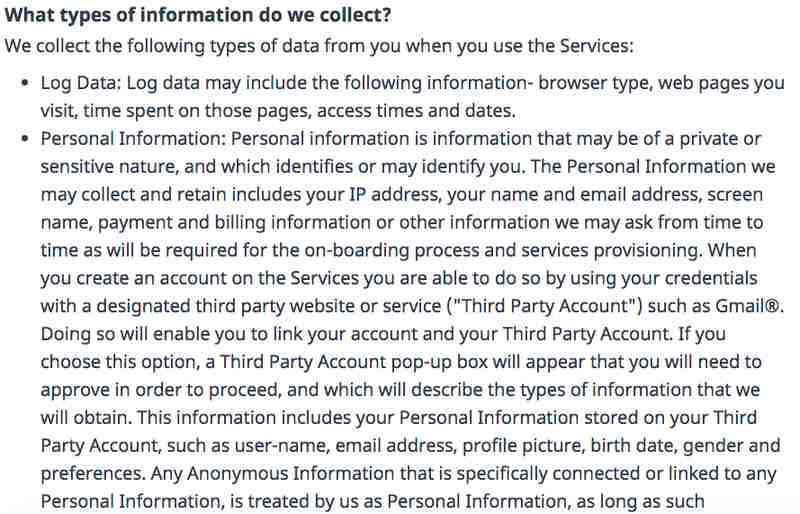 Hola VPN also shares your personal information with "trusted third-party service providers or partners," as well as subsidiaries and affiliate companies.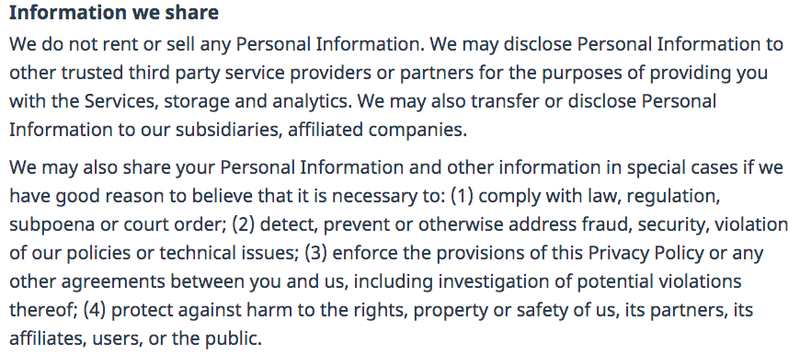 No Encryption
Another vital privacy feature that Hola VPN does not provide is data encryption. As a result, anyone can see your actual IP address, browsing history, web destinations, and connection timestamps. Premium VPN services usually use the Advanced Encryption Standard with 256-bit keys, aka AES-256. It is the most secure encryption on the market, used by government agencies like the NSA to protect secret files.
Data Leaks
Since Hola VPN does not offer any encryption, there is no need for a kill switch. Other VPNs have this feature to disconnect users from the Internet in case the VPN connection drops. As a result, your traffic won't leak to your ISP's servers.
The absence of these crucial features means that Hola will expose your sensitive data. We tested it for IP, DNS, and WebRTC leaks, and the results were disappointing. We connected to a US location, expecting the IP checker to display an American IP address. However, it showed that our location was in Australia, which isn't even our actual location.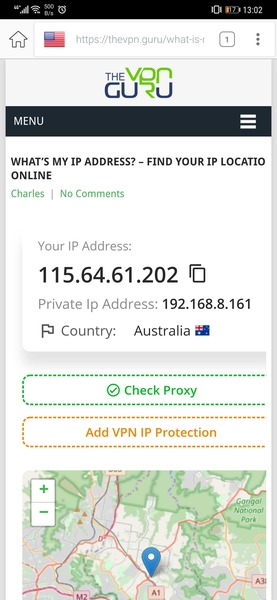 Criticism
As I mentioned earlier, Hola VPN faced a lot of criticism from VPN experts and industry researchers for the lack of privacy. We already covered Trend Micro's report of how the absence of encryption can lead to data leaks and cyberattacks.
But in 2015, the company was at the center of the storm for failing to notify users that their bandwidth was being sold to Luminati users. The latter is a Hola affiliate, and its customers can buy the traffic of free Hola users. That means they can use your bandwidth as part of a DDoS attack.
This prompted Hola VPN to modify its FAQ page and let free users know that they can be used as botnets. Not that Luminati or Hola stopped these practices, though. You can still be a target for traffic buying.
---
Hola VPN Customer Support
For a VPN service with so much criticism and so little security and privacy, we expected Hola VPN to make up some grounds in other departments like customer support. However, it was another area where it performed poorly. While most of the VPNs we've tested had several ways to contact them, including a 24/7 live chat feature, Hola only offered email and telephone support.
In fact, the website features contact information at the bottom of the page, as well as a support shortcut that leads to articles and other information.

---
How Much Does Hola VPN Plus Cost?
Hola VPN has a free version that you can install on almost any device. However, it is quite limited. For example, you won't be able to switch Netflix libraries or unblock BBC iPlayer from abroad. Therefore, you might want to subscribe to Hola VPN Plus, which is a paid service with multiple subscription plans.
One-month plan: $14.99/month
One-year plan: $92.26 per year ($7.69/month).
Three-year plan: $107.55 billed every three years ($2.99/month)
The subscription package with the longest term offers the best value for money, allowing you to save up 80%. However, for these prices, you can subscribe to the best VPN services in the industry. At least then you'll benefit from a true VPN provider with premium features. We feel that you would be paying Hola not to share your IP address, bandwidth, and traffic, which is honestly quite ludicrous.
Nonetheless, if you want to subscribe to Hola VPN Plus, at least you'll benefit from a 30-day money-back guarantee no matter which plan you choose.
Payment Methods
You can purchase your preferred Hola VPN plan using your credit card or PayPal. Visa, MasterCard, and American Express are all supported, but there's no cryptocurrency allowance. Cryptos like Bitcoin and Ripple allow you to keep your identity hidden, but Hola doesn't offer this payment method.

---
Hola VPN Final Verdict
We can't recommend a VPN service that does not offer any sort of security and privacy features. Then again, this isn't a VPN product. We thought it was a web proxy service at best. Hola VPN does not have servers to reroute your traffic, nor does it use encryption. Furthermore, it allows other users to use your IP address and sells your bandwidth to Luminati customers. That's unless you subscribe to its paid Plus version, which seems a bit like blackmail.
Yes, Hola does provide decent speeds and its Plus service can sometimes unblock streaming platforms. But that's not enough to subscribe to it, especially when there are dozens of other VPNs that offer much better services. In short, we recommend you dismiss Hola and consider a top VPN provider instead.
Do you think Hola VPN is worth the hassle? Let us know in the comment section below.