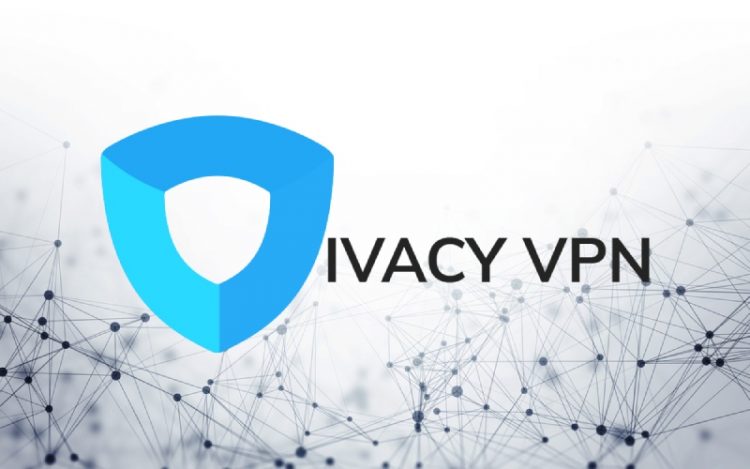 Ivacy VPN is a reputable VPN service that's been around since 2007. According to the website, the company was the first to introduce split tunneling. The feature gives users complete control over their traffic, allowing them to choose which data to send through ISP servers, and which data travels via Ivacy servers.
The VPN earned plenty of praise from users and industry experts over the years. It even won Fastest VPN Award in the 2019 BestVPN.com Awards. In addition to speedy servers, Ivacy claims it can unblock the majority of streaming and video-on-demand platforms like Netflix, Hulu, and BBC iPlayer. It can also protect your online data using first-rate privacy and security features.
2019 also saw Ivacy VPN team up with English Premier League side West Ham to "increase cybersecurity awareness and provide internet solutions."
Therefore, we decided to thoroughly examine this VPN with a series of unbiased tests. We followed our usual VPN evaluation protocol to see where Ivacy ranks among the other brands we tested. You'll find a detailed review of all the features below.
---
Content Overview
---
| | |
| --- | --- |
| FEATURE | AVAILABILITY |
| Money-back guarantee | 30 days |
| Allowed simultaneous connections | Five to ten devices, depending on your subscription plan. |
| Supported streaming services | US Netflix, Amazon Prime Video, Hulu, BBC iPlayer, and more. |
| No-logs policy | Yes |
| Encryption | Military-grade AES 256-bit |
| Protocols | SSTP, PPTP, L2TP/IPSec, IKEv2, and OpenVPN |
| Special features | Kill switch, split tunneling, Dedicated IP Multiple protocols, and Smart Purpose Selection. |
| Customer support | 24/7 customer support with a live chat feature |
| Server locations | 1,000+ servers across 100+ locations |
| P2P support | Yes |
| Server switches | Unlimited |
| Data traffic | Unlimited |
| Compatible devices | Windows, Linux, Mac, iOS, macOS, in addition to Chrome and Firefox extensions. |
| Legal Jurisdiction | Singapore (outside Five-Eyes domain) |
| Free trial | 1 Day |
---
Ivacy VPN in a Nutshell – Pros and Cons
Ivacy VPN is based in Singapore, a country outside data-retention jurisdictions, but a key ally to the Five-Eyes alliance. Nevertheless, the company will maintain your online privacy through the AES 256-bit encryption, which prevents third parties from monitoring your online activities.
Furthermore, Ivacy VPN won't keep any records of any sensitive data that compromises your location or identity. In other words, it will eliminate logs of your IP address, browsing history, and web destinations. And to ensure your traffic won't leak to your ISP's servers, Ivacy will disconnect you from the Internet with a kill switch if the VPN connection drops.
According to the website, Ivacy has more than 1,000 servers spread across 100+ locations (50 countries). That network, coupled with excellent unblocking capabilities and decent speeds, allows you to access streaming platforms from anywhere. The servers also support P2P file-sharing activities.
Ivacy VPN also offers a 30-day refund policy, 24/7 customer support, and five+ simultaneous device connections. However, it lacks a Smart DNS proxy service and independent auditing. Furthermore, it offers a 1-day free trial period.
Pros
Military-grade encryption.
Zero-logs policy.
Kill switch and DNS leak protection.
Torrent support.
Works with Netflix and other streaming services.
Decent server network.
30-day money-back guarantee.
24/7 customer support (with live chat).
Split tunneling.
Five to ten simultaneous device connections.
1-day free trial.
Cons
No Smart DNS proxy.
Inconsistent speeds.
---
Interface and Design
First, we visited Ivacy's website to know a bit more about the VPN. It had a simple and clear design, with information about unblocking, privacy, and pricing on display on the homepage. There are also plenty of shortcuts at the top of the page regarding features, servers, apps, and more.
At the bottom right of the screen, there's a live chat button in case you wish to quickly communicate with customer support. Meanwhile, at the end of the page, there are more shortcuts about Ivacy VPN, its apps, links to the most popular requests, and general information.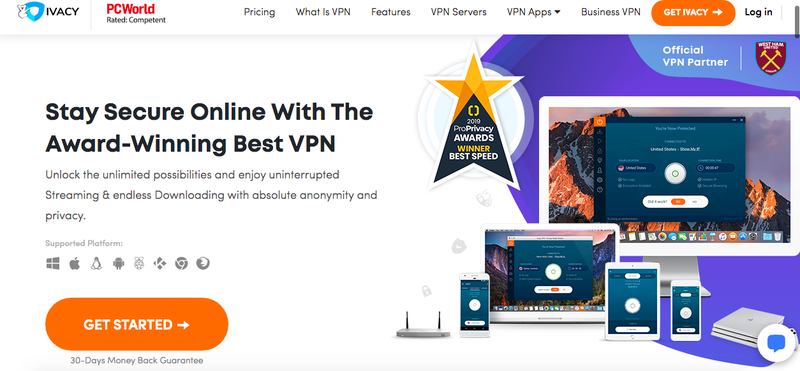 Desktop Client
We tried Ivacy VPN's Mac application to see how it functions and if it's easy to use. We were impressed with the design and functionality, meaning anyone can navigate the app without any difficulties. After you log in, you'll find a connect button in the middle of the page that automatically connects you to the best available server based on your location.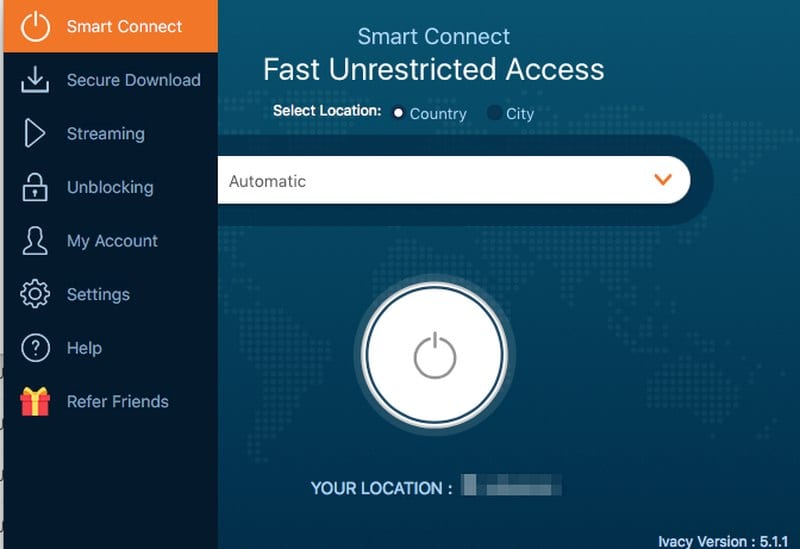 If you wish to change to a different server, click the "Automatic" button to open the list of servers. What we really liked was that Ivacy VPN allows you to choose why you want to use a VPN. That means you get to select between streaming, unblocking, and secure downloading, depending on your preferences.
Since we were planning to test Ivacy VPN's unblocking capabilities, we opted for the streaming option. Then, a list of the most popular streaming services popped up, including Hulu, Netflix US, and BBC. Ivacy will connect to their respective servers after you choose the one you want.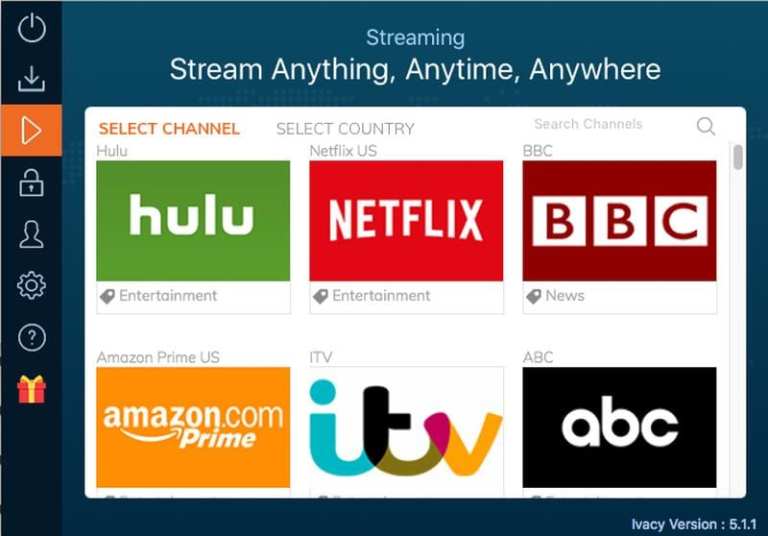 Mobile App
We also tested Ivacy VPN's Android app and thought it was even better than its Mac counterpart. There's the same smart connect button on the home screen, with an Automatic button underneath it. You can change servers by clicking on the latter button or on locations on the right of the screen.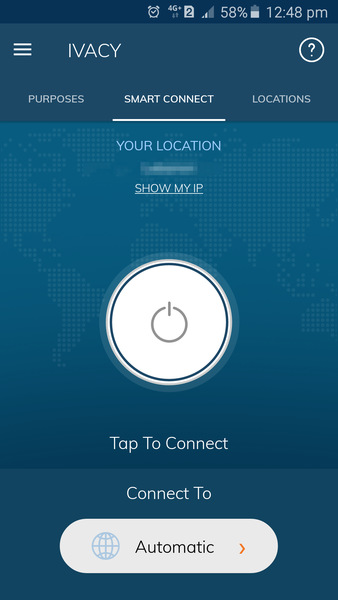 And just like the Mac app, you can choose which Ivacy purposes you want (streaming, unblocking, downloading). Furthermore, you can customize the app and activate additional features by hitting the hamburger icon on the top left of the screen.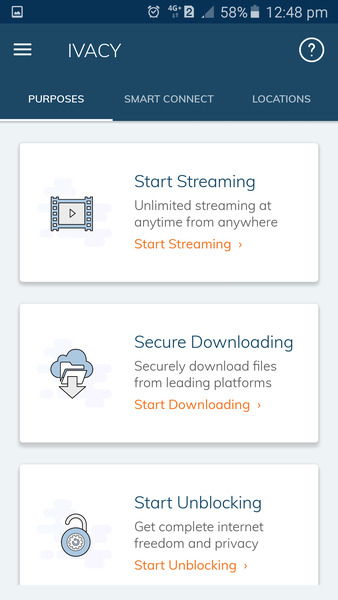 Ivacy VPN earned high ratings from users. On Trustpilot, it holds an excellent score of 4.8/5, while also registering impressive results on the App Store (4.3 stars) and Google Play (3.9 stars).
"Easy to use. Very reasonably priced. Great deal on 5 year purchase. Keeps you safe."

Donald Gerber, Ivacy VPN user on Trustpilot
App Compatibility
Ivacy VPN has compatible apps with the majority of operating systems. That includes Mac, Android, iOS, and Windows, in addition to Chrome and Firefox extensions. It even has a dedicated app for Kodi. But that's not it. You can configure the service on a number of other devices, including Linux, Blackberry, and Smart TVs.
Moreover, the company allows simultaneous device connections ranging from five to ten devices, depending on your subscription. No matter which one you choose, you'll be able to protect all your devices at the same time.
---
Ivacy VPN Server Network
An extensive server network paves the way for massive unblocking capabilities and privacy. The more servers locations a VPN has, the more geo-blocks it will be able to bypass. Furthermore, it will have a larger IP address portfolio.
Ivacy VPN doesn't offer the widest selection of servers, but its network is still respectable in comparison with the other VPNs we tested. You'll have more than 1,000 servers to choose from, spread across over 100 locations. Ivacy covers all the regions and continents (except Antarctica), giving you access to plenty of websites.
AMERICAS
USA
Canada
Panama
Costa Rica
Mexico
Chile
Brazil
Peru
Colombia
AFRICA
Egypt
Ghana
Seychelles
Nigeria
South Africa
EUROPE
UK
Germany
Netherlands
Sweden
Romania
Switzerland
Luxembourg
France
Italy
Bulgaria
Poland
Czech Republic
Belgium
Denmark
Norway
Spain
Latvia
Ukraine
Finland
Austria
ASIA/OCEANIA
Turkey
Hong Kong
Indonesia
Taiwan
South Korea
Japan
Jordan
Kuwait
China
Philippines
Brunei
India
UAE
Saudi Arabia
Pakistan
Russia
Malaysia
Singapore
Australia
New Zealand
---
How Fast is Ivacy VPN?
Speed is a critical factor to consider when pondering which VPN to choose. A lot of use virtual private networks to access geo-blocked streaming services. And if your provider does not have fast servers, then you won't enjoy watching your favorite shows.
Now, all VPN services consume a bit of your Internet connection due to the encryption levels they use. But premium providers ensure that the speed drop remains minimal and unnoticeable.
As I mentioned earlier, Ivacy VPN was named the fastest VPN at the 2019 BestVPN.com Awards. As a result, we expected fast, consistent speed rates when we put it to the test. However, the results were mixed.
Test one: No VPN connection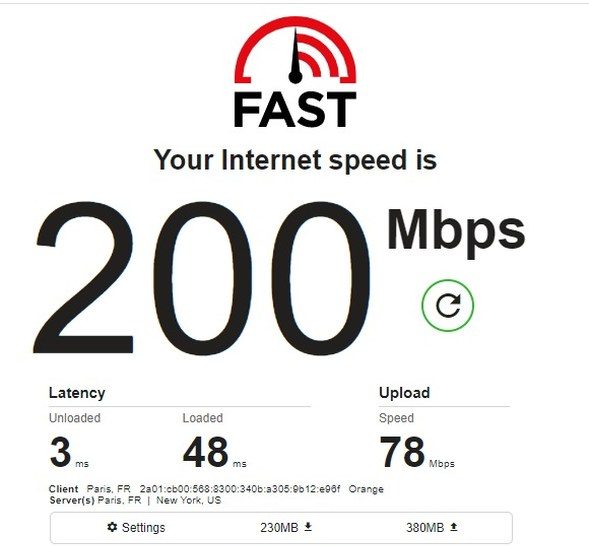 To properly test how fast Ivacy VPN is and the effects it has on our connection, we took a look at our Internet speed without connecting to a VPN server.
Test two: Nearby Dutch server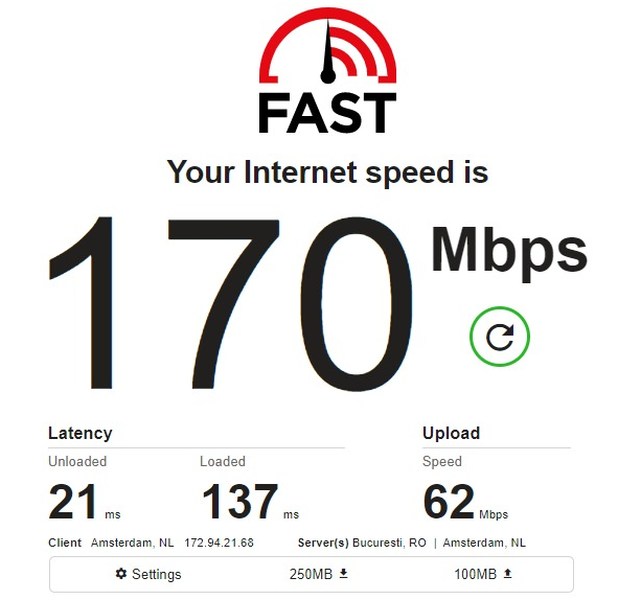 We connected to a server in the Netherlands, which is near our actual location. As you can see, the speed rates barely dropped. In fact, they exceeded our expectations.
Test three: Nearby German server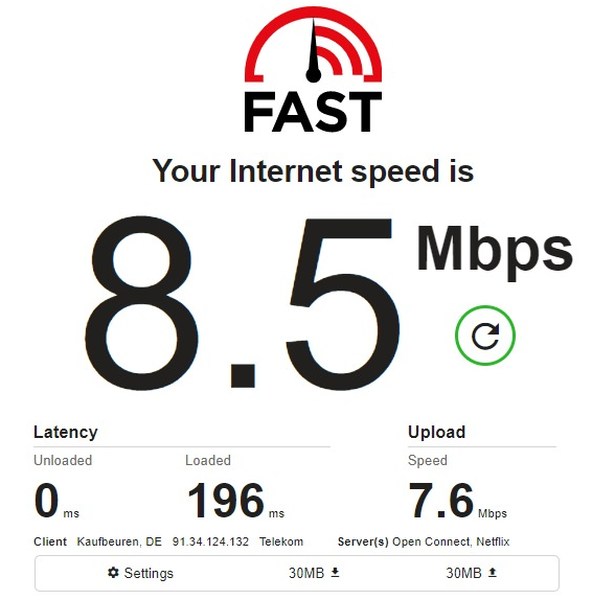 Although Ivacy performed remarkably well in the first test, it didn't well in the second. We connected to another server that's near our actual location, and the speed rates drastically dropped. It shows that Ivacy VPN is inconsistent when it comes to speed.
Test four: UK server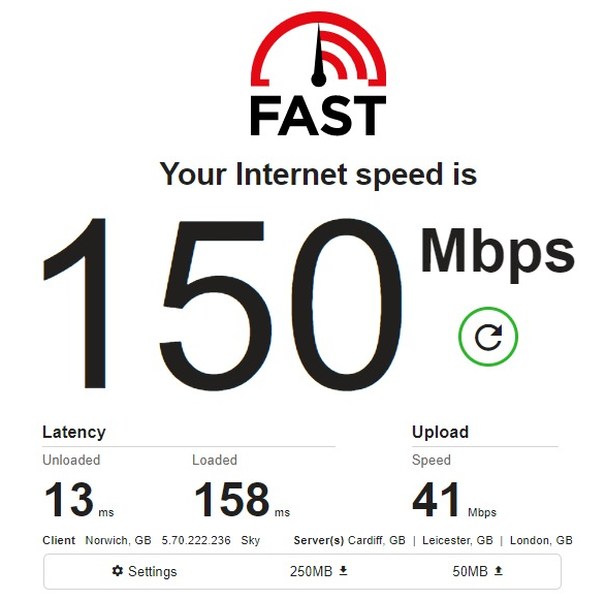 Nothing proves our Ivacy VPN inconsistency theory better than the UK server connection. During our first try, speed rates barely dropped to 150 Mbps. But in our second attempt, speed plunged to 20 Mbps.
Test five: US server
The US is home to the most popular geo-restricted online services like Hulu and HBO Go/Now. Therefore, we just had to connect to an American server. However, both results were disappointing. It seems that Ivacy didn't properly connect to the US server in our first attempt. But even in our second try, speed rates dropped massively.
Ivacy Speed Verdict
We expected much better performances from Ivacy VPN considering it's an award-winning service in terms of speed. However, the results were mixed and inconsistent, even when connecting to the same server more than once. Nearby servers tested better than the distant ones, but that's the case with almost every VPN.
In short, when it comes to speed, we believe you're better off with some of the other VPNs we've tested.
---
Ivacy VPN Unblocking Capabilities
Accessing geo-restricted content is one of the main reasons why people use virtual private networks. As you may know, services like streaming and VOD platforms are blocked outside their respective regions. For example, Hulu and HBO Go/Now are only accessible inside the US. Meanwhile, BBC iPlayer and ITV Hub are only available in the UK.
But users were able to avoid such Internet restrictions by connecting to VPN servers and changing their IP address. However, these streaming services used advanced technologies to identify VPN IP addresses and ban them. So now, only premium VPN providers still work with the likes of Netflix and Amazon Prime Video.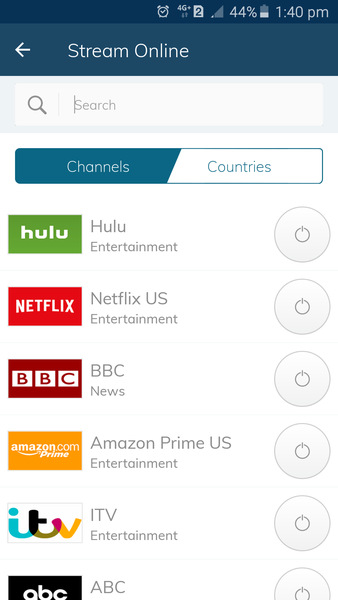 As I mentioned earlier, you can choose the purpose behind using Ivacy VPN. One of those is streaming, which takes you to a list of services that Ivacy can access. But we weren't going to take their word for it, so we tested the most popular ones.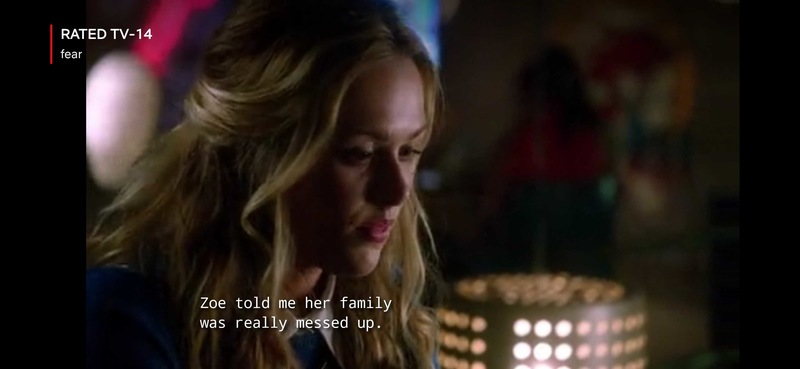 We were impressed with Ivacy VPN's unblocking capabilities as it gave us access to US Netflix, Hulu, and HBO Now. However, our attempts to watch BBC iPlayer videos were unsuccessful no matter which UK server we tried. The British streaming service is famous for its strict restrictions that few VPN brands can unblock it from abroad.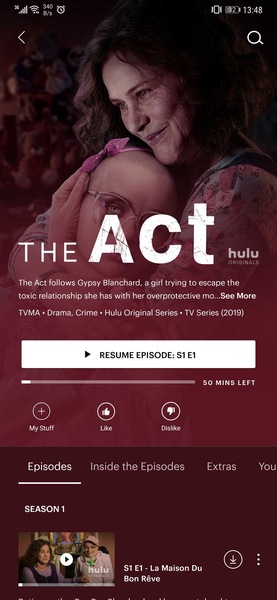 No Smart DNS Proxy
Smart DNS proxies can also bypass the geo-blocks that streaming services apply. However, they have a limited channel support list. These tools don't hide your IP address nor encrypt your traffic, so they are not the best when it comes to privacy. Nonetheless, a lot of people prefer them over VPNs because they don't affect your Internet speed. Furthermore, you can set them up on all devices, including gaming consoles and Smart TVs.
Ivacy VPN does not offer a Smart DNS proxy service, a feature they should consider adding in the future. Not all users have online privacy concerns and a Smart DNS proxy solution is sufficient for them.
---
Torrent and P2P Support
VPNs are crucial for torrenting and file-sharing, especially in countries where such activities are illegal. Data encryption and IP address concealment will help you avoid copyright infringements, which could lead to fines, termination of your Internet service, or even jail time.
Ivacy VPN does not only support P2P file-sharing activities, but it also offers optimized servers for torrenting. They are located in:
Belgium
Brunei
Bulgaria
Canada
Chile
Colombia
Costa Rica
Denmark
Germany
Ghana
Kenya
Latvia
Luxembourg
Netherlands
Nigeria
Pakistan
Panama
Peru
Russia
Saudi Arabia
Seychelles
Sweden
Turkey
UAE
Venezuela
UK
USA
---
Ivacy VPN's Security and Privacy Features
Virtual private networks are first and foremost tools that protect your online privacy and security. That means they must hide your actual IP address, encrypt your Internet traffic, and ensure there are no data leaks. Therefore, we dived into Ivacy VPN's features and privacy policy to see what it has to offer in this domain.
Company Headquarters
NSA whistleblower Edward Snowden blew the lid on a surveillance alliance called the Five-Eyes. He leaked documents revealing that members of this alliance are spying on each others' citizens and sharing the data with one another. However, FVEY dates back to the post World War II when the US and the UK cooperated to monitor the Soviet Union's communications.
Since them, a host of other nations joined the alliance, which led to the creation of other unions. Even their operations expanded to cover Internet surveillance and monitoring, as well as data retention. In other words, any company located inside these jurisdictions must submit user information upon request.
Five-Eyes: US, UK, Australia, Canada, and New Zealand
Nine-Eyes: Five Eyes countries plus Denmark, France, Netherlands, and Norway
14-Eyes: Nine Eyes members plus Belgium, Germany, Italy, Spain, and Sweden
Ivacy VPN is headquartered in Singapore, which is outside those alliances. However, according to leaked documents, the country is a key "third-party" partner to the Five-Eyes.
No-logs Policy
Ivacy VPN follows a strict no-logs policy, meaning it does not monitor or log sensitive data that can identify or locate you. That includes IP addresses, browsing activities and history, and connection logs and times. So even though it is based in Singapore, Ivacy can't provide any valuable information to the authorities simply because it does not have any.

But just like any other VPN service, Ivacy VPN has to collect minimal data so that it can function properly. Such information includes your name, email address, and payment method. Furthermore, the company monitors things like crash reports and conducts diagnostics to ensure the best possible service. To do so, it has to observe:
Events occured
Performance data
Failed connection attempts
Application usage
Aggregated bandwidth usage
But the data Ivacy collects can reveal the countries that users originate from.
"The data collected does not contain any identifiable information or user data like DNS requests, traffic details or IP addresses. The only thing known are the countries where users are originating from, which once again has no information of value."

Ivacy VPN
Military-grade Encryption
All top VPN services use the Advanced Encryption Standard with 256-bit keys. It's the most secure encryption on the market so far as it provides trillions of possible combinations. That makes it nearly impossible for third parties like ISPs, hackers, and government agencies to monitor your online activities.
Ivacy VPN uses AES-256, which is the same encryption that the NSA implements to protect classified information. It would take all the supercomputers combined millions of years to break AES with 256-bit keys.
Kill Switch and Leak Protection
A VPN kill switch is a safety net for your data. Its job is to disconnect your device from the Internet if the VPN stops working. Thus, your data and traffic won't travel to your ISP's servers where they can be compromised.
Ivacy VPN apps feature a kill switch that you can activate manually from the settings page. This last line of defense will protect you from any possible leaks to your privacy.
And speaking of leaks, we conducted IP and DNS leak tests to ensure that Ivacy is not giving away our digital identity and actual location. We connected to a server from New Zealand, then used an IP info tool to see which IP address was actually on display. As you can see from the results below, Ivacy VPN does not leak such sensitive data.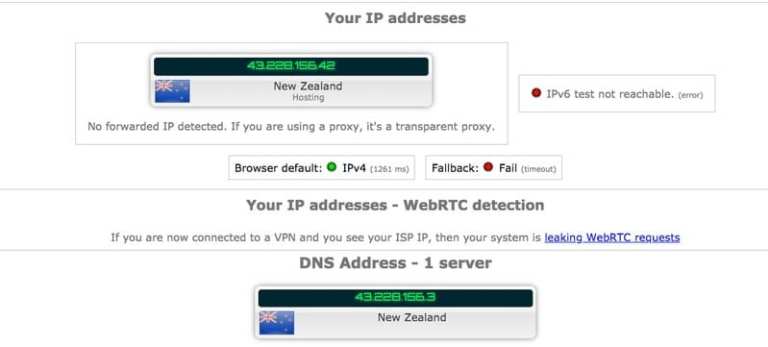 Then, we checked for WebRTC leaks, which help third parties identify your actual IP address, i.e., your identity and location. The results were negative as there were no signs of any leaks.

Additional Features
Ivacy offers additional privacy and security options to provide with better protection. However, some of these perks are paid add-ons:
Split tunneling: Ivacy VPN was the first provider to introduce this feature back in 2010. It allows you to choose which apps need VPN protection and which ones don't.
DDoS protection: Malicious denial-of-service (DDoS) attacks disrupt and overwhelm your Internet traffic and could cause it to crash. Ivacy VPN prevents these attacks from happening.
Dedicated IP ($1.99/month add-on): You'll get to choose a unique IP address to prevent unauthorized access to your accounts.
Port forwarding ($1/month add-on): It prevents malicious traffic from infecting your device by activating a firewall between the VPN server and the web. As a result, all your Internet traffic passes through securely.
---
Ivacy VPN Customer Support
We always recommend that you do your homework before subscribing to a certain VPN service. That includes reading user reviews, features on offer, and privacy policy. You may have questions after you do that, which is why your VPN must have a helpful and responsive client support.
You can contact Ivacy VPN's via email, support ticket, or live chat, all available 24/7. There's also a support page that FAQs, video tutorials, setup guides, and VPN use cases. We tried the live chat feature to see how fast response time is, and an employee answered almost immediately. However, the team took a while to answer some of our questions. The answers were detailed and precise.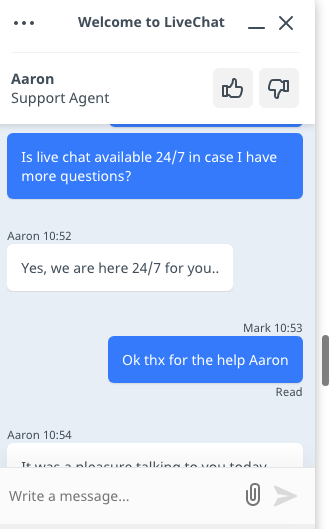 ---
How Much Does Ivacy VPN Cost?
The first thing some users check when choosing a VPN is the price. Some opt for the most affordable option, while others choose free VPNs. However, we recommend you avoid the latter because you'll compromise your online privacy and security.
Ivacy VPN offers multiple subscription plans that rank in the average section. It allows you to save up to 65% by purchasing the annual plan. You can also add up to two features for extra money. Here's the full price range:
One-month plan: $9.95 per month.
One-year plan: $44 billed every year, equalling $3.66/month (save 63%).
2-Year Plan: $55 every 2 Years months, which equals $2.45/month (save 75%).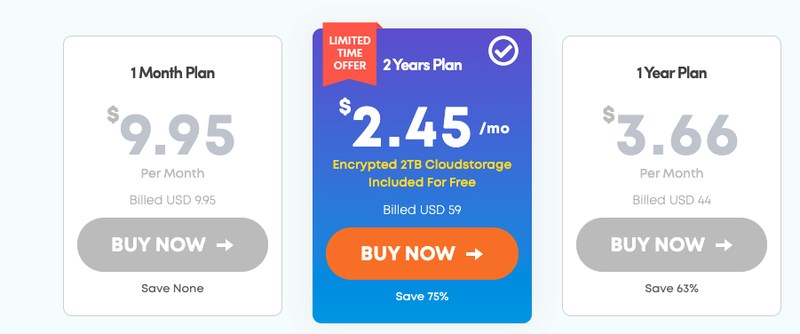 Ivacy VPN has different price ranges for the upgraded plan that allows 10 simultaneous device connections. We didn't find any information about it on the website so we asked customer support about it. The employee didn't give us many details, only saying that the yearly plan costs $71.88.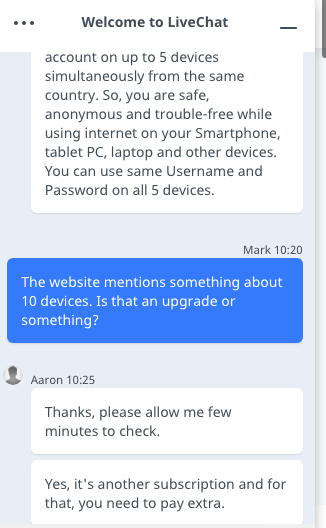 All plans come with a 30-day money-back guarantee, which means you have a full month to test the service before making a decision. If during that time, you're dissatisfied with the service, you'll get a full refund.
Payment Methods
We were really impressed with Ivacy VPN's various payment methods. The company supports credit cards like Visa, MasterCard, Discover, and American Express. It also allows purchases via PayPal, AliPay, and BitPay. But what really caught our eye is the multiple cryptocurrency support. That includes Bitcoin, Ethereum, and more.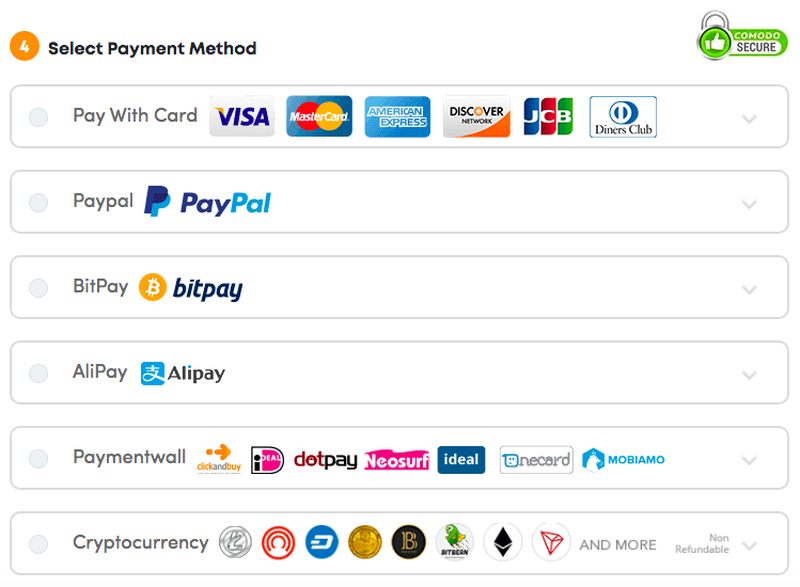 Free Trial
We asked Ivacy VPN if they offered a free trial for users, allowing you to test the product before committing to it. Apparently, they do as the customer support agent informed us.
However, aside from the support team's information, the website clearly states that Ivacy VPN allows a 1-day free trial to new customers.
---
Does Ivacy VPN Work in China?
China is one of the countries with the highest Internet censorship. The Great Firewall of China blocks tons of popular services, including Facebook, Google, and YouTube. And when its residents started using VPNs to circumvent online restrictions, the country started blacklisting them as well.
Now, very few VPN services are operational in China without being detected by the Firewall. Ivacy VPN is one of them as it always updates its systems. It has a list of recommended servers for users in the country and instructions to bypass geo-blocks.
---
Ivacy VPN – The Final Verdict
Operating from Singapore, Ivacy VPN provides top privacy and security features. They include AES-256 encryption, a zero-logs policy, and kill switch. Other perks include DDoS protection and dedicated IP, although some cost extra. But for more transparency, the company can introduce a Warrant Canary page and invite independent auditors.
Furthermore, the company has a decent server network and can unblock the most in-demand streaming services. It also supports torrenting and offers a 30-day refund policy. On the downside, however, Ivacy VPN has inconsistent speeds, lacks a Smart DNS proxy, and provides no free trial.
All in all, this is a decent VPN service at a reasonable price. But for a little extra, you can purchase a better one.
Based on what you've read, do you think Ivacy VPN is worth your consideration? Tell us all about it below.