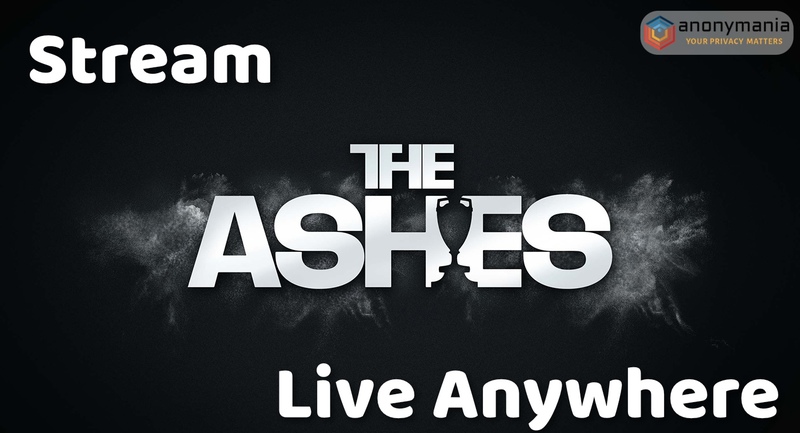 The Ashes is one of the most popular cricket events in the world. A face-off between England and Australia is pretty much everything cricket fans can hope for.
The Test Games are scheduled to take place between December 8th, 2021, all the way to January 18th, 2022, and online streaming is provided, courtesy of multiple broadcasting partners around the world.
But the question is: How can you stream The Ashes in your region? We're here to answer that in this comprehensive guide.
The Ashes Live Anywhere – Simple Steps
Time needed: 4 minutes.
Watching The Ashes 2021 is a very simple task if you know your way around. Here's what you need to do:
Subscribe to a VPN service provider.

For a global server network, excellent streaming speeds, and an easy-to-use app, we highly recommend ExpressVPN.

Download and install the VPN app on your device.

You can get the VPN client from your native App Store or directly through the provider's website.

Activate the software and sign in with your credentials.

You might be prompted to submit a verification code. You'll find it within your account.

Connect to a VPN server.

Choose a server that's in the country where the channel you wish to watch The Ashes on is located.

Launch the channel's website or application.

Sign in with your service's credentials. (all the channels need some sort of login, be it a subscription or an account).

Stream The Ashes 2021 anywhere.

You can now watch the Test Games on December 8th, 2021 wherever you may be, LIVE!
The Ashes 2021 Live – Full Guide
Aside from the steps above, you still have a lot to learn when it comes to streaming The Ashes live in your country. For more information, check this comprehensive walkthrough:
The Requirements
To stream The Ashes anywhere live, everything on the list below is required:
A credible VPN service.
Compatible streaming device.
An account or a subscription depending on your selected channel.
The Official Broadcasting Channels
The Ashes needs no introduction as the event is pretty known among cricket fans all over the world.
In fact, back in 2019, the event broke records with over 2.1 million viewers from the United Kingdom as Ben Stokes took England to series-leveling victory in the third test.
Several broadcasting channels are airing the games live and we've presented them in the table below:
The channels above are so different in terms of content and countries, but they all have one thing in common – they apply geo-blocking.
Each and every single service only operate within its respective country, mainly for copyright reasons. That's why they examine your IP address to determine your location.
If you're not within their area of coverage, you're getting nothing except a geo-error message that looks like this; (We used 7Plus as an example):
"Sorry, video is only available within Australia due to licensing restrictions. Error Code: MEDIA_GEO_BLOCKED."
Fortunately, this won't be an issue once you follow the steps above. Then and only then you can stream The Ashes live anywhere.
What a VPN Can Do!
When it comes to gaining stronger security and privacy while browsing the web, a Virtual Private Network is definitely the ultimate tool for the task.
Reputable VPN services apply military-grade encryption, making it next to impossible for hackers and third parties to intercept your data, sent or received.
On the other hand, it hides your IP address and deems your internet approach as anonymous. Not even your ISP can spy or monitor what you do online.
To sum it up, a VPN is capable of doing the following tasks:
Unblocks major streaming services all over the world.
Encrypts your data and enhances your overall online security.
Cloaks your IP address and allows you to surf the web anonymously.
May bypass ISP throttling and provide better speeds for streaming.
If we were to speak about quality, ExpressVPN should be our top recommendation. You can't just pick any VPN you come across, especially if it offers its services for free.
ExpressVPN has hundreds of servers across 94 countries. Not to mention speed rates that allow UltraHD streaming, regardless of the server's location.
Finally, ExpressVPN has a 30-day refund policy. So, if you ever think that it did not live up to your expectations, just ask for your money back. You can also check the table below for more of our top recommendations.


30-Day Money-back Guarantee
Unlimited Bandwidth
Apps For All Your Devices
24/7 Live Support
Visit ExpressVPN
The Ashes 2021 – Everything You Need to Know
The Ashes 2021/22 commences on December 8th, 2021 and ends on January 18th, 2022. As we're accustomed, it will retain its traditional five-Test format, but the venues have changed in the Land Down Under.
The series will open again in Brisbane, but final Test will not be in Sydney this year. Instead, Perth will host the potential series decider for the first time since 1994/95.
So far, there have been 71 series. Australia has won 33, England 32, and six have ended in a draw. Below, you can find the results of The Ashes in the last 10 years:
2019 – England 2-2 Australia (1 draw)
2017/18 – Australia 4-0 England (1 draw)
2015 – England 3-2 Australia
2013/14 – Australia 5-0 England
2013 – England 3-0 Australia (2 draws)
2010/11 – Australia 1-3 England (1 draw)
2009 – England 2-1 Australia (2 draws)
2006/07 – Australia 5-0 England
2005 – England 2-1 Australia (2 draws)
2002/03 – Australia 4-1 England
With that said, you still need to know the schedule if you want to tune in when the Tests commence. Check it out:
1st Test
Dates: December 8th, 2021 – December 12th, 2021
Venue: The Gabba, Brisbane
2nd Test
Dates: December 16th, 2021 – December 20th, 2021
Venue: Adelaide Oval, Adelaide
3rd Test
Dates: December 26th, 2021 – December 30th, 2021
Venue: Melbourne Cricket Ground, Melbourne
4th Test
Dates: January 5th, 2022 – January 9th, 2022
Venue: Sydney Cricket Ground, Sydney
5th Test
Dates: January 14th, 2021 – Jaunuary 18th, 2021
Venue: Perth Stadium, Perth
The Ashes 2021 – Frequently Asked Questions
If you have more questions, kindly check the FAQ section below. We're sure we already covered your inquiries:
Where Can I Watch The Ashes 2021/22 in the UK?
If you reside in the United Kingdom, you can watch The Ashes 2021 on BT Sport live.
Can I Stream The Ashes 2021 for Free?
Of course, you can. We're not talking about third party websites and unofficial sources.
To stream The Ashes 2021 for free and using an official source, you can use 7Plus's streaming service.
If you're not in Australia, connect to an Australian VPN service and start streaming.
When Will The Ashes 2021 Begin?
The newest edition of The Ashes commences on December 8th, 2021.
Where is the Final Test Being Held?
For the first time since 1994/95, Perth will host the potential series decider.
What Are the Five Venues Hosting The Ashes?
The Ashes 2021 will be hosted in five different venues, including Gabba, Adelaide Oval, the Melbourne Cricket Ground, the Sydney Cricket Ground, and the Perth Stadium.
The Ashes 2021 Live – Final Thoughts
The 2021 Vodafone Men's Ashes Series is an event worth waiting for as it's one of the most popular cricket events in the world.
Australia once again faces off against England, and you have all the means to stream every Test match live online.
Now, remember, if you have any issues unblocking the channels above, make sure to contact us in the comment section below.