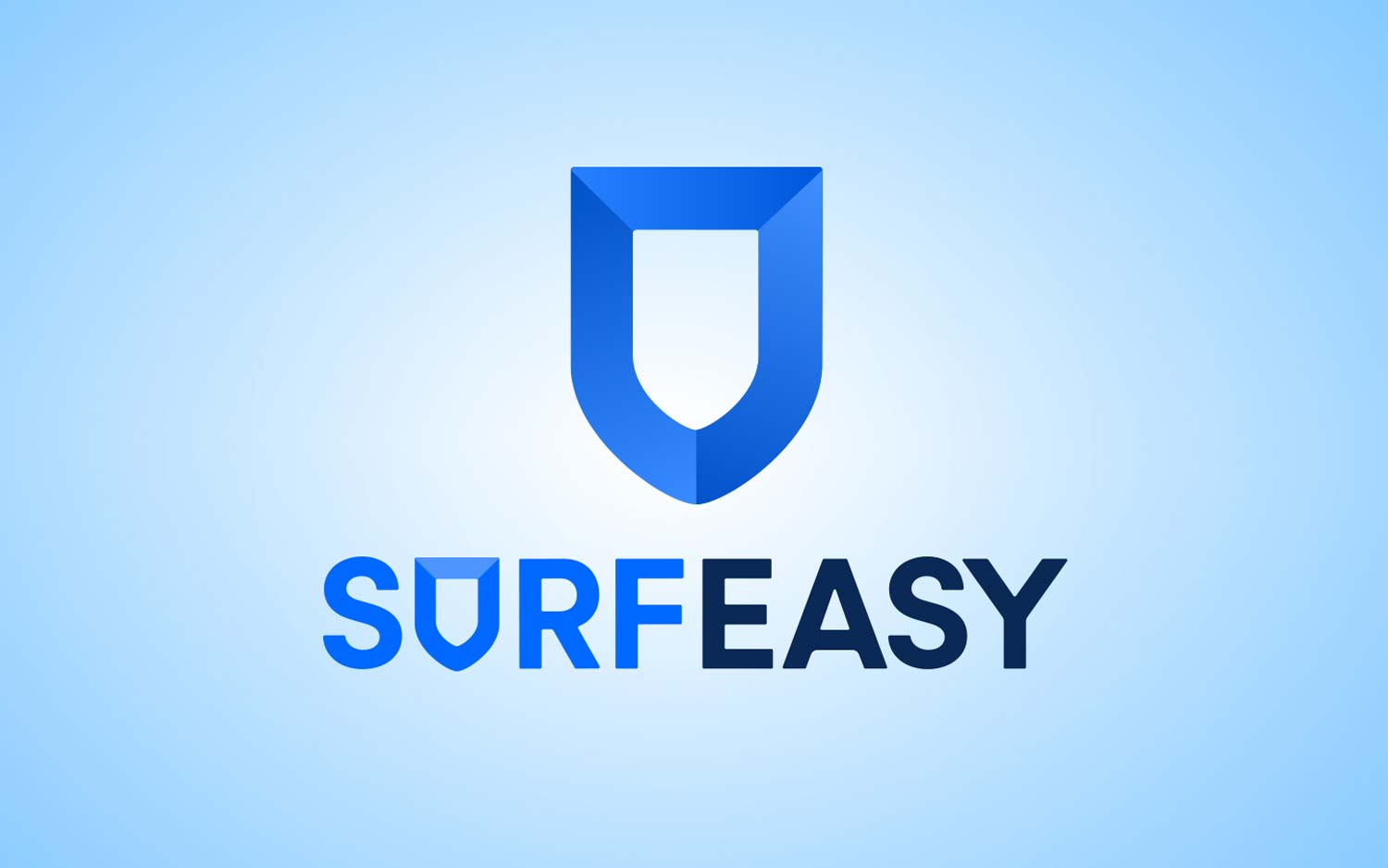 In 2011, Chris Houston, Athir Nuaimi, and Steve Kelly co-founded SurfEasy, a Canadian-based VPN service. Browser provider Opera bought the company in 2015, allowing users to surf the web more privately. Then in 2017, cybersecurity corporation Symantec acquired SurfEasy VPN in a $38.5 million deal.
Today, SurfEasy is part of Symantec's Consumer Business Unit, which includes brands like Norton and LifeLock. But even before the acquisition, it offered OEM technology to the cybersecurity company and powered the Norton WiFi VPN product.
According to the website, SurfEasy has a no-logs policy, uses bank-grade encryption, and has ultra-fast servers in over 28 countries. You can install it on Windows, Mac, iOS, and Android and use it simultaneously on five devices with just one account. Furthermore, you'll benefit from a built-in ad-blocker and a 14-day refund policy.
But just how good is SurfEasy VPN? We examined it based on how we rate VPN providers and here's what we found.
---
Table of Content
---
| | |
| --- | --- |
| FEATURE | AVAILABILITY |
| Money-back guarantee | 14 days |
| Allowed simultaneous connections | Five devices |
| Supported streaming services | US Netflix |
| No-logs policy | Unclear |
| Encryption | AES with 256-bit keys |
| Protocols | OpenVPN, IKEV2, and L2TP |
| Special features | Ad-tracker blocker, unlimited bandwidth |
| Customer support | Phone, email, and live chat (not 24/7) |
| Server locations | 1,000+ servers in 28 countries |
| P2P support | Yes |
| Server switches | Unlimited |
| Data traffic | Unlimited |
| Compatible devices | Windows, Mac, iOS, and Android, with Chrome and Opera browser extensions. |
| Smart DNS proxy | Not available |
| Legal Jurisdiction | Canada (part of the Five Eyes alliance) |
| Free trial | Not available |
---
SurfEasy Summary and Verdict – Pros and Cons
If you're short on time and just want to know what SurfEasy has to offer, here's a brief summary of the VPN's hits and misses.
SurfEasy is a VPN service based in Toronto, Canada. The country is part of Five Eyes, an alliance of international intelligence agencies that focuses on monitoring users' online activities. Members of this coalition, which later expanded to Nine and 14 Eyes, also share data with each other. Companies operating within these jurisdictions must hand in customer information upon request.
That should mean little since SurfEasy advertises that it doesn't collect sensitive data like IP addresses or browsing activities. But its privacy policy isn't exactly crystal clear. The VPN uses "banking-grade" encryption, a secure algorithm that prevents third parties from tracking what you do over the Internet. But it doesn't offer a kill switch, meaning if the VPN connection drops, your data will leak to your ISP's servers.
SurfEasy has private servers in 28 countries, not the most extensive network you'll find on the market. The VPN supports P2P file-sharing through optimized servers for torrenting. However, it can only unblock a few streaming platforms. Furthermore, it doesn't offer a Smart DNS proxy.
You can install SurfEasy apps on the majority of operating systems, including iOS, Android, Mac, and Windows. It also has browser extensions for Chrome and Opera. The VPN also allows up to five simultaneous device connections and offers a 14-day refund policy.
Pros
AES encryption with 256-bit keys.
P2P support.
Unblocks US Netflix.
Five simultaneous device connections per account.
Blocks ad tracking.
Unlimited bandwidth.
Compatible with most operating systems.
14-day money-back guarantee.
Cons
No Smart DNS.
Questionable no-logs policy.
Canada headquarters.
No kill switch.
Doesn't unblock most streaming platforms.
Limited server network.
No free trial.
Customer service available within office hours.
---
Interface and Design
SurfEasy has a basic and user-friendly website that VPN beginners should enjoy. The homepage displays some essential features on offer, including pricing, speed, geo-blocking prowess, and device compatibility. For more details about features or the company, click the buttons at the top of the page or the shortcuts at the bottom.
At the bottom right, you'll find a "Chat with Us" button that enables the live chat feature. But since customer service only operates from 9 am till 5 pm (EST), that option could change to "Help."
Mac Client
Our first feel of SurfEasy VPN came through the Mac app, which we thought was pretty straightforward and easy to use. The color red dominates the screen when you open the app, reflecting the fact that you are not connected to a VPN server. It also displays your actual location and IP address, informing you that you are not protected.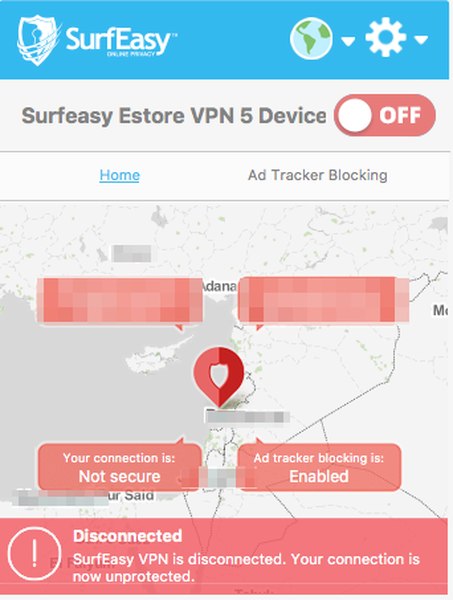 To activate SurfEasy, you simply have to click the red button towards the top of the screen. The app will then connect to the most suitable server based on your location, and shows your new IP address and country. Moreover, once you're connected to a VPN server, the color green will replace the red. SurfEasy will block ad-trackers once you launch the app, whether you connect to a server or not.
If you have a specific location in mind, you can switch servers by clicking the globe icon at the top right. That will open SurfEasy's entire network, allowing you to choose your preferred destination. The VPN also has a "Torrent Optimized" option, allowing you to connect to designated servers with P2P support.
To activate features like WiFi security, view your account, or contact support, hit the gear icon at the top right.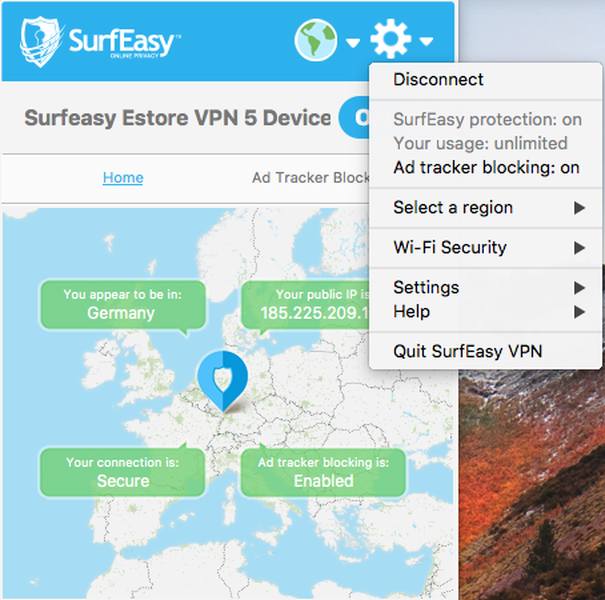 Android App
The SurfEasy Android app isn't very different from its Mac counterpart. The color red indicates that you are not connected to a VPN server, and the application will display your country of residence and actual IP address. However, you won't find a connect button on the home screen. Instead, you can access everything by pressing the hamburger icon on the top left.
Hit "turn on SurfEasy" to connect to the best server based on your location. You can also change servers, enable/disable the ad-tracking blocker, activate WiFi Security protection, and contact support.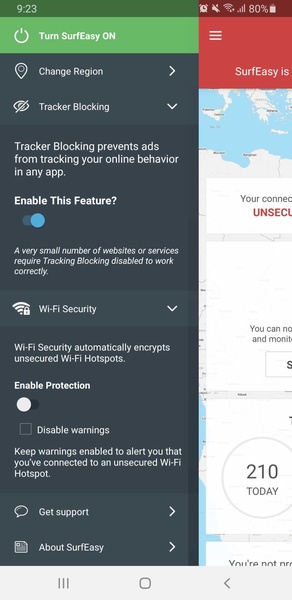 App Score
Unlike the other VPNs we've tested, SurfView does not have a Trustpilot score or review, which is quite strange. When you search for the company on the consumer review website, here's what you'll get: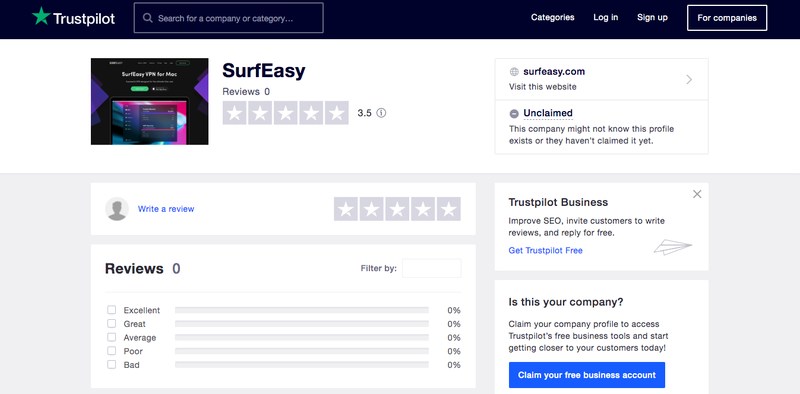 However, it received excellent scores on both Google Play and the App Store, earning 4.6 and 4.4 stars, respectively.
"Good and manageable but not perfect until you pay."

benmarc, SurfEasy user on Google Play
App Compatibility
SurfEasy VPN apps are compatible with the majority of operating systems. You can install them on iOs, Android, Mac, and Windows devices, or download the Chrome or Opera browser extensions. Furthermore, you can use the app on up to five devices simultaneously with just one account. In other words, you'll be able to protect all your laptop, phone, and tablet at the same time.
---
Server Network
Premium VPN providers must operate a broad server network, allowing customers to bypass geographic restrictions. That means they must have a presence in key locations across the world and cover every continent and important region. Otherwise, you won't have unlimited access to the Internet.
SurfEasy did a bad thing while promoting its server network. It's kind of bait for newcomers, which we don't tolerate at all in the industry. According to their website, they state that they own 2000+ servers in 31 countries.

However, when we clicked on the link it showed around 1,000 servers across 28 countries. The number of servers is a decent one, but land coverage is below the premium average. For example, while Europe and North America are well-represented, there aren't enough server locations in Asia, Africa, and South America. We think that this area needs improvement and that SurfEasy should expand to new countries.
Here's the full server list:
Australia
Brazil
Canada
France
Germany
Italy
Japan
Netherlands
Norway
Poland
Romania
Singapore
Spain
Ukraine
United Kingdom
United States
Sweden
Czech Republic
Turkey
Mexico
South Africa
Ireland
Austria
Belgium
Switzerland
Finland
Israel
Denmark
Regardless of their small server network, you can't just make up numbers just to lure in more customers. There's a difference between 2000+ servers and a thousand. Not to mention the 3 extra countries that don't really exist. Oh! And they're in no way Ultra-Fast. You'll see that in the tests below.
---
Speed Tests
Slow VPN servers could result in canceled subscriptions. Video buffering and other speed issues are really annoying, especially if they are persistent after you try other servers. Now, VPNs consume part of your Internet connection no matter which service you choose. That is due to the rerouting process and data encryption. Yet, premium providers slightly affect your speed.
We put SurfEasy under a number of speed tests to see how if it can maintain stable speed rates, and here's what we found:
The first speed test we conducted was without installing SurfEasy on our device. Our Internet speed reached 260 Mbps but alarmingly dropped to 160 Mbps after downloading the SurfEasy app. It suggests that the application was consuming our Internet speed even before connecting to a VPN server.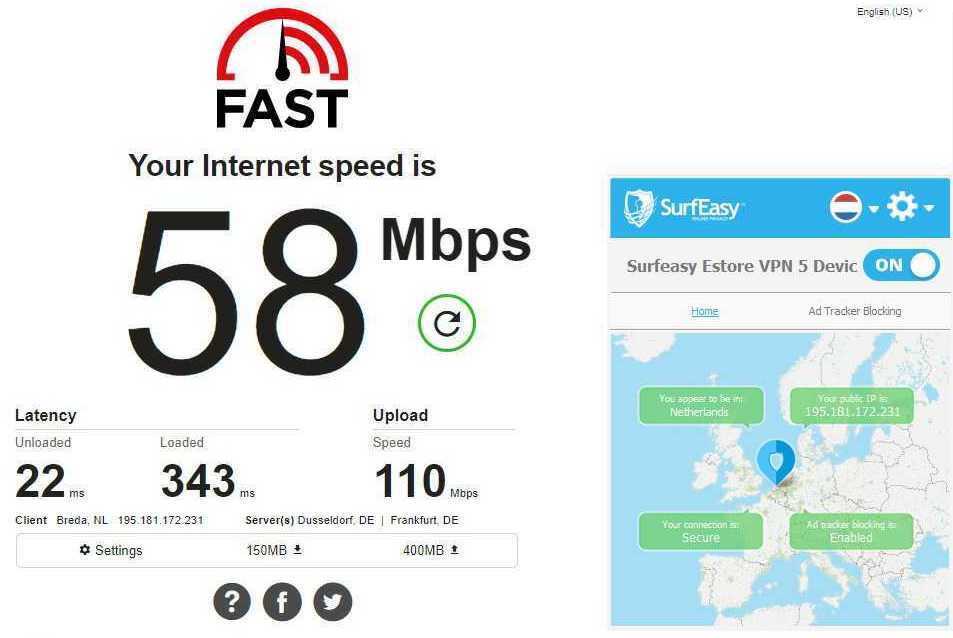 The first SurfEasy VPN server we connected to was inside the Netherlands, which is close to our actual location. Speed dropped by over 60%, which is not good considering the Dutch server is not far.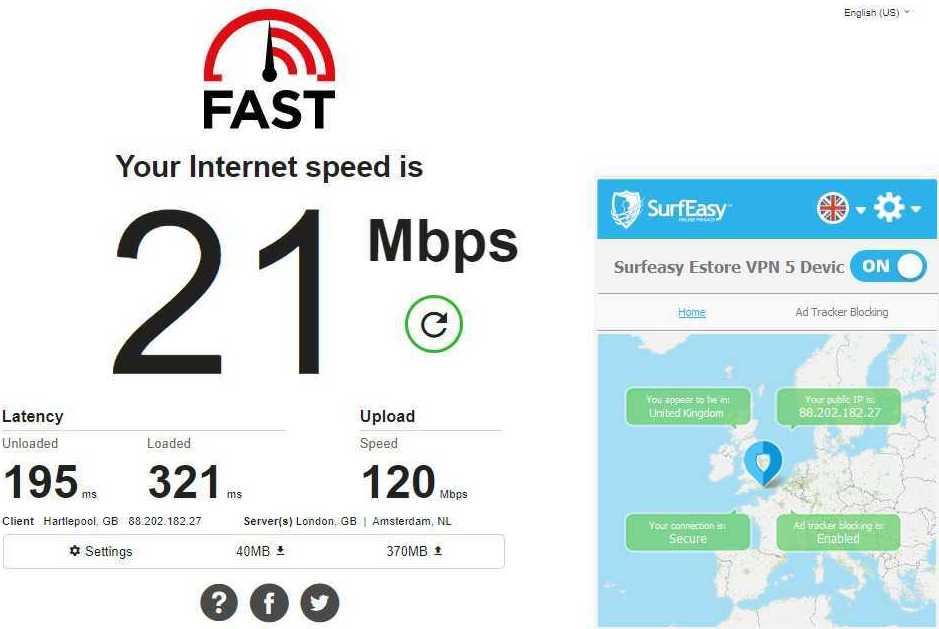 This time, we went for a location that's a bit further but quite popular among VPN users, which is the UK. Speed levels dropped even further to 21 Mbps.
And finally, we selected a distant US server, another in-demand location. We were surprised that speed rates improved a little compared to the UK server, but they were still below par.
Is SurfEasy a Fast VPN Service?
In short, no. No matter which VPN server we connected to, near or far, speed levels dropped by more than 60%. Not only that, but it seems that the SurfEasy app started consuming our bandwidth as soon as we installed it on our device before we started using it.
You won't enjoy SurfEasy if you're streaming shows or downloading files using P2P networks. Therefore, we recommend you choose faster and more reliable VPNs.
---
SurfEasy Streaming Compatibility
Unblocking streaming platforms is the biggest motivation behind using a VPN. These services are only allowed to show content in their respective regions due to licensing issues. Therefore, if you live or constantly travel abroad, you won't be able to watch your favorite shows or sports.
Another inconvenience is the blacklisting of VPN IP addresses that VOD channels adopt. Thanks to detection technology, these services can determine if you're using a VPN and subsequently block your access. However, top VPNs found ways to circumvent this ban and deliver content to cord-cutters no matter where they are.
As a result, we had to test SurfEasy's performance in this area since most users seek streaming access. And we have to say we were disappointed. When we connected to an American server, the only platform we managed to unblock was Netflix's US catalog. Other services like Hulu or Amazon Prime Video were able to detect that we were using a VPN.
But US streaming channels aren't the only ones that are popular. BBC iPlayer, for example, is one of the most-watched platforms in the UK and the world, thanks to a wide selection of British and international shows. Yet, when we connected to a UK server and tried to unblock it from abroad, a location error popped up on our screen instead.
"BBC iPlayer only works in the UK. Sorry, it's due to rights issues."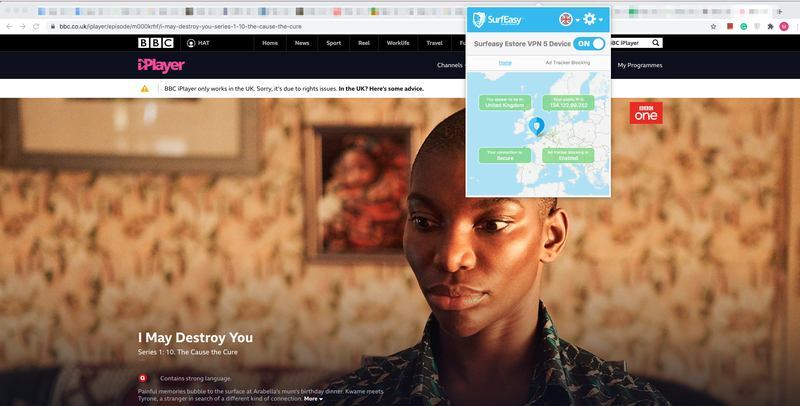 No Smart DNS
Another way to unblock streaming channels is through Smart DNS proxies, tools that only reroute the location part of your traffic instead of the entire thing. Privacy may not be their strongest feature, but a lot of users don't mind using them nonetheless. Smart DNS proxies don't hide your IP address or encrypt your traffic. But on the positive side, they don't affect your Internet speed.
Another advantage is that you can set them up on any device. That includes routers, gaming consoles, and Smart TVs, which aren't supported by VPNs.
SurfEasy does not offer a Smart DNS proxy to its subscribers, another drawback in this area.
---
P2P Support
A lot of people prefer to get their entertainment dosage from peer-to-peer networks, mostly because it's free of charge. They can download their favorite movies, shows, music, and even books using a torrent client. The problem is that in some countries, downloading copyrighted material is a crime. Punishment can include fines, termination of Internet connections, and in some cases, jail time.
Moreover, other members of the P2P network you're using will be able to see your IP address, which could make you a target for cybercrime. And let's not forget about your Internet service provider, which could intentionally limit your speed if you're using too much bandwidth.
But using a VPN will prevent ISPs, government agencies, and copyright trolls from monitoring your activities. Not only does SurfEasy support P2P activities, but it also offers optimized servers for torrenting.
---
Security and Privacy
A VPN's main goal and objective is to protect your online privacy and anonymity. To do so, your provider must offer the most secure features and options so that hackers, ISPs, and government agencies cannot see what you're doing online or trace anything back to you.
We took a look at what SurfEasy supplies in this domain and here's why we think it had mixed to negative results.
Five-Eyes Headquarters
SurfEasy VPN takes Toronto, Canada, as its headquarters. As you may know, the country is part of the original Five Eyes, a coalition of international government agencies that share intelligence. Part of their job is to monitor and collect user data over the Internet, then exchange it with each other.
These agencies gather data by forcing companies that operate within their jurisdiction to hand over the information. That also includes VPNs, which means your online activities could end up in the hands of the government. For that reason, top VPN services started implementing no-logs policies.
Here are the countries that are part of Five Eyes and the extended Nine and 14 Eyes:
| | |
| --- | --- |
| Five-Eyes | US, UK, Australia, Canada, and New Zealand |
| Nine-Eyes | Five Eyes countries, plus Denmark, France, Netherlands, and Norway. |
| 14-Eyes | Nine Eyes members, plus Belgium, Germany, Italy, Spain, and Sweden. |
Confusing No-logs Policy
SurfEasy claims to follow a no-log policy, meaning it deletes sensitive data from its servers. Now, that may sound wonderful on paper, but we had to inspect the VPN's privacy policy to see what kind of information they collect and keep. And we dug deep to reach it.
"We don't retain any logs related to your online, browsing or downloading activity, so even we don't know what you're up to."

SurfEasy
You have to visit the NortonLifeLock privacy page, then click on "Product and Service Privacy Notice." There, you'll find information about SurfEasy at the bottom of the page. According to the website, SurfEasy collects/accesses your IP address and may provide it to third parties like government agencies and service providers.
We found that a bit contradicting. How can SurfEasy claim to follow a zero-logging policy when it states that it might share your IP address with third parties?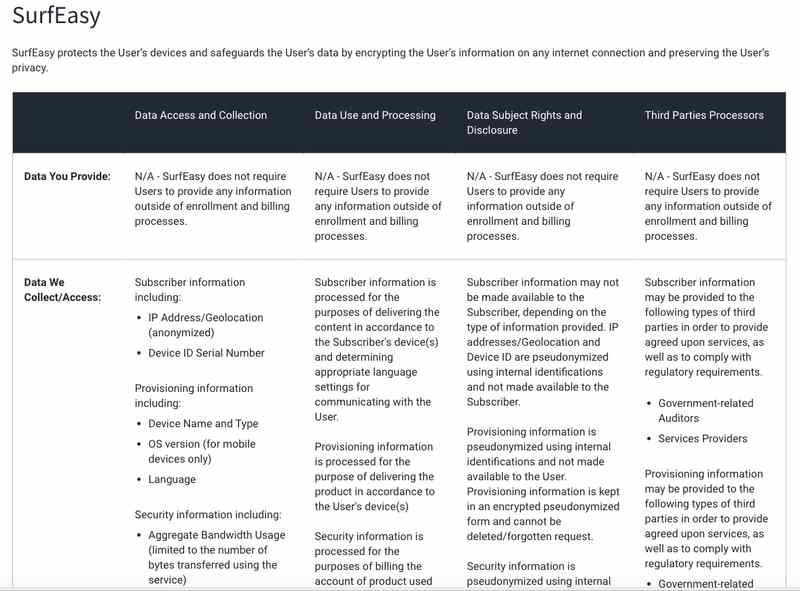 Secure Encryption
"We use bank-grade encryption to ensure that your information has protection by the highest-quality technology." That is how SurfEasy describes the Advanced Encryption Standard with 256-bit keys algorithm it uses. AES-256 is the most secure encryption on the market, adopted by government agencies like the NSA.
Cybercriminals would have to go through trillions of walls to break it, which is so far impossible even with the world's supercomputers combined. In other words, third parties won't be able to monitor your online activities.
No Kill Switch
The kill switch is an essential feature that every VPN should provide. It is your last line of defense against any data leaks, as it disconnects you from the Internet in case the VPN malfunctions. Therefore, your traffic won't leak to your ISP's servers where they can be compromised.
SurfEasy does not offer this feature in any of its apps, which is a massive disadvantage in terms of privacy. If the VPN connection drops for whatever reason, third parties will be able to see and collect your sensitive data. That includes your browsing activity and the websites you visit.
But despite the lack of a kill switch, SurfEasy did not register any data leaks when we tested it. We connected to a German server, then used our IP info tool to see if the IP address on display was from Germany. As you can see from the below image, SurfEasy changed our IP and we appeared as if we were in Frankfurt.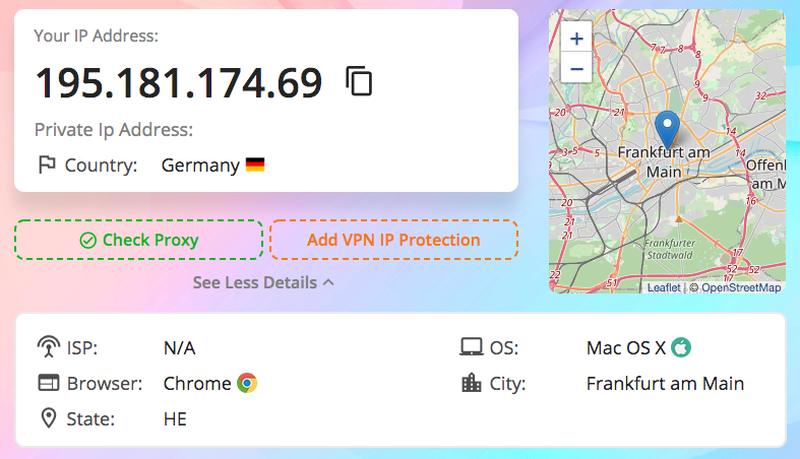 We also checked for any potential WebRTC leaks using our own tool and the results were also encouraging. Even though the test says there may be a leak, the IP address on display matches the one SurfEasy granted us when we connected to the German server, which means our data was safe.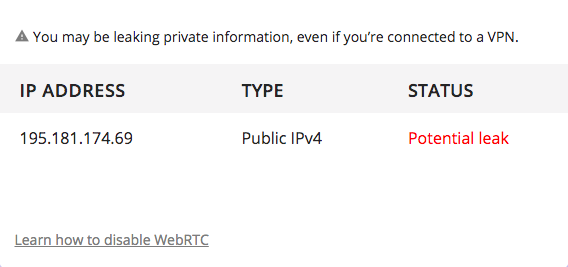 Ad-Tracking Blocker
Despite several drawbacks, SurfEasy offers a unique privacy-friendly feature in the shape of an ad-tracking blocker. It blocks online advertisers from installing tracking cookies on your device and browser, preventing them from following you online.
And the best thing about this feature is that you don't have to connect to SurfEasy VPN server to activate it. You can benefit from it by simply opening your app. The VPN will even show you how many trackers it has blocked in the past 30 days.
No Warrant Canary or Independent Auditing
For the sake of transparency, several VPN providers create a warrant canary page. The latter notifies customers if their VPN received any secret national security letters or subpoenas from government agencies. These warrants are usually accompanied by a gag order, meaning companies aren't allowed to disclose the content with users.
But thanks to the warrant canary, VPNs can alert their customers by taking the page down. As long as it stands, then your VPN hasn't been slapped with any government letter.
Moreover, VPN providers sometimes invite reputable, independent auditors to inspect their apps and verify their claims. These firms run thorough tests and interview staff members to ensure that the VPN service is honest and delivers on what it promises. Then, the VPN releases the report to the public for total transparency.
SurfEasy does not have a warrant canary or verification from an independent auditor. In fairness, not many VPNs have these features, but it would be a significant improvement if SurfEasy introduced them.
---
Customer Support
Professional and responsive customer service is a handy feature in case you're having difficulties connecting to a VPN server. Some users might also have a couple of questions before they subscribe, especially VPN beginners. Therefore, reputable VPN providers offer multiple methods through which clients can contact them. That includes email, ticket support, and live chat.
SurfEasy provides all three of them, in addition to phone support, a feature that few VPNs have. However, customer service isn't 24/7. You can reach out to the company from Monday to Sunday between 9 am and 5 pm (Eastern Standard Time). That also includes live chat, which is why you might find a "help/leave us a message" button on the website if you're browsing outside office hours. Furthermore, you'll find several articles, guides, and FAQs.
If you're using the app, simply go to settings -> help -> contact support.
Here's how you can contact SurfEasy, according to the website:
USA & Canada: 1-888-743-8102 (toll-free)
UK: 0800-011-9492 (freephone)
Email: [email protected]
Live Chat: click the "Chat with Us" tab on the right side of our website www.surfeasy.com to start a live chat
Languages
Strangely enough, we didn't find anything on the SurfEasy about available languages. Usually, VPN providers allow visitors to browse through their websites in their preferred language, with English set as default. Sometimes, the apps can also be customized so that you can change tongues as you please.
However, we didn't find anything of the sort on the SurfEasy website or apps, which is unfortunate for non-English speakers.
---
Is SurfEasy VPN Expensive?
Money is also a sensitive and critical matter for most Internet users. If a VPN has a hefty price tag, they might dismiss it, even if it offers premium features. Some prefer not to spend cash on VPNs and opt for free providers instead. However, we strongly recommend you avoid these services as they could endanger your privacy and security.
Free VPNs collect and share your sensitive data with third parties to generate profit. They also implement weak encryption algorithms and might contain malware.
Now, is an affordable VPN service that offers just two subscription plans: monthly and yearly. There's great value if you opt for the long-term package as you'll benefit from a 60% discount.
One-month plan: $5.99/month
Annual plan: $29.88/year billed once annually (=$2.49/month)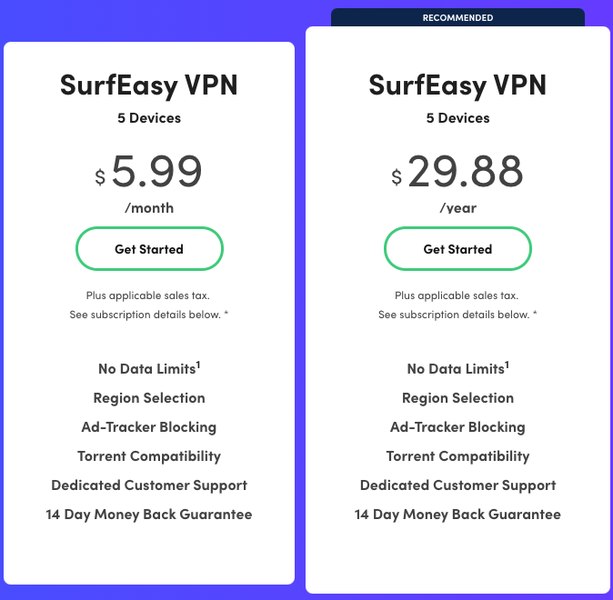 Free Trial and Refund Policy
SurfEasy does not offer a free trial. However, you can benefit from a 14-day money-back guarantee no matter which subscription plan you choose. It is an improvement from the previous one-week refund policy. And although the industry standard is now 30 days, the two-week money-back guarantee gives users enough time to test the service before deciding if they should commit to it.
Payment Methods
You can purchase a SurfEasy subscription using your Visa, MasterCard, Amex, Discover, JCB, and other credit cards. Alternatively, you can pay via PayPal. But the VPN does not allow cryptocurrency payments, like Bitcoin or Ethereum. That means you won't be able to maintain your online anonymity.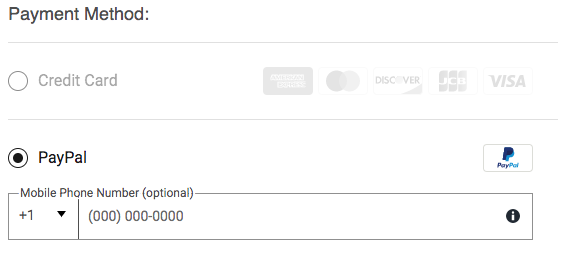 ---
SurfEasy VPN – Final Verdict
To sum up, SurfEasy could be a decent and affordable VPN service, depending on what you're using it for. If you want to hide your sensitive data when connected to public WiFi or block third-party ad-trackers, then this provider could be a suitable choice. It's also a good option for downloading files via P2P networks.
But that's about it. SurfEasy doesn't cover much ground, operating 1,000+ servers in just 28 countries. Moreover, it can only unblock US Netflix, while the other streaming platforms remain geo-restricted. On the security and privacy front, the VPN does not have a kill switch and its no-logs policy is a bit contradicting, not to mention that it's based in Canada.
Therefore, we think you'll be better off investing in a different VPN service.
SurfEasy does have a few advantages. Are they enough to convince users to subscribe? Tell us what you think below.