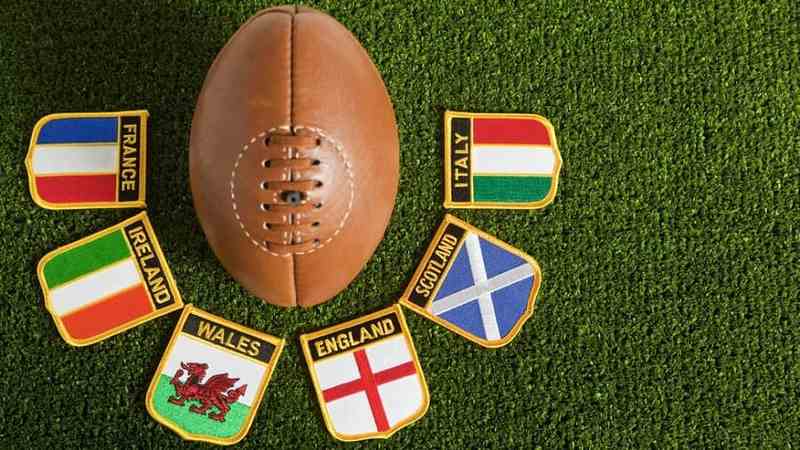 February usually queues preparations for Valentine's Day. But for rugby fans, it's a whole different story. The first weekend of the month signals the start of the Six Nations rugby tournament, held annually between England, Wales, Scotland, Ireland, France, and Italy.
This year, the event kicks off on the 4th of February, 2023, and ends on the 18th of March, 2023. And just like every year, there will be plenty of action, excitement, and drama. Even though the 2023 Six Nations rugby has plenty of media partners, each online broadcaster will be subject to geo-restrictions.
It means you can't watch the tournament on your favorite streaming channel if you're abroad. A good VPN tackles rugby geo-blocks, allowing you to cheer your favorite team from anywhere.
Six Nations Rugby from First Try
Time needed: 3 minutes.
You'll be streaming the 2023 Guinness Six Nations in no time:
Get a grade-A VPN.

We tested dozens of VPNs and liked ExpressVPN the most. BulletVPN also impressed us and came in 2nd.

Download the VPN app on your device.

After creating your account, download the VPN app on your desktop, phone, or tablet with a single click.

Open the app and sign in.

Enter your credentials to get started.

Connect to the server you need.

The VPN server location must match the channel's broadcasting region (UK server to watch it on BBC Player/ITV Hub, Canadian server for DAZN).

Head to your broadcaster's website or app.

You'll notice there are no error messages anymore.

Enjoy the 2023 Six Nations live anywhere.

Stream all the action on your favorite platform.
Pre-Match Preparations
Let's set you up with everything you need to stream the 2023 Six Nations rugby just in time before the tournament starts.
Six Nations Requirements
Don't get intercepted by geo-blocks. Follow this guide for full rugby action:
A subscription to a premium VPN.
Access to a Six Nations rugby broadcaster.
A compatible device.
2023 Six Nations Broadcasters
In 1883, England, Scotland, Wales, and Ireland organized the first international rugby union tournament, called the Home Nations Championship. It became Five Nations when France joined in, then Six Nations with the addition of Italy. Today, it is one of the biggest rugby championships in the world.
The event is held annually on the first weekend of February and ends on the second or third Saturday of March, a.k.a Super Saturday. England and Wales are the most successful teams, with 39 titles each. Scotland and Italy are yet to win it since the Six Nations era began in 2000. But enough with the history lessons.
Guinness Six Nations commences on February 4 and concludes on March 18. There's a wealth of streaming platforms covering the tournament, but each service is only available in its respective region. We listed the most popular ones below (see all broadcasters here).
Due to licensing agreements, each channel uses geo-blocking technology to keep out overseas viewers. Moreover, they can detect and block most VPN services, making out-of-market access quite tricky.
Full Six Nations Rugby Access – VPN
Although several VPN services don't live up to the hype, premium providers are still the real deal. See, websites and internet services determine your location through your IP address. So if you attempt to watch rugby on Peacock while you're in France, you'll reach a dead end.
VPNs operate on a private server network. They send your traffic through an encrypted tunnel and hide all data that expose your location. You'll also get a new IP address, making it appear as if you were in a country or region of your choice.
For example, if you want to watch Six Nations rugby on Peacock from outside the US, you must connect to an American VPN server. And with your new USA IP address, you'll be able to access every streaming channel restricted to that country, like HBO Max, Hulu, ESPN+, and more.
More VPN Benefits
Connecting to a VPN server will give you much more perks than just broader internet access. You can use this tool every time you go online because it offers the following:
Data protection

: The encrypted VPN tunnel prevents hackers and ISPs from stealing or monitoring your sensitive data, especially when connected to public WiFi.

Anonymous Browsing

: Hiding your IP address conceals your online location and identity. And with the VPN zero-logs policy, no one can track your internet activities.

No censorship

: Access VoIP services and censored websites wherever you are by simply connecting to a foreign VPN server.

No ISP throttling

: Your ISP can't intentionally slow down your internet connection if it can't see what you're doing. Enjoy uninterrupted streaming and gaming.

Better online deals

: Discover new e-markets when shopping online and save money on your favorite items.
Best VPNs for the 2023 Six Nations Rugby
You need a premium VPN to watch the 2023 Six Nations live online and get all the VPN benefits. Even though they seem appealing, we don't recommend using a free VPN. They are inefficient, slow, and make money by collecting and selling your data.
Instead, We advise you to make the right choice and invest in a premium VPN. You'll have reliable access to your favorite Six Nations broadcaster, and you'll enjoy online anonymity, security, and freedom. Our experts tried and tested several providers. They liked ExpressVPN the most.
ExpressVPN has 3,000+ servers across 160 locations, with reliable access and fast speeds. Users also benefit from first-rate privacy features like military-grade encryption, a no-logs policy, and an automatic kill switch. There's also a 30-day money-back guarantee in case you change your mind.
If you prefer to check out more options before deciding, here are our top recommendations.


30-Day Money-back Guarantee
Unlimited Bandwidth
Apps For All Your Devices
24/7 Live Support
Visit ExpressVPN
2023 Guinness Six Nations – Fixtures and Schedule
Alright, well, you know the rules. Each team will play against one another once, which takes the total number of games to 15. There are five rounds, each one consisting of three matches.
Teams get 4 points for a win, 2 for a draw, 0 for a defeat, 1 for scoring four or more tries in a game, and 1 for losing by 7 points or fewer. A side that wins all its matches also called a Grand Slam, gets three extra points.
ROUND 1
Feb. 04: Ireland vs. Wales
Feb. 04: Scotland vs. England
Feb. 05: France vs. Italy
ROUND 2
Feb. 11: France vs. Ireland
Feb. 11: Wales vs. Scotland
Feb. 12: Italy vs. England
ROUND 3
Feb. 25: Ireland vs. Italy
Feb. 25: England vs. Wales
Feb. 26: Scotland vs. France
ROUND 4
Mar. 11: Wales vs. Italy
Mar. 11: England vs. France
Mar. 12: Scotland vs. Ireland
ROUND 5
Mar. 18: Scotland vs. Italy
Mar. 18: France vs. Wales
Mar. 19: Ireland vs. England
2023 Guinness Six Nations FAQs
For more information, see our readers' most frequent questions.
When will Six Nations start?
The 2023 Six Nations championship, or the 2023 Guinness Six Nations, kicks off on February 4 and concludes on March 18.
Can I watch Six Nations online?
You can stream the 2023 Six Nations live online on several platforms, including BBC iPlayer, ITV Hub, DAZN, Peacock, DStv, and more. Check out the above list for more information or the following list here.
Do I need a VPN to watch Six Nations rugby?
It depends on where you are and your favorite channel. You can't watch Six Nations on Peacock from outside the US or BBC iPlayer from outside the UK. But if you connect to a VPN server from the same location as your broadcaster, you'll have access to every game.
How to watch Six Nations with a VPN?
To access your favorite streaming platform from abroad, connect to a VPN server from the same location. Here are a few examples:
Peacock or NBC Sports: US server
BBC iPlayer or ITV Hub: UK server
DAZN: Canada server
RTE Player: Ireland server
DStv: South Africa server
France TV: France server
What is the best free VPN?
Free VPNs don't work with most streaming services. They also make money by collecting and selling your data. That is why we don't recommend using them.
2023 Six Nations Rugby – The Final Kick
Are you ready for this year's Six Nations rugby championship? The action is about to kick off, and if you don't have access to your regular broadcaster, you better get a VPN. Otherwise, you're going to miss it.
Not any VPN can do it, though. You need a premium provider with high speeds, good unblocking capabilities, and the best privacy features.
ExpressVPN and BulletVPN will certainly do the trick, and so will our other recommendations. So if you're abroad, hurry up and subscribe.