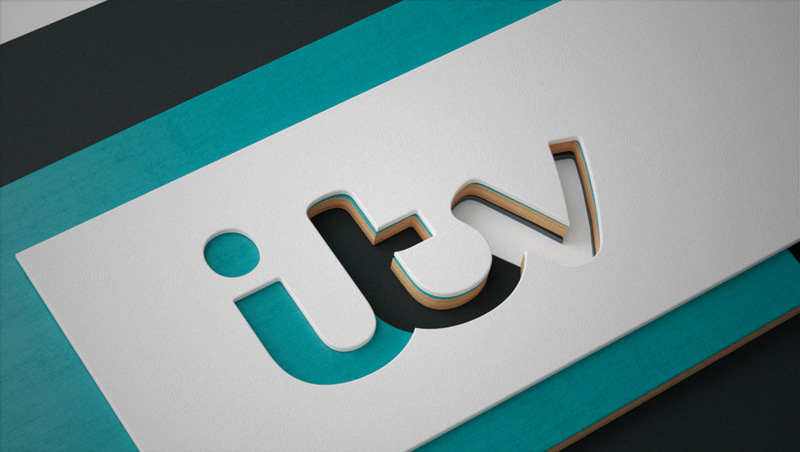 What to watch on ITV Hub
Watch ITV online anywhere with a VPN
Smart DNS proxies can also unblock ITV Hub
Compatible devices with ITV Hub
Well, it's official: The United Kingdom is no longer a member of the European Union (EU). Prime Minister Boris Johnson signed the divorce papers on January 24, paving the way for the UK's formal exit a week later. Now, there is an 11-month transition period, during which the UK will continue to follow all of the EU's rules, but there is no turning back now.
What this means for Britain, Scotland, Wales, and Northern Ireland remains unknown. The UK and the EU still need to agree on how their future relationship will look like. That includes trading, economic, political, and broadcasting agreements. And it's OTT services like ITV Hub that might suffer the most.
The streaming platform is only available for viewers who reside inside the UK. But its paid subscription service ITV Hub+ allows users to watch programs inside EU territory. However, that may change after Brexit. Therefore, if you're looking to stream your favorite ITV shows from outside the UK, the safest bet is to get a VPN or a Smart DNS proxy.
---
Table of Content
---
What's on ITV Hub?
ITV is the oldest commercial TV network in the United Kingdom. It was launched in 1955 to compete with the BBC and went on to become one of the popular broadcasters in the UK. The network launched ITV Player in 2008, a video-on-demand platform for online viewing. Then, in 2015, ITV revamped the latter's website and app and renamed it ITV Hub.
It features a portfolio of six channels: ITV, ITV2, ITV3, ITV4, CITV, and ITVBe. The broadcaster says it spends around £1 billion in content for its broadcast channels and ITV.com. Each one delivers a specific set of programs covering all domains, from movies and shows to sports and news.
ITV: Original drama, soaps, sport, factual series, news, and entertainment events.
ITV2: Original comedies and panel shows, American acquisitions, and movies.
ITV3: ITV classic drama series, in addition to a selection of factual and entertainment programs.
ITV4: Live sports, movies, US acquired shows and cult classics.
CITV: Animated and live-action series for children, including homegrown commissions.
ITVBe: Lifestyle and entertainment programming from the UK and US (reality TV).
Can I Watch ITV From Anywhere?
Due to broadcasting rights, ITV Hub and its entire library are only available inside the UK. The streaming platform uses geo-blocking to prevent viewers who live abroad from watching videos. That is why a location error message pops up on your screen when you attempt to access the service from outside its designated region.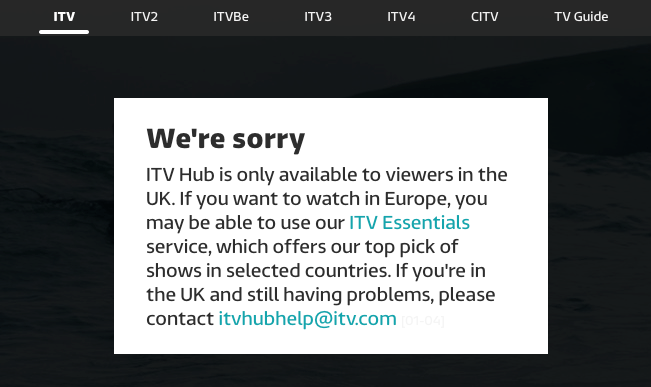 "ITV Hub is only available to viewers in the UK."
ITV Hub can determine your location through your IP address. Each country has a set of these numerical labels, and Internet service providers are responsible for assigning them to users. You cannot go online with one. When streaming services like ITV Hub see that your IP address belongs to another country, they will block your entry.
ITV Hub+
ITV's online platform and content may be unavailable outside the UK, but viewers who live in EU countries can still follow their favorite programs. The network introduced a paid subscription service called ITB Hub+, tailored for UK expats and travelers or any other ITV fan.
"The ITV Hub is only available within the UK as we don't hold international rights for all of our shows… You can watch ITV programs abroad by subscribing to ITV Hub+ (Terms and Conditions apply)."

ITV
The £3.99-a-month service features the same content as ITV Hub, excluding live TV. That means you can follow your favorite shows, sports, and the latest news on catch-up only. You just have to be inside the EU. Furthermore, ITV Hub+ allows you to watch programs without ads and download episodes to watch offline. That last feature is only available for iOS users, though. You'll also benefit from a seven-day free trial.
But please note that Brexit may affect ITV Hub Plus. The service might change its terms and conditions once the UK leaves the EU for good. That means ITV content can be blocked inside Europe as well.
BritBox
Once competitors, now partners. In an effort to quell the surge of Netflix and Amazon Prime Video in the UK, ITV and BBC teamed up to create BritBox. The video subscription service is home to "the largest collection of British boxsets ever." It features programs from both broadcasters, in addition to content from Channel 4 and Channel 5. Original programming is planned for this year, as well.
Popular shows like Doctor Who, Downton Abbey, Broadchurch, Love Island, and The Office will be available for £5.99 per month, the same price as Netflix's basic subscription plan. However, unlike the streaming giant, BritBox offers HD viewing and allows up to five simultaneous device streams. Viewers will also benefit from a 30-day free trial.
BritBox is only available in the UK, Canada, and the US, and content may differ in each country. US Britbox costs $6.99/month, while in Canada, it's priced at CAD8.99 per month ( USD6.77). Therefore, you'll need a VPN to unblock BritBox and stream the best in UK TV.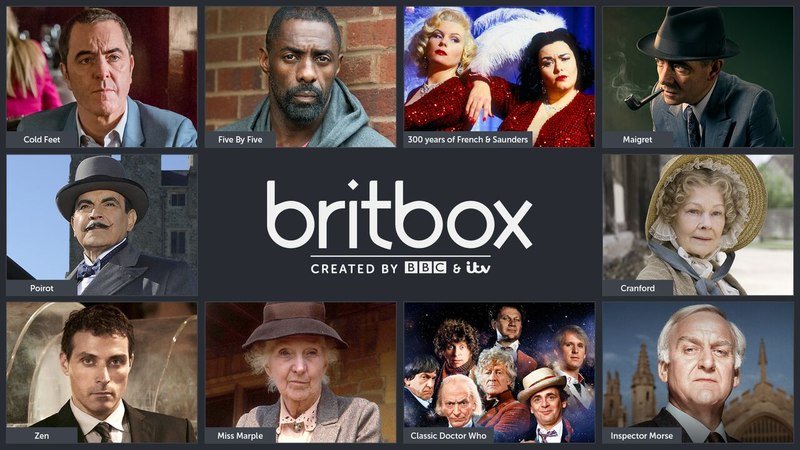 ---
Unblock ITV From Anywhere with a VPN
If you want to watch ITV Hub from abroad, the root of your problem is your IP address. You'll get geo-blocked when the streaming service sees it, yet you can't go online without one. Therefore, you need a tool that can change your actual IP address to a UK IP address.
Virtual private networks can do just that, and then some. Better known as VPNs, they will reroute your traffic through their server network, then give you a new IP from the same location of the server you selected. In other words, if you connect to a UK VPN server, you'll receive an IP address from the UK.
As a result, ITV Hub and every other British-restricted streaming platform will become available no matter where you are. That's because your VPN will make you appear as if you were inside their broadcasting zone, i.e., the United Kingdom. So ITV Hub, BBC iPlayer, Sky Go, and BT Sport will be at your fingertips.
More VPN Benefits
Virtual private networks bring so much more to the table than just bypassing geo-blocks. Premium brands, for instance, offer excellent privacy and security features to keep third parties from monitoring your online activities. Here's what else you'll get when you subscribe to a VPN:
Military-grade encryption: Your VPN will encrypt everything you do over the Internet as soon as you connect to one of its servers. Elite VPNs use the most secure encryption on the market, preventing anyone, even your ISP, from tracking what you do.
No-logs policy: VPN servers won't collect sensitive data like browsing history and web destinations, and IP addresses. Instead, they delete such information from their servers so that no one can access it.
Torrent support: If you like to download your favorite files via torrent websites, but you're worried about legal action from copyright trolls, then VPNs are your perfect solution. The encryption and zero-logging policy will prevent anyone from seeing your actual identity and location, as well as your online activities.
Kill switch: Just like any other product, VPNs can sometimes malfunction and stop working. That is why you need an assurance that your data won't be compromised. The kill switch will cut off the Internet connection from your device to prevent your traffic from traveling through your ISP's servers.
VPN Installation
Only the best VPN providers offer top features. Even though you have to pay for such services, premium brands offer the best value for money, time, and effort. Free VPNs, on the other hand, are terrible choices for watching ITV Hub from abroad.
First, their servers are slow and limited, which is far from ideal if you want to watch live programs in HD or download using torrents. They also collect your sensitive information and share them with ad firms for money. And let's not forget that they use weaker encryption than top VPNs.
So I advise you to install a paid VPN on your device by following these steps:
Sign up to a VPN that offers premium features. ExpressVPN and BulletVPN are my top recommendations.
After you create your account, download and install the VPN app from Google Play or App Store. Top VPN apps are compatible with the majority of operating systems.
Now, open the app on your device and sign in with your new account.
Connect to any server that's inside the United Kingdom, then go to ITV Hub. Notice that the location error message has disappeared.
Watch your favorite ITV Hub programs no matter where you are.
Note: If you're a new subscriber to ITV Hub, you must provide a UK postcode and TV license. ITV Hub+, however, is a standalone subscription-based service, and only requires a £3.99-a-month fee.
---
Best VPN to Unblock ITV Hub
A lot of VPNs claim to be the best in the industry. If you search online, you'll get mixed results as each source rates VPNs differently. However, certain essential features should be a mainstay in every top VPN. That includes military-grade encryption, a no-logs policy, fast speed rates, unblocking capability, and leak protection.
Based on these characteristics, I shortlisted two VPNs that are perfect for accessing ITV Hub from abroad.
ExpressVPN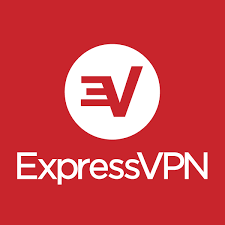 You'll find ExpressVPN among the top names in any VPN recommendation list. It offers the highest level of features and is the best all-round performer in the industry, in my opinion. It's excellent for unblocking restricted material, as well as safeguarding your online privacy.
The company owns over 3,000 servers in 160 locations across 94 countries. That's one of the most expansive networks in the business as it covers all corners of the world, with plenty of servers in the UK. These servers offer fast speed rates, which is precisely what you'll need when you're streaming your favorite ITV shows and programs.
Furthermore, ExpressVPN uses the military-grade Advanced Encryption Standard with 256-bit keys. AES-256 is impossible to break, not by regular computers anyway. Supercomputers, which don't exist yet, would have to run for billions of years to crack it. In other words, government agencies, ISPs, and hackers won't be able to monitor your online activities as long as you're connected to ExpressVPN.
The provider also implements a strict and proven no-logs policy. Data like browsing history and IP addresses get erased from the servers, and only minimal information is stored. Turkish authorities once seized an ExpressVPN server as part of the investigation of Russian ambassador Andrei Karlov's assassination. The police didn't find any useful material that could help with the case.
"ExpressVPN does not and has never possessed any customer connection logs that would enable us to know which customer was using the specific IPs cited by the investigators."

ExpressVPN
for more information, check out the ExpressVPN review.
Pros
Zero-logs policy.
Excellent unblocking capabilities despite the VPN ban.
AES-256 encryption.
Phenomenal speed rates.
Kill switch and DNS leak protection.
Five simultaneous device connections per account.
30-day refund policy.
MediaStreamer: Smart DNS proxy.
Vast server network.
24/7 customer support with live chat feature.
Torrent and P2P allowance.
Apps for iOS, Android, PC, Mac, Kindle Fire, and Linux.
Cons
A bit pricier than other VPNs in this category.
---
BulletVPN
If you'd like to consider more options before you commit to one VPN, then BulletVPN offers premium features as well. In fact, you'll get almost the same benefits as with ExpressVPN, except for the massive network coverage. The provider operates 114+ servers in 51+ countries, which is a decent network. The servers are spread across all continents (minus Antarctica), and plenty of them are in the UK.
Moreover, BulletVPN offers fast speed rates, which I'm sure you already knew given the word bullet in its name. Therefore, you won't find any trouble unblocking ITV Hub and watching your favorite programs without any buffering issues.
As for security and privacy, BulletVPN doesn't collect logs of sensitive user data and certainly doesn't share them with any third parties. It also uses the AES-256 encryption; the same kind governments use to protect classified information. The company offers a kill switch for extra security. And if you enable BulletShield with it, you won't have access to the Internet unless you're connected to a BulletVPN server.
Learn more about BulletVPN through our full review.
Pros
Kill switch + BulletShield.
Fast servers.
No-logs policy.
Military-grade encryption.
Unblocks Netflix and other major streaming services.
Six device connections at the same time.
30-day money-back guarantee.
Free Smart DNS proxy.
Round-the-clock customer support (with live chat feature).
Compatible apps with iOS, Android, PC, and Mac.
Support for torrenting and file-sharing.
Cons
Smaller server network than other elite providers.
You can also consider Unlocator, NordVPN, and IPVanish to access ITV Hub from abroad.
---
Stream ITV Hub Using Smart DNS
If the VPN method didn't totally convince you and you'd rather go for something a little less expensive, Smart DNS proxies can also unblock ITV Hub. But for a lower price, you'll have to give up some advantages, especially on the privacy front.
Smart DNS proxies don't hide or change your IP address. They can bypass certain geo-restrictions by only redirecting the URLs that expose your location. Moreover, they don't offer any kind of encryption, meaning your ISP and other entities can monitor your online activities.
Still, not everyone is concerned with online privacy and anonymity. If you're one of them, then Smart DNS proxies are a reliable choice to unblock streaming platforms. Just make sure you get one that supports a lot of services, including ITV Hub.
And please note that these tools won't function properly if your ISP uses transparent proxies or DNS hijacking.
Unlocator – Best Smart DNS for ITV Hub
The fastest and most efficient Smart DNS proxy I've ever tried is Unlocator. It supports over 220 channels, including ITV Hub, BBC iPlayer, Now TV, and BT Sport. Other streaming platforms include Amazon Prime Video, Hulu, HBO Now, 7Plus, DStv, ESPN+, and plenty more.
New subscribers benefit from a free seven-day trial, as well as a 30-day money-back guarantee. That means you'll enjoy all the ITV streaming you'd like for a month without paying a dime, technically. If, after that period, you're dissatisfied with the service, you can ask for a refund.
Head over to Unlocator and sign up. During the free trial week, you don't have to submit any credit card information, only an email and password.
Follow the setup guides and videos to configure Unlocator on your device quickly. You can set it up on any device, including iOS, Android, PC, Mac, Smart TV, gaming consoles (PS4 and Xbox), and routers.
Stream your favorite ITV Hub shows from anywhere in the world.
---
ITV Hub Compatible Devices
You can stream your favorite ITV shows online through the ITV Hub website and app. Both are compatible with the majority of devices and platforms, including:
PC
Mac
Android
iPhone
iPad
Roku
Apple TV
Samsung Smart TV
Amazon FireStick
Amazon Fire TV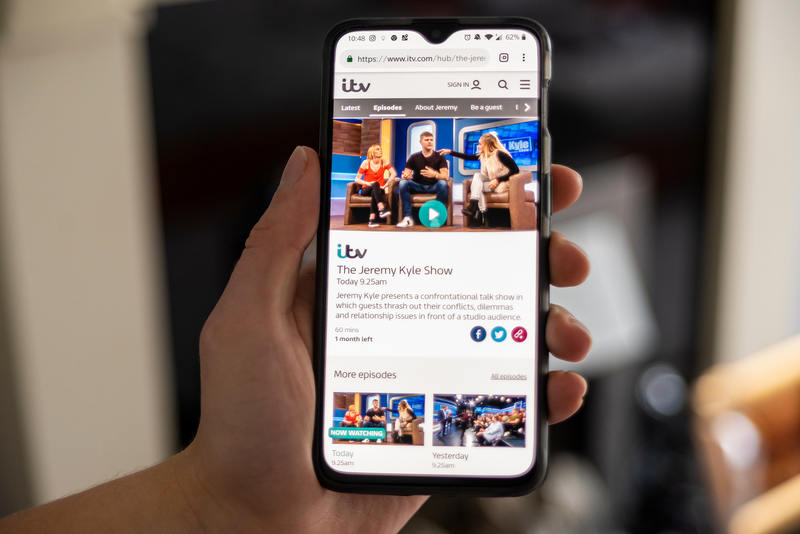 ---
Watch ITV Hub from Abroad – Final Thoughts
There's no questioning the quality of British television, and ITV is home to some of the best programs in drama, comedy, reality TV, news, and more. Unfortunately, the streaming platform is only available for UK residents only. Even other subscription-based services like ITV Hub+ and BritBox are blocked outside their respective regions.
Therefore, premium VPNs and Smart DNS proxies are necessary if you wish to keep up with the latest shows and programs on ITV. You can even install the apps on your phone or tablet and stream on the go.
What's your favorite show on ITV? Even though I hate reality TV programs, I'm a sucker for some Love Island drama.