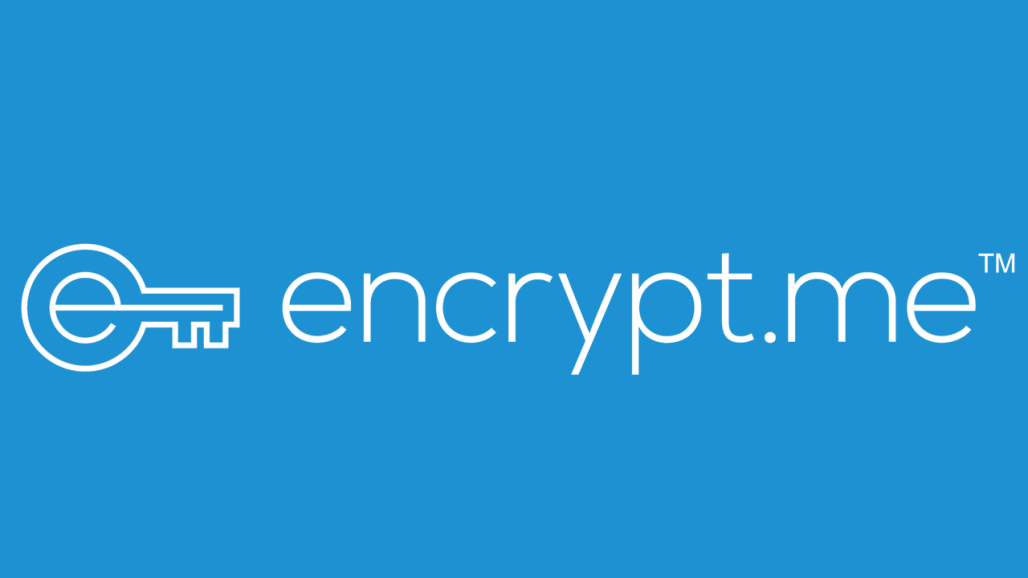 Encrypt.me VPN started its journey in 2011. Back then, it was known as Cloak VPN, an online security tool created by Dave Peck, Peter Sagerson, and Nick Nelson. StackPath, a content delivery network and cloud service company, acquired it in 2016, then rebranded it a year later.
Today, Encrypt.me VPN is a product of J2 Global after the Internet services firm bought it in 2019. The deal included another high-profile VPN service – IPVanish. Judging by its name, the VPN should maintain your online privacy and anonymity by encrypting your data. The website claims that Encrypt.me keeps you, your family, and team safe and secure.
But just how well does this VPN service protect you? Is is it as safe as it claims to be? And what about the other critical VPN features like speed, unblocking capabilities, and pricing?
Therefore, we put Encrypt.me VPN under our microscope to see where it ranks on our VPN list. And just like all our reviews, Encrypt.me went through our thorough and unbiased eight-step evaluation process. Below, you'll find detailed results for each test.
---
Table of Content
---
| | |
| --- | --- |
| FEATURE | AVAILABILITY |
| Money-back guarantee | 30 days |
| Allowed simultaneous connections | Unlimited devices |
| Supported streaming services | US Netflix and BBC iPlayer. |
| No-logs policy | Collects some data |
| Encryption | 1536-bit and 2048-bit DH group encryption |
| Protocols | IPSec (for iOS), OpenVPN (for Mac and Android), and StrongSwan (for Windows) |
| Special features | Split tunneling, unique subscription plans, built-in kill switch |
| Customer support | Live chat (not 24/7), support ticket, and email |
| Server locations | 78+ servers across 49+ countries |
| P2P support | No |
| Server switches | Unlimited |
| Data traffic | Unlimited |
| Compatible devices | Windows, Mac, iOS, Android, and Kindle Fire |
| Legal Jurisdiction | USA (inside Five-Eyes domain) |
| Free trial | Two weeks |
---
Encrypt.me VPN Pros and Cons – Quick Verdict
For a quick review of Encrypt.me VPN, here's a summary of what we found.
Encrypt.me is based in Seattle, Washington, on the US West Coast. The country is part of the Five Eyes, an alliance for data monitoring, gathering and sharing. It means that the company operates within a data-retention jurisdiction and has to submit user information upon government request.
A more alarming matter is the fact that Encrypt.me VPN keeps records of your sensitive data. That includes connection timestamps and IP addresses. The company will store such information for 16 days before permanently deleting it. It also lacks a number of features when using some of its apps.
Furthermore, while every VPN we've tested (except Hola) offered AES encryption with 256-bit keys, Encrypt.me uses 2048–bit and 1536–bit DH group encryption. And even though the latter is safe, AES is the most secure protocol in the VPN industry.
Encrypt.me VPN has a narrow server network, but with a presence in every continent. The majority of servers are located in the US, and most of them will give you access to US Netflix. You can also unblock the almost unattainable BBC iPlayer by connecting to a UK server. And the speed rates are acceptable as we didn't encounter any buffering issues.
The VPN offers a two-week free trial (no credit card required) but lacks a 30-day refund policy. Moreover, the live chat feature is not available 24/7 and is offline most of the time.
Pros
Two-week free trial.
Decent speed rates.
Fast VPN connection.
easy-to-use apps.
Works with Netflix and BBC iPlayer.
Weekly subscription pass.
Apps for iOS, Mac, Android, Windows, and Kindle Fire.
Unlimited device connections.
Split tunneling (for mobile apps).
Cons
Logs sensitive data.
No refund policy.
Limited server network.
No AES encryption.
US headquarters.
Lousy customer support.
No Smart DNS.
Inefficient kill switch.
Expensive subscription plans.
---
Interface and Design
Having an informative and well-designed website can be very helpful, especially for VPN beginners. Users would like to see what kind of features the VPN offers, all explained in a comprehensive manner. Therefore, we started by visiting Encrypt.me VPN's website, which had a decent design, with the color blue dominating the page.
But it was a bit too simple. The homepage did not display a lot of features. You'll find information about how you can protect yourself, your family, and your team, as well as some basic VPN requirements. There are also details about app compatibility and a couple of user reviews.
To find out more, you'll have to click on the shortcuts on the top of the page. They'll provide information about app support, pricing, and a support page that includes guides and articles. There are additional links at the bottom of the page about the company history, privacy policy, contact information and more. Moreover, you'll find a "help" button at the bottom right of the page if you wish to chat with customer support.
And that's about it really. The homepage does not mention anything about unblocking capabilities, data encryption, P2P support, or speed.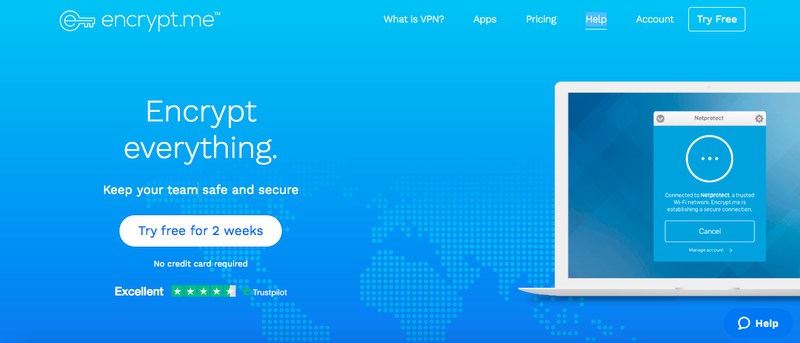 Android App
We installed the Encrypt.me VPN Android app to test its functionality and efficiency. Once you open the application, the VPN identifies your connection and labels it "untrusted," displaying the color red in the background. But if you're using your mobile data, Encrypt.me will classify it as a trusted connection and show green in the background if you enable "Trust cellular networks."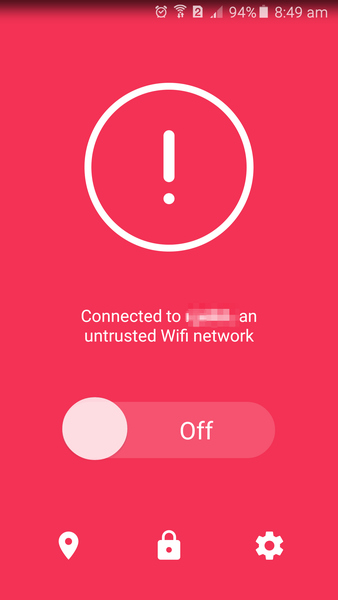 To get things started, you'll find a button on your screen with the status "Off," which indicates that you are not connected to a VPN server. Tapping the button connects to the fastest server available depending on your location. We were quite impressed with Encrypt.me VPN's connection time.
Furthermore, you'll find three icons at the bottom of the page. The location icon will open Encrypt.me's full server list in case you want to use a different server. The lock button takes you to the features you can enable, including split tunneling and trust cellular networks. And the gear (settings) icon allows you to customize your account or contact customer support.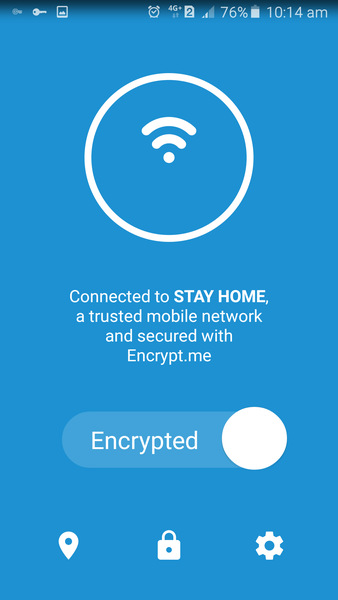 In short, you won't have any trouble operating Encrypt.me if you're a VPN newbie. The app is very easy to use and everything is straightforward. And in case you're wondering, Encrypt.me VPN offers a built-in, automatic kill switch.
Desktop Client
Next, we tried Encrypt.me VPN on Mac, and it was similar to the mobile version. After you launch the app, the VPN will display your Internet connection's name and label it as trusted or untrusted, depending on the enabled options. But instead of the "off" -> "encrypted" button, you'll have a "secure my connection" instead. Once the connection is established, the color blue will display in the background.
To change server locations, click the arrow icon at the top left of the screen. And to customize the app to your liking, hit the gear icon at the top right. Furthermore, you can manage your account by tapping the button at the bottom.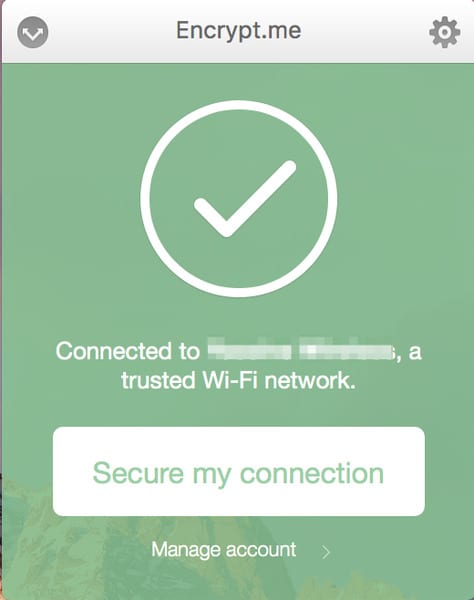 Encrypt.me VPN has a 4.3/5 rating on Trustpilot, with most users praising its functionality and simplicity. The VPN has excellent scores on the App Store and Google Play, earning 4.5 and 4.1 stars, respectively.
"Encrypt.me is easy to use on all devices, has a simplistically beautiful design, and is always fast."

Encrypt.me User on Trustpilot
App Compatibility
Encrypt.me VPN has compatible apps with the most-used operating systems. You can install it on iOS, Android, Windows, Mac, and Kindle Fire devices. That is pretty much standard level when it comes to compatibility. But what is really impressive is the unlimited simultaneous device support. Encrypt.me allows you to use as many devices you want at the same time with just one account.
---
Encrypt.me VPN Coverage – The Server Network
Premium VPN services offer hundreds and sometimes thousands of servers. Their network expands over every continent, covering almost all regions on the planet. A broad server grid ensures more unblocking capabilities and IP addresses, meaning extra access and privacy.
Encrypt.me VPN does not offer such a wide server network. On the Android app, we counted 78 servers across 49 countries, which is the smallest network we've ever encountered. Nonetheless, they cover a lot of ground on the global map, with a presence in every continent.
EUROPE
Austria
Belgium
Bulgaria
Croatia
Cyprus
Czech Republic
Denmark
Estonia
Finland
France
Germany
Greece
Hungary
Iceland
Ireland
Italy
Latvia
Moldova
Netherlands
Norway
Poland
Portugal
Romania
Serbia
Slovakia
Spain
Sweden
Switzerland
Ukraine
United Kingdom
ASIA/OCEANIA
Hong Kong
India
Indonesia
Japan
Philippines
Singapore
Taiwan
UAE
Australia
New Zealand
AMERICAS
Canada
Mexico
The United States
Argentina
Brazil
Chile
Colombia
---
How Fast Is Encrypt.me VPN?
Speed could be a make or break factor when choosing a VPN. A lot of users cancel their subscriptions if their provider has slow servers, especially if they're using it to watch Netflix or other streaming services. Now, it's worth mentioning that no matter which VPN you use, your connection speed will drop due to data encryption and traffic rerouting. But premium brands make sure that the speed drop remains unnoticeable.
And since speed is a very essential feature, we had to test how fast Encrypt.me VPN is.
Step one: No VPN connection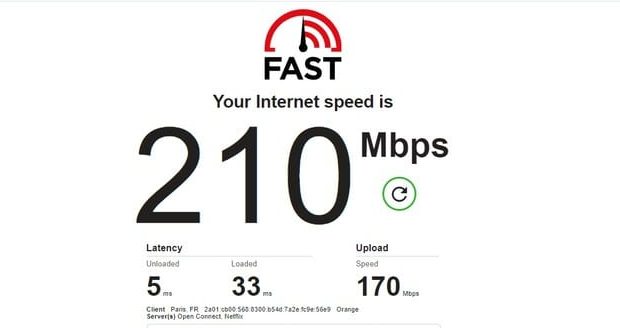 Before putting Encrypt.me's servers to the test, we had to find out how fast our Internet connection was without a VPN connection. That way, we'll have room for comparison.
Step two: German server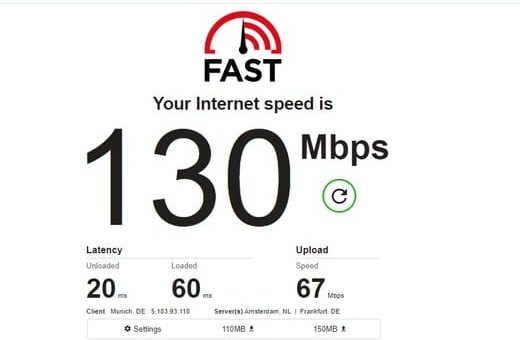 The first Encrypt.me VPN we tested was in Germany, which is near our actual location. Usually, speed drops remain minimal when you connect to a nearby server. However, speed rates decreased by almost 40%, which isn't ideal.
Step three: Dutch server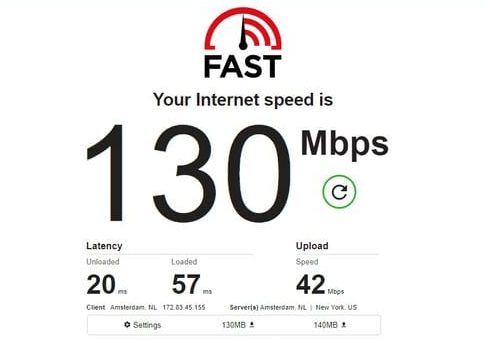 Next, we opted for another European server, this time in the Netherlands. As you can see, the speed rates remained stable and did not change. The only issue we encountered was the location on display. At first, results showed that we were in the US, even though we used a Dutch server. But after a couple of attempts, the right location was on display.
However, this highlights a very alarming issue, which is location spoofing. We will discuss it in details below.
Step four: US server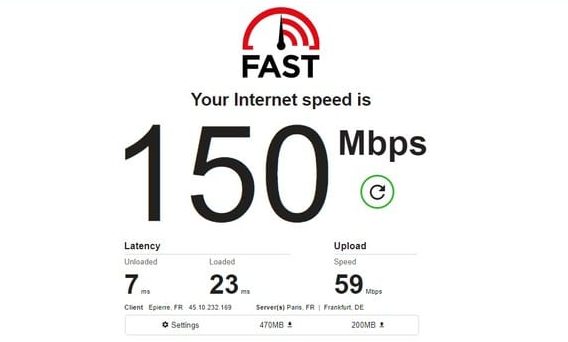 For our final speed test, we connected to a distant server in the US. Furthermore, the country is home to the most in-demand streaming platforms, like US Netflix, Hulu, HBO Go/Now, and ESPN+. But just like before, Encrypt.me did not reveal that we were in the United States.
However, speed rates maintained their stability, even registering better numbers than Deutsch and Dutch servers.
The Speed Verdict
Encrypt.me VPN isn't the fastest VPN we've tested, but its servers offer respectable and stable speed rates. However, it seems that switching locations isn't always efficient as the tests showed different areas to the servers we connected.
---
Encrypt.me VPN – Unblocking Streaming Services
The majority of video-on-demand streaming platforms are geo-blocked outside their respective regions. Hulu and HBO Go/Now, for example, are only available in the US, while BBC iPlayer and ITV Hub are accessible inside the UK. Even the likes of Netflix and Amazon Prime Video, which are available almost anywhere, offer different catalogs depending on your whereabouts.
Therefore, people started using VPNs to reroute their traffic, change their IP address, and spoof their location to access these services from abroad. This prompted streaming platforms to protect their copyrighted content by blocking VPN IP addresses.
Now, few VPN brands can unblock all streaming platforms. For the others, it's usually a hit or miss, depending on which server you use or which service you want to unblock. So where does Encrypt.me VPN rank?
Netflix
We started with American Netflix, which features the most extensive library. First, we connected to a US server, but as I mentioned earlier, Encrypt.me didn't always reroute our traffic to where we wanted. Our first few attempts were unsuccessful, but when we used the Dallas server, it worked like a charm.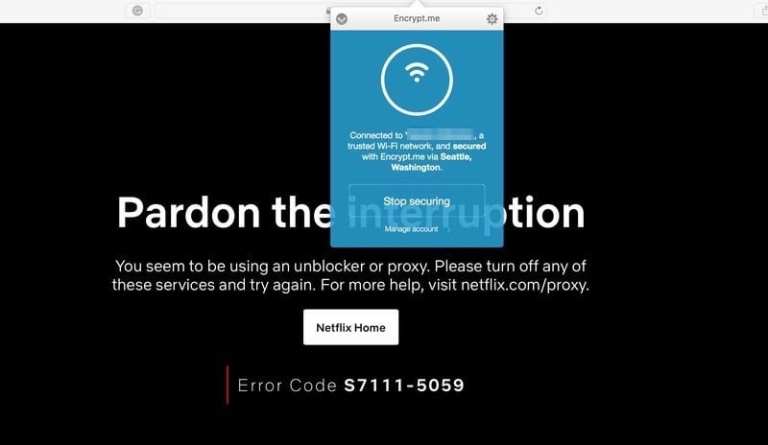 Hulu, Prime Video
We also tried to access other popular streaming services, namely Hulu and Amazon Prime Video. Hulu is only available inside the US, while Prime Video offers different catalogs, just like Netflix. However, no matter which American server we used, both platforms were able to determine that a VPN was in use.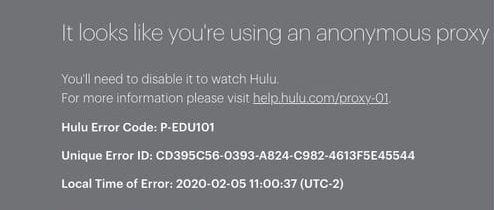 BBC iPlayer
Across the Atlantic, there's another tough cookie to crack. BBC iPlayer has a very strict geo-blocking policy that even the best VPNs have trouble bypassing its restrictions. However, after one unsuccessful attempt, we managed to stream its content from abroad.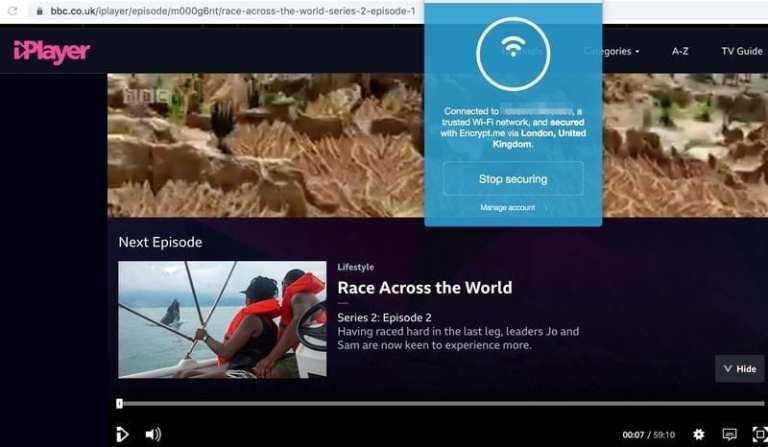 In short, when it comes to unblocking capabilities, Encrypt.me VPN has mixed scores. The fact that it sometimes redirects your traffic to different locations certainly doesn't help its cause. Plus, several platforms can identify their IP addresses and block them.
No Smart DNS Proxy
Smart DNS proxies aren't ideal solutions if you're looking for privacy and security. That's because they don't hide your IP address nor encrypt your data. Still, several VPNs offer a free Smart DNS in case their users are only interested in unblocking streaming platforms. After all, these tools don't affect your Internet speed.
Moreover, you can set up Smart DNS proxies on every device, from smartphones and computers to gaming consoles and routers. That is why a lot of users prefer them over VPNs.
Encrypt.me VPN does not offer a Smart DNS proxy service. We tried to contact customer support via live chat to see whether they will introduce this feature in the future, but it was always offline. So we sent a request via email, but the reply was negative.
---
Does Encrypt.me VPN Support Torrenting?
Torrent users know the importance of virtual private networks, especially those who live in countries where these activities are illegal. The majority of these people share copyrighted material over peer-to-peer networks. That is why they need a VPN to cover their tracks. VPNs encrypt your traffic and delete sensitive data so that no one can trace anything back to you.
Now, the US is very protective of copyrighted material. And since Encrypt.me is based in Seattle, the company decided to follow suit and ban torrent websites.
"By default, new users have Bittorrent and similar peer-to-peer file sharing protocols blocked. Encrypt.me is not, and has never been, an appropriate service to use for downloading copyrighted material."

Jacob Wall, VP of Business Operations at Encrypt.me
---
Privacy and Security
The quintessential VPN features are privacy and security. These are cybersecurity tools and their main job is to protect your sensitive data and maintain your online privacy. Therefore, we examined what Encrypt.me VPN has to offer in this department. Here's what we found:
Company Headquarters
Encrypt.me and its parent company J2 Global are both based in the United States. The country cooperated with the British in the fields of intelligence and communications shortly after the Second World War. Canada, Australian, and New Zealand later joined to form an alliance known as the Five Eyes.
This alliance expanded even further, with new members joining the cause. They formed Nine-Eyes and 14-Eyes, respectively. Today, these countries mainly monitor user data over the Internet. Furthermore, any company operating within their jurisdiction must submit user information upon request. And these governments and agencies can share the data with one another as they please.
Five-Eyes: US, UK, Australia, Canada, and New Zealand
Nine-Eyes: Five Eyes countries plus Denmark, France, Netherlands, and Norway
14-Eyes: Nine Eyes members plus Belgium, Germany, Italy, Spain, and Sweden
In other words, Encrypt.me can be forced to hand in your data to US authorities, who in turn can share it with other agencies.
Logs Policy
While most US-based VPNs offer a no-logs policy to compensate for the lack of privacy, Encrypt.me VPN does not. If you take a look at its privacy policy, the company blatantly reveals that it collects a lot of user data, whether during the free trial or in the paid version.
Free trial
Email address
Any affiliate tracking data:

your IP address
the referring affiliate
an optional campaign banner ID
And even in the paid version, Encrypt.me collects sensitive data like IP addresses, connection timestamps, and bandwidth consumption. Servers will store this information for 16 days before deleting it.

"We call this information your "personal session information" and it is the most sensitive data we collect. We treat it that way. After at most sixteen days, we permanently delete your personal session information."

Encrypt.me privacy policy
Encryption
Every VPN service we've tested used the Advanced Encryption Standard (AES), with the exception of Hola VPN, which offered no encryption at all. These top providers couple AES with 256-bit keys for maximum protection and privacy. AES-256 is so far unbreachable as it provides trillions of possible combinations. The world's supercomputers combined would have to run for billions of years to cover all these possibilities.
Encrypt.me VPN uses the less-advanced 2048–bit and 1536–bit Diffie–Hellman (DH) group encryption. As for VPN protocols, it offers IPSec for iOS, OpenVPN for Mac and Android, and StrongSwan for Windows.
Kill Switch and Leak Protection
All Encrypt.me VPN apps come with an automatic built-in kill switch. You won't find the option to enable/disable it in the settings section, which is for your best interests. The kill switch is your last line of defense, disconnecting you from the Internet if the VPN malfunctions. As a result, your traffic won't travel to your ISP's servers if the VPN connection drops.
However, some users complained that Encrypt.me's kill switch is inefficient at times. Therefore we had to test it for potential leaks. We connected to a US server, then used an IP info tool to see if Encrypt.me successfully switched to an American IP address. As you can see below, it most certainly did.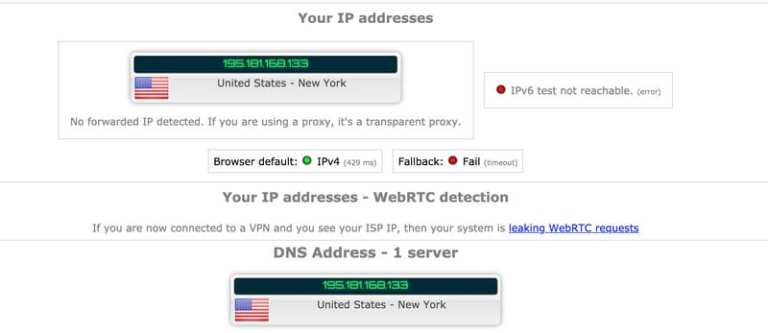 But as I mentioned earlier, Encrypt.me VPN fails to redirect your traffic through the server you selected. That is why several web services displayed IP addresses that were unrelated to the server location we picked. For example, when we connected to a different US server, then used the same IP checker, the IP address on display was from Cyprus.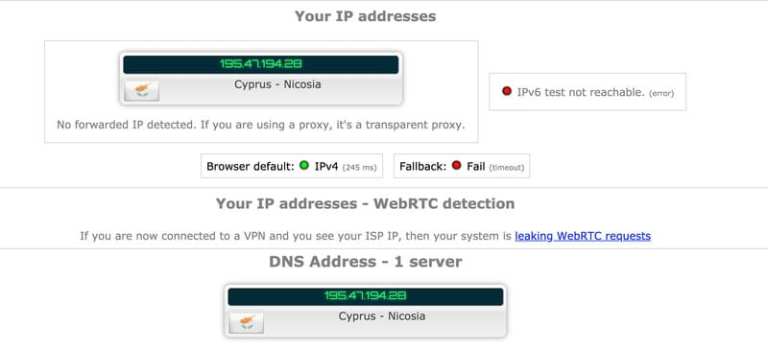 Independent Auditing
For total transparency, some VPN providers hire independent third-party auditors to verify that they are safe for use. And while most of these VPNs include their no-logs policy as part of the audit, Encrypt.me does not offer a zero-logs policy.
Still, in 2016, the company invited Security Innovation, an app security consultant, to test the entire Encrypt.me VPN network. That included the application servers, web application, iOS mobile app, macOS client, and the two administrative interfaces. Then in 2019, the same company conducted a follow-up security audit to these services and found zero sensitive customer information leaks.
---
Encrypt.me VPN Customer Support
Users and experts place great importance on a VPN's customer support service. If you take a look at the reviews on Trustpilot, Google Play, and the App Store, most people either praise or criticize the provider's client support team. After all, you need responsive and knowledgeable employees to answer your questions and provide help.
According to the website, you can contact Encrypt.me VPN via email, ticket support, and live chat. To use the first method, click on the Contact button at the bottom of the page. As for the latter two, press the Help button at the bottom right. There are also helpful guides and articles about the most common problems in the Help section.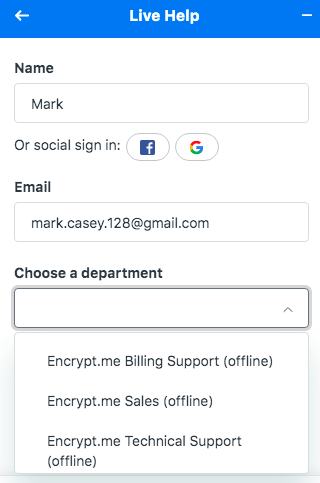 We tried the live chat feature as we needed quick answers to a couple of questions. However, all the departments were offline on every occasion. Therefore, we had no choice but to send an email. The company replied an hour and a half later, which isn't a bad response time when it comes to emails. But for a simple question about the availability of a Smart DNS feature, the answer shouldn't take this long. That is why round-the-clock live chat is crucial.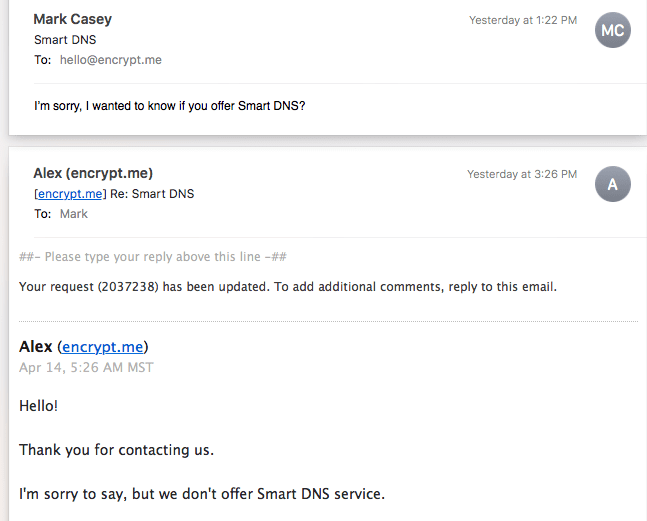 ---
How Expensive Is Encrypt.me VPN?
In some cases, the first thing that users search for in a VPN is the price. If they think it's too expensive, they'll disregard it even if it offers premium features. We believe that online privacy and freedom are priceless nowadays. Thus, we advise you to subscribe to a safe, fast VPN that can bypass online restrictions no matter what the price is.
Now, Encrypt.me VPN offers a lot of subscription plans. In fact, no other service we've tested so far provides that much variety in pricing. The company divides into four categories: Passes, subscriptions, families, and teams. But no matter which one you choose, they are all pricey, especially when you consider the little amount of features on offer.
The only package that we liked was the weekly pass, which is perfect if you're going on a short vacation and want to stay up to date with shows from back home. But to put it simply, you can get a much better VPN for the prices that Encrypt.me offers.
Passes
Week pass: $3.99
Month pass: $9.99
Year pass: $99.99
Subscriptions
Unlimited plan: $9.99 per month
Yearly plan: $99.99 per year
Families
Monthly package: $12.99
Annual package: $149.99
Teams
Starting at $15.99/month for two members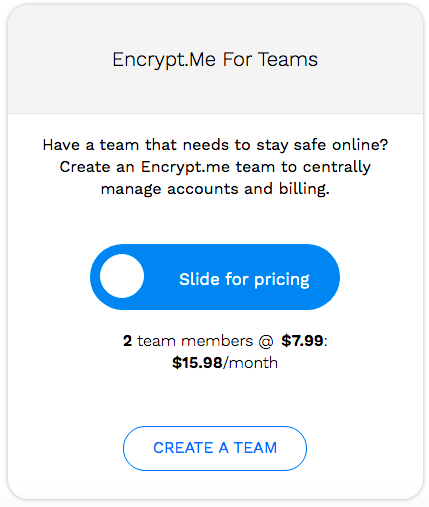 Payment Methods
Unlike the subscription plans that Encrypt.me VPN offers, there isn't a lot of variety when it comes to payment methods. Customers can buy their preferred packages via credit cards (Visa, MasterCard, American Express, Discover, Diners, and JCB) or make in-app purchases.
Other VPN services allow users to pay via PayPal, AliPay, and sometimes even cryptocurrencies. However, Encrypt.me does not have those options.
What's even more baffling is their refund policy as we couldn't find anything related to the subject on the website. However, we did come across the following message in the privacy policy:
"Effective for new signups as of April 10, 2020. For terms applicable to prior signups visit here."
Encrypt.me has a different privacy policy for users who subscribed before the 10th of April, 2020. Those customers benefit from a 30-day refund policy, but only if you purchase the service through the website.
Free Trial
Although the refund policy is a bit vague, at least Encrypt.me VPN offers a lengthy two-week free trial. And the best part about it is that you don't have to submit any credit card information during that period. All you need is a valid email address and you're good to go.
---
Encrypt.me VPN Review – Final Verdict
It's hard to disregard Encrypt.me VPN's disadvantages. First, it collects users' sensitive data and logs them for 16 days, which goes against the purpose of a VPN. Second, its rerouting process isn't always accurate as servers will give you different IP addresses than the ones you want. That leads to inefficient bypassing capabilities when it comes to Netflix and other similar platforms.
And although the company uses safe encryption algorithms, it does not offer the military-grade AES-256. Moreover, it has a live chat feature that is always offline, expensive subscription plans, and a confusing refund policy.
Encrypt.me does offer decent speed rates, however, and its apps are very easy to use. But it has to improve a lot of areas before we can recommend it. So for the time being, we suggest you opt for some of the other premium VPNs we've reviewed.
Do you think Encrypt.e is worth your money? Let us know below.