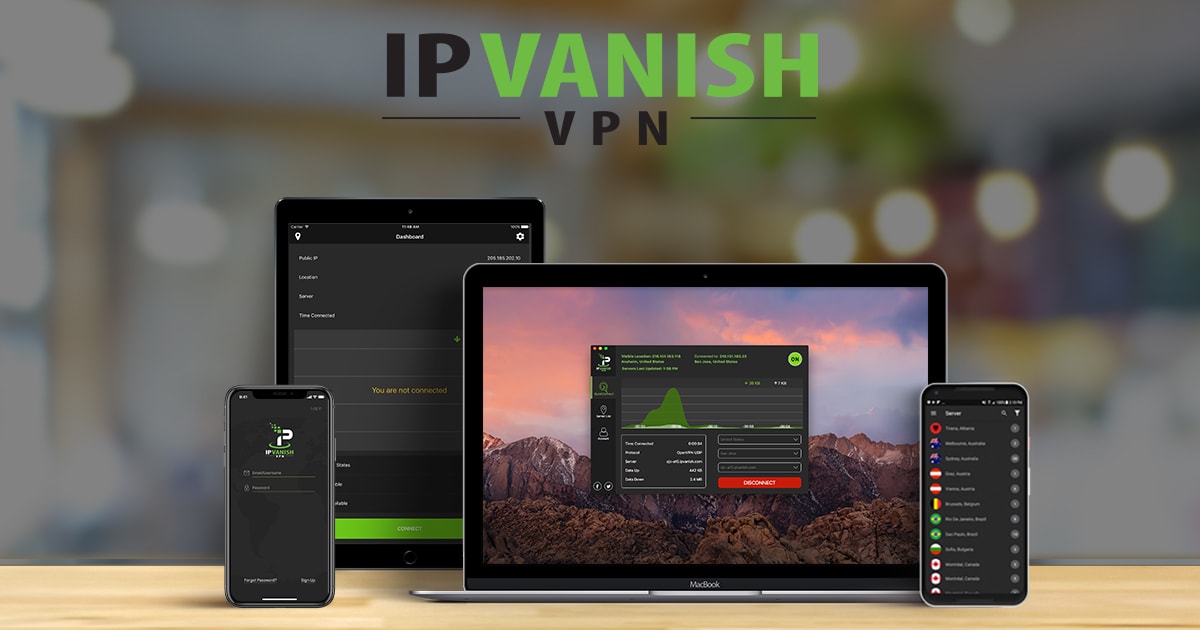 If you're looking for a fast, safe, and highly compatible VPN service, then IPVanish is worth considering. The US-based provider operates more than 1,600 servers in 75+ locations, with impressive and stable speed rates throughout. It also supports torrenting and P2P file-sharing and can unblock the majority of streaming services.
Furthermore, IPVanish users benefit from the highest security and privacy features. That includes the military-grade Advanced Encryption Standard with AES 256-bit keys (AES-256), a kill switch, and DNS leak protection. The company also follows a no-logging policy, which means it won't keep records of sensitive data related to your online activity or connection.
Another top IPVanish quality is that you can use it on unlimited devices at the same time per a single account. It is also very easy to navigate and works perfectly well with Kodi. The apps are compatible with Mac, Windows, iOS, Android, and Fire TV devices. You can also set it up on Linux OS, Chrome, and routers.
There are, however, a couple of inconveniences. IPVansh only offers a money-back guarantee with no free trial, and you might encounter difficulties unblocking certain streaming platforms. Moreover, some privacy-focused users might be concerned that the company is located inside the Five-Eyes jurisdiction.
---
Table of Content
---
| | |
| --- | --- |
| Feature | Availability |
| Money-back guarantee | 30 Days for Yearly Customers only. |
| Allowed simultaneous connections | Unlimited devices |
| Supported streaming services | US Netflix (selected servers), Amazon Prime Video, Hulu, ESPN, NBC Sports, Sling TV, and more. |
| No-logs policy | Yes |
| Encryption | Military-grade AES 256-bit |
| Protocols | WireGuard, IKEv2, OpenVPN, and L2TP/IPsec VPN |
| Special features | Kill switch, torrent and P2P support, DNS leak protection, remote device wiping, unlimited bandwidth |
| Customer support | 24/7 customer support with a live chat feature |
| Server locations | 1,300+ servers across 75+ locations |
| P2P support | Yes |
| Server switches | Unlimited |
| Data traffic | Unlimited |
| Compatible devices | You can set it up on iOS, Android, Windows, Mac, Fire TV, Linux, Chrome OS, and routers. |
| Legal Jurisdiction | USA (a member of the Five-Eyes alliance) |
| Free trial | Not available |
---
IPVanish in a Nutshell – Pros and Cons
IPVanish recently celebrated its eighth year of service, meaning it is one of the oldest providers in the industry. It is considered a top-tier VPN with excellent unblocking abilities, as well as privacy and security features. The brand is known for its fast speed rates, claiming that it provides "access to the world's fastest VPN."
Well, we put IPVanish under the microscope to see whether it lives up to all the hype. And despite a few disadvantages here and there, this VPN is undoubtedly one of the better services in the business. The below pros and cons will tell you everything you need to know about IPVanish:
Pros
Military-grade AES-256 encryption.
Zero-logs policy.
Excellent speed rates.
Decent server network.
Affordable pricing.
Unlimited simultaneous device connections per account.
Torrent and P2P support.
Access to US Netflix (selected servers).
24/7 customer support.
Apps for the majority of operating systems.
Unlimited bandwidth and server switching.
Kill switch and DNS leak protection.
Cons
Refund policy available for yearly subscribers only.
No access to BBC iPlayer.
Based in the privacy-invasive USA.
It doesn't work in China.
---
Interface and Design
The IPVanish website has an elegant and clear design. Everything is well-organized with plenty of helpful information on display. At the top of the page, you'll find the "Start Now" button, which allows you to sign up and create an account. And just underneath that, you'll find top experts and media outlets that recommend IPVanish.
Now, on the top right, there are shortcuts to everything you need to know about the VPN. That includes pricing, compatible apps, installation guides, and an FAQ page. There's also plenty of information if you continue to scroll through the homepage. And towards the end of the page, you'll find a table of all the IPVanish benefits, along with a "Help" button on the bottom right.
The latter allows you to get in touch with customer support, whether via email or live chat. In short, the IPVanish website is helpful for VPN beginners and advanced users alike.
Desktop Client
It seems that IPVanish favored practicality over aesthetics. The desktop client is very user-friendly as everything you need is on display or just one click away. The design is pretty basic on both Mac and Windows. After you sign in, the home screen will display a number of options, including your actual IP address and the status of your VPN connection.
You can connect automatically to the "Best City" and "Best Server" by clicking on the green "Connect" button on the bottom right. But if you have a specific location in mind, go to the server list on the left of the screen. Furthermore, you can customize the client app to your liking with the "Settings" option.
For example, you can choose to automatically launch IPVanish on startup, or connect to the fastest server inside a country of your choice.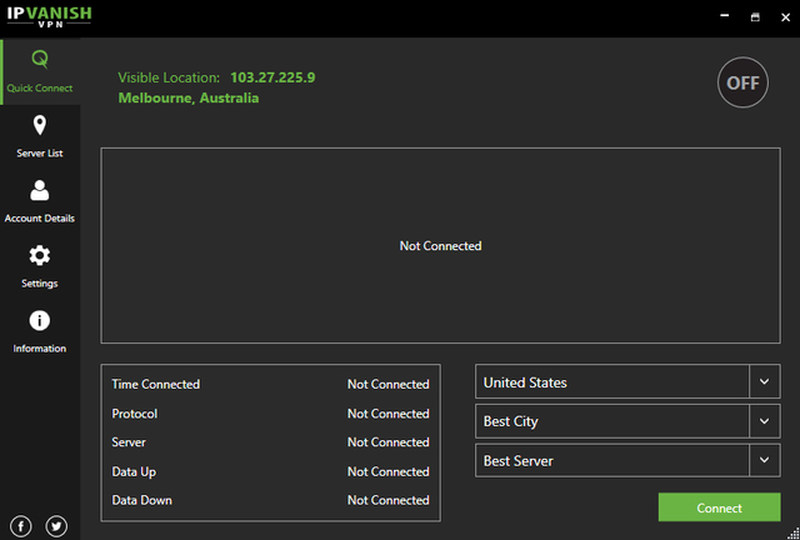 Mobile Apps
The smartphone apps don't differ much from the desktop client in terms of design and functionality. Whether you have an iPhone or Android device, the applications are almost identical. After you log in to your account, the home screen will display your physical location and IP address, with the message "You are not connected" below it.
At the bottom, there's a green "Connect" button that automatically redirects your traffic to the best server, depending on your location. For a specific server, you can tap Country, City, or Server just above the green button. And if you want to customize your IPVanish app by enabling or disabling certain features, click the gear icon on the top right.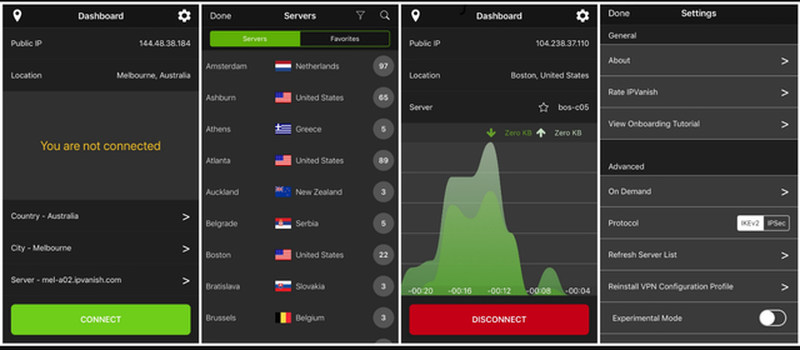 Despite the average app and client designs, users were very praiseful of IPVanish, giving it a 4.7/5 rating on Trustpilot. It shows that this provider has easy-to-use apps and is very efficient. Here's what Maurice Sims wrote on the consumer review website:
"I search the internet often and since I have had this service, the app definitely had lived up to its name. Perfect for me thanks, guys."

Maurice Sims, IPVanish User
IPVanish also earned high scores of 4.2 and 4.5 stars on Google Play and the App Store, respectively.
App Compatibility
IPVanish has compatible apps with the most-used operating systems and platforms, including iOS, Android, PC, Mac, and Fire TV. That means the IPVanish application will install automatically on those devices once you visit Google Play or App Store and click "Install." And you can also set it up on Linux, Chrome OS, and routers by following the guides on the website.
Moreover, IPVanish allows you to connect up to ten devices at the same time using just one account. We installed it on our Fire TV, two laptops, Mac, iPad, iPhone, and Samsung Galaxy Note 10 to test if this is accurate. The result: We were all able to use IPVanish simultaneously.
---
IPVanish Server Network
According to the website, IPVanish claims to operate over 1600 servers in 75+ locations. This decent-sized network provides more than 40,000 IP addresses for users who want to avoid geo-blocking and invasions of privacy. The servers are spread across 75+ countries and strategically cover key areas. That includes popular locations like the US, the UK, Australia, and more.
The US claims the lion's share of servers with 755, followed by Europe with 464, then Oceania (77), Asia (65), South America (32), and Africa (6). Canada, Mexico, and Costa Rica take North America's tally to 796 servers. As a result, at this time of writing, IPVanish offers 1,600+ servers. But the company is continuously expanding its network, so the number should rise in the future.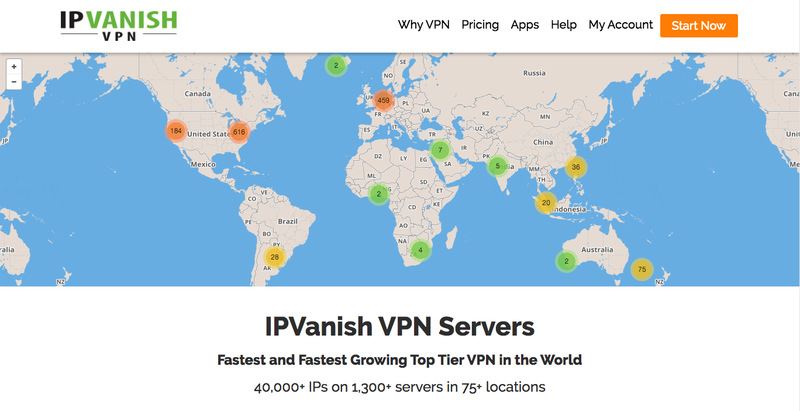 North America
USA: Seattle (41) – Miami (51) – Los Angeles (68) – Chicago (80) – -San Jose (26) – Ashburn (61) – Phoenix (32) – Atlanta (97) – New York (107) – Dallas (76) – Las Vegas (10) – Houston (34) – Denver (20) – New Orleans (35) – Charlotte (17).
Canada: Toronto (20) – Vancouver (7) – Montreal (6)
Mexico: Guadalajara (4)
Costa Rica: San Jose (4)
Europe
Germany: Frankfurt (52)
United Kingdom: London (74) – Manchester (18) – Glasgow (5)
France: Paris (24)
Netherlands: Amsterdam (89)
Sweden: Stockholm (14)
Norway: Oslo (5)
Italy: Milan (21)
Czech Republic: Prague (14)
Croatia: Zagreb (4)
Luxembourg: Luxembourg (2)
Portugal: Lisbon (11)
Bulgaria: Sofia (6)
Spain: Madrid (6) – Valencia (4)
Serbia: Belgrade (5)
Switzerland: Zurich (9)
Hungary: Budapest (4)
Romania: Bucharest (4)
Denmark: Copenhagen (12)
Moldova: Chisinau (2)
Slovakia: Bratislava (4)
Ireland: Dublin (5)
Slovenia: Ljubljana (2)
Finland: Helsinki (13)
Poland: Warsaw (12)
Albania: Tirana (4)
Austria: Vienna (6)
Iceland: Reykjavik (2)
Greece: Athens (5)
Latvia: Riga (5)
Ukraine: Kiev (7)
Estonia: Tallinn (4)
Cyprus: Larnaca (3)
Belgium: Brussels (7)
Oceania
Australia: Sydney (58) – Melbourne (8) – Brisbane (4) – Perth (2)
New Zealand: Auckland (5)
Asia
South Korea: Seoul (4)
Japan: Tokyo (5)
Singapore: Singapore (18)
Hong Kong: Hong Kong (19)
Israel: Tel Aviv (2)
India: New Delhi (2) – Mumbai (3)
Malaysia: Kuala Lumpur (2)
Philippines: Manila (6)
Taiwan: Taipei (2)
United Arab Emirates: Dubai (2)
South America
Brazil: Sao Paulo (11) – Rio De Janeiro (8)
Colombia: Bogota (4)
Chile: Santiago (5)
Argentina: Buenos Aires (4)
Africa
South Africa: Johannesburg (4)
Nigeria: Lagos (2)
---
How Fast Is IPVanish? – Speed Tests
IPVanish is a reputable and well-known name in the VPN industry. It prides itself on having the world's fastest VPN. Even top media outlets and websites like Forbes agree that this provider offers excellent speed rates. Therefore, we decided to put it to the test and see if it is as fast as a lot of people claim.
"IPVanish is one of the faster VPN services [we] have reviewed. Its VPN server footprint of 1,300 VPN servers across 75 locations is part of how it maintains those speed ratings."

Forbes
First Speed Test: No VPN Connection
The first test we conducted was without a VPN connection. The result below shows the Internet connection speed is fastest when we don't connect to a VPN. That's because the high-level encryption that IPVanish uses consumes a bit of your connection speed.

Second Speed Test: Nearby Server
In our second test, we connected to an IPVanish server that is near our actual location. And, as expected, there was a slight speed drop. But as with most premium VPNs, IPVanish ensures that the speed reduction is unnoticeable. In other words, you won't encounter any loading issues when you're online.

Third and Final Test: Distant Server
The lowest speeds we recorded were when we connected to a distant IPVanish server. However, we found the result more than impressive as the rates barely dropped.

Our Verdict
We were very impressed with IPVanish's results, especially when we connected to the distant server. This VPN will have the slightest effects on your Internet connection, meaning that users were right to praise IPVanish for its speed.
Furthermore, the provider offers unlimited bandwidth, which means you can use it for torrenting, streaming, or gaming without worrying about buffering issues. So in terms of speed, IPVanish gets two thumbs up.
---
Is IPVanish Good for Streaming, Torrenting?
A lot of people use virtual private networks to bypass the geographic restrictions that streaming platforms impose. However, users reached dead-ends when the likes of Netflix, Hulu, and BBC iPlayer started blacklisting VPN IP addresses. After that, only selected, premium VPNs were able to unblock the most in-demand streaming content.
IPVanish has mixed results in this domain. While we were able to unblock US Netflix on selected American servers, the service could not give us access to BBC iPlayer, no matter which server we tried. So if you're looking to stream some Luther or EastEnders episodes, you'll get a geo-error message instead.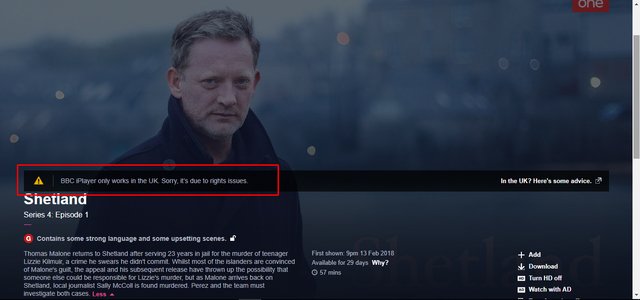 "BBC iPlayer only works in the UK. Sorry, it's due to rights issues."
Furthermore. not every US IPVanish server can unblock Netflix's American library. When we contacted customer support to see if the provider can bypass Netflix restrictions, Arnel told us that only the Los Angeles, St, Louis, Dallas, and Chicago servers work with the streaming service.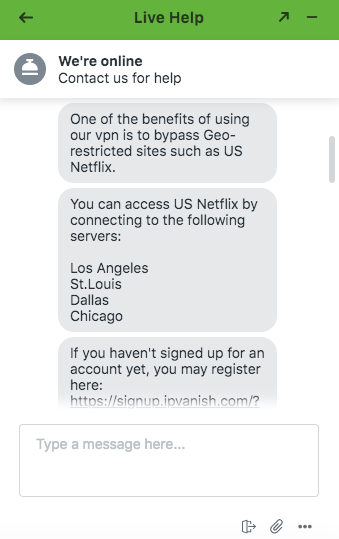 So if you're not interested in BBC iPlayer, IPVanish can be a serious option to consider for streaming. Besides, a lot of BBC iPlayer shows like Peaky Blinders and Bodyguard are available on Netflix.
As for torrenting and P2P support, I highly recommend IPVanish as it allows file-sharing activity and offers fast speed rates. And you don't have to worry about legal issues from copyright holders thanks to the military-grade encryption and no-logs policy on offer.
---
IPVanish – Privacy and Security
Reputable VPN services go above and beyond to maintain your online privacy, anonymity, and security. After all, this is one of their most important roles. We put IPVanish to the test to see what it has to offer in this area, and the results were impressive.
US Headquarters
We start off with what many people, including myself, consider a disadvantage. IPVanish is based in the United States, a country that co-created the Five Eyes (FVEY) treaty. The latter is a cooperation between several nations in signals intelligence. Any company that operates within those jurisdictions must hand in user data upon the authorities' request.
Australia, Canada, New Zealand, the UK, and, of course, the US were the original members. But more nations joined the alliance later on, taking the tally to 14 countries. After the September 11 attacks on the US, the FVEY expanded its surveillance capabilities, with much focus on monitoring the Internet.
Former NSA contractor Edward Snowden revealed in leaked documents that FVEY members have been spying on each other's citizens and sharing the information between themselves. They do so to avoid the restrictive domestic regulations on the surveillance of people.
Zero-logs Policy
Now, I have to admit that the above information is a bit troubling. But it doesn't mean much because IPVanish follows a strict zero-logging policy. In other words, the VPN doesn't collect any sensitive information you input. That includes IP addresses, browsing history, and online activity.
Furthermore, the minimal data the company keeps about you cannot be used to trace anything back to you. Therefore, even if IPVanish receives a warrant concerning user data, it can only submit a few, useless information.
"Our strict zero-logs policy keeps your identity under wraps. We do not record any of your activity while connected to our apps in order to preserve your civil right to privacy."

IPVanish
Military-grade Encryption
When you connect to an IPVanish server, any data that leaves or enters your device is encrypted. The company uses the military-grade Advanced Encryption Standard (AES) with 256-bit keys. That's the same encryption that government agencies like the NSA use to protect classified information.
AES-256 ensures that no one can see your online activities. It keeps your traffic safe from Internet service providers, the authorities, and hackers. Moreover, the encryption is uncrackable as it provides trillions of possible combinations. It would take supercomputers billions of years to break it.
Kill Switch and DNS Leak Protection
A VPN kill switch is your last line of defense against nosy third parties who want to monitor what you're doing. You see, sometimes, VPNs can malfunction, causing your connection to drop. In case it happens, your traffic will leak to your ISP's servers, where it becomes compromised.
But the kill switch will terminate the Internet connection from your device, stopping your traffic from reaching ISP servers. And you won't be able to reconnect to the web unless your VPN connection is restored.
IPVanish offers a kill switch for Mac, Android, and Windows users. I recommend you enable it whenever you use the app or client to avoid any potential privacy intrusion. You can turn the feature on by following this guide.
I also tested IPVanish for any DNS or IP leaks when I connected to a server in the UK. The results showed that my IP address was from London, while the WebRTC leak test confirmed there were no leaks detected while using IPVanish.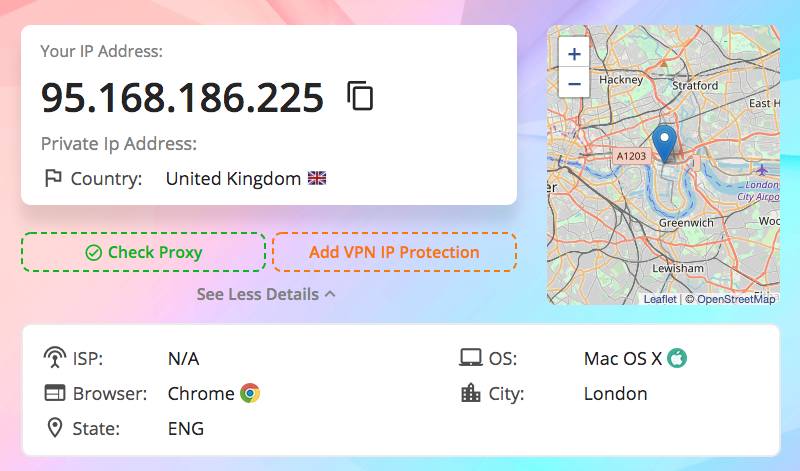 IPVanish with SugarSync
IPvanish now allows you to protect your photos, videos, and other files with SugarSync, a cloud service that stores, syncs, shares, and backs up personal data. Moreover, you can safeguard your sensitive files in case your device gets stolen with remote data wiping.
SugarSync is included for free if you subscribe to IPVanish's one-year plan.
---
Customer Support
A knowledgeable and responsive customer support team is a VPN must-have. There's always a chance that you might need quick and urgent help, and you want someone to provide useful answers.
IPVanish has an excellent support service that you can reach via email or live chat. The latter allows you to talk directly to a real employee about any inquiries or problems you might have. The feature is available 24 hours a day, seven days a week, and an employee will be with you in just a few seconds.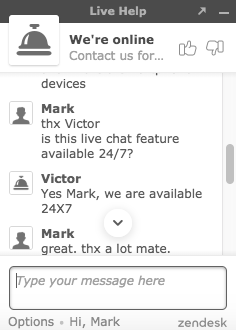 But for more complicated matters, I suggest you go for the email option as it provides more thorough answers, even if response time isn't as fast. Furthermore, you'll find plenty of guides and articles at the support center, which features designated categories and FAQs.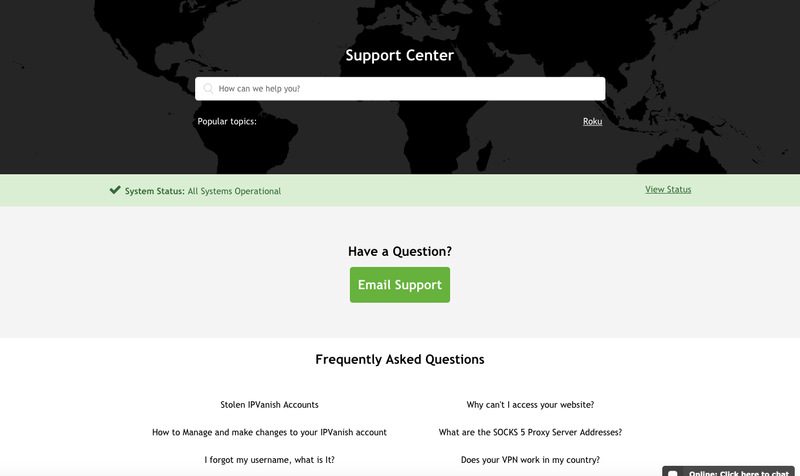 ---
Is IPVanish Expensive?
IPVanish falls inside the premium VPN category as it provides top features. In other words, the service might cost you a bit, but it's still slightly cheaper than other elite brands. The company also has a limited offer where you can save 67% on your annual subscription plan, which features free SugarSync cloud storage.
Monthly Plan (VPN): $10/month ($3.49 on the first month).
Annual Plan (VPN): $31.49 during the first year (limited discount). Standard billing rates will apply after that, meaning it will cost $89.99/year.
Monthly Plan (VPN+Storage): $10.99/month ($3.84 on the first month)
Yearly Plan (VPN+Storage): $99.99/year ($34.99 on the first year)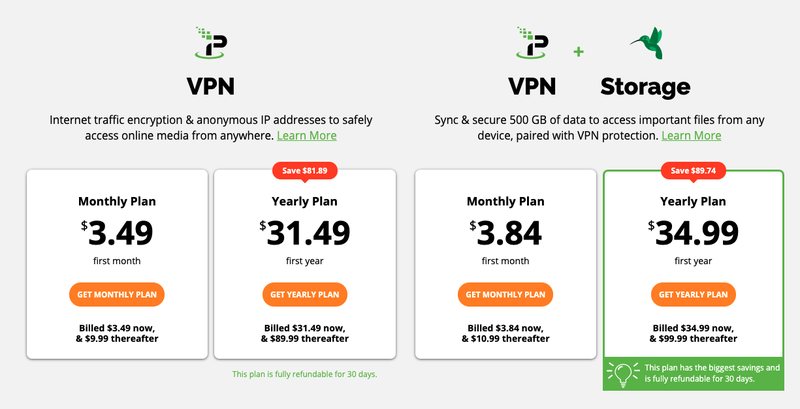 Not long ago, you were able to benefit from a 7-day money-back guarantee no matter which package you choose, with or without the discount.
However, now, things are different. Despite increasing the duration to 30 days, IPVanish did screw up one thing. Monthly subscribers no longer get a refund. Only those who subscribe to a yearly package do.
Payment Methods
There are two ways through which you can pay for your IPVanish subscription: Credit card or PayPal. The first option includes the most popular payment cards, like Visa, MasterCard, Discover, American Express, and more.
However, there are no cryptocurrency payment methods yet, such as Bitcoin.

Is There a Free Trial?
IPVanish used to offer a free trial period for new users, allowing them to test the service before they commit to it. However, when I contacted customer support via live chat, Arnel informed me that this feature was no longer available.
There is, though, a 30-day refund policy that allows you to test IPVanish thoroughly if you're a yearly subscriber. Before that period ends, you can ask for your money back in case you're dissatisfied with the service. And please note that a lot of elite VPNs don't offer a free trial period. However, the majority of those brands have a 30-day money-back guarantee with any kind of subscription they offer.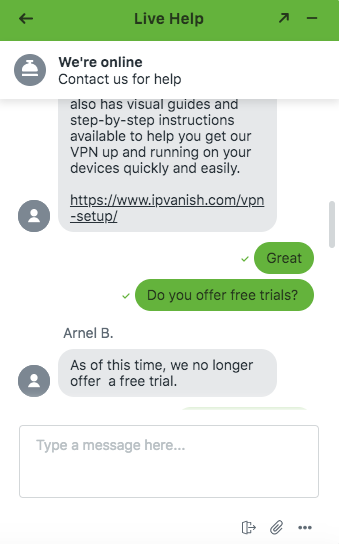 ---
Wrapping up the IPVanish Review
IPVanish is a reputable and well-known VPN service that's been around for over eight years. It offers excellent speed rates, high-level security and privacy features, access to the majority of streaming services, and support for torrenting and P2P activity.
However, the provider has its share of minor setbacks, including a US headquarters, no BBC iPlayer access, a short refund policy, and no support inside China. Still, if you want a fast VPN that maintains your privacy and unblocks most streaming platforms, then you should definitely consider IPVanish. The limited discount that is currently on offer makes it a very affordable prospect as well.
Would you go for a VPN like IPVanish? Tell us what you made of it below.