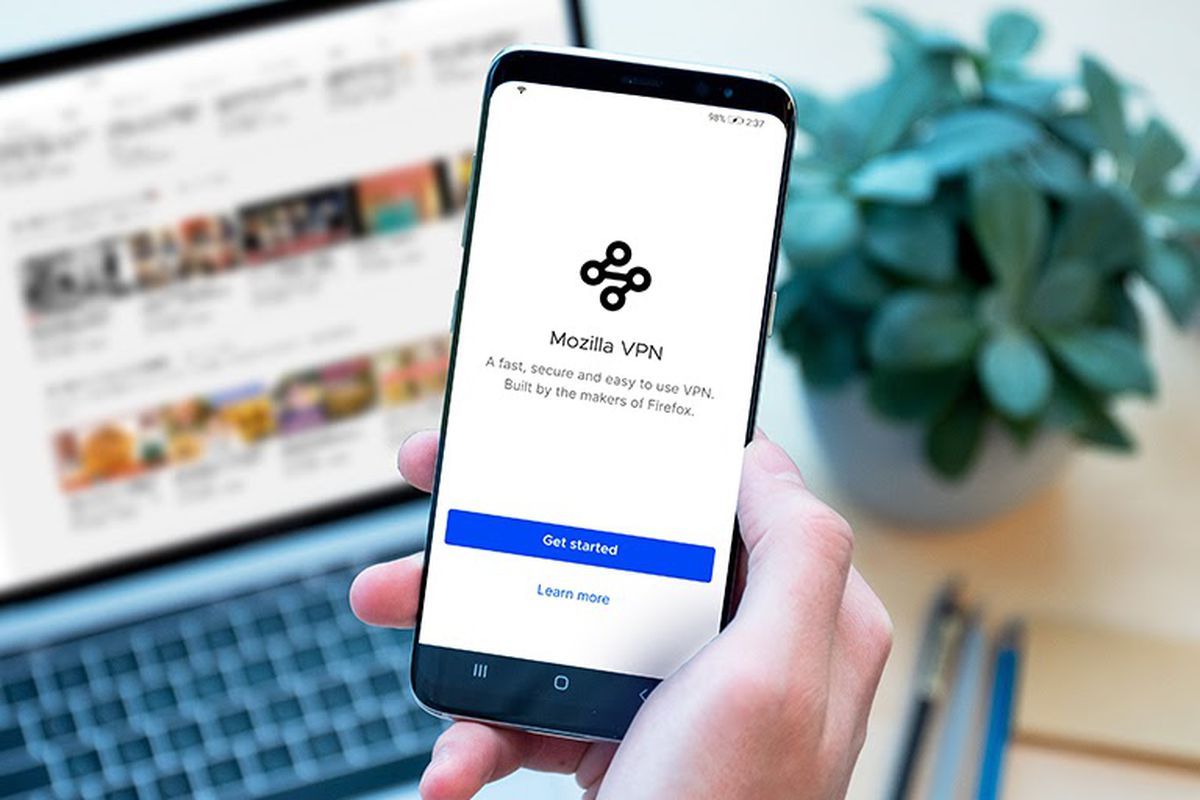 Mozilla became well-known worldwide thanks to its web browser Firefox. The latter has the second-largest market in the industry, only behind Google Chrome. But Firefox offers much more privacy than its Alphabet counterpart, an area that Mozilla is looking to focus on in the future, it seems.
The company launched Mozilla VPN as of late, a rebranding of the original Firefox Private Network. The subscription-based service is available in select countries, however, and on select devices. According to the website, you can install it on Windows, Android, and iOS, with Mac and Linux coming soon.
Mozilla VPN just launched out of beta phase in July, so it's still relevantly new. Nonetheless, it claims to offer some first-rate features, especially when it comes to privacy. But just how good is this service? We tested it using our foolproof evaluation test, and here's what we found.
---
Table of Content
---
| | |
| --- | --- |
| FEATURE | AVAILABILITY |
| Money-back guarantee | 30 days |
| Allowed simultaneous connections | 5 devices |
| Supported streaming services | Amazon Prime Video, and BBC iPlayer |
| No-logs policy | Available |
| Encryption | Military-grade AES with 256-bit keys |
| Protocols | Wireguard |
| Special features | Kill switch and split tunneling |
| Customer support | Email |
| Server locations | 750+ servers in 30+ countries (website) |
| P2P support | Yes |
| Server switches | Unlimited |
| Data traffic | Unlimited |
| Compatible devices | Windows, iOS, Mac, Linux, and Android |
| Smart DNS proxy | Unavailable |
| Legal Jurisdiction | The US (part of Five Eyes) |
| Free trial | No |
---
Mozilla VPN in a Nutshell – Pros and Cons
Here is a quick overview of what Mozilla VPN offers, in case you don't have time to go through our full detailed review.
Mozilla VPN is an American virtual private network. The country is part of an intelligence alliance called Five Eyes that focuses on Internet monitoring. Any company within its jurisdiction must hand in user data upon the government's request. But since Mozilla promises a zero-logs policy, it won't share any sensitive data that could reveal your identity, location, or online activities.
The VPN also uses AES encryption with 256-bit keys to encrypt your IP address, browsing history, and web destinations. As a result, third parties like ISPs and government agencies won't be able to see what you're doing. And to make sure there aren't any data leaks, Mozilla VPN will disconnect you from the Internet with a kill switch in case of a malfunction. However, this tool isn't built-in if you're using the Android app, meaning you have to enable it from Android's settings. Instead, it's enabled by default on Windows and iOS.
Moreover, Mozilla VPN is only available in six countries at the moment. The only people who can install its apps must reside in the US, Canada, the UK, Singapore, Malaysia, or New Zealand. But the company promises to roll out its VPN in new regions soon. For those who can access the app, you'll benefit from 750+ servers in 30+ countries.
And when it comes to unblocking streaming platforms, Mozilla VPN's scores were hit-or-miss. It also doesn't offer a Smart DNS proxy service. But since the VPN runs on Mullvad's network, you can download files using P2P networks and benefit from the Wireguard VPN protocol. Furthermore, Mozilla VPN offers a 30-day refund policy and allows five simultaneous device connections.
Pros
Zero-logs policy.
Military-grade encryption.
Wireguard protocol.
Automatic kill switch for iOS and Windows.
30-day money-back guarantee.
Five simultaneous device connections per account.
P2P support.
Decent speeds.
No data leaks.
Affordable.
Cons
Limited server network.
Only available in six countries.
Kill switch for Android not built-in.
Few options and features.
Live chat support unavailable.
Only one subscription plan.
US headquarters.
---
Interface and Design
Before going through Mozilla VPN's apps, we took a look at the website to see what it brings to the table. The design was basic and easy on the eye, with the homepage displaying a list of the most important features. That included privacy, speed, a no-logs policy, pricing, server network, availability, and FAQs.
But since the VPN isn't available in our country, we couldn't get any additional details. The only thing worth checking out is the privacy policy at the bottom of the page and the support page in the FAQ section.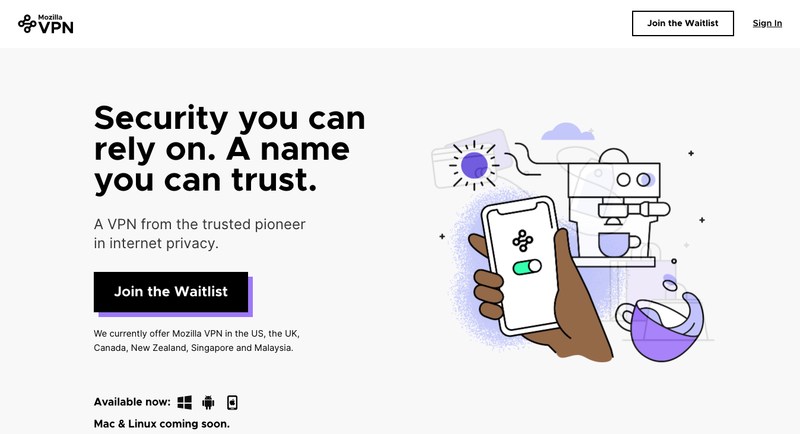 Android App
Whenever we put a VPN to the test, we always examine its mobile app and desktop client. But since Mozilla VPN is still unavailable on Mac devices, we were only able to look at the Android application. We had to go to great lengths to get the app, too, as we live outside Mozilla VPN's market. We used a VPN service to connect to a US server, then changed our Google Play region.
Once we installed the app and subscribed, we were able to begin our tests. The Android application was very user friendly with quite a simple design. You'll find a connect toggle on the home screen, with your VPN status displayed on top of it. Below the button, you'll find the most suitable server based on your location. To switch servers, click on the arrow, and the full list will appear.
And if you wish to customize the app, view your account information, or activate certain features, press the settings icon at the bottom of the page. In truth, the only option we found was split tunneling, since the kill switch requires enabling from the Android settings.
We couldn't find a rating for Mozilla VPN on the consumer review website Trustpilot. But on Google Play and the App Store, it earned an average of 3.6 and 3.3 stars, respectively. Some users praised it for its Mullvad infrastructure and Wireguard protocol, while others didn't like the unstable VPN connection on display.
"The app states that the connection is unstable on my Samsung Galaxy S7. I tried using the different servers and it still comes with the same message… The app works perfectly on my 2 PCs, so I think this is am issue with the Android app only."

CB, Mozilla VPN user on Google Play

App Compatibility
Mozilla VPN is still in its early stages. Therefore, it is available on just a few operating systems, namely Windows, iOS, Mac, Linux, and Android. And in case you don't know, all VPN applications are not compatible with gaming consoles, Smart TVs, or certain routers.
Furthermore, Mozilla VPN allows up to five concurrent device connections with just one account. That means you can use it on all your smartphone, PC, and tablet at the same time.
---
Mozilla VPN Server Network
Unlike any other brand we've tested, Mozilla VPN isn't available everywhere. Only the US, UK, Canada, New Zealand, Singapore, and Malaysia residents can download the app. If you live inside those countries, the VPN offers you more than 750 servers across 30+ countries. Now, this is a much smaller network than what premium services provide, but it still covers some key locations.
Most servers are located in Europe, with a presence in South America and the Asia/Pacific region. However, there are no servers in Africa or the MENA region, which is a significant disadvantage.
Here is the full server list:
Australia
Austria
Belgium
Brazil
Bulgaria
Canada
Czech Republic
Denmark
Finland
France
Germany
Hong Kong
Hungary
Ireland
Italy
Japan
Latvia
Luxembourg
Moldova
Netherlands
New Zealand
Norway
Poland
Romania
Serbia
Singapore
Spain
Sweden
Switzerland
The UK
The USA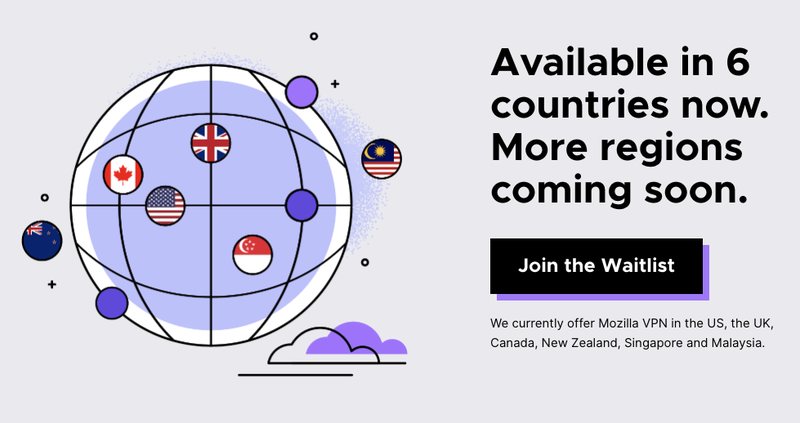 ---
Mozilla VPN Speed Tests
Speed is arguably the most important VPN feature. A lot of users would cancel their subscription if their provider has slow servers. And although all VPNs reduce your Internet speed due to traffic encryption and rerouting, premium services ensure that the drop has minimal effects.
Therefore, we connected to multiple Mozilla VPN servers, near and far, and tested our Internet connection each time using fast.com.
Before connecting to a Mozilla VPN server, we tested our Internet speed to measure each speed drop.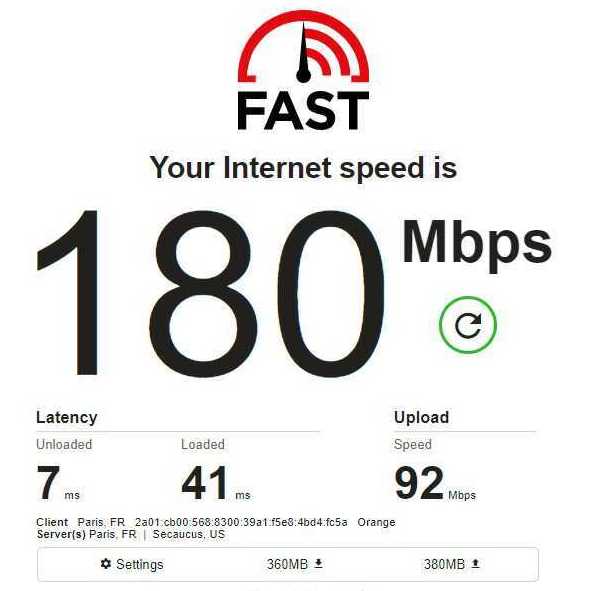 In our first test, we connected to a Mozilla VPN server in Germany, which is near our actual location. And even though we didn't expect a significant speed drop because of the close position, the result were excellent and much better than we anticipated.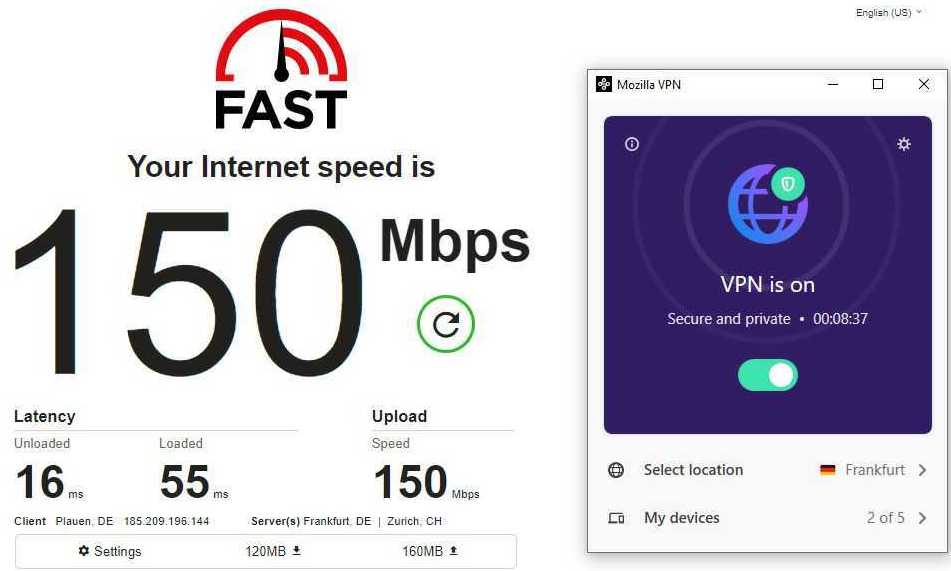 Next, we connected to a server that's a bit further but still in the same continent. As you can see, speed levels barely decreased and the UK server was very fast.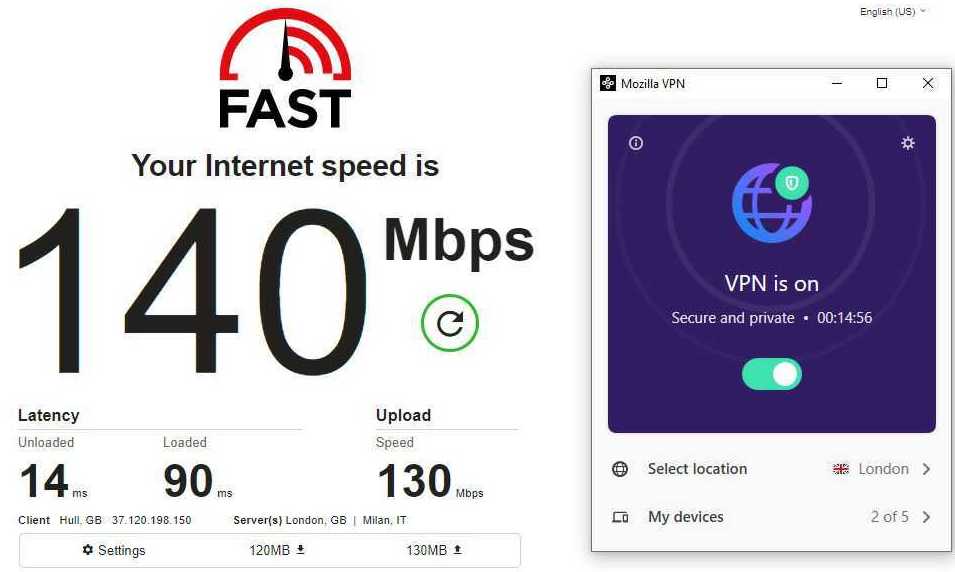 For our third test, we connected to a distant but popular location, which is the US. We expected speed rates to drop massively, but much to our surprise, they actually improved. The score was better than the ones close servers registered.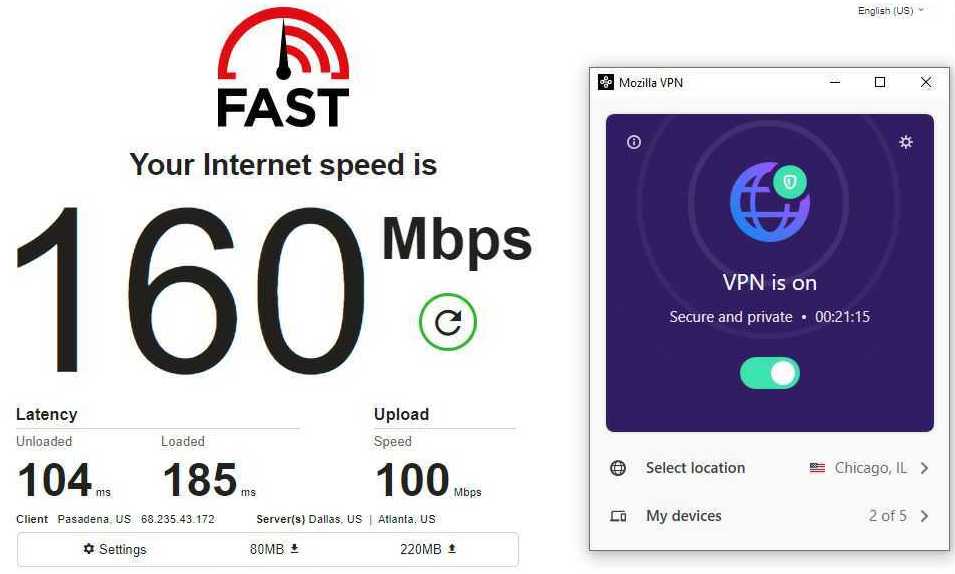 For our final test, we connected to another distant server, but this time to the east. We expected more impressive results after what we previously witnessed, but the Australian registered a significant speed drop.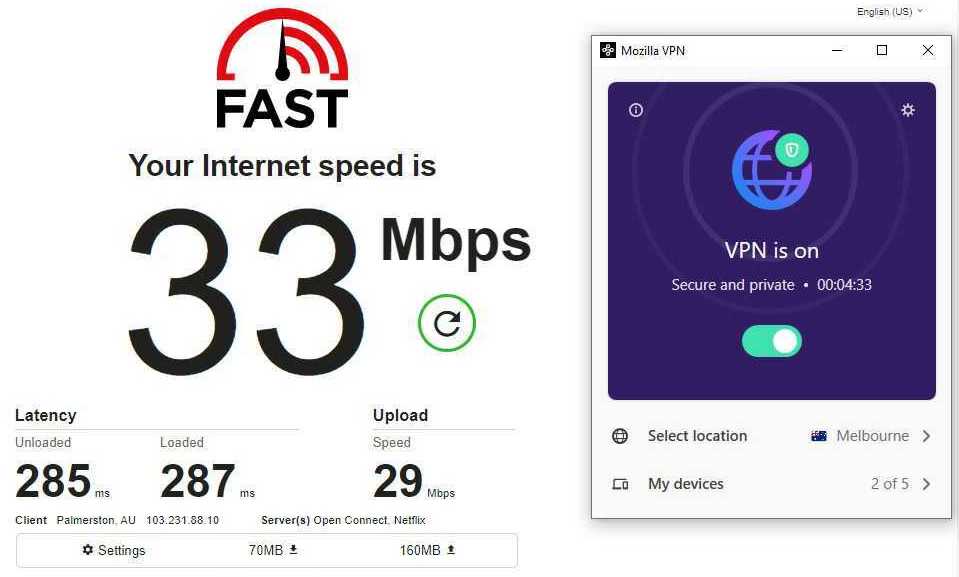 How Fast Is It?
Mozilla VPN delivers outstanding speed rates, one of the best we've ever seen. No matter which server we connected to, we barely experienced any speed drops. And even though the Australian server witnessed a significant speed decrease, the rates were quite normal considering the distance between our actual location and the server.
---
Mozilla VPN and Streaming
Most streaming platforms use geo-blocking technology to prevent out-of-market viewers from accessing their content. They can only broadcast shows in a specific region due to licensing agreements. Therefore, users resorted to VPNs to circumvent geo-restrictions and watch their favorite shows no matter where they are.
VPNs reroute your traffic and change your IP address, making you appear as if you were in a different place. But to abide by copyright laws, video-on-demand services started using technology that can detect VPN IP addresses and ban them. Nonetheless, premium providers can still find a way past geo-blocks and VPN bans to deliver content to overseas viewers.
And since streaming restricted programs is the leading motivation for using a VPN, your provider must overcome these obstacles.
Now, Mozilla VPN registered mixed results in this department. When we connected to a US server, we managed to unblock Amazon Prime Video's American catalog but were unable to accomplish the same feat with Netflix. The VPN also failed to circumvent Hulu's geo-blocks, even though we used several US servers.
Next, we connected to a server inside the UK to see if Mozilla VPN can access BBC iPlayer shows. And although the British streaming service applies vigorous blocking technology, the VPN successfully got past it.
No Smart DNS Proxy
Since VPN software isn't compatible with the operating systems of Smart TVs, gaming consoles, and certain routers, several VPNs offer Smart DNS proxies. You can set up these tools on pretty much any device, including PS4, Xbox, or Samsung and LG Smart TVs.
Smart DNS proxies don't offer anything on the privacy front. They don't hide your IP address nor encrypt your traffic. However, they can unblock streaming platforms by only rerouting the URLs that expose your location. And the best part about them is that they don't affect your Internet speed.
Mozilla VPN does not offer a Smart DNS proxy, an area that needs improvement. This tool provides an alternative route towards unblocking streaming channels, and having it is a massive boost because it works on all devices.
---
P2P Support
In addition to unblocking streaming platforms, many users get VPNs to download files via P2P networks safely. Torrenting is illegal in some countries due to copyright infringement. Punishment could vary from connection termination to fines and imprisonment.
Another P2P risk is that when you download a song, film, or book, you share your IP address with peers. In other words, other members of the network can determine your whereabouts. But once you connect to a VPN server, third parties and other torrent users won't be able to figure out where you are or what you're doing thanks to data encryption.
Of course, your VPN must offer servers that support P2P activities first. Mozilla VPN uses Mullvad's network, which supports torrenting.
---
Security and Privacy
Even though streaming is high on any VPN user's wishlist, security and privacy should be the number one concern. A virtual private network's main responsibility is to protect your online anonymity and not give away your sensitive data to any party. We say this because each brand offers different features that aren't necessary premium.
For example, free providers keep logs of your online activities and sell them to advertising companies to deliver targeted ads. They might also share it with other parties like government agencies. Moreover, some of them don't implement strong encryption algorithms, or sometimes none at all.
Therefore, we recommend you avoid these services and stick to premium ones. Here's what Mozilla VPN has to offer in this domain.
Company Headquarters
Mozilla is an American organization famous for its Firefox web browser. The company is based in the US, and the same thing applies to its VPN product. As we mentioned at the beginning, the country is part of Five Eyes, an alliance of five international intelligence agencies. This coalition mainly focuses on monitoring the Internet, forcing companies within their jurisdiction to submit user data.
Five Eyes later on expanded to Nine and 14 Eyes, adding more agencies under its name. And the terrifying thing is that these countries can exchange data between them.
| | |
| --- | --- |
| Five Eyes | US, UK, Australia, Canada, and New Zealand |
| Nine Eyes | Five Eyes countries, plus Denmark, France, Netherlands, and Norway. |
| 14 Eyes | Nine Eyes members, plus Belgium, Germany, Italy, Spain, and Sweden. |
Despite this privacy breach, if your VPN offers a proven no-logs, you won't have to worry about it.
Zero-logs Policy
According to the website, Mozilla VPN does not keep any records of your online activities. For more information, check out its transparent privacy policy, where the VPN clearly states what data it collects and shares.

Just like any other service, Mozilla VPN logs your login information like your email. It also has to store your IP address because it's only available in select countries. And since Mozilla uses the Mullvad's network, it has to share any information it collects with the latter. However, it encrypts the data then sends it. Besides, Mullvad has a no-logs policy of its own, which means it won't log your traffic.
"Mullvad receives your internet traffic to provide the service. When you activate Mozilla VPN, it will encrypt your internet traffic and send it to Mullvad. Mullvad has committed not to log any of the data it receives. Learn more at Mullvad's Privacy Policy."

Mozilla VPN
Military-grade Encryption
Mozilla VPN uses the same server network as Mullvad, which means it also has the same encryption. The Advanced Encryption Standard with 256-bit keys is a military algorithm that is now a standard in the VPN industry. It is the same one the NSA implements to protect classified information and files.
To decode it, one would have to break through trillions of possible combinations, an impossible task even with the world's most powerful supercomputers.
Kill Switch and Leak Protection
An unstable Internet connection can cause your VPN to malfunction. That is why a kill switch is a VPN must-have because it will disconnect you from the web if the VPN connection drops. Consequently, your data won't leak to your ISP's servers.
Mozilla VPN Windows and iOS apps have a built-in kill switch that is enabled by default, and there isn't currently any setting to disable it. But the Android app doesn't have a built-in kill switch. To turn on the feature, you have to go to Android settings and:
Tap Network & Internet > Advanced > VPN.
Hit the gear icon to the right of Mozilla VPN.
Activate the Always-on VPN option.
Turn Block connections without VPN to On once you the VPN connection is established.
Android will ask you a question. Tap Turn On to enable your kill switch.
Although all the apps have a kill switch, the fact that you have to enable it from Android settings manually seems a bit tiresome. Moreover, VPN beginners might have trouble activating it.
Now, to make sure there aren't any IP address leaks, we connected to a US server and used our IP info tool to see if the IP address on display is American. As you can see, Mozilla VPN does not reveal our actual location.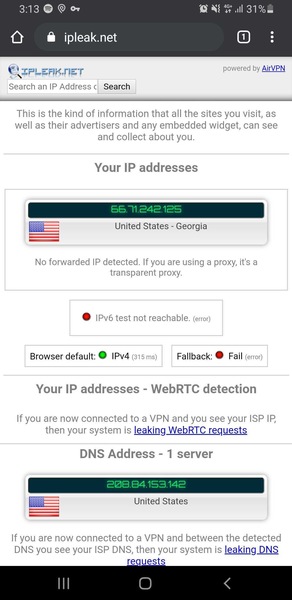 However, when we tested Mozilla VPN for any WebRTC leaks, the result showed two IP addresses: One that said local and the other was the same US VPN IP address from earlier. Had it been just the latter, there would have been no leaks. And even though the first IP address does not reflect our actual location, we still found it strange that there were two IPs on display.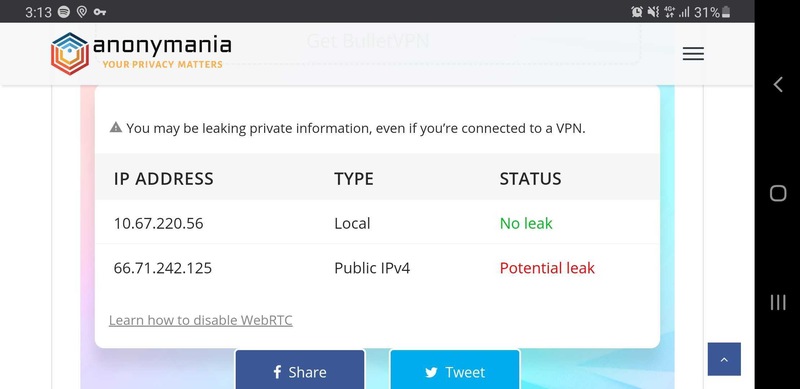 Warrant Canary
Many reputable VPN services use warrant canaries to warn customers that they received subpoenas from government agencies. So if you see a VPN provider with a warrant canary page, rest assured that it hasn't been hit with any national security letters. Once the page disappears, then the VPN has received a request to submit user data.
But why beat around the bushes? Because these subpoenas and warrants come with a gag order, preventing VPN companies from disclosing their content.
The idea comes from miners who took canaries down the mineshaft to alert them of any toxic gas. If the birds died, the workers knew they had to evacuate as soon as possible.
Mozilla VPN does not have a warrant canary page yet. But keep in mind that this a new VPN service that's only available in six countries, so it might introduce it in the future.
Independent Auditing
For transparency purposes, some VPNs hire reputable independent auditors to examine their software or verify their no-logs policies. They even publish the findings of these reports to the public, proving that there are no shady activities behind closed doors.
However, Mozilla VPN does not have a report from third-party auditors as of yet. But as I mentioned earlier, the VPN hasn't been around for long and could bring in independent professionals in the future.
---
Customer Support
Every VPN service must have a professional and responsive customer support service that can answer technical questions. Customers might run into problems or have inquiries, and there should be a knowledgeable team capable of providing helpful responses.
Moreover, the VPN must provide multiple ways to contact the company, like email, ticket, and most importantly, live chat. If you have simple questions, the best thing to do is use the latter option as customer support will answer immediately. For more complicated matters, it's better to use the first two options to get more detailed and precise solutions. However, response time ranges between hours and two days.
Mozilla VPN only allows you to reach out via email, which is an area that definitely needs improving. You'll also find support on the FAQs page, which contains plenty of articles and guides and the most common VPN issues.
Languages
The only available language on the Mozilla VPN website and apps is English. Some users prefer to read content in their native tongues, but since Mozilla VPN just recently rolled out, we think it will introduce new languages soon.
---
Is Mozilla VPN Expensive?
For some users, pricing is the most important feature. If the price doesn't fit their budget, they might immediately dismiss it, even if the VPN offers the best features in the business. In fact, some prefer not to spend money on a VPN service, opting for a free one instead. We did warn you against using these providers, though.
Unlike other VPNs we've tested, Mozilla VPN only offers one subscription plan: $4.99 per month. This affordable plan comes with a 30-day refund policy, meaning you can reclaim the money you paid within the first month of your subscription.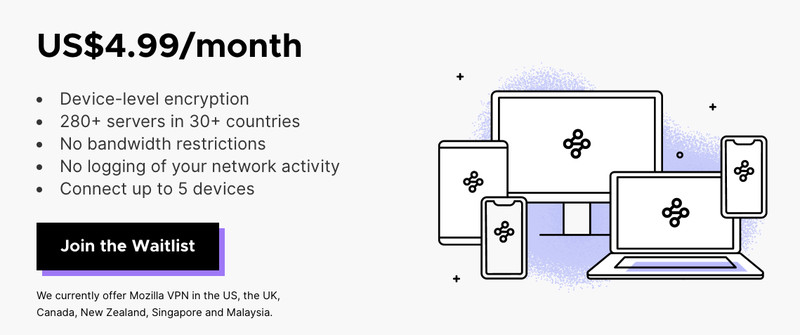 Payment Methods
Mozilla VPN only allows you to pay using your credit/debit card. While other brands offer additional methods like PayPal, gift cards, and even cryptocurrency, this VPN only follows the traditional way. We reckon this is because it is a new service that is still laying out its financial infrastructure.
We recommend Mozilla introduces new methods soon, especially cryptos like Bitcoin as they allow anonymous payments, which is what VPNs are all about.
---
Mozilla VPN Final Verdict
Mozilla VPN is somewhat of a new service that still has a lot to do to compete in the big leagues. It doesn't offer many features and is only available in six countries. Moreover, it has a limited server network, no apps for Mac or Linux devices, and lacks a built-in switch for Android users.
However, it is on the right track to becoming a decent VPN service, featuring a no-logs policy, military-grade encryption, P2P support, and stable speeds. The name Mozilla certainly helps, as well. Therefore, we recommend you wait until Mozilla VPN steadies its feet before you subscribe to it.
Do you think Mozilla VPN will become a leading VPN service? Let us know below.