VPN
What Is the Best VPN for LG Smart TVs?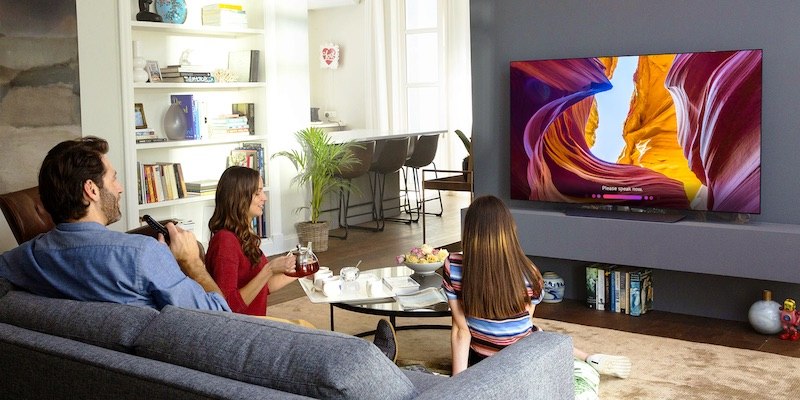 LG Smart TV facts and figures
LG Smart TV and VPNs
Set up Smart DNS on your smart TV
Install a VPN on your router
Best VPN for LG Smart TV
It's amazing how smart technology has become an essential part of our daily lives, from devices like smartphones, smartwatches, and smart TVs to entire households like smart homes. We were all going about just fine without this technology ten years ago, but now, we can't live without it.
Smart devices help us stay connected to the Internet and each other at all times, whether at home or on the go. Smart TVs, for example, brought a whole new level of entertainment and functionality, thanks to dedicated apps and Internet access. That allowed users to access streaming platforms like Netflix, easily and swiftly.
And the LG Smart TV is among the most popular devices in the industry, along with Samsung and Sony. And just like its peers, it offers a wide variety of apps and services. However, these platforms are subject to geo-blocking, which means LG has different catalogs for each region. But with the right VPN, you'll be able to access any LG content you want from anywhere.
---
Content Overview
---
LG Smart TV – What You Need to Know
LG Electronics is a South Korean multinational electronics company that was established after the Korean war in 1958. Back then, it operated under the name of GoldStar and was responsible for providing the country with local consumer electronics and home appliances. GoldStar merged with Lucky Chemical and LS Cable in 1995 and changed its name to Lucky-GoldStar then LG Electronics.
Today, LG has four business units: Home Appliances & Air Solutions, Home Entertainment, Vehicle Components, and Mobile Communications. Among its most famous products is the LG Smart TV, one of the best televisions in the industry. In fact, LG is the second-largest TV manufacturer behind only its South Korean counterpart Samsung.
According to Statista, almost 200 million smart TVs were sold in 2018, comprising 70% of total TV sales worldwide. And Statista estimates that number to reach 250 million by 2024.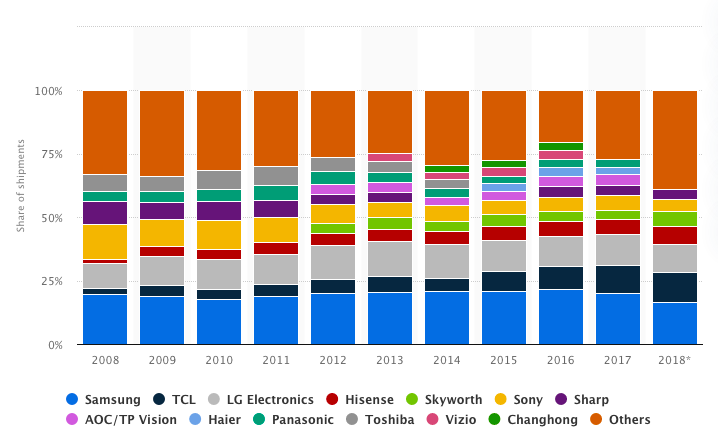 LG introduced its first Internet TV in 2007 before renaming it the LG Smart TV in 2011 when it added more interactive features. It allows viewers to watch TV and access the Internet at the same time, not to mention opening popular streaming platforms like Netflix and Hulu.
LG TV AI ThinQ
LG Smart TV isn't just smart by name. It features artificial intelligence called AI ThinQ in some of its devices, which could improve your viewing experience. AI ThinQ includes features like:
AI picture and sound: LG Artificial intelligence will increase picture sharpness and clarity, as well as upscale audio to virtual 5.1 surround sound.
Recommendations: AI will analyze your primary usage patterns to give you show, channel, and app suggestions.
Voice search: If you wish to know more about the program you're watching, like the name of an actor, his/her filmography, or the soundtrack, all you have to do is ask.
Home dashboard: Monitor all your smart home devices from one place – your TV.
Virtual assistance: LG AI ThinQ TVs work with Amazon Alexa and Google Assistant (built-in), allowing you to voice-control your smart TV without a remote control.
Please note that not all LG Smart TV devices have AI. Also, some of the above features are only available for smart homes.
WebOS
LG Smart TV is one of the most popular smart TV brands in the world. In fact, Samsung's QLED TV and the LG OLED TV continue to dominate the North American. In 2019, both manufacturers had a combined share of 62.5% in terms of sales, though Samsung had a bigger slice of that pie.
The reason behind LG Smart TV's high approval rating is mostly due to its operating system: WebOS. LG Electronics started using webOS as of 2014 after acquiring it from HP, who bought it from original developer Palm. WebOS is an award-winning and very easy-to-use platform. It features dedicated pre-installed apps like Netflix and YouTube.
That makes streaming a lot easier as you'll only have to enter your login details once. However, the availability of these apps depends on your geographic location as each webOS region offers a different catalog. Hulu, for example, is only available for American LG Smart TV buyers since the service is geo-blocked outside the US.
"Some apps that appear on the screen image may not be pre-installed."

LG Electronics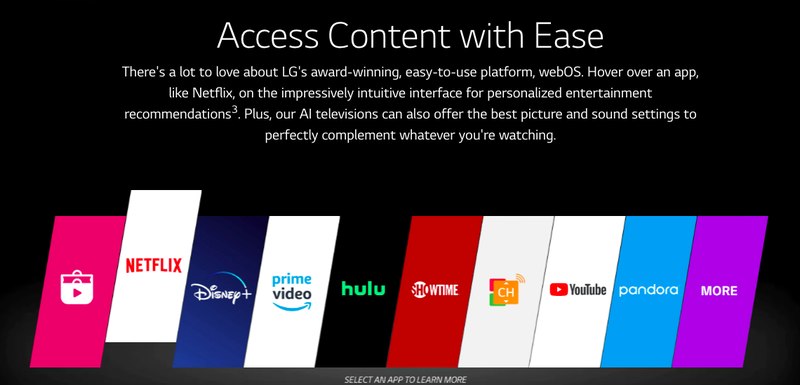 ---
Why You Need a VPN with Your LG Smart TV?
LG Smart TV brings all the benefits of an Internet connection to conventional TV viewing. That means you'll be able to browse the web and access built-in apps like streaming platforms from your smart device. But having an Internet-connected smart TV comes with its share of disadvantages, like geographic restrictions.
As I mentioned earlier, LG Smart TV will offer different apps depending on where you live. In the US market, for example, Hulu, Showtime, Pandora, and other services are all available. But outside the US, the list of platforms significantly diminishes.
Netflix, Amazon Prime Video, and YouTube are accessible from pretty everywhere in the world, so you won't have a problem with them. Meanwhile, Disney+ is available in the US, Canada, Netherlands, Australia, and New Zealand. Due to licensing agreements, the remaining services on offer, like Showtime and Hulu, are blocked outside United States territories.
Your LG Smart TV can locate you using your IP address, a numerical label that helps the web keep track of its visitors. In other words, your IP reveals your digital identity and physical location. As a result, your device will display apps according to where you are. If you live outside the above regions, Netflix, Prime Video, and YouTube are the only built-in apps on your device.
The only way to bypass these restrictions is with a virtual private network (VPN), preferably one that has a Smart DNS proxy service.
What Is a Smart DNS Proxy? Can It Unblock LG Smart TV Apps?
There are several ways to get your favorite streaming platforms on your LG Smart TV. One of those is by using a Smart DNS proxy, a tool that only reroutes the URLs that expose your location instead of your entire traffic. That allows you to unblock certain online services as you'll appear to be in a different country.
However, unlike VPNs, Smart DNS proxies don't hide your IP address or encrypt your traffic, meaning they can't protect your online privacy. Still, they can help you change your online location by replacing the DNS address that your ISP assigns with the address of their own servers. Besides, no data encryption means no speed drops.
---
Set Up a Smart DNS Proxy on Your LG Smart TV
You might be wondering why would you need a VPN with a Smart DNS proxy? Why not install the VPN directly on your smart TV? Well, VPN apps are not compatible with smart TVs. Both have different operating systems, which makes it difficult to install or even manually set up a VPN on your device.
And it's not just smart TVs. Gaming consoles like the PS4 and Xbox One also don't have VPN clients, while certain routers can't support VPN apps either. Therefore, you need a reputable VPN service that offers a Smart DNS proxy. The latter works with just about any device or operating system, including iOS, Android, Windows, Mac, Linux, Kindle Fire, routers, gaming consoles, and smart TVs.
However, setting it up on your LG Smart TV is not as straightforward as you think. First you need to purchase a VPN subscription and install it on a compatible device, like your smartphone, computer, or tablet. Then, you must acquire the address of your VPN's DNS server as you'll have to configure it on your smart TV.
And since LG Smart TV in the US market offers the broadest lineup of apps and streaming platforms, we recommend you obtain the address of the American DNS server.
Turn on your LG Smart TV, press the home button, and go to settings.
Next, click Network, followed by Wi-Fi Connection (or Ethernet, depending on your connection).

Now, select Advanced Settings at the bottom.

Click the Edit button at the bottom right

Then, uncheck the "Set Automatically" button to enable manual usage.

Enter the DNS server address of your VPN or Smart DNS, then click connect.

Wait till your Internet status says "Connected to Internet" and restart your Smart TV.
How to Change your webOS Region?
Please note that the above steps are not enough to access LG Smart TV's entire supply of apps. To do so, you still need to change your webOS region. Just remember to set up a Smart DNS proxy first.
Here's how you can switch webOS regions:
Press the "settings" button on your remote control.
Then, choose "general" -> "location" -> "LG services country."
Untoggle the Set Automatically option and select your preferred country destination.
Press "yes" and restart your LG Smart TV.
---
Method Two – Install VPN on Your Router
VPN apps may not be compatible with smart TVs, but you can set them up on certain routers. We say certain routers because not all of them are compatible with VPNs, which means you'll have to flash your router with DD-WRT firmware first. But please be aware that the latter move is a bit risky as it could brick your router.
Furthermore, it requires some technical know-how. That is why we recommend you follow our detailed guide on how to install a VPN on any router, whether it supports VPN apps or not.
Besides, setting up a VPN service on your router brings forth a lot of benefits, and I'm not just talking about unblocking capabilities. Unlike Smart DNS proxies, VPNs can maintain your online security and privacy. How? Well, they encrypt your traffic, change your IP address, and remove records of your sensitive data. That, of course, applies to premium VPN providers.
Moreover, smart TVs aren't usually equipped with the highest levels of cybersecurity. Therefore, setting up a VPN on your router will significantly improve your Internet safety. Another advantage is that you won't limit yourself to the number of simultaneous device connections that your VPN allows. Instead, any device that connects to your Wi-Fi hotspot will enjoy VPN protection.
One of the setbacks, though, is the speed drop in your Internet connection. The advanced encryption algorithms that top VPN services use consume a bit of your Internet speed.
---
Best VPN for LG Smart TV
There are a lot of VPN services on the market nowadays, which is why you have to be smart about your choice. You must select a VPN with premium privacy features, excellent unblocking skills, and most importantly, a Smart DNS proxy. Here are our top recommendations.
ExpressVPN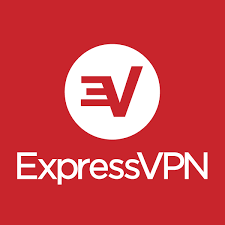 ExpressVPN is one of the best VPN services in the industry and an excellent all-round performer. That makes it a sound choice for unblocking apps on your LG Smart TV, as well as any other online activity.
The company offers more than 3,000 servers in 160 locations across 94 countries, one of the largest networks in the business. These servers can bypass geo-restrictions and avoid the VPN IP address ban that streaming platforms impose. They also offer fast speed rates so that you don't encounter any buffering issues when you're watching your favorite shows.
ExpressVPN also features a Smart DNS proxy called MediaStreamer. You can install it on any device, including smart TVs, gaming consoles, and routers.
As for online privacy, this VPN uses the most secure encryption algorithm developed so far: AES-256. To break it, the world's supercomputers would have to run for millions of years and go through trillions of possible combinations, which is impossible. ExpressVPN also follows a no-logs policy, categorically eliminating your sensitive data from its servers.
Moreover, the company five simultaneous device connections and offers a 30-day refund policy.
Pros
MediaStreamer: Smart DNS proxy.
Large server network.
Fast speed rates.
Zero-logs policy.
Military-grade encryption.
kill switch and DNS leak protection.
Five simultaneous device connections per account.
High device compatibility.
Cons
Slightly more expensive than its peers.
---
BulletVPN
BulletVPN offers similar features to ExpressVPN, especially in the privacy and security departments. For instance, it implements a no-logging policy and uses AES encryption with 256-bit keys. It also offers a kill switch with an optional BulletShield feature. Should you activate the latter in conjunction with the kill switch, you won't have Internet access unless you're connected to a BulletVPN server.
The only notable difference between BulletVPN and other top providers is the number of servers on offer. The company operates 130 servers in 54 countries but has a presence in almost every region. Therefore, you'll still be able to bypass most geo-blocks, including the bans that streaming platforms impose on VPN IP addresses.
BulletVPN servers also provide fast speeds, ideal for watching online programs. Moreover, The VPN allows six device connections at the same time and offers a 30-day refund policy. And most importantly, it features a free Smart DNS proxy.
Pros
AES-256 encryption.
Six simultaneous device connections.
Zero-logs policy.
Kill switch with BulletShield.
Smart DNS Proxy service.
Fast speeds.
30-day money-back guarantee.
Cons
Smaller server network than other providers.
---
Unlocator VPN
Unlocator has the smallest server network among our VPN recommendations. But its servers are located in every continent except Antarctica, which gives you access to the most popular online services. These servers have respectable speeds and can bypass the VPN IP address blacklisting.
Furthermore, Unlocator VPN follows a zero-logging policy and uses the AES-256 encryption. It also offers a kill switch so that your traffic won't leak to your ISP's servers if the VPN malfunctions.
But the best about Unlocator is its excellent Smart DNS proxy. After all, the company started out as Smart DNS service in the first place, which means it has valuable experience under its belt. And with Unlocator Hybrid, you'll get all the privacy of a VPN and the unblocking capabilities of a Smart DNS.
Another beneficial feature that few other VPNs provide is the 7-day free trial that does not require any credit card information. There's also a 30-day money-back guarantee.
Pros
Top-grade encryption.
No-logs policy.
Unlocator Hybrid.
7-day free trial.
30-day money-back guarantee.
Smart DNS proxy.
Five concurrent device connections.
Cons
Smaller server network than its peers.
---
NordVPN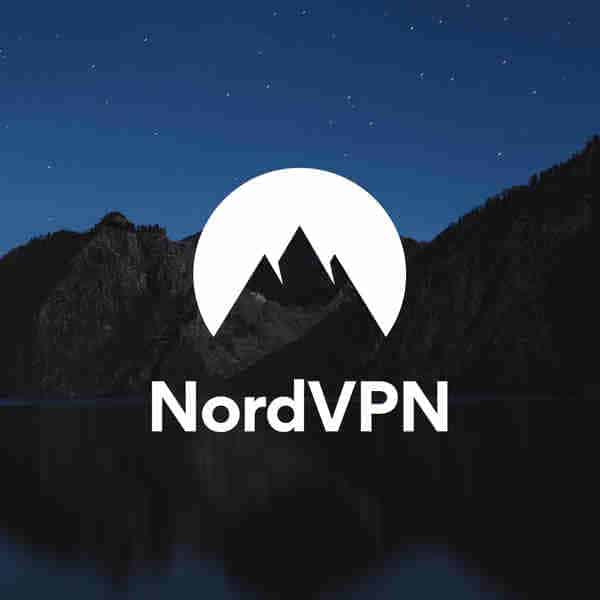 NordVPN is a reputable VPN service with top-notch privacy features. In addition to military-grade encryption, a no-logs policy, and a kill switch, the company also offers CyberSec and a double VPN. The first one block ads and malicious websites, while the second encrypts your traffic twice.
Furthermore, NordVPN has a massive network of 5,000+ servers spread across 59 countries. These servers can bypass online restrictions and provide decent speed rates, depending on which ones you choose. However, please note that if you select the double VPN feature, speed will drop below its usual levels.
NordVPN has a Smart DNS proxy named SmartPlay that you can set up on any device. It allows six simultaneous device connections and offers a 30-day refund policy.
Pros
Double VPN.
CyberSec.
SmartPlay.
AES-256 encryption.
No-logs policy.
Broad server network.
30-day refund policy.
Up to six concurrent device connections.
Cons
Some servers might be a bit slow.
---
Best VPN for LG Smart TV – The Wrap-up
There are several ways to bypass geo-blocks and access LG Smart TV's lineup of apps and platforms. You can set a Smart DNS on your smart TV or install a VPN on your router. Either way, both methods involve a VPN service, which means you have to select a premium provider.
The above VPN recommendations work perfectly well with the LG Smart TV. All you have to do is follow the steps and you'll be able to watch your favorite shows no matter where you are.
Leave a comment below and tell us which method do you prefer to access all LG Smart TV apps.