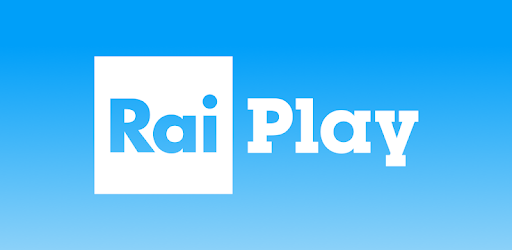 RaiPlay is the streaming home to some of the most popular international and Italian programs. I'm talking about series, movies, documentaries, originals, kids' shows, news, and sports. And what's even more impressive is that all the content is available for free, whether live or on-demand.
But the only hiccup is that you cannot access the service from outside Italy due to geographic restrictions.
I'm sure Italian expatriates have encountered the location error message when abroad. However, with a proper VPN, you won't have to miss your favorite programs anymore, no matter where you are.
In this guide, we gathered the best VPNs to unblock RaiPlay from the US, the UK, Germany, France, Sweden, Australia, and everywhere else. So keep reading to find out more.
Unblock RaiPlay the Right Way – Quick Steps
Time needed: 3 minutes
Mamma Mia, that was fast! Unblock your favorite RaiPlay content from outside Italia instantly.
Subscribe to a premium VPN.

After several trials and tests, we highly recommend ExpressVPN or BulletVPN for streaming. Visit the website and create an account to get started.

Download the app on your favorite device.

Top VPNs have compatible, easy-to-use apps for the most popular platforms. That includes PC, Mac, iOS, and Android.

Launch and sign in.

Open the VPN app, log in to your account, and connect to a server location from Italy.

Go to RaiPlay's website or app.

When geo-blocks don't hit your eye anymore, that's RaiPlay access.

Stream from anywhere.

Get your favorite shows uninterrupted from outside Italy.
The Full RaiPlay Guide
Our comprehensive guide covers everything you need to know about RaiPlay, how to unblock it from abroad, and the best VPNs to use.
The Requirements
After reading this article, you'll need the following to access RaiPlay:
A subscription to a premium VPN.
A free RaiPlay account.
A compatible device.
Where Can I Watch RaiPlay?
RAI is one of the largest TV networks in Italy, offering an exclusive lineup of local and international programs from 14 channels. That includes sports, news, movies, series, originals, documentaries, and kids' shows.
All that content is available for online viewers through the RaiPlay website and mobile application. It allows streamers and cord-cutters to watch whatever they want live or on demand.
And the best part is that the streaming service requires no subscriptions or credit cards. You can access it for free without registration as well, though you'll only have limited content. You must create a free RaiPlay account to view the entire library.
However, you should be wary of geo-blocks. Due to copyright and distribution agreements, RaiPlay cannot broadcast outside its local market, Italy. Here's how the company explains it:
Per aspetti legati ai diritti di trasmissione, la diretta web è geoprotetta e quindi visibile soltanto agli utenti che si collegano dal territorio nazionale.

RaiPlay
Translation: Due to broadcasting rights, the live web is geo-protected and visible only to users who connect from the national territory.
In other words, you can't follow your favorite programs once you leave Italy.
Say Ciao to Geo-Blocks with a VPN
Streaming platforms like RaiPlay can determine your whereabouts through your IP address, which is assigned to you by your ISP.
Now, they can't pinpoint your exact location, but your IP still reveals which city and country you're in.
That makes it easy for them to keep you out. As a result, you'll see error messages like the below on your screen instead of the show you're trying to watch:
"Siamo spiacenti, Rai detiene i diritti per lo streaming del contenuto esclusivamente per connessioni dall'Italia."
"The streaming of this content is available in Italy only. We apologize for the inconvenience."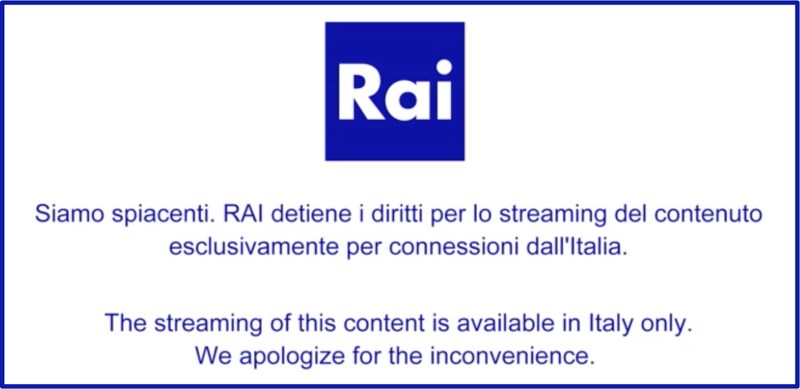 VPNs carry a simple solution to this problem: changing your IP address. When you connect to a VPN server, your traffic goes through an encrypted tunnel to a location of your choice, preventing anyone from monitoring your online connection and activities.
Then, your VPN hides your original IP address and gives you a new one from the country you selected.
And with your new IP, you'll appear as if you are in a different region, allowing you to unblock new streaming channels.
So let's say you want to stream live Serie A games on RaiPlay from abroad. All you have to do is connect to an Italian VPN server, visit the website or app, and start cheering. In fact, you'll also have access to other channels inside the country, like DAZN.
And you'll reap much more benefits when you use a VPN, not just full streaming access. Premium providers encrypt your traffic and never keep data logs.
Furthermore, you can play online games uninterrupted, get cheaper deals, and safely share P2P files.
Best VPN for RaiPlay – Free vs. Premium
We always encourage our users to use premium VPNs because we believe that if something is free, then the consumer is the product. And that couldn't be more correct when it comes to VPNs.
Most free providers collect and sell your sensitive data to make money. That includes your IP address, browsing activities, and online identity.
Also, they are highly unreliable for streaming because most platforms can easily detect and block them. Plus, they offer an average of three servers, and the service is usually slow. And to make matters worse, several free VPNs contain malware and adware.
Therefore, we've never recommended one, until now. We found one of the best free VPNs for streaming RaiPlay outside Italy – QamoVPN – in case you don't want to break the bank for a VPN.
Qamo VPN's Italian server, located in Milan, gave us instant access to the streaming platform, allowing us to catch up on some Serie A Calcio highlights. And the connection speed was really fast.
Furthermore, Qamo offers 10+ servers worldwide, with key locations in the US, Canada, UK, France, Germany, Denmark, Netherlands, Japan, and more. It's also one of the few free VPNs that use military-grade encryption and follow a no-logs policy, excellent for user privacy.
However, the app supports ads, which can be annoying when you switch servers. But it's small price to pay to watch RaiPlay from abroad with a VPN for free. Additionally, Qamo is only available for Android users.
Meanwhile, premium providers like ExpressVPN offers excellent speeds, 3,000+ servers, top privacy features, and a 30-day money-back guarantee.
But if you're looking for the best VPN for streaming, we found BulletVPN to be the most consistent. It is the only VPN we've tested so far with a perfect unblocking record.


30-Day Money-back Guarantee
Unlimited Bandwidth
Apps For All Your Devices
24/7 Live Support
Visit ExpressVPN
RaiPlay Device Support
RaiPlay programs are available at home or on the go.
Desktop
Streaming RaiPlay on your PC or Mac is the easiest thing to do. Simply:
Connect to an Italian VPN server
Visit https://www.raiplay.it/
Create an account or sign in if you already have one
You can even enjoy limited content without registering
Mobile
Smart TV
If you're looking to stream RaiPlay on your LG or Samsung Smart TV, you must set up a VPN connection on your router first because VPNs don't have dedicated apps for these devices. Then, change your TV store's region to Italy, download the app, and binge away.
Fire TV
To stream on your Fire TV stick from outside Italy you must follow a similar approach to the Smart TV tab:
Set up the VPN on your router
Connect to a server inside Italia
Change your Amazon account's country to Italy
Install RaiPlay on your device
Enjoy
Frequently Asked Questions about RaiPlay
Seeking more information about RaiPlay? Take a look at the most common questions our readers ask.
Where is RaiPlay available?
Viewers can only access and watch RaiPlay inside Italy due to copyright and licensing agreements.
RaiPlay is a free streaming service that doesn't require any subscription fees.
You don't have to register to watch RaiPlay content. However, you'll only have access to some programs. For full access, you must create a free account.
How do I create a RaiPlay account?
Signing up for RaiPlay is free and won't take much of your time. To create your account, you must:
Connect to an Italian VPN server if you're outside the country.
Go to https://www.raiplay.it/
Click Accedi/Log in => Registrati/Register => Crea un account RAI/Create an account.
Enter your full name, email address, password, date of birth, and gender.
Return to the website, sign in, and enjoy.
What can I watch on RaiPlay?
RaiPlay offers live and on-demand viewing from 14 different channels covering shows, news, and sport, including:
Il Santone
L'uomo dal fiore in bocca
Apnea
Carmelo Bene Talk Show
The Good Doctor
Warrior
CSI

Serie A

2022 Winter Paralympics

RAI News
RaiPlay Outside Italy with a VPN – Conclusion
There's plenty to watch on RaiPlay, from the latest news and sports to entertaining local and international shows.
However, geo-blocks will put an end to your streaming experience if you're outside Italy. That's why you must stay one step ahead by getting a VPN beforehand.
Subscribe to ExpressVPN, BulletVPN, or any other provider from our list and immediately start streaming your favorite shows.
All the VPNs we recommend have a 30-day money-back guarantee in case you're unhappy with the service.