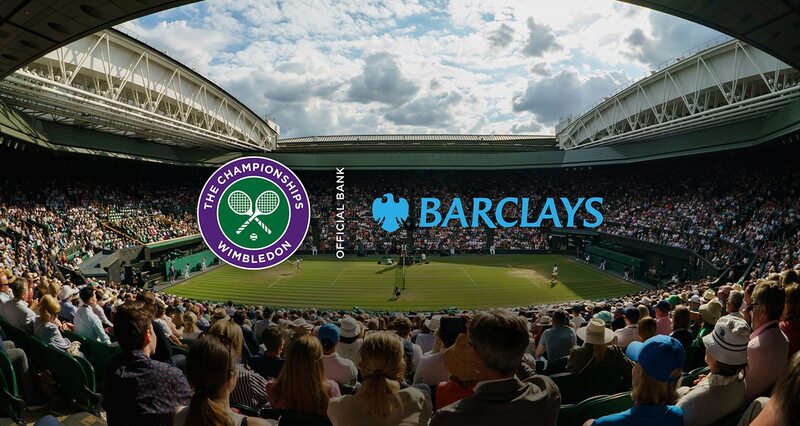 Dubbed as one of the biggest sporting tournaments across the world, Wimbledon 2023 will kick off on Monday, July 3rd, 2023, marking itself as the third grand slam of the year. It will be the 136th edition of The Championships.
Streaming Wimbledon 2023 has never been easier, courtesy of the global broadcasters airing the tournament. However, these channels are geo-restricted to their respective regions, making it a bit difficult for many fans to tune in. Well, that won't be a problem anymore as we're here to help. Here's how you can watch Wimbledon 2023 live anywhere.
---
Wimbledon 2023 – Global Streaming Services
As you may know, Wimbledon is not just one of the biggest tournaments in the world; it's also one of the oldest. That's one of the reasons why it gains that many viewers each year.
In fact, back in 2018, The Championships harnessed a total cumulative television reach of approximately 26 million on BBC and 29.42 million on ESPN. However, these are just two of the several Wimbledon broadcasters.
For an expanded list, please check below:
As seen above, Wimbledon's worldwide popularity comes from having dozens of broadcasters around the world. If you live in any of the aforementioned countries, you'll have no problem watching the competition.
If not, or you prefer to stream it on a different channel, keep scrolling and find out what you need to do.
---
Keep Off The Grass – Geo-restrictions Apply
The full tournament will be available on the channels listed above. Some of these channels are free, while others are premium. However, what they all have in common is that they don't operate outside their respective countries.
Wimbledon doesn't allow anyone to step on the field's soil, and the broadcasting channels do the same, but virtually.
It's called geo-blocking, where channels and websites examine your IP address to determine your location and block/allow your access accordingly.
For example, BBC iPlayer is a free channel that only operates in the UK. In other words, you need a British IP address to stream its content.
If you live abroad, that's exactly what you lack, which will result in the following error message:
"BBC iPlayer only works in the UK. Sorry, it's due to rights issues."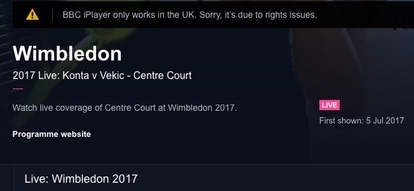 Your IP address definitely dictates what you get to access online. So, with a tool that can change that, your streaming issues can easily be solved.
With a Virtual Private Network, that would be a simple task as it's the ultimate way to get a new IP in a different country. How? Read on and find out.
---
Wimbledon 2023 Live Anywhere – The Steps
A VPN is a cybersecurity tool that allows you to browse the internet securely and anonymously with a push of a button.
It does that by applying military-grade encryption so that no one can hijack your data, sent or received.
Also, when you connect to a server in a country of your choosing, the VPN cloaks your IP address and replaces it with a temporary one in that region.
As a result, you'll have full access to that country's restricted content no matter where you reside.
For example, if you connect to a UK server, you'll receive a British IP address, gaining access to the likes of BBC iPlayer, Sky Go, and more wherever you are.
It's a simple task. This is what you need to do:
First, subscribe to a premium VPN service. Free ones are not safe to use, and they sure can't unblock major streaming channels.
Download and install the provider's dedicated client on your device.
Activate the app and log in with your credentials.
Open the server list and connect to one based on the channel you want to access:

UK server for BBC iPlayer.
US server for ESPN.
Australian server for 9Now, etc…

Launch the channel's website or app.
Stream Wimbledon 2023 live anywhere.
We regularly test VPNs in order to recommend the best out there when it comes to bypassing regional restrictions.
As of now, ExpressVPN leads the industry with top security features, excellent speeds, and unblocking capabilities. It has a 30-day refund policy in case you want to test the service out at no risk.
If ExpressVPN didn't turn out to be what you're looking for, check the list below for other top alternatives.


30-Day Money-back Guarantee
Unlimited Bandwidth
Apps For All Your Devices
24/7 Live Support
Visit ExpressVPN
Wimbledon 2023 – Inside the Tournament
Wimbledon is almost here. If you want to know more about it, give this FAQ section a quick read:
When Will Wimbledon 2023 Begin?
This year's tournament will begin on Monday, July 3rd, 2023, and finish on Sunday, July 16th, 2023
Where Will the 2023 Wimbledon be Held?
The 2023 Wimbledon tournament will take place at the All England Lawn Tennis & Croquet Club.
Who Won the Tournament the Most?
Novak Djokovic has been dominating the competition for 4 years now. Here's a quick look at previous Wimbledon winners:
Male Champions
2022: Novak Djokovic
2021: Novak Djokovic
2019: Novak Djokovic
2018: Novak Djokovic
2017: Roger Federer
2016: Andy Murray
2015: Novak Djokovic
2014: Novak Djokovic
2013: Andy Murray
2012: Roger Federer
2011: Novak Djokovic
2010: Rafael Nadal
2009: Roger Federer
Female Champions
2022: Elena Rybakina
2021: Ashleigh Barty
2019: Simona Halep
2018: Angelique Kerber
2017: Garbine Muguruza
2016: Serena Williams
2015: Serena Williams
2014: Petra Kvitova
2013: Marion Bartoli
2012: Serena Williams
2011: Petra Kvitova
2010: Serena Williams
2009: Serena Williams
Can I Watch the Competition for Free?
Yes. BBC iPlayer is the official broadcaster of the 2023 Wimbledon, offering viewers the chance to stream the entire event live for free.
---
Stream Wimbledon 2023 Anywhere – Parting Words
The Wimbledon 2023 tournament starts on July 3rd, 2023, and fans will be waiting to watch their favorite players battle it out.
However, if you're not one of those able to go to the stadium, the methods above will allow you to watch it live online.
The steps provided in this guide are straightforward. If you want any help with the process, feel free to drop us a line or two in the comment section below.