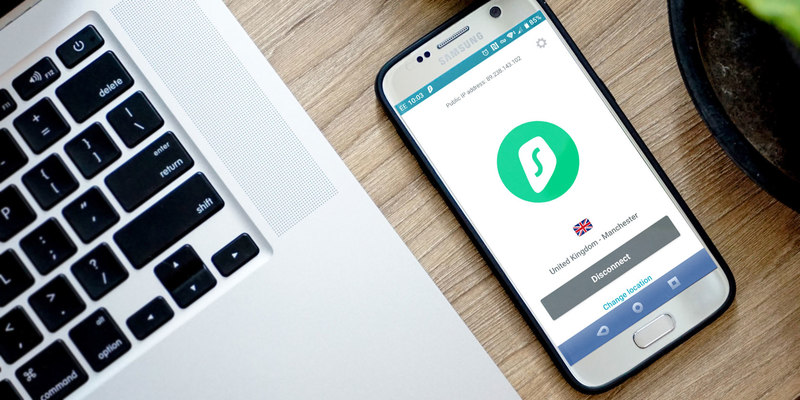 When you visit Surfshark's website and check out all the features it offers, you'd think that it's been around for years. But much to our surprise, the VPN only launched in May 2018. And yet, it was one of the best, and cheapest, VPNs we have ever tested.
Surfshark has over 3,200 servers in 65 countries, which is pretty impressive. These servers will give you access to the most in-demand streaming services, including Netflix, Hulu, and BBC iPlayer. And they are all P2P-friendly.
Moreover, the VPN will encrypt your traffic using the most secure encryption in the industry, AES-256. It also follows a strict no-logs policy, which means it won't collect your sensitive data. Surfshark allows you to further increase your security with MultiHop. The latter reroutes your traffic through multiple servers, giving you another layer of encryption and IP switching.
We put all of Surfshark's features to the test to see if the VPN truly delivers what it claims. What you're about to see below is a series of unbiased tests that highlight how we rate VPNs.
---
Table of Content
---
| | |
| --- | --- |
| Feature | Availability |
| Money-back guarantee | 30 days |
| Allowed simultaneous connections | Unlimited devices |
| Supported streaming services | US Netflix, Amazon Prime Video, Hulu, ESPN, NBC Sports, BBC iPlayer, and more. |
| No-logs policy | Yes |
| Encryption | Military-grade AES 256-bit |
| Protocols | OpenVPN, IKEv2, WireGuard, and Shadowsocks (open-source encrypted proxy). |
| Special features | Kill switch, torrent and P2P support, DNS leak protection, MultiHop, CleanWeb (blocks malware), Whitelister (split tunneling). |
| Customer support | 24/7 customer support with a live chat feature |
| Server locations | 3200+ servers across 65 locations |
| P2P support | Yes |
| Server switches | Unlimited |
| Data traffic | Unlimited |
| Compatible devices | iOS, Android, Windows, Mac, Linux, Amazon Fire TV, Chrome, Firefox |
| Legal Jurisdiction | British Virgin Islands (outside Five-Eyes domain) |
| Free trial | 7 days (on Google Play and the App Store) |
---
Surfshark Pros and Cons – Early Verdict
If you don't have the time to go through each test to determine whether or not Surfshark is right for you, here's what we found. Surfshark is a reliable VPN service with fast speed rates that are ideal for streaming and torrenting. It can bypass the geo-blocks that Netflix, HBO Now, BBC iPlayer, and other similar services impose to give you access to your favorite shows.
Surfshark also protects your online anonymity with the most secure features. That includes AES-256 encryption, a no-logs policy, and a kill switch in case your VPN connection drops. Other unique options include MultiHop, CleanWeb, and Whitelister.
And while Surfshark's monthly subscription plan is a bit expensive, there's great value in its annual and two-year packages. You'll also benefit from a 30- day money-back guarantee, as well as a 7-day free trial on Google Play and App Store. As for customer support, it is available 24/7 via live chat and ticket, and response time is quite fast.
Pros
Fast speed rates.
Access to Netflix libraries and other streaming platforms.
Torrent and P2P support.
Free Smart DNS proxy.
Unlimited simultaneous device connections per account.
30-day refund policy.
7-day free trial.
3200+ servers in 65 countries.
CleanWeb: blocks malicious websites.
Split tunneling.
Military-grade encryption.
No-logs policy.
Kill switch and DNS leak protection.
24/7 customer support.
Warrant Canary.
Cons
Pricey monthly subscription fees.
May collect unique advertising identifiers from third parties (can be disabled in settings).
---
Surfshark Interface and Design
First of all, let's start with Surfshark's website, which we thought had a simple yet clear design. White and teal green colors dominate the page, perfectly reflecting the VPN's logo. The homepage kicks off with Surfshark's Trustpilot score, followed by a "Get Started" button that leads to the subscription page.
As you continue to scroll down, you'll find Surfashrk's most common features. They include online access, security and privacy services, third-party auditing, pricing, and server information. But if you wish to learn more about the service, or a particular feature, click on any of the shortcuts at the top of the page.
And at the bottom right, you'll find a chat button that allows you to talk with a customer service employee.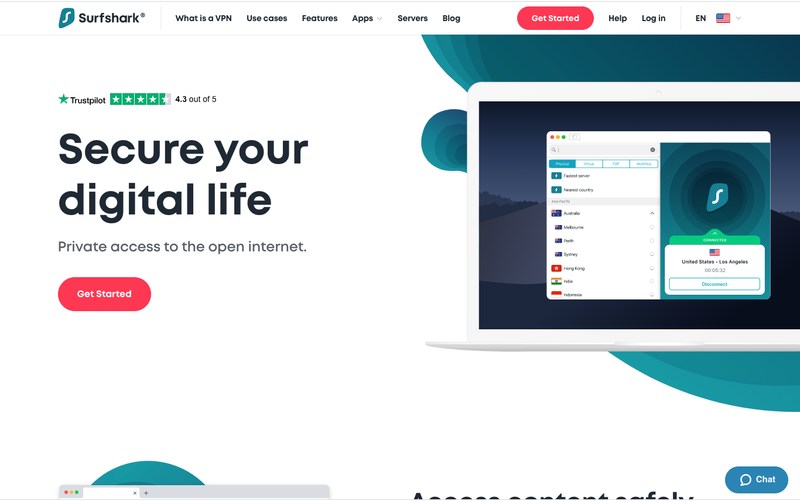 Desktop Client
We tested Surshark VPN's Windows client, and we found it to be straightforward in terms of design and usability. The app is easy to navigate as everything you need is on display as soon as you log in to your account. First, there's a "Quick connect" button, which automatically connects to the best server based on your location.
But if you have a particular server in mind, then click "All locations" at the bottom of the page. It will take you to Surfshark's full server list, where you can search for your favorite servers or even choose those that offer MultiHop.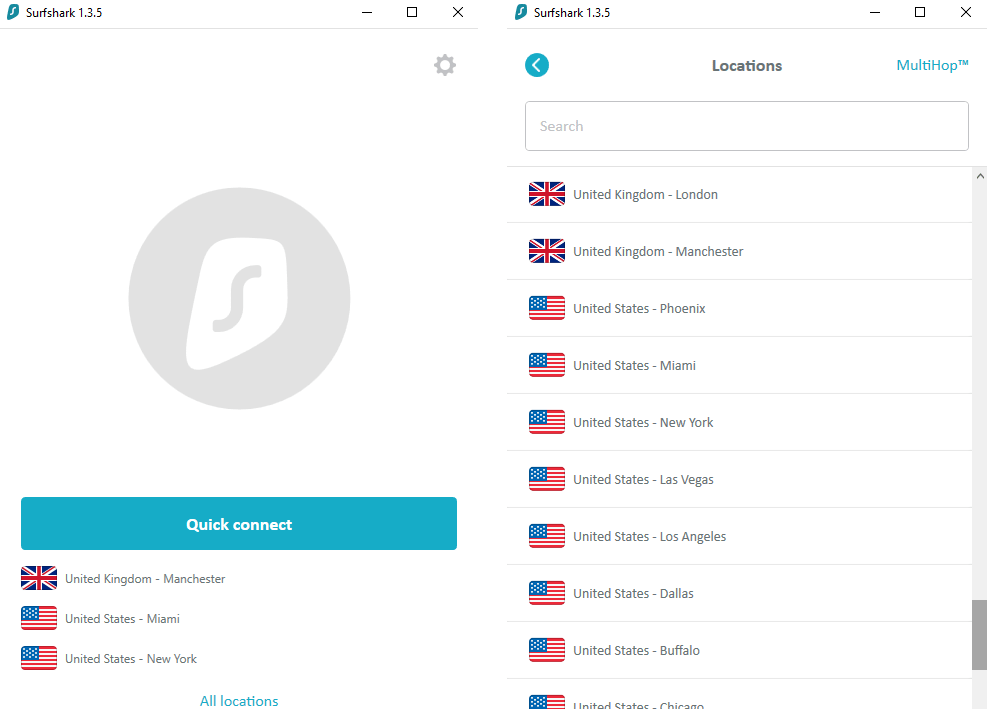 And if you wish to customize the app or enable/disable certain features, then tap the gear icon at the top right of the homepage. The latter will take you to the settings page, and you'll be able to tweak the app to your liking.
Mobile Apps
Next, we tried Surfshark's iOS app. Design and usability don't differ much from the desktop client, which means the app is also easy to use. After you sign in, you'll find a "Quick connect" button on the homepage. And if you want to select another server, click the "locations" icon at the bottom of the page. There, you'll find dedicated servers for torrenting and MultiHop.
You can also customize Surfshark and check out its features from the Settings and Features icons, respectively. There, you can enable the kill switch, connect to the fastest server when you sign in, or activate CleanWeb.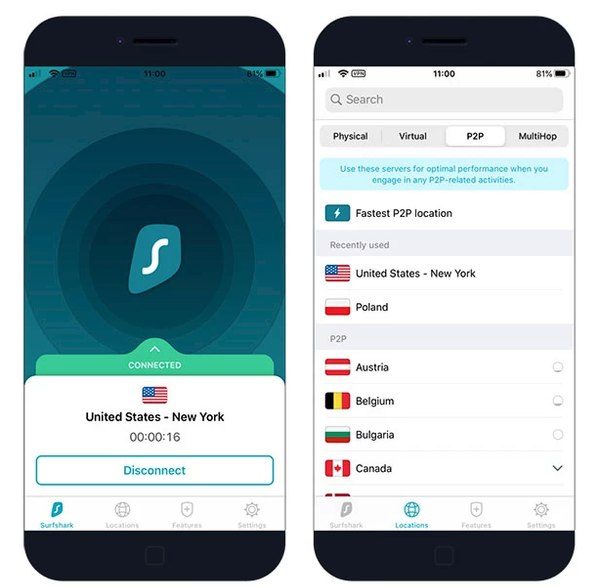 Surfshark VPN earned some great reviews from users. On Trustpilot, it has a 4.3-star rating out of five. The VPN also has excellent scores on Google Play (4.3/5) and the App Store (4.4/5).
"I tried 1/2 dozen VPNs and decided on Surfshark. Glad I did. Easy to set up, great apps, easy to understand instructions, excellent price."

L Kern, Trustpilot user
App Compatibility
Surfshark doesn't just have apps with Windows and iOS. It is also compatible with Android, Mac, Linux, and Amazon Fire TV. Furthermore, the VPN has browser extensions for Google Chrome and Mozilla Firefox. That means it covers almost any device, like smartphones, tablets, computers, and microconsoles.
And we were also very impressed with Surfshark's simultaneous device support. The VPN allows unlimited device connections at the same time using just one account. Other premium providers give you five, six, seven, or ten concurrent connections.
---
Which Countries Does Surfshark Cover?
According to the website, Surfshark VPN has 3200+ servers in 65 countries. And although we've tested VPNs that offered three, four, or even five times that number, that is still a respectable and decent server network. The provider covers all the countries and regions that are in-demand by users. That includes the US, the UK, Germany, France, Spain, India, and Australia.
Surfshark has a presence in every continent, with servers in over 100 locations. Here is how they are distributed:
Europe: Albania, Austria, Belgium, Bosnia, Bulgaria, Croatia, Cyprus, Czech Republic, Denmark, Estonia, Finland, France, Germany, Greece, Hungary, Iceland, Ireland, Italy, Latvia, Luxembourg, Moldova, Netherlands, North Macedonia, Norway, Poland, Portugal, Romania, Russia, Serbia, Slovakia, Slovenia, Spain, Sweden, Switzerland, Ukraine, and the UK.
The Americas: Brazil, Canada, Chile, Colombia, Costa Rica, Paraguay, Mexico, Argentina, and the US.
The Middle East and Africa: Israel, Nigeria, South Africa, Turkey, and the UAE.
Asia Pacific: Australia, Azerbaijan, Hong Kong, India, Indonesia, Japan, Kazakhstan, Malaysia, New Zealand, Philippines, Singapore, South Korea, Taiwan, Thailand, and Vietnam.
---
How Fast Is Surfshark?
Speed is a make-or-break factor when it comes to virtual private networks. Nobody wants a VPN that has slow servers and consumes a lot of its Internet connection. That is why we always test the speed of every brand we review by connecting to several servers.
You see, no matter which VPN you use, your connection speed will always drop due to the high encryption levels and rerouting process. However, top VPNs make sure that the speed decrease remains minimal, without compromising on privacy and security.
Here are the speed results that Surfshark scored:
Note: We conducted our speed tests in an area with a relatively slow internet connection. That is why ping time is a bit high.
First test: No VPN connection

The first speed test we performed was without connecting to a VPN server to see how fast our internet connection. That way, we could see how a VPN could affect it. And as predicted, the fastest speed levels we recorded were without a VPN connection.
Second test: Nearby server

In our second speed test, we connected to a Surfshark server that is close to our actual location. As you can see, the connection speed witnessed a minimal drop but is still at decent rates.
Third test: Distant server

And finally, we connected to a distant Surfshark server to see if the connection speed remains stable and somewhat fast. Speed rates tumbled a bit further, of course, due to the distance between our location and the VPN server. But they are still at acceptable levels.
The Surfshark Speed Verdict
Surfshark VPN is fast and won't wear down your Internet connection by much. As you can see from the above results, speed levels barely dropped when we connected to a nearby server. However, they decreased significantly when we selected a distant server. And while the results were still acceptable, other elite VPNs had better scores.
Nonetheless, you won't encounter any issues when using Surfshark. Its servers provide enough speed to deliver an enjoyable browsing, streaming, or torrenting experience. But as with all VPNs, the closer the server, the higher the speed.
---
Can Surfshark Unblock Popular Streaming Services?
Streaming platforms like Netflix, Hulu, and BBC iPlayer ban most VPN IP addresses. They started blacklisting them to conform to copyright agreements. As a result, most VPN services can no longer unblock the most in-demand streaming platforms.
We tested Surfshark to see if it can access Netflix's US library, which features the most content. As soon as we connected to one of Surfshark's US servers, we were able to stream some American-exclusive titles like Star-Crossed. And when I contacted customer support via live chat, Travis told me that Surfshark currently supports the following Netflix libraries:
The United States
United Kingdom
Australia
Singapore
Italy
South Korea
Germany
Japan
Norway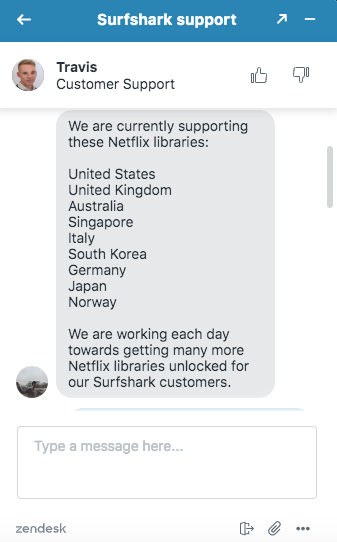 He added that the company is working on adding additional catalogs to the list. Still, these libraries are the most popular and include thousands of hours of movies, series, and documentaries.
A lot of VPNs also have trouble unblocking BBC iPlayer, as the British streaming platform is strict about restricted foreign access. But we had no problems accessing the service. All it took is a connection to a UK server (London).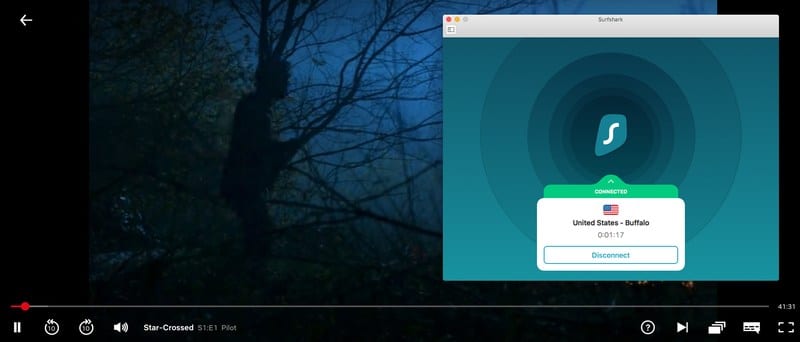 Surfshark's Smart DNS
If you wish to unblock streaming platforms on devices that don't support VPN apps and clients, like PS4, Xbox, Smart TV, and Apple TV, you'll need Surfshark's Smart DNS. This tool is a free add-on that comes with your subscription. It allows you to access geo-blocked content but does not offer the same security level as using a VPN.
That means the Smart DNS proxy won't hide your IP address nor encrypt your traffic. You can learn how to set up and activate this feature here.
Torrenting and P2P Support
Surfshark also allows torrenting and P2P file-sharing activities. It has the necessary speed levels to ensure fast and smooth file downloading/uploading. It can also protect you with first-class privacy features, which we will discuss in detail below.
According to the website, all Surfshark servers are P2P-friendly. But customer support recommended several servers that are ideal for torrenting. Check them out below:
Austria
Belgium
Bulgaria
Canada
Denmark
Finland
France (Marseille and Bordeaux)
Germany (Berlin and Frankfurt am Main)
Hong Kong,
Italy (Milan and Rome)
Japan
Luxembourg
Netherlands
Norway
Poland (Warsaw)
Serbia
Singapore
Slovakia
Spain (all the locations)
Switzerland
The UK (all the locations)
The US (all the locations)
---
Surfshark Security and Privacy
Before unlimited online access and unblocking capabilities, the VPN's most crucial role is maintaining your online anonymity. And to do that, it must implement top-quality privacy features like tough encryption, a zero-logs policy, and a kill switch.
Well, Surfshark provides all of that and then some.
Company Headquarters
You might consider a company's location a relatively insignificant matter. But when it comes to VPNs, it's actually the opposite. You see, these services have a job to conceal your online activities and prevent third parties from viewing them. And that does not bode well with intrusive authorities like the US, the UK, and the rest of the 14-Eyes alliance.
The latter is a cooperation between 14 countries in the field of data collection and exchange, and much of their focus is on Internet monitoring. Any company that operates within the 14-Eyes jurisdiction must submit user information upon request.
Surfshark is based in the British Virgin Islands, a tax-haven located outside the dominion of that alliance. Therefore, the company does not have to respond to any government requests.
"Surfshark is based in the British Virgin Islands, which does not require data storage or reporting."

Surfshark VPN
No-logs Policy
Regardless of its headquarters, Surfshark follows a strict zero-logs policy. It means that it does not collect "IP addresses, browsing history, session information, used bandwidth, connection time stamps, network traffic, and other similar data."
However, the provider must keep a minimal amount of information to ensure you can fully use its services. That info includes your email address, encrypted password, billing information, and order history. Surfshark also monitors crash reports on its apps and records diagnostics information.
One shady area that we didn't like in Surfshark's privacy policy is that it uses advertising IDs in its apps. You can opt out of this data collection from your application's settings, though.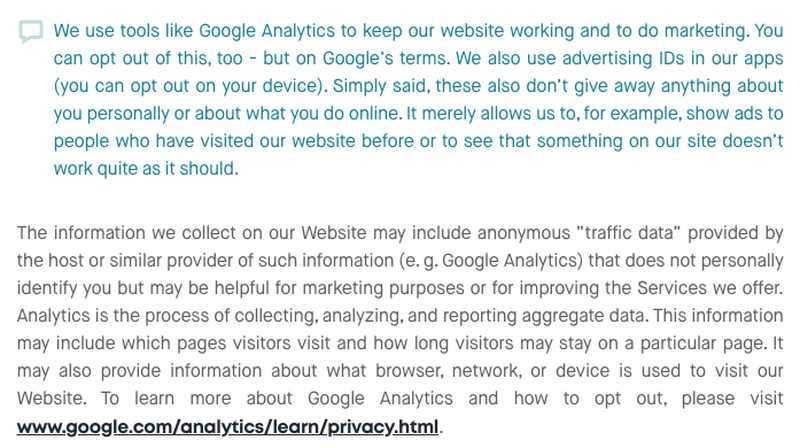 Military-grade Encryption
Your traffic gets the highest encryption level when you connect to a Surfshark server. The VPN uses the same military-grade encryption that government agencies like the NSA use to protect classified information. It's called the Advanced Encryption Standard with 256-bit keys.
AES-256 is so far impossible to crack between it provides trillions of possible combinations. To break it, every supercomputer on earth would have to work on deciphering your data for millions of years. In other words, the data that your device sends or receives while using Surfshark is well-protected from the prying eyes of hackers, ISPs, and government agencies.
Kill Switch and DNS Leak Protection
A VPN kill switch is a crucial tool that disconnects you from the Internet in case your VPN connection drops. That will safeguard your traffic as it won't travel back to your ISP's servers, where it's compromised. Therefore, you must always enable this feature.
Surfshark offers a kill switch for its Windows, Android, iOS, and macOS apps. But for the latter two, the option is turned on by default. You can enable kill switch on Windows and Android from Settings.
Furthermore, we tested Surfshark for any potential IP address or DNS leaks. After connecting to a server from the UK, we used an IP Checker to see if the IP address on display matched our server location. We also conducted a WebRTC scan to check for any data leakage.
As you can see below, Surfshark offers full protection, as all leak tests were negative.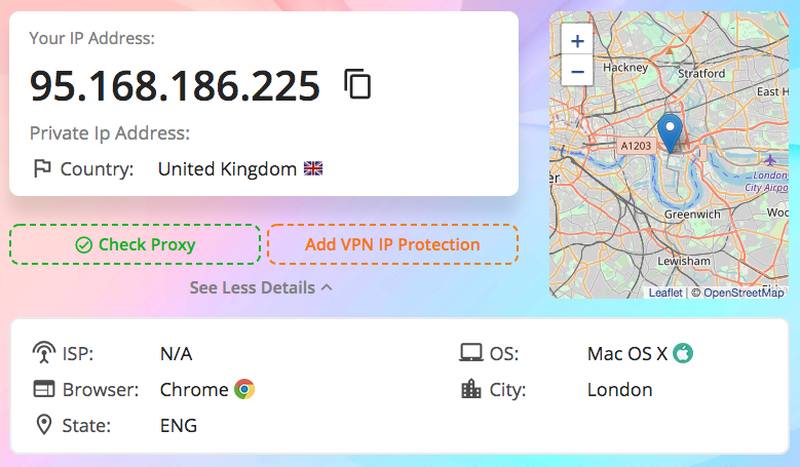 Independent Auditors
In November 2018, Surfshark invited independent auditors Cure53 to examine its browser extensions. The tests revealed that the apps were not exposed to any issues, neither in privacy nor security. The report added that both extensions "stood out" in a category that "commonly suffers from various issues."
And while this proves that there is no shady business in terms of privacy and security, Cure53 only tested Surfshark's browser extensions, not apps. Still, the audit gives you a certain perspective on how the company values transparency and its users.
You can read what Surfshark said about the Cure53 audit here or check the full report here.
Warrant Canary
A lot of web services set up a Warrant Canary page to notify customers about any secret subpoenas or warrants asking for user data. As long as the page stands, it means that the company has not been served with such a request. Once the page is taken down, then the website received a gag order or a National Security letter.
Sites revert to such methods because it is illegal to notify customers about user data requests. The idea comes from the miners who kept canaries as they worked in mineshafts. In case of a toxic gas leak, the birds would die, and the workers know that they must evacuate immediately.
Surfshark tries to be as transparent as possible with users. Therefore, it set up a Warrant Canary page, telling customers that as of March 6, it hasn't received any letters, gag orders, or warrants.
Other Features
In addition to all the above, Surfshark provides users with unique tools that help further maintain your privacy and security. These features include:
CleanWeb: A tool that blocks ads, malicious websites, trackers, and phishing attempts.
Whitelister: Split-tunneling technology that allows specific apps to bypass the VPN (ideal for banking apps and services).
MultiHop: It reroutes your traffic through multiple servers instead of just one, giving you extra encryption and ID protection (may reduce connection speed).
Camouflage Mode: With this feature, your Internet service provider won't find out that you're using a VPN.
Shadowsocks: An encrypted proxy that allows users to bypass online restrictions without being detected.
---
Surfshark Customer Support
It's good to know there's always someone who can offer help in case you have a question or run into trouble. That is why VPN providers must have a knowledgeable client support team with fast response time. When we tested Surfshark, we made separate inquiries to see if customer service is quick and well-informed.
We were quite impressed with the response time as an employee replied within seconds. And each one provided helpful and precise answers. Travis, for example, gave us a full list of the best servers for torrenting, as well as all the Netflix libraries that Surfshark can unblock. We also asked if the VPN offered a free trial, and Mike replied almost instantly with all the details.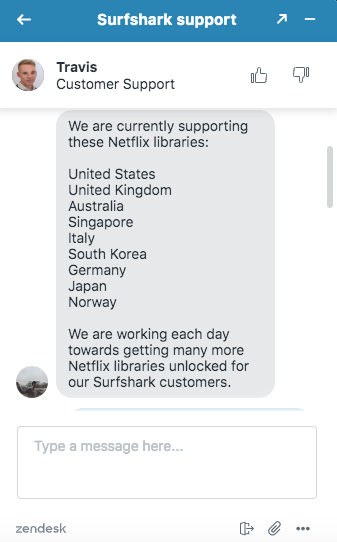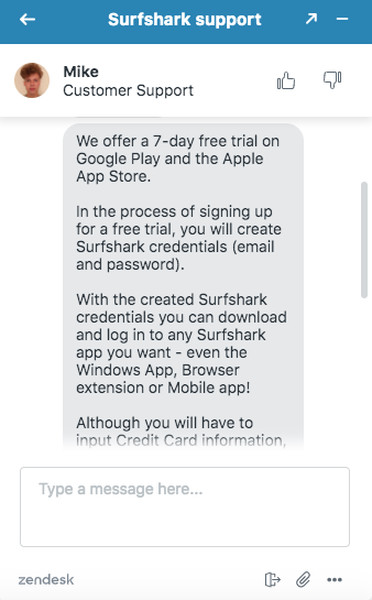 You can also contact Surfshark's customer support via ticketing system, or check out the guides, FAQs, and tips in the Help page.
---
How Expensive Is Surfshark VPN?
No matter how much you like a certain product, if its price doesn't fit your budget, you're going to dismiss it. And sometimes, it's the same case with VPNs, although you shouldn't put a price on your online privacy.
We found Surfshark's monthly subscription fee of $11.95 a bit expensive, but not over the top when it comes to elite VPNs. However, what we really liked was the savings you could make if you subscribe to the long-term annual plans. Here are the packages that Surfshark offers:
One-month plan: $12.95 a month (no discount or savings).
6-month plan: $38.94 every 6 months (equals $6.49/month. Save 50%).
24-month plan: $59.76 every two years (equals $2.49/month. Save 81%).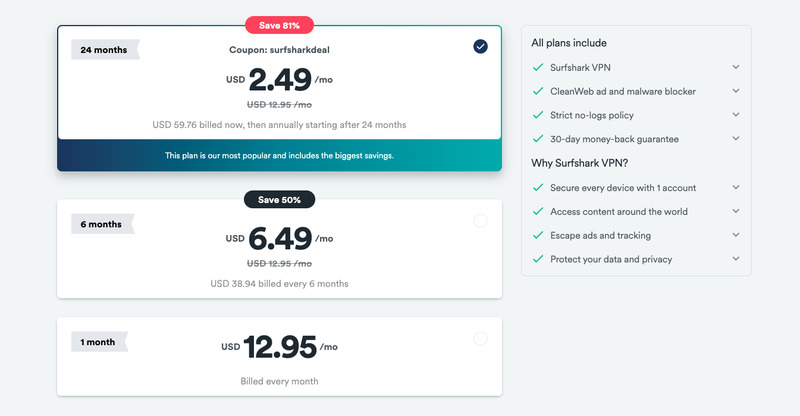 The 24-month plan obviously features the best value for money as it allows you to save up to 81% on your monthly subscription. Furthermore, all packages come with a 30-day money-back guarantee. That means you can purchase the service and test it for a month. If by the end of that period, you're not satisfied with the VPN, you can ask for a full refund.
Payment Methods
Another brilliant thing about Surfshark is the various payment methods it provides for users. You can purchase any plan using your Visa, Master Card, Amex, Discover, PayPal, Google Pay, Amazon Pay, and even cryptocurrency. We were particularly impressed with the last option as it covers several cryptos like Ethereum, Ripple, and of course, Bitcoin.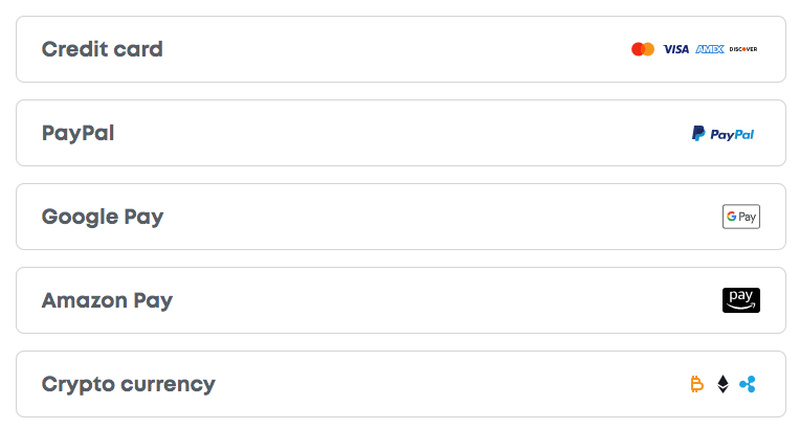 ---
Is There a Free Trial?
Few VPNs offer a free trial for new users, and those who do don't extend it for long. We asked Surfshark's support team if new customers can benefit from a free trial period, and the response was affirmative.
The VPN offers a 7-day free trial on Google Play and the App Store, but that doesn't mean it only works for iOS and Android apps. You can also use your free account credentials to download and log in to Surfshark's desktop clients and browser extensions. And although you will have to submit your credit card information, no payment will be required during that period.
---
Does Surfshark Work in China?
Thanks to its Shadowsocks feature, Surfshark VPN is one of the best VPNs you can use if you're in China. The encrypted proxy hides your traffic and makes it nearly impossible for government agencies and ISPs to detect you. It is the ideal solution for bypassing the Great Firewall.
---
The Full Surfshark Review – Final Thoughts
In conclusion, Surfshark is an excellent VPN service that we definitely recommend. It offers fast speeds for streaming and torrenting, unblocks the most popular streaming services, and utilizes the highest levels of privacy and security features.
Add a 7-day free trial, a 30-day refund policy, and unlimited simultaneous device connections, and you got yourself a top VPN with very affordable pricing. Therefore, we give Surfshark two thumbs up.
Based on what you've read, do you think Surfshark is a premium VPN service? Share your thoughts with us in the comment box below.