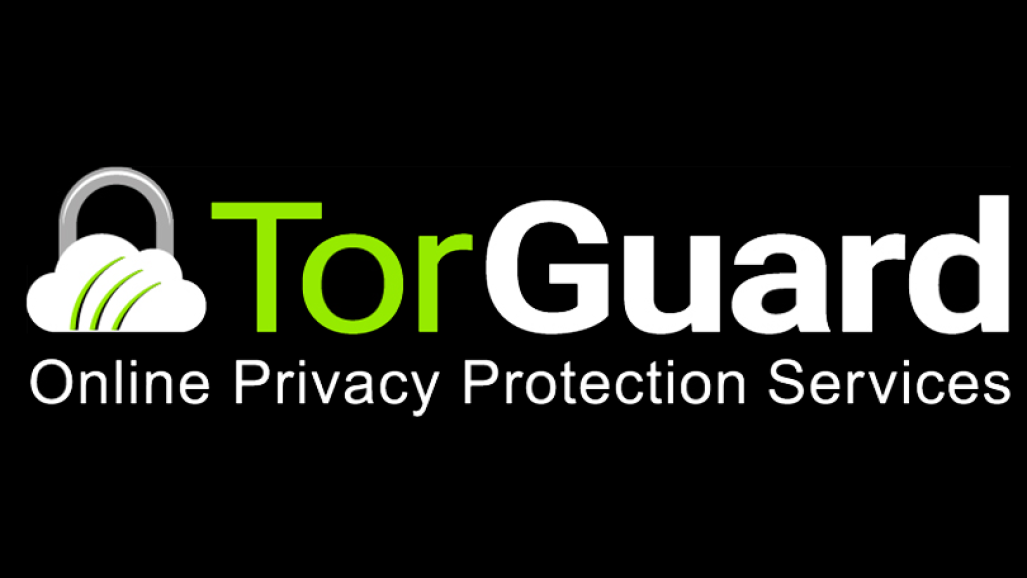 TorGuard VPN is a product of VPNetworks LLC, a US-based company specializing in online privacy protection services. In addition to TorGuard, the product lineup includes anonymous proxies, business virtual private networks, email encryption, and routers. But their flagship item is TorGuard VPN.
The VPN claims it doesn't store data logs, deleting all sensitive information from its servers instead. It also says it uses 256-bit AES encryption, the most secure algorithm in the industry. And thanks to a massive network of over 3,000 servers in 50+ countries, you'll be able to bypass restrictions and avoid censorship. Streaming comes at an extra cost, though, as TorGuard's main objective is protecting your online identity.
According to the website, TorGuard VPN offers special bundles for businesses, in addition to PrivateMail, which encrypts your emails and online files. There are several other features on the table, and we put every one of them through our unbiased evaluation process.
---
Table of Content
---
| | |
| --- | --- |
| FEATURE | AVAILABILITY |
| Money-back guarantee | 7 days |
| Allowed simultaneous connections | 8 devices |
| Supported streaming services | Only through the streaming bundle |
| No-logs policy | Available |
| Encryption | Military-grade AES 256-bit |
| Protocols | OpenVPN, OpenConnect, and Wireguard |
| Special features | Kill switch, OpenVPN obfuscation, OpenConnect, Stealth servers, and unlimited bandwidth |
| Customer support | Email, FAQs, and support ticket |
| Server locations | 3,000 servers in 50 countries (60+ cities) |
| P2P support | Yes |
| Server switches | Unlimited |
| Data traffic | Unlimited |
| Compatible devices | Windows, Mac, Linux, iOS, and Android. Browser extensions for Chrome and Firefox. |
| Smart DNS proxy | Available |
| Legal Jurisdiction | USA (inside Five Eyes jurisdiction) |
| Free trial | Unavailable |
---
TorGuard VPN Pros and Cons – Early Verdict
We thought we'd give our readers a quick overview of TorGuard VPN early on, just in case you don't have time for the detailed review.
TorGuard is a VPN service based in the United States, a founding member of the privacy-intrusive Five Eyes alliance. It means the VPN and any other company inside the country must submit user data to the authorities upon request. And the information isn't just for the eyes of local law enforcement agencies. It could be shared with the other coalition members, namely government entities in Canada, the UK, Australia, and New Zealand.
However, the VPN provider follows a zero-logs policy, meaning it deletes users' sensitive data from its servers. It also uses military-grade encryption to prevent online snoopers from monitoring your online activities. And to avoid data leaks, TorGuard offers a kill switch that terminates your Internet connection if the VPN malfunctions.
Furthermore, TorGuard offers stealth VPN protocols, allowing you to bypass geo-restrictions and VPN blockades. As a result, Internet service providers and government agencies can't know that you're using a VPN. This also comes in handy for streaming, as most services block VPN IP addresses. However, TorGuard VPN forces you to pay extra to access these platforms.
The VPN has P2P-friendly servers and provides decent speed levels. You can install it on Mac, Windows, iOS, Android, and Linux and simultaneously use it on up to eight devices. You'll also benefit from a 7-day money-back guarantee.
Pros
3,000+ servers in 50+ countries.
Torrent friendly.
Decent speed rates.
AES encryption with 256-bit keys.
No-logs policy.
Kill switch.
Wireguard VPN protocol.
Stealth and obfuscation options.
Smart DNS proxy.
Works in China.
24/7 customer support.
Cons
Short refund period.
No streaming support in the basic subscription plan.
Expensive bundles.
No live chat feature.
Unappealing desktop client.
US headquarters.
---
Interface and Design
Before diving into TorGuard VPN's desktop and mobile applications, we took a look at its website. The design was appealing, with the color blue dominating the pages. The homepage displayed the VPN's most essential features, including privacy, security, speed, and unblocking capabilities. You'll also find information on pricing and the different subscription plans, as well as device compatibility, payment options, and server network.
There are also several shortcuts at the top and bottom of the TorGuard homepage. If you wish to find out more about a certain feature or service, all you have to do is click the buttons. They also provide additional information on the company and customer support.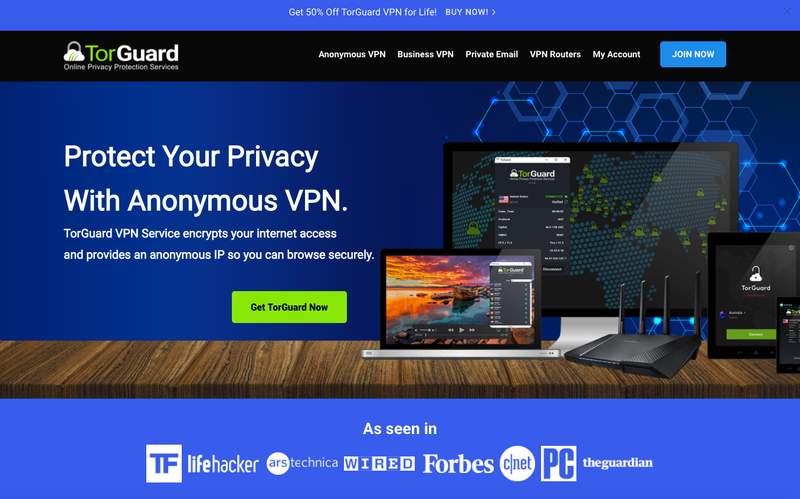 Mac Client
Our first TorGuard VPN taste came through the Mac client, which we thought was too basic and could use a new look. But design and aesthetics aside, the application was functional. The home screen displays your VPN status (connected/disconnected) and automatically shows you the nearest server to your location. You'll also find some information on display, like VPN protocol, tunnel type, and encryption. The default algorithm is AES-128, but you can change it to the more secure AES-256.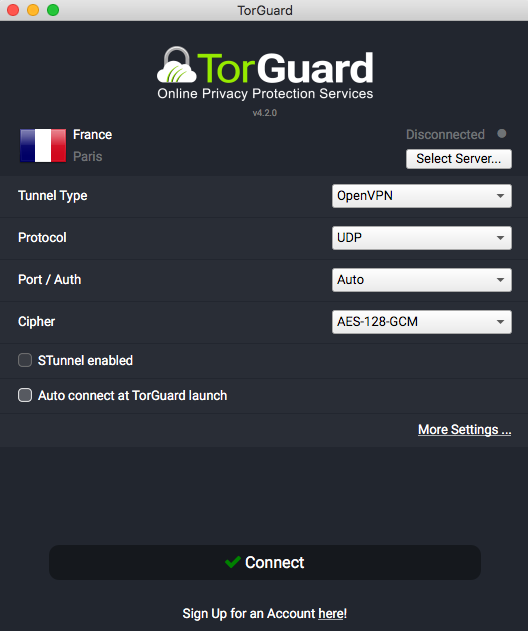 You can also set TorGuard to auto-connect at launch and enable STunnel. To change servers, click on the Select server button underneath your VPN status. This will open the full location list, which you can sort by custom, alphabetical, usage, and proximity. You can even filter servers according to regions. Moreover, the home screen allows you to access settings, where you can make tweaks and enable/disable a number of key features like the kill switch.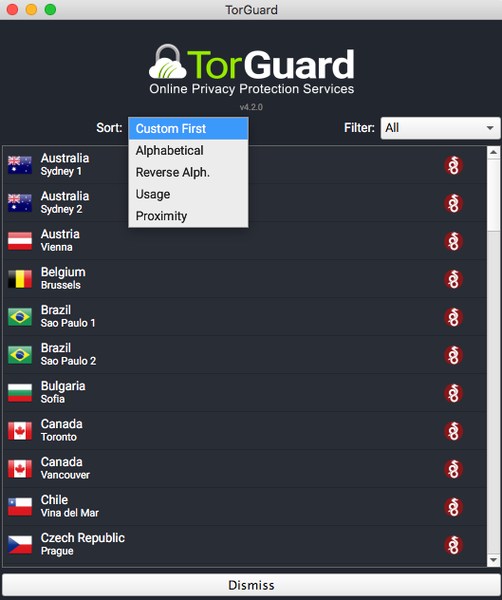 Android App
TorGuard's Android mobile app is much better looking and user-friendly than its desktop counterpart. Both share some similarities, like displaying the nearest server to your location when you sign in and your VPN status. Clicking the connect button at the bottom of the screen connects you to the server on display. To switch servers, tap on the location to open the full server list.
The settings button at the top right of the screen allows you to customize the app and activate/deactivate. You won't find as many options and features as the desktop client because most of them are already integrated into the app.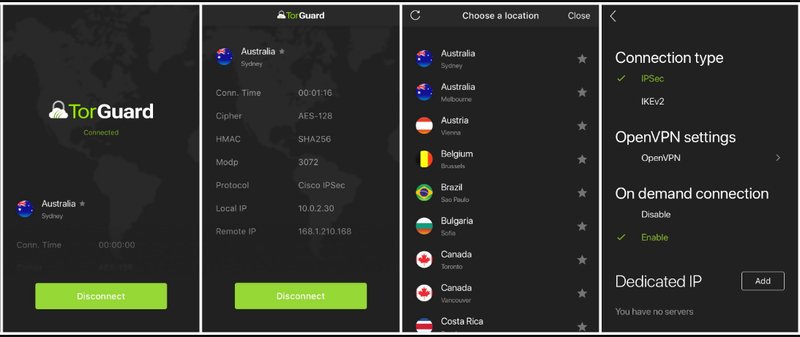 TorGuard VPN has an excellent 4.0 rating on consumer review website Trustpilot, with most user praising speed and performance. However, others weren't happy with the fact that you have to purchase a dedicated plan to unblock streaming platforms. Some users also criticized customer support. Meanwhile, on the App Store and the Play Store, TorGuard VPN earned solid 3.8 and 3.7 stars, respectively.
"Best VPN I have used for 6 years and will continue to do so for many more."

Marie, user reviewing TorGuard on Trustpilot

App Compatibility
TorGuard VPN apps are compatible with the most popular operating systems. You can install them on Android, iOS, Mac, Windows, and Linux, with Chrome and Firefox browser extensions also on offer. And just like any other VPN, TorGuard doesn't have ready-made apps for Smart TVs, routers, or gaming consoles. But you can set it up manually on VPN-capable routers.
Furthermore, the company allows up to eight simultaneous device connections with just one account. It gives you the chance to protect all your gadgets and even share your account with friends and family.
---
TorGuard VPN Server Network
The bigger a VPN provider's server network is, the wider its unblocking capabilities are. TorGuard VPN operates a broad network of over 3,000 servers spread across 50 countries, covering every continent except Antarctica. And the obfuscation technology really helps with bypassing online restrictions as no one will know that you're using a VPN.
Here are the countries with a TorGuard VPN presence:
Australia
Austria
Belgium
Brazil
Bulgaria
Canada
Chile
Czech Republic
Denmark
Finland
France
Germany
Greece
Hong Kong
Hungary
Iceland
India
Indonesia
Ireland
Israel
Italy
Japan
South Korea
Luxembourg
Mexico
Moldova
Netherlands
New Zealand
Norway
Poland
Portugal
Romania
Russia
Singapore
Slovakia
South Africa
Spain
Sweden
Switzerland
Taiwan
Thailand
Turkey
Ukraine
UAE
UK
USA
---
Speed Tests
An extensive server network may be helpful and necessary for unblocking restricted content, but it won't do you much good if the servers are slow. Now, all VPNs consume a bit of your Internet speed, mostly thanks to the data encryption and rerouting process. But it's a small price to pay for privacy and anonymity. Nonetheless, top providers ensure that speed drops remain minimal by offering fast servers.
After all, most consumers use VPNs for streaming and torrenting.
Therefore, we had to see how fast TorGuard really is. We connected to several servers and used FAST.com to conduct speed tests. Here's what we found: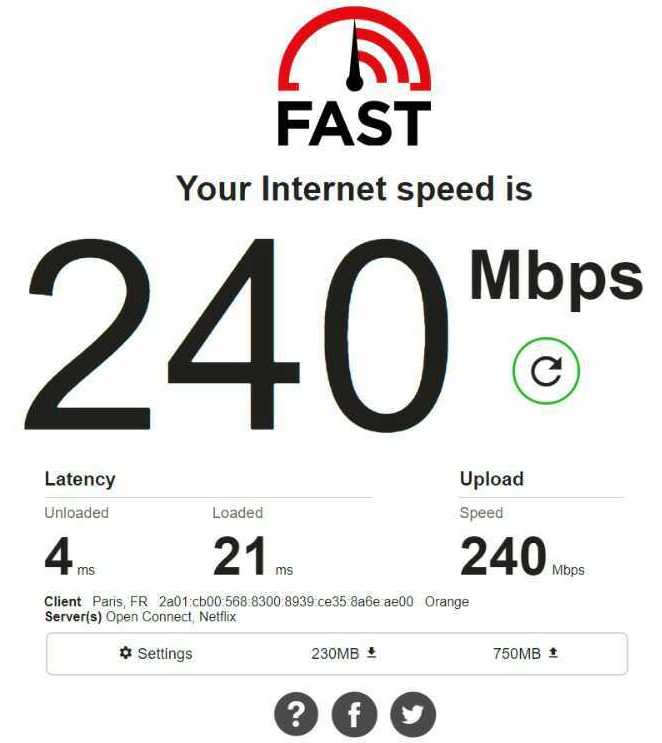 Before connecting to a TorGuard server, we conducted a regular speed test to see how fast our internet connection is. That way, we can measure the speed drops once we use TorGuard VPN.
First test: German server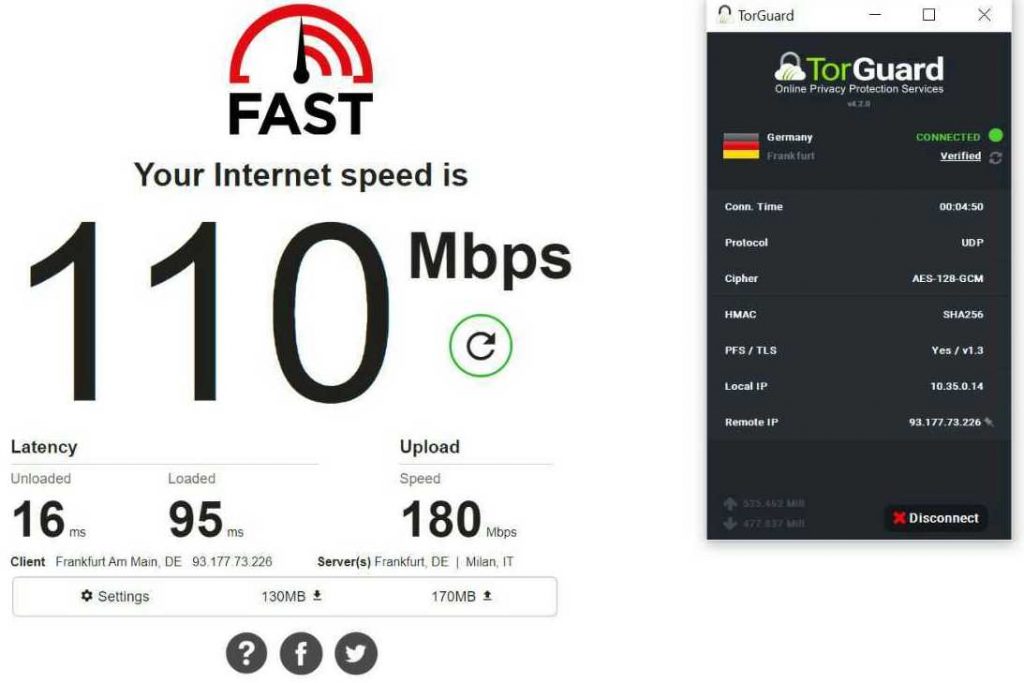 We connected to one of TorGuard's German servers because it's near our actual location. As you can see, speed levels dropped by more than half but remained acceptable.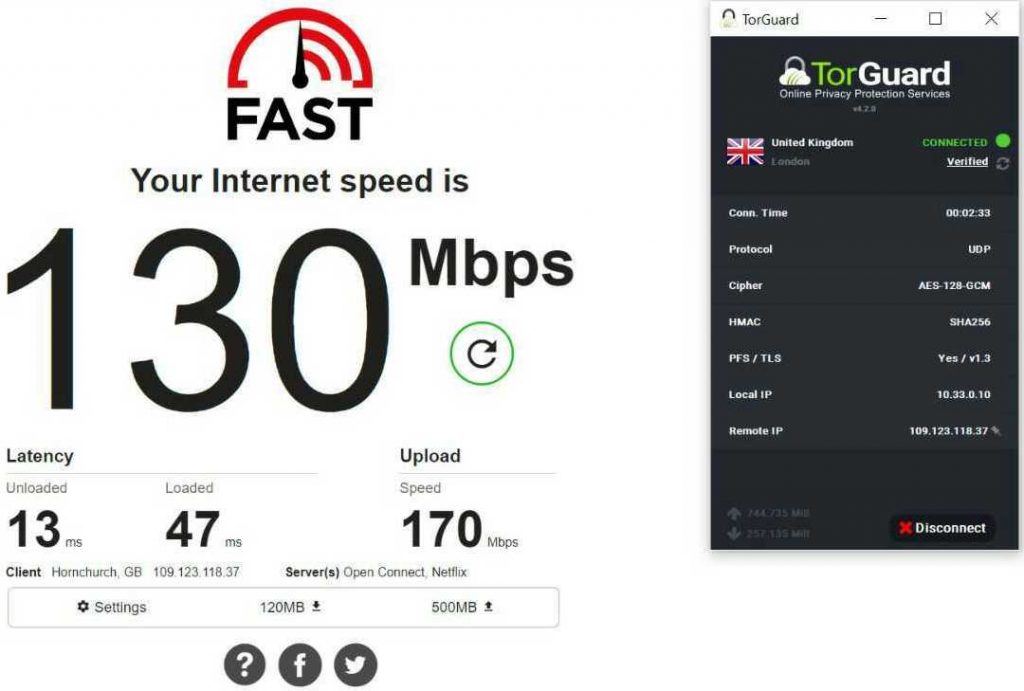 Next, we connected to another nearby server, this time in the UK, to see if TorGuard delivers consistent speeds. As you can see from the above image, speed rates slightly improved.
Third test: US server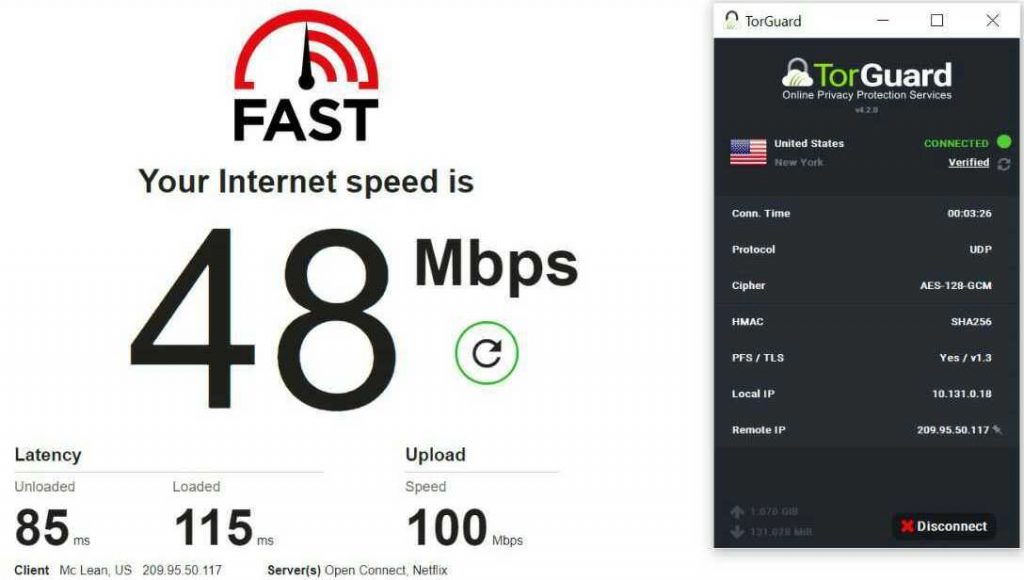 Finally, we connected to a distant server in the United States. As expected, speed levels witnessed a significant drop.
How Fast Is TorGuard?
TorGuard VPN won't affect your Internet speed by much, especially if you connect to servers near your actual locations. You'll enjoy fast, stable speeds and enjoyable online experience, especially for torrenting or streaming. However, as with many other VPN services, speed rates might noticeably drop when you connect to a distant server. Nonetheless, they remain acceptable for any Internet activity.
---
TorGuard Streaming Support
As I already mentioned, most people use virtual private networks for entertainment purposes, which involves streaming. Whether it's movies, series, or sports, many users are shifting to an online, cordless viewing mode. And since most video-on-demand services are geo-blocked outside their broadcasting zone, only VPNs can help you access them abroad.
VPNs redirect your traffic through a server location of your choice, encrypt it, and give you a matching IP address. In other words, if you connect to a US server, you'll unblock the likes of American Netflix, Hulu, ESPN+. But you must subscribe to the right VPN provider because VOD platforms have been blacklisting VPN IP addresses for years now.
TorGuard's obfuscation technology should work well here because streaming channels won't know that you're a VPN. However, we received a location error message no matter which server we connected to. It wasn't because TorGuard had poor unblocking capabilities, but because the provider forces you to pay extra. So if you wish to use TorGuard VPN for streaming, you must subscribe to the streaming bundle, which costs a whopping $21.98 per month.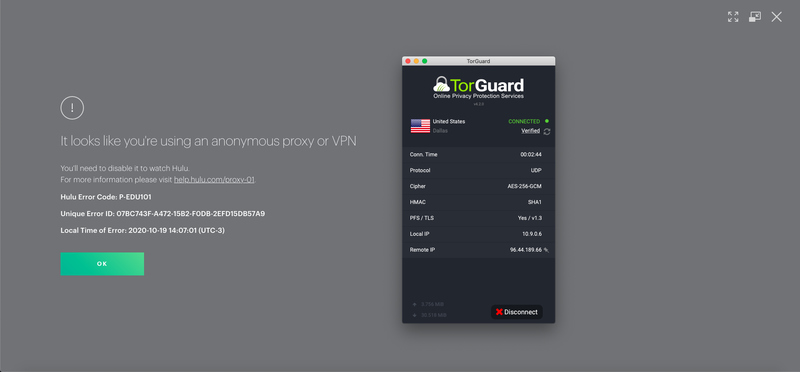 No other VPN service we reviewed demanded such high prices for streaming access. Some brands offer limited unblocking capabilities for free version users, but nothing like this. If streaming is your angle, we recommend getting another VPN service that allows streaming no matter which subscription plan you choose.
Smart DNS Proxy
As we previously mentioned, VPN apps aren't compatible with every operating system. PlayStation, Xbox, routers, and Smart TVs like LG or Samsung don't have VPN clients, which is why premium providers offer a clever solution, a Smart DNS proxy. This tool works with every device, but you have to set it up manually. It only reroutes the URLs that expose your location, giving you access to a limited number of streaming services.
However, Smart DNS proxies don't hide your IP address nor encrypt your traffic. They also don't work if your Internet service provider uses DNS hijacking or transparent proxies.
TorGuard offers Stealth DNS servers in the US, Germany, Singapore, and the Netherlands. We connected to the US servers to unblock American streaming platforms, but our efforts were unsuccessful.
---
Torrent Support
Many users prefer to download their favorite movies, series, songs, or books through torrenting services, which are free. However, illegally downloading copyrighted material could get you in trouble and result in fines or the termination of your Internet connection. Therefore, we recommend you connect to a VPN before engaging in such activities. The encryption and no-logs policy prevent ISPs and copyright holders from monitoring what you do online.
Not only is TorGuard P2P-friendly, but it is also one of the best VPNs for torrenting activities. It offers two options for torrent users:
The traditional way of encrypting your traffic through a VPN connection.
The SOCKS5 proxy option that allows you to enter your VPN credentials into your favorite BitTorrent app. This method secures the app's outgoing traffic by "hiding and replacing your IP with a shared anonymous IP."
TorGuard VPN is compatible with some of the most prominent torrent apps, like uTorrent, Vuze, qBittorrent, and any service that uses the BitTorrent protocol.
---
TorGuard VPN's Security and Privacy
Virtual private networks' main role is to provide complete Internet anonymity the second you go online. We advise you to disregard any service that fails to do so, even if it offers other features, like fast speeds or decent unblocking capabilities.
For instance, free VPNs attract a lot of consumers because they don't cost anything. But these brands harvest your traffic and sensitive data and sell it to third parties, which is how they stay in business. They don't implement a no-logging policy, while some don't even use encryption. Moreover, they have a handful of servers that provide limited speeds.
So how good is TorGuard VPN in this regard? Here's what's on offer.
Company Headquarters
A VPN's base of operations can bring additional privacy if you're in the right country. Some governments have privacy-friendly data laws that don't force companies into submitting user information. Meanwhile, others are more intrusive and monitor users' online traffic.
TorGuard VPN falls under the latter group. The mailing address for the parent company, VPNetworks LLC, is in Orland, Florida, in the United States. The country is a founding member of Five Eyes, a coalition of five nations and their respective intelligence agencies. Any company that operates within these jurisdictions must hand in user data upon the authorities' request. Furthermore, other countries joined the alliance to form Nine and 14 Eyes.
| | |
| --- | --- |
| Five Eyes | USA, UK, Canada, Australia, and New Zealand. |
| Nine Eyes | Five Eyes countries, plus Denmark, France, Netherlands, and Norway. |
| 14 Eyes | Nine Eyes members, plus Belgium, Germany, Italy, Spain, and Sweden. |
But VPN consumers don't need to worry about all that if their provider follows a strict and proven zero-logs policy.
Zero-logging Policy
VPN services must never store sensitive data on their servers, especially if they're inside intrusive jurisdiction. A no-logging policy guarantees that your online identity, IP address, and Internet activities are safe from the prying eyes of the government and ISPs. Even if the authorities come knocking or seize a VPN server, they won't find any useful information.
"TorGuard does not collect or log any data from its Virtual Private Network (VPN) or Proxy services."

TorGuard VPN
According to the website, TorGuard is 100% private and deletes all data that reveals your identity, location, or browsing activity. We took a look at the privacy policy, which is transparent concerning what sort of data the VPN collects and how it uses it. Each VPN has to collect a bit of user information to remain fully functional. Here's what TorGuard VPN stores:
Payment information (no credit card numbers).
Anonymized Google analytics.
Contact data submitted.
E-mails.
Apache Webserver logs.
TorGuard uses this data to improve its website and services and manage signups, payments, and cancellations. The VPN tried its best to keep the privacy concise and brief, but we think additional information was needed. Nonetheless, based on what we read, TorGuard doesn't collect sensitive data.
Military-grade Encryption
TorGuard VPN uses the most secure encryption algorithm in the industry, the Advanced Encryption Standard (AES). The default cipher is AES with 128-bit keys, but you can change it to AES-256 from the app's main screen. You would have to go through trillions of possible combinations to break this algorithm, which is so far impossible even with the world's supercomputers combined.
Both AES-128 and AES-256 will keep your online activities unreadable. Neither hackers, government agencies, or ISPs will be able to see your data.
Kill Switch and Leak Protection
The VPN kill switch is your last line of defense against data leaks. Without it, your traffic will travel to your ISP's servers if the VPN connection drops. But this tool disconnects your device from the Internet to prevent that from happening. The worst-case scenario is that you briefly won't access the web until the VPN connection is restored.
You can activate TorGuard's kill switch by opening settings, clicking "Network," then toggling "kill switch."
We also tested TorGuard VPN for any potential IP or DNS leaks. We connected to a server from the United Kingdom, then used our IP info tool to see the IP address on display. As you can see from the below image, the IP address matched the server we selected.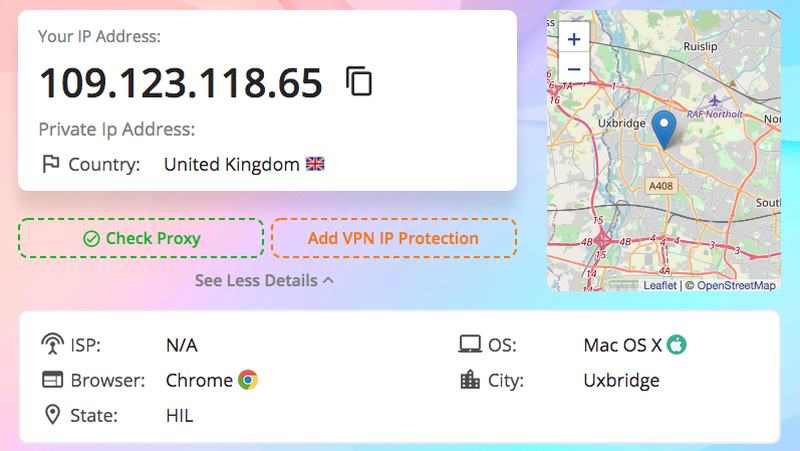 Furthermore, we checked for any possible WebRTC leaks using our own tool as well. And despite the potential leak warning in the following image, the IP address on display isn't our actual IP and, therefore, does not reveal our identity or physical location. It is the same British IP address.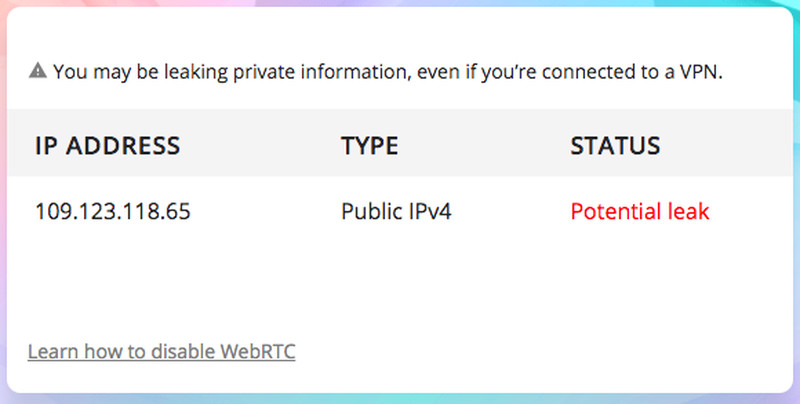 Additional Features
TorGuard VPN offers a set of extra unique features to add to the above lineup. They include:
Stealth technology: Third parties won't figure out that you're using a VPN, giving you more privacy and wider Internet access.
Ad-blocker: You can customize your TorGuard VPN app to block ads by clicking "more settings -> network -> when VPN is connected (under DNS) -> Ad-blocking DNS."
Anonymous proxy: Hide your IP address on Chrome, Firefox, or BitTorrent.
Wireguard: An easy-to-use, simple, and fast VPN protocol that allows you to change ciphers
Warrant Canary
Just like any other tech company, VPNs are subject to government letters requesting user data. These subpoenas usually come with a gag order, preventing VPNs from revealing their content. That is why they came up with warrant canary pages, which serve as a warning for customers. If the page is suddenly taken down, it means the provider received a letter from the authorities.
Much like many other VPNs, TorGuard VPN does not have a warrant canary page. But it's better to have one for transparency purposes.
Independent Auditing
Several reputable VPN services hire independent firms to audit their apps and systems. The auditors conduct vigorous tests to verify the VPN's claims, especially the no-logs policy part. Most providers share the findings of the report with the public for transparency purposes.
However, TorGuard VPN did not invite any independent firm to inspect their systems, an area they should look into in the future.
---
TorGuard VPN's Customer Support
Most VPN users are not industry experts, meaning they will most likely have questions and face difficulties with their service. Therefore, VPN providers must have an easily-reachable support team that provides quick, helpful, and professional answers.
The simplest and fastest way to interact with clients is through a live chat feature. VPN providers usually display a chat button at the bottom right of the screen. The TorGuard website said that the option was available, but we couldn't find it. Therefore, we emailed customer support for more clarification, who informed us that live chat was temporarily unavailable.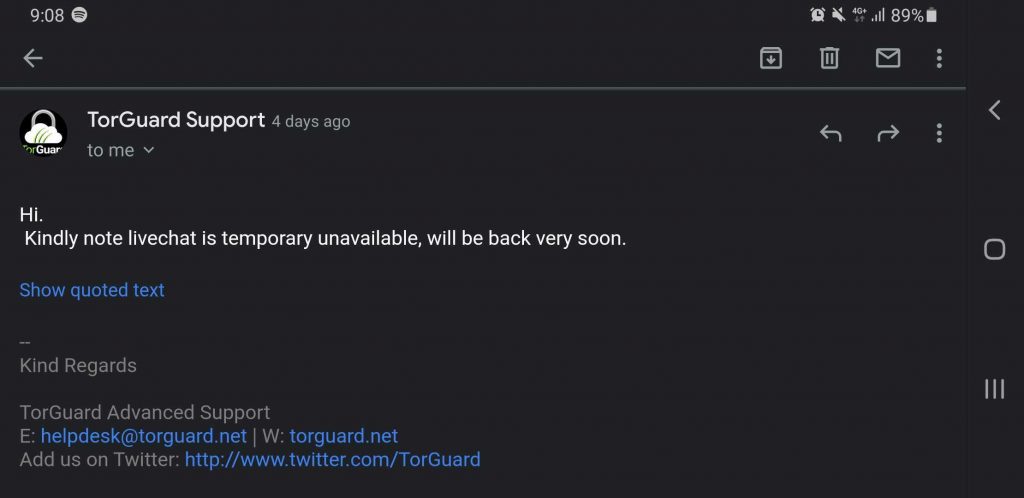 Instead, you can reach out to the customer support team via email or ticket. Alternatively, you might want to check out TorGuard's support center. It features answers to customers' most frequently asked questions, a knowledge base containing articles and guides, and a community forum where clients share their experience.
Languages
Well-known and elite VPN brands offer multilingual services. That means you can check out their website and use their apps in your preferred language (if available). English may be a universal language nowadays, but not everyone has mastered it. Some don't even understand it.
The TorGuard VPN website and apps are only available in English. We think it should introduce more languages to provide more options for worldwide consumers.
---
How Much Does TorGuard VPN Cost?
Pricing is a decisive factor when selecting your VPN provider. If a specific brand offers first-rate features but doesn't fit your budget, you will move on to the next one. That is why elite VPNs offer multiple subscription plans, with each one containing premium services, even the most basic one.
TorGuard VPN has several packages you can choose from, with several pricing options.
| | | | | |
| --- | --- | --- | --- | --- |
| | Monthly Fee | Quarterly Fee | Semi-Annual Fee | Annual Fee |
| Anonymous Bundle | $9.99 | $19.99 | $29.99 | $59.99 |
| Streaming Bundle | $21.98 | $41.98 | $61.98 | $121.98 |
The VPN also offers special packages for businesses, including:
Starter: $69/month (10 users, 10 email accounts, 3 dedicated IPs).
Small: $110/month (15 users, 15 email accounts, 5 dedicated IPs).
Medium: $169/month (20 users, 20 email accounts, 10 dedicated IPs).
Enterprise: Custom price, users, email accounts, and dedicated IPs).

Free Trial and Refund Policy
Several VPN providers offer a short-term free trial, allowing users to test the app before making up their minds. Customers also benefit from a money-back guarantee when they first subscribe, with the customary period being 30 days.
TorGuard VPN does not offer a free trial, and its refund policy only covers the first seven days upon subscription. This gives users one week to fully test the app (based on the plan they choose) before making a decision.
Payment Methods
While credit cards are the most popular choice for purchasing online products, some people aren't comfortable giving away their credentials. That is why elite VPNs offer a wide variety of payment methods. TorGuard VPN allows you to buy your preferred subscription plan using credit cards (Visa, MasterCard, American Express, etc.), cryptocurrency (Bitcoin, Litecoin), Amazon Pay, Paymentwall, CoinPayments, and gift cards.

---
Delivering the Final TorGuard VPN Verdict
TorGuard is a decent VPN service with premium privacy and anonymity features and an extensive server network. It is also one of the best brands for torrent users, and it offers dependable speed rates. However, it comes with some glaring disadvantages, like an expensive streaming bundle, a malfunctioning live chat feature, and a short-term refund policy. Moreover, it lacks a language variety on its website and apps, has a poor desktop client, and is based in the US.
Therefore, despite some strong features, we ultimately can't recommend TorGuard VPN.
Do you think TorGuard is worth the hassle? Tell us what you think about this VPN in the comment section below.